Platform: PC
Genre: Animal farm, minus the politics
Planet Zoo is basically Planet Coaster but with animals. That's all there is to it. Instead of managing and maintaining a theme park, you run a zoo. From giraffes to lion enclosures, the world's your safari-savvy playground.
If you're looking for a huge improvement over that literal funfair of a sim game made by developer Frontier Entertainment, you will be disappointed. However, if you miss the days of the classic Theme Park (RIP Bullfrog) and Rollercoaster Tycoon, as well as sort your fauna management fix, then read on.
We Bought A Zoo!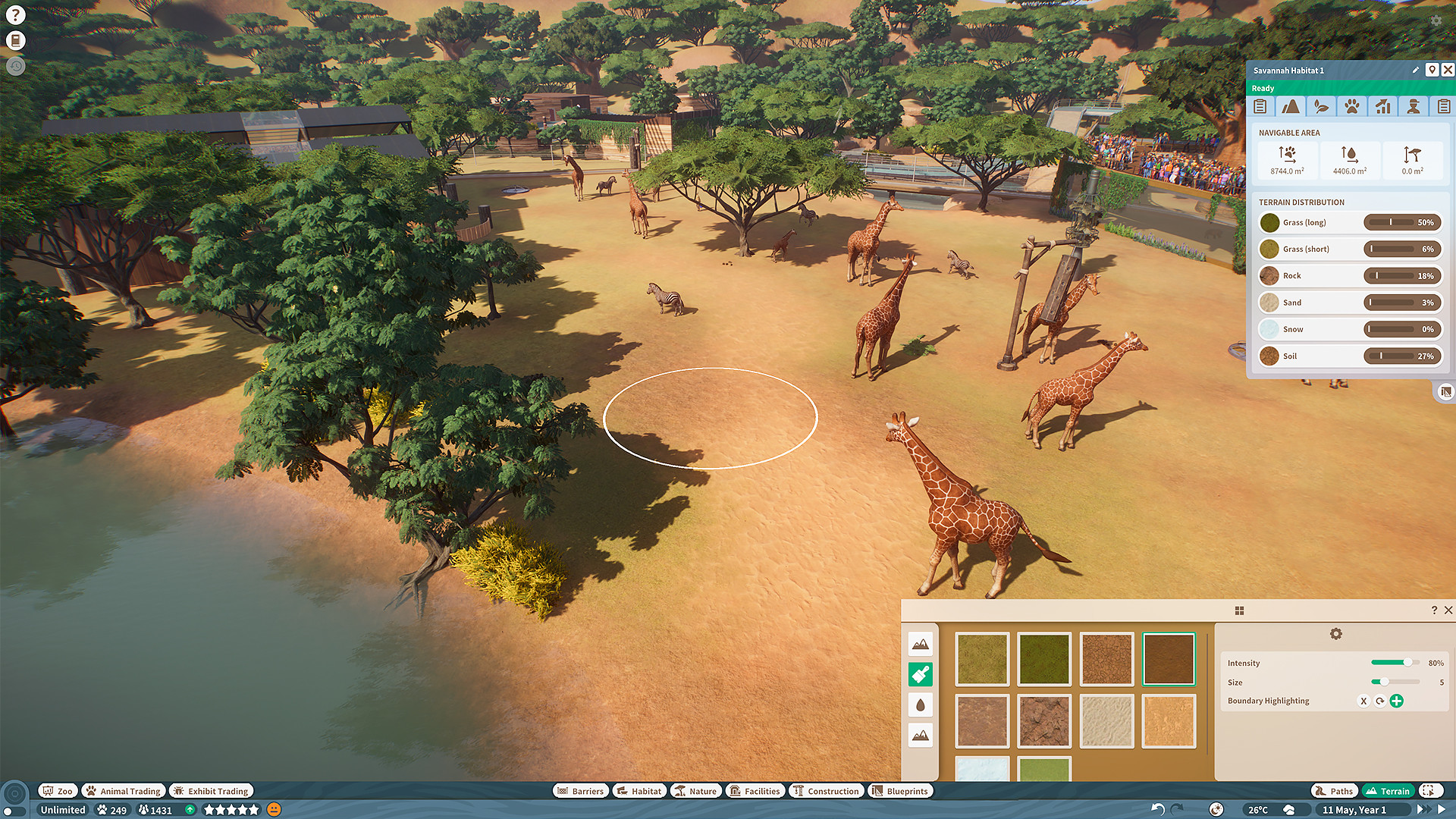 First, the bad:  Planet Zoo is a monotonous management simulator. Even with its variety of mode choices -Career,  Challenge, Sandbox, and  Franchise- mixing things up, the core management systems and aspects in this game are stretched out to the point of boredom and repetition.
Compare this to say 1994's Theme Park or the Tycoon games where your management and operations-tweaking can mean life or death to your creation in mere minutes;Â  where every minute thing matters. Planet Zoo makes the mistake of taking the casual aspects of a mobile clicker "management" game and implement it in a PC game.
You will be clicking on a  lot of menus, and then closing up even more drop-down menus just to do the simplest of tasks. Furthermore, getting into the park's books doesn't make much of a meaningful difference compared to other sim games where it's a matter of life and death.
Having a daunting sim game is one thing, but if it's convoluted to the point of repetition rather than depth, the experience will get old indeed especially for a hardcore sim-savvy PC market. And then there are the animal-caring aspects which is vital in keeping your zoo free from protestors and bad business. It makes the game feel like a animal health sim instead of a "zootopia" playground at times, which gets intrusive the longer you play it.
Thankfully, this doesn't completely sour the entire experience, because the rest of Planet Zoo is a boatload of fun.
Hype Beasts
For one, the game's modes are laid out in a way that makes you feel like you're making progress bit by bit while learning a lot. For example, sandbox mode requires you to unlock facilities and animals the more you start building and laying out your dream zoo. Career mode creates goals that give you the information you need to start afresh in the next two or three playthroughs, like objectives involving putting up info boards and speakers to educate zoo attendees.
Planet Zoo eases you into the experience instead of just forcing it down your throat; you will end up learning about zoo barriers, terrain manipulation,  and customizable lavatories over time thanks to the game's limitless toolset.
Whether you want to build a snow-themed petting zoo or the next San Diego Zoo but "more urban", Planet Zoo will let you do that and way more. And also without being too intimidating for people who just want to get in there and start building and designing.
The heart of Planet Zoo -the design and sandbox approach- is also improved thanks to the feedback you get when you run the place.  The animals look and move beautifully in  your enclosed spaces and gilded cages, while the crowd dynamics create a wonderful sense of immersion and place. And to say nothing of the vast selection of beasts great and small you get to harbour in your caged playground.
Frontier Entertainment spared no expense in the animal encyclopedia and graphics department. That's a pretty good selling point in itself when it's coupled with a notable sandbox approach to engineering.
Heavenly Creatures
Planet Zoo's only major problem is focus. Its inability to decide whether it's a zoo management game or a half-baked animal welfare simulation may turn off dedicated simulation fans who just want to show off cool zoo architecture with fluffy animals up for display.
The management aspects haven't evolved much since Frontier Entertainment's rollercoaster efforts. But for the most parts, Planet Zoo is still the prettier and more entertaining choice to sate your desires to one-up the Singapore Zoo or build an even better Zoo Negara.
Pros
Seeing animals roam around in your zoo is a treat.
Limitless options to construct your own zoo.
Well laid-out career modes.
Cons
Simulation & management aspects are repetitive, tiresome, and unenthralling.
Micromanagement animal-caring bits is not fun.
FINAL SCORE: 70/100