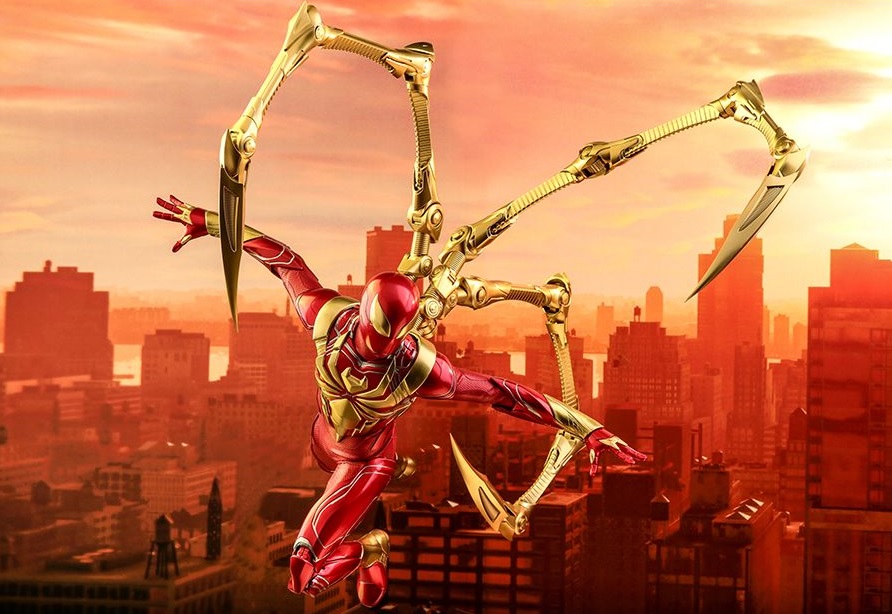 by in
Just in case you haven't noticed, we here at Kakuchopurei love our Marvel superheroes, Insomniac's Spider-Man game, and due to budget constraints, measured doses of Hot Toys now and then. And to our pleasant surprise, we've found the perfect concoction which includes all three.
In what could very well be the most awesome Hot Toys and video games crossover for the ages, Hot Toys recently unveiled the comic book version of the Iron Spider which should send any Spider-Man fan into a frenzy. And it's now open for pre-order.
This slideshow requires JavaScript.
According to Hot Toys' official website, the Civil War comic book-accurate figure which stands approximately 30-cm tall will come with a host of interchangeable hands, web-effect accessories and three, removable gold-coloured spider arms called "Waldoes".
Unlike previous figures inspired by Marvel's Spider-Man game figures, this Iron Spider figure will be a mixture of a suit and plastic pieces, most prominently on the knee section which theoretically allows a wider range of motion.
This version of the Iron Spider is a definite upgrade from the MCU Infinity War/ Endgame Spider-Man figure which pales in comparison. I mean come on. Look at them.
As icing on the cake, you won't have to break the bank for the action figure, assuming you pre-order it, that is.
Retailing from RM889.00, the figure is scheduled for release around Q2-Q3 2020.
Sweet right? It gets better.
In the past, we are sure you've read our articles pertaining to Hot Toys and were left hanging as to not being able to purchase nor place pre-orders for those figures. We hear you; for the first time ever, we are proud to announce that we are taking pre-orders for this specific action figure, in limited quantities.
A deposit of RM150 is required to book your unit, with the rest to be paid upon pick-up of said figure. This should leave you ample time to save up the remainder of the cost rather than coughing up a lump sum.
If you're on-board this venture, do fill in your details in the link. We will be in touch shortly.
Important notice:Â 
The deadline of this pre-order is December 20th 2019.
No refunds on pre-order items.
---
Disclaimer: Team Kakuchopurei do not gain any monetary benefit from the pre-orders; it is simply us doing our bit in sharing the hobby and making it more accessible to our readers.