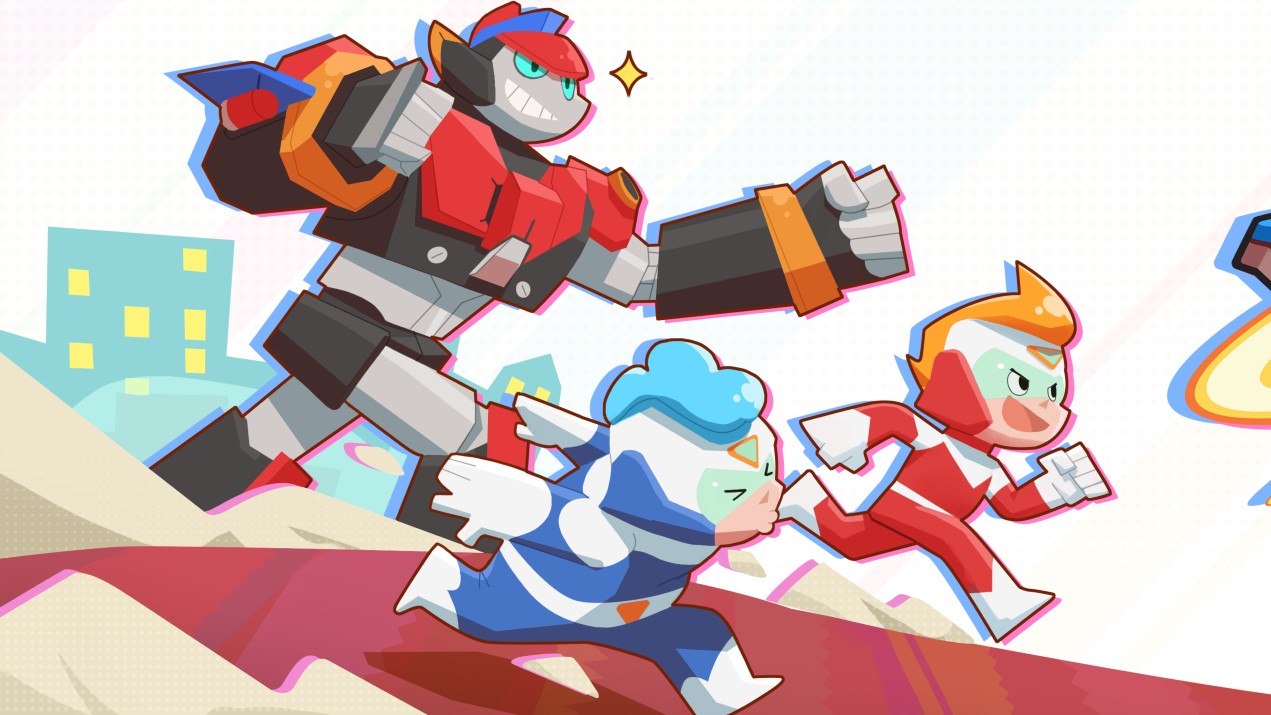 by in
Malaysian animated company, SpaceSheep Studio, launched the first episode of their Iron Punch animated series on 12 January 2021. Iron  Punch is a family-friendly animated series and a comedic take on the heroic rangers piloting a Super Robot to fight monster's trope. Think of it as Power Rangers in cute animated form targeted to younger viewers and the entire family.
Produced by SpaceSheep Studio, Iron Punch follows Red and Blue, two Fulltime Rangers employed by the EDF (Earth Defence Force) to protect Ultra-City One from monstrous threats like the Kaiju with the help of the powerful Super Robot, Rock5.
Both of them are in their early twenties but Red is hard-headed and aims to be a hero while pudgy Blue chooses to defend Ultra City One all for the sake of free food. This clash of both personality traits complement one another, providing humour and entertainment for the audience. 
Meanwhile, Super Robot Rock5 is only a year old and enjoys reading and sunbathing, with cleanliness being integral to it. Initially a breakthrough creation of the EDF Science Department, it is equipped with signature 'Rocket Fists' and reaches supersonic speed with its built-in Rocket Boosters. While stoic and serious at times,  Rock5 loves to have fun as well. 
Rock5 fights Iron Punch's key villain, Kaiju, a 45-year-old monster who hails from a  distant planet come to invade Earth. Kaiju character is chaotic, dirty and likes Durians but dislikes showers and coriander; a polar opposite of Rock5.
The series will focus on slapstick comedy, viewers should expect stuff like their favourite heroes taking a tea break during an intense battle, or a Kaiju  wreaking havoc on your city just to get a better spot for suntanning
SpaceSheep Studio director and founder Goh Chee Seng said:
"We here at SpaceSheep Studio have been anxiously awaiting the release of Iron  Punch.

I am very proud of our team of storytellers and animators for the successful  launch of this series, and I'm looking forward to our audience growing to love Iron Punch as we continue to release more episodes via YouTube.

It has been a challenging yet exciting  journey getting the Iron Punch characters on-screen, and I'm hoping this will open many doors for our studio's prospects."
For those interested, you can stay tuned on Iron Punch's official YouTube channel for a new episode of Iron Punch every fortnight. In the meantime, check out the first episode below: