Genshin Impact Windtrace Event Guide: How To Play Mondstadt Hide & Seek Like A Champ
Mihoyo has made its new week-long limited PvP event live for Genshin Impact. It's called the Windtrace event and it's essentially hide-and-seek/cops-and-robbers with anime waifus and husbands.
Here's a quick guide on how to start, what the rules are, and how to be the best in this weeklong PvP mode (since it ends on 23rd May).
How To Activate This Event
To start Genshin Impact's Windtrace event, you will need to:
Be at Adventure Rank 20.
Visited the following Statues of the Seven: Springvale, Dawn Winery, Qingce Village, Wuwang Hill, Starglow Cavern.
Since this is a multiplayer PvP event, you will need to matchmake with online players. This means you have to go in the queue solo; if you're in co-op, you have to leave that mode.
Talk to Gygax at Mondstadt plaza. He'll give you the lowdown. Once that's done, you can start matchmaking.
How To Play
Like we said, Windtrace is basically a combination of hide-and-seek and cops-and-robbers: two teams go at each other in hiding and seeking each other out. One player acts as the Hunter, while the three other players act as the Rebel team.
Rebels need to find places to hide for a set amount of time. Rebels can turn into boxes or barrels as disguises. These are called Windward Arts.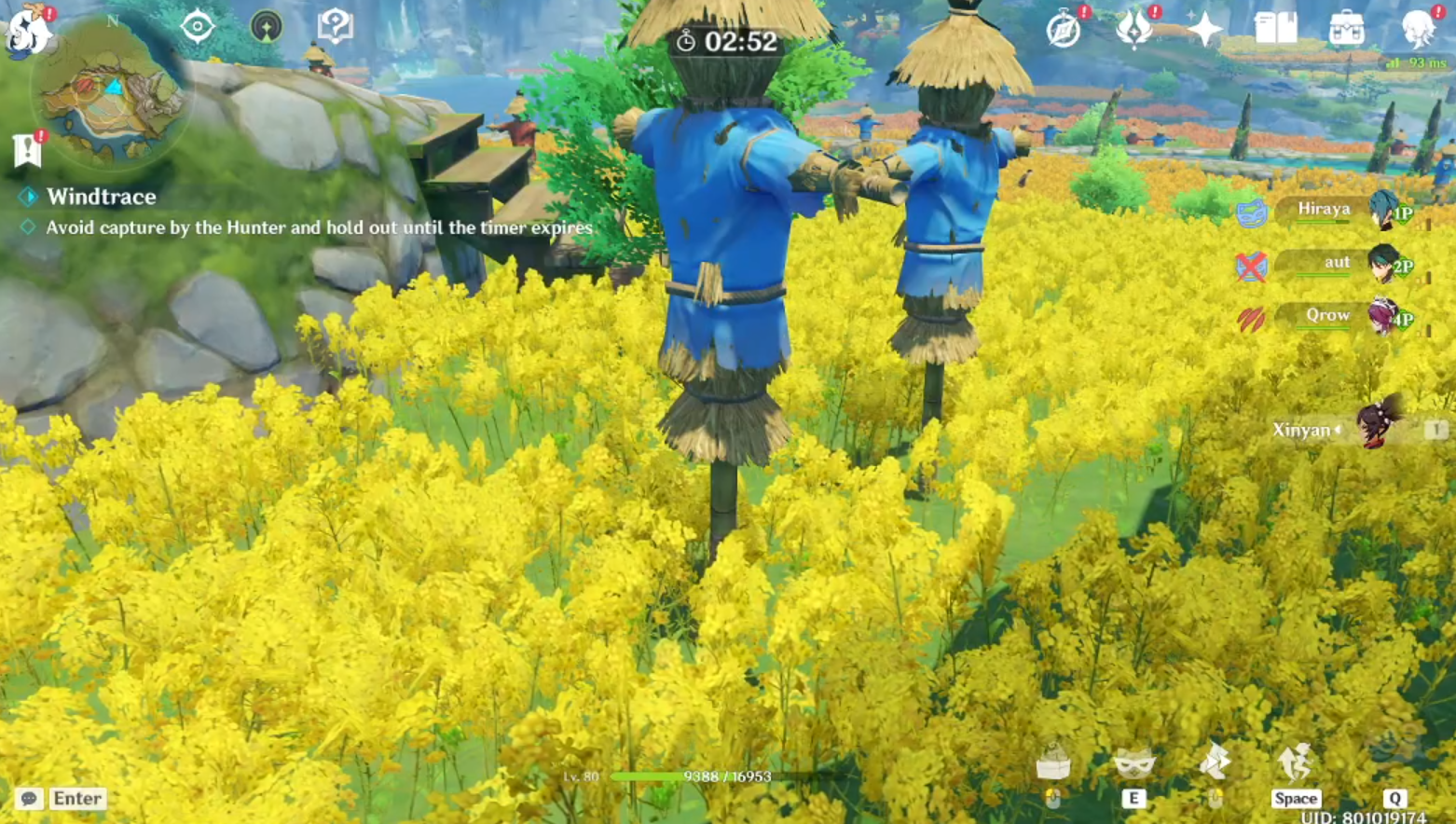 Once the hiding timer has expired, the Hunter needs to spend four minutes to find all three Rebels. The Hunter can ping the surrounding location that can reveal nearby Rebels. This is the Hunter's Windtrace Art.
Rebels must remain hidden until the timer has expired to win the match. Hunters need to find ALL Rebels to win the match.
Over time, Favors can descend into the area at random. Picking them up will help charge a player's "Secret Favor", which can help either the Rebels or Hunter.
Rewards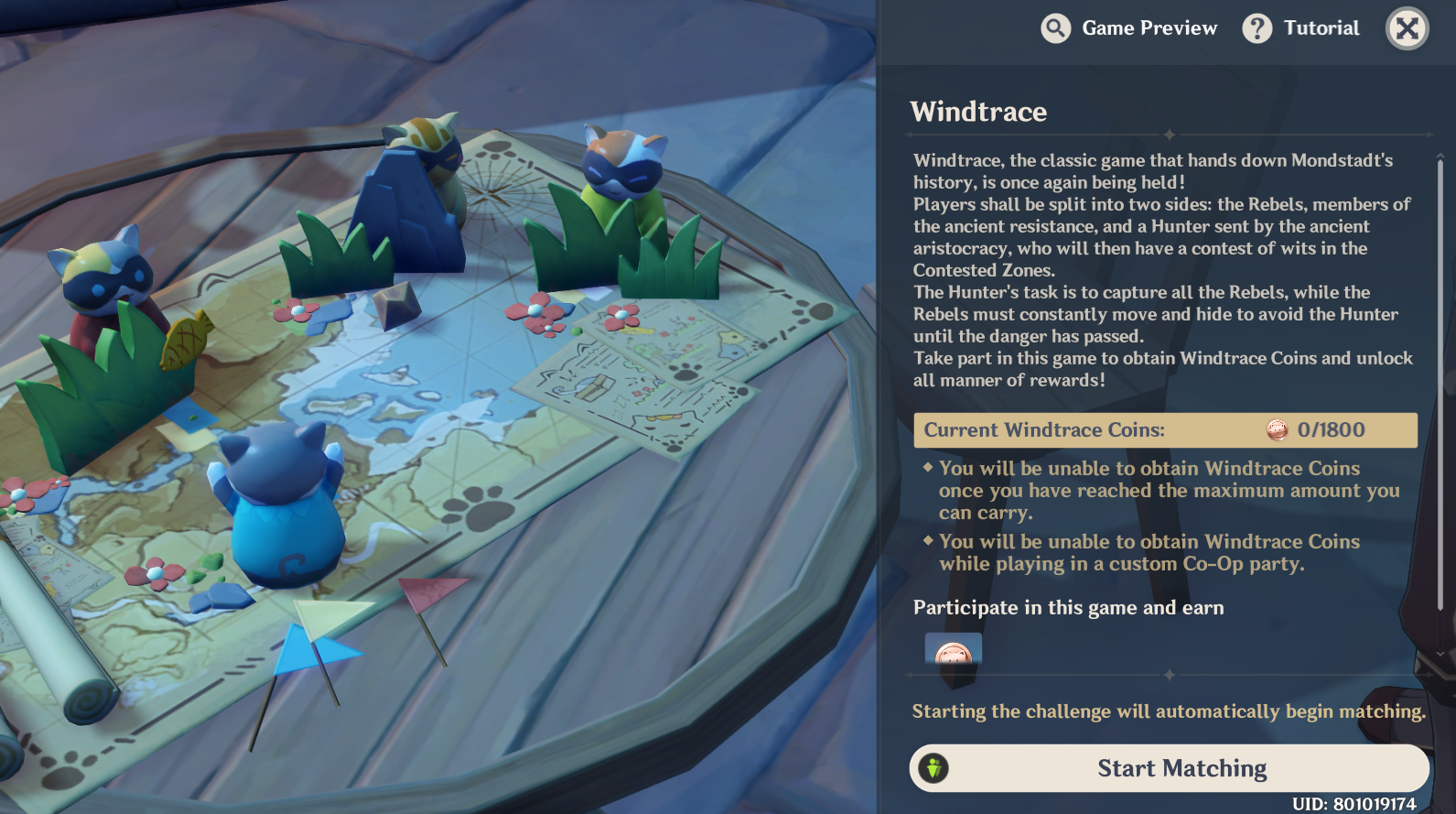 This event will reward players with Windtrace Coins. You can trade these coins with XP booklets, talent booklets, gold, and primogems.
The amount of Windtrace Coins you get is based on your performance. Basically, you get more if you win or be the last man standing, or if you can still get away scot-free even if you are marked by a Sensor Aura. The following achievements will net you 100 Windtrace Coins:
Getting a win either as a Hunter or Rebel.
"Final Countdown" – As a Hunter, capture all Rebels within two minutes.
"Cleanup Time" – As a Hunter, capture all Rebels before the round ends.
"Last Spark" – As a Rebel, be the sole escapee in a match.
"In Broad Daylight" – As a Rebel, get marked by the Sensor Aura three times but still achieve victory without getting captured.
"Fight to the Finish" – As a Rebel, achieve victory without getting captured.
Keep in mind that you can only hold up to 1,200 Windtrace coins. Each day, the cap increases by 600.
You can also gain Mora from Windtrace Challenges. Complete the following in a match to win some money in the bank.
Obtain one "Favor" during a single match – 50,000 Mora
Capture a Rebel within 10 seconds of using Mysterious Hunch – 50,000 Mora
Detect a total of 5 Rebels using the Sensor Auro – 50,000 Mora
Win once as a Rebel without using Disguise – 50,000 Mora
Use "Lay Bait" to obscure a Hunter's vision a total of 5 times – 50,000 Mora
How To Win As A Rebel
Know the map – Just find a nice spot and camp. It's best to know the lay of the land, as well as hide at spots with neatly arranged props (like scarecrows or barrels). Hunters will usually miss anyone hiding at these spots at first glance; just don't rely on the same spot.
Use your Windward Arts – Lay Bait lets you drop an item that copies your disguise. Use this in tandem to your "hidden state" to make your opponent second-guess himself, or help obscure their vision if they choose poorly. After you're in Disguise (E key) for a few seconds, it's usually best to turn on Transparency, go invisible, and find a new hiding spot (with Disguise of course). Hunters have a "ping" ability to find nearby Rebels, so staying at one spot isn't ideal.
Use a faster character – Characters like Mona have a slight mobility boost when compared to the rest of the cast. You can use this if you need to give chase after being discovered. When all else fails, just use Starstep (Q key) to gain a huge movement boost for 30 seconds. You'd be surprised how effective this move can be especially in the last 30 seconds of the match.
How To Win As A Hunter
Know the map – This would be especially useful if you're familiar with a map's object placement all across the map. So if you spot an object arrangement that looks suspicious, you can just start your search there.
Use your Windward Arts – Use Sensor Aura to ping a small area around you; this lets you know if there are any Rebel scum nearby. Mysterious Hunch lets tracks appear on the ground to indicate the general direction of a hiding Rebel. Use these back-to-back to make your search effective.
Imprisoning Curse removes the disguise of a Rebel and traps them in place temporarily. Insight reveals every Rebel on the minimap, with a  bright light marking them. Hunter's Intuition reveals a single Rebel and lasts longer than Insight.