Rising Hell is a lovely-looking 2D pixel action game with some welcome roguelike elements and gameplay. It can also be a bit tough if you're aiming for the top.
Here are tips & tricks to get a-climbing.
Figure Out What A Hellbreak Is
To perform a Hellbreak, just do a double jump when you're below an enemy. Your demon character will perform an awesome spinning move that grants you invincibility and also give you air time. Even if you don't know how to do it at first, it's a bonus attack you perform when you double jump.
In a game that's vertically built to test you, this move is useful and gives you an awesome feeling when you perform it. Also, different artifacts you get from random artifact demons will grant you different Hellbreak moves & effects.
You Can Airdash An Infinite Amount Of Times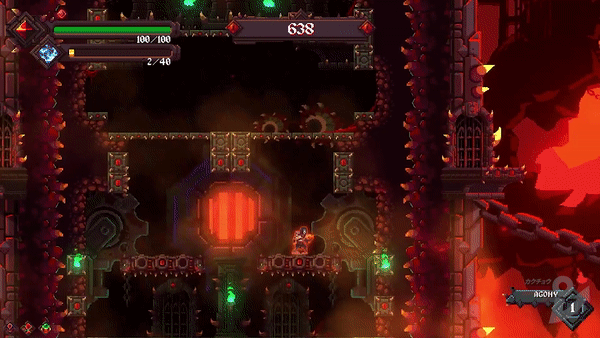 This is useful in getting loads of airtime, as well as giving you the ability to dodge incoming air attacks since you're invincible during a dash. You can combo this with a Hellbreak onto nearby enemies to stay in the air indefinitely.
When Getting Rewards, Prioritize Survivability & On-Damage Triggers
Killing enemies give you red souls. You can use red souls to buy powerups to aid in your current run. At the end of a stage, you get to buy one out of 3 powerups offered to you.
What are the best powerups? It's really depending on your playstyle. If you rather just focus on killing enemies quick, save up and buy buffs that amplify your damage when your health is high, or when you perform a character-specific animation. Or a buff that buffs your damage if you either get hit or if you hoard a ton of red souls.
Our own 2D action game connoisseur Mr Toffee prioritizes survivability above all else. The damage each demon does is decent and is amplified with artifacts, so focus on buffs that give you Green Souls (for health), raises your defense, lessens the health of all bosses, and buffs that make artifact-dropping demons pop up more often.
Always Visit The Vaults In Every Run
Unless you're going for the fastest time, you should visit all the vaults you find in your rise to the top. Avarice Vaults reward you with a ton of Red Souls. Trickster Vaults sells you powerups, but unlike the end-of-stage rewards, you can buy all of them if you have enough Red Souls. Also, you can buy health refills in exchange for a decent sum of Red Souls.
One risk-reward tactic is to blaze through the game, avoid early end-of-stage powerups, and hope you come across a Trickster Vault so that you can blow all your Red Souls for the powerups and life you need. Throughout a number of our runs, we have come across at least one Trickster Vault and they usually pop up after the first level boss Dagon (the eye boss).
The Toughest Part About Rising Hell? Trying Not To Hellbreak
Some of Rising Hell's achievements require you to finish an Act without performing a Hellbreak. You need to resist the urge to spam the jump button and just navigate your way to the top like a regular one-jumping action character. This is tougher than it sounds because 2D games like Rising Hell -and past 2D action games with platforming elements- have already conditioned you to double jump instinctively.
The only tip here is you can turn off auto-Hellbreak by pausing the game and pressing Right Trigger to disable it. Beyond that, you're on your own here.
---
Power-Up List
Chaosgrip (Souls, 126 Red Souls) – Enemies killed by Hellbreak drop 30% more Red Souls.
Chaosbomb (Ability, 275 Red Souls) – Killed enemy minions explode, dealing damage to nearby enemies.
Combustion (Ability, 205 Red Souls) – Whenever you take damage, unleash an explosion to damage nearby enemies.
Corruptcore (Arsenals, 110 Red Souls) – Improves the duration of artifacts by 5 seconds.
Darkblood (Vigor, 250 Red Souls) – Increases max life by 25.
Darkstalker (Ability, 132 Red Souls) – No slipping on the wall and allows you to execute Hellbreak on enemies inside radius by pressing the attack button.
Demonhide (Durability, 88 Red Souls) – Reduces all damage taken by 20%.
Deathcrisis (Vigor, 286 Red Souls) – Increases Green Souls drop rate when you have 50% of your max life or less.
Deathshock (Ability, 275 Red Souls) – Killed enemy minions unleashes lightning bolts to damage nearby enemies.
Enfeeble (Ability, 240 Red Souls) – Archdemons and hell lieutenants have 15% less max life.
Felblade (Assault, 210 Red Souls) – Increases your attack power by 1% for each 25 red souls you possess. Great if you're a hoarder.
Felforge (Assault, 100 Red Souls) – Increase attack by 20%.
Fortunemaker (Arsenals, 140 Red Souls) – Increases artifact monster spawn rate. Killed enemies have a small chance to drop greater Red Souls.
Grimhand (Assault, 220 Red Souls) – Every time you collect 100 souls, temporarily increase your attack damage by 50% for 20 seconds.
Hellknight (Vigor, 300 Red Souls) – Increases max life by 20 and decreases all damage taken by 10%.
Lifegreed (Vigor, 100 Red Souls) – Increase green soul drop rate by 25%.
Necroanthropops (Ability, 300 Red Souls) – Resurrects once upon death.
Necropyre (Vigor, 240 Red Souls) – Your attacks have 7% chance to restore life based on damage dealt.
Powersurge (Assault, 297 Red Souls) – Increases your attack damage by 25% when you have 50% life or more. Worth buying if you're using Zelos or Sydna who have mid-ranged attacks.
Ragingsoul (Assault, 242 Red Souls) – Whenever you take damage, increases your attack power by 50% for 10 seconds.
Reapkill (Vigor, 300 Red Souls) – Killing 4 enemies within 7 seconds restores 4% life.
Shockwrath (Ability, 200 Red Souls) – Whenever you take damage, unleash lightning bolts to damage nearby enemies.
Soultrade (Souls, 100 Red Souls) – Increases Red Souls gained from the trickster's treasury by 175%. Great for those who like to raid Avarice Vaults.
Soulstrike (Souls, 132 Red Souls) – Every 3rd enemy killed drops 50% more Red Souls.
Soulcatcher (Souls, 70 Red Souls) – Increases the attraction radius of red and green souls.
Vilehand (Arsenals, 240 Red Souls) – Killing an enemy has 50% chance to restore your artifact weapon energy.
Wraithlord (Durability, 90 Red Souls) – Increases invincibility duration by 1 second after taking damage.