Platform(s): PC, PS4, Xbox One, Nintendo Switch, PS5, Xbox Series X
Genre: Vertical Roguelike, Platformer Action Game, Indie, Bullet Hell
This year alone, I've reviewed several roguelike and roguelite games, including Gods Will Fall, Nigate Tale, and Returnal. It seems like everyone's trying their hand at the genre these days, as it gets less and less niche with time, thanks mostly to the brilliant Hades by Supergiant Games.
Well, Indonesian developer Tahoe Games is next in line but fortunately, they're doing something different and unique to make it all more refreshing. Turning away from the usual top-down 3D isometric perspective, they have opted for a vertical roguelite with a focus on fast-paced and adrenaline-pumping action.
The Devil Made Me Do It
In Rising Hell, as the name implies, players climb through procedurally-generated levels of hell. Yes, the hell of fire and brimstone fame. There's a brief backstory about how players assume the roles of demons to free Lucifer from the roots of the Zaqom tree, where the dark lord is being caged. However, the story really isn't important at all; it's essentially just there to act as the setting, so don't expect a grand and growing narrative of interesting characters like in Hades.
The meat of Rising Hell is the gameplay and combat, which is obviously where Tahoe Games poured all their hard work on. The controls are simple, with one button for attacking, one for jumping, one for dashing and one to interact with objects. That's basically it; there are no complicated combos or multiple weapons to choose from.
Rising Hell makes up for all that with combat that feels tight and satisfying. Every hit that connects with enemies feels substantial and great. Despite the simplistic controls, the game spices up the combat with Artifacts and Relics. Artifacts are items that are randomly dropped by certain enemies, which grants players awesome additional elements to their basic attacks. These can be attacks that spawn energy blades, while another will spawn lightning with each attack. To keep players from getting too overpowered, these Artifacts' effects are temporary, and it'll be only a limited number of attacks before your attacks return to their regular combos.
Meanwhile, Relics are items that offer a permanent stat boost or benefit (like increasing attack/health stats or even granting an extra life). Players are given a choice of three random Relics to purchase at the top of each level with the red orbs that they obtain from killing enemies, and these same red orbs are the game's main currency. On the other hand, the rarer green orbs help restore health, though the spawning of these green orbs can be increased via certain Relics.
The unique Hellbreak jump-attack mechanic allows players to chain special combos and one-hit kills that are satisfying as hell to pull off (pardon the pun). This mechanic can only really work well in a side-scrolling vertical platformer roguelite like this. There are no annoying 3D elements that would otherwise make jumping and platforming less precise and more frustrating to perform.
The best part of the combat in Rising Hell is how fast-paced and intense it is. You'll have to keep killing enemies and moving upwards while avoiding enemy projectiles and traps like buzzsaws or spikes. To understand how fast-paced and intense it really is compared to even something like Hades or Returnal, each World in Rising World consists of several levels with a mini-boss and a main boss.
How long does it take to complete one World? Well, it's only less than 10 minutes for each World. That's right, Rising Hell is a perfect game for short bursts of intense and adrenaline-pumping combat. It only gets even more intense and faster as you get better and stronger. You get scores for each run, even if you fail and die. These scores get turned into points that contribute towards a rewards tier that unlocks more Artifacts, Relics and even grants another in-game currency called Blight as it accumulates.
Blight can also be used to unlock more playable characters with different stats that accommodates a variety of playstyles. One character is focused on physical attacks and better suited for players who like to both hit hard and get up close and personal, while another character is like Capcom's Mega Man, unleashing a hail of straight bullets towards enemies from a farther and safer range.
Highway To Hell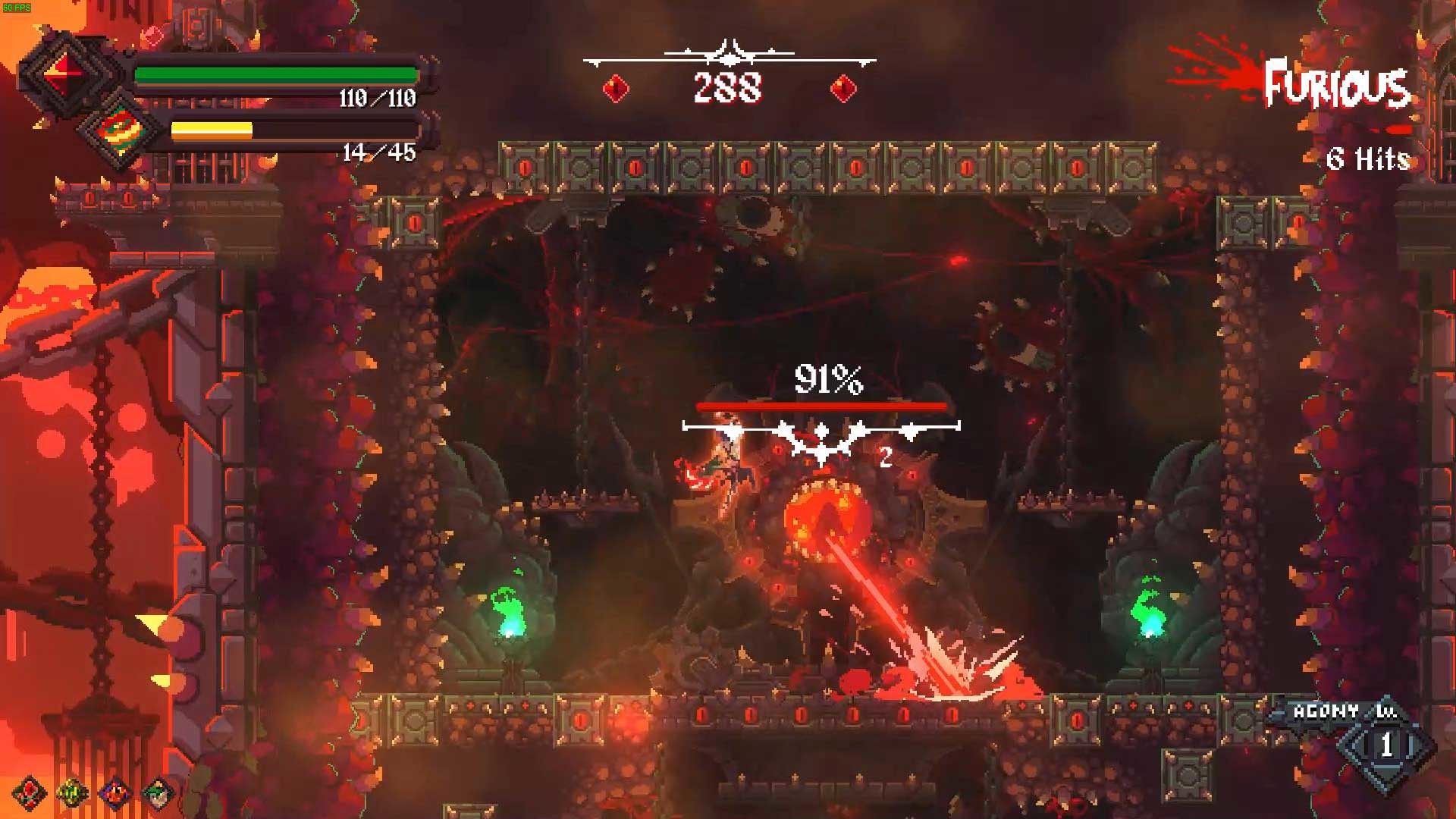 The cherry on top of the cake of Rising Hell and what makes it truly stand out amongst other roguelites is the game's rocking ear-melting heavy metal guitar riffs. Your frantic rush to escape the bowels and levels of hell is made even more intense and adrenaline-pumping thanks to how awesome the game's music and soundtrack is.
Don't believe me? Publisher Toge Productions have posted the game's soundtracks on YouTube, so you can check them out for yourselves. For a little taste, take a listen to my favourite track from the game below:
Breaking Out Of Hell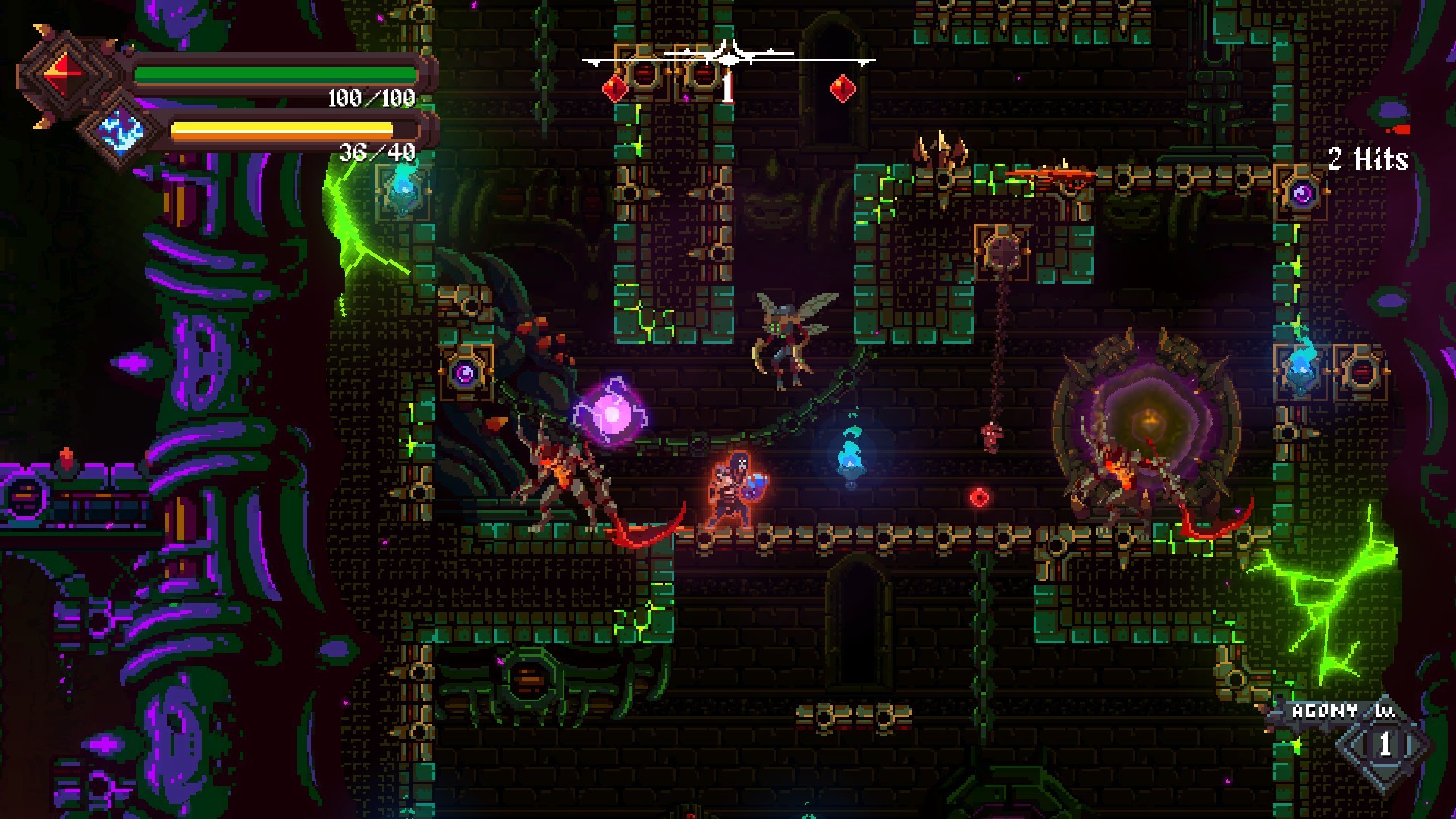 Roguelikes and roguelites are notorious for having high difficulty curves, but Rising Hell doesn't feel too punishingly hard even in the beginning, likely due to the length of the levels. Don't get me wrong; this isn't an easy game and you'll still definitely die a lot of times, especially against the game's bosses. But it's bearable and adheres to standard roguelike stage lengths.
At the time of writing, Rising Hell remains in early access on Steam, but that will change soon as the developer is planning to add a final boss and more content in the game's full version when it releases on 19 May, 2021. It's a worthwhile effort from Indonesian developer Tahoe Games and it's one to look out for as it keeps getting better.
Pros
Simple but fast-paced and satisfying combat.
Spot-on controls.
Rocking metal music.
Multiple unlockable characters equals various playstyles.
Cons
Barebones narrative.
Not much variety in level design.
Final Score: 80/100
Review copy provided by Tahoe Games/Toge Productions. Played on PC via Steam. Rising Hell is slated to release on 19 May 2021.