Minor spoilers in the review; we need to talk about the first episode's resolution. We won't spoil the rest of the series though. 
When it comes to 80s toy lines with their own cartoon shows, I'm more of a Transformers and Teenage Mutant Ninja Turtles guy than a He-Man & The Masters Of The Universe fan. Call it personal preference, I guess. But I can understand the love and adoration of Mattel's very famous boy-centric toyline with its creative aesthetics and "creative" use of the fantasy genre without being brutal and hardcore like a Conan The Barbarian flick.
So when I heard about the Masters of the Universe series on Netflix, it was probably because Kevin "I bitched about Star Wars & made a career out of it" Smith, a man who does not even like the series that much, is producing it (and writing the first episode). Oh, and the "bait-and-switch" marketing and Rotten Tomatoes "review-bombing" fallout that occurred. I was naturally curious.
So what did I end up with? A pretty solid sequel that looks & sounds great, but needs some work in-between.
Muscle Powered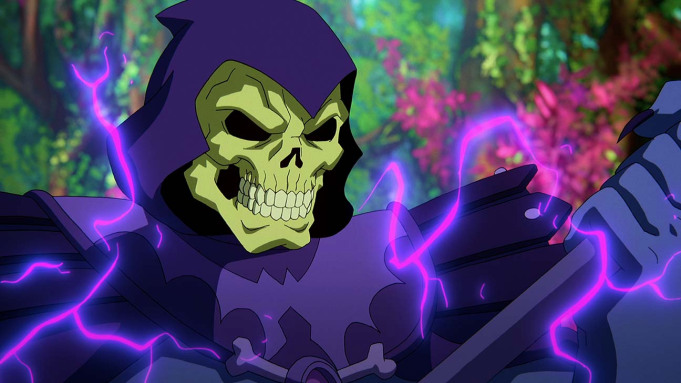 If you're new to the Masters of the Universe series, just remember that it was based on an 80s Mattel fantasy toy/action figure line featuring big burly men and humanoid monsters with dumb names. The 80s show is basically a monster-and-situation-of-the-week where our hero Prince Adam and his superpowered sword-wielding alter-ego He-Man saves the world of Eternia from Skeletor's forces on a Saturday morning cartoon basis. With a Funimation budget -more jumping than actual fighting- and strict 80s programming.
In this Netflix sequel, the gloves are off: He-Man and Skeletor get locked in a fated showdown where actual fighting and action happens, explosions and sword-stabbings included. That's good! Longtime fans who had to fill in the blanks for the less-than-stellar-looking-right-now 80s show will get to see how the show's action should be like with 100 times the budget. Powerhouse Animation (of Netflix's Castlevania fame) really did a great job maintaining the look of the show while glossing things up with striking colours and effects.
For fans who know the lore inside out and are ready to keep an open mind, the show's main plot revolves around the cast: the aftermath of that fated battle basically left Eternia with little to no magic left, and a He-Man-and-Prince-Adam-less world. Man-At-Arms gets banished because King Randor's secretly an asshole, and Teela feels super-betrayed because she isn't in on the "Prince Adam is He-Man" secret.
Edgelord Teela ends up being a mercenary with her new "friend" Andra, who is wide-eyed and optimistic, and somehow ends up being given a quest to fix Eternia's magic problem with unlikely allies and returning pals. There's a good bunch of action and story going on with this, as Teela and co. end up being the focal point to help get the world back on track. It's a bold choice, and one made with actual thought and care since the last thing we want is a retread & regurgitation of the 80s show's cyclical plot but with better animation.
It's also pretty ballsy for axing certain characters left and right, upping the stakes when needed and fleshing certain relationships so that we actually give a crap. As someone who has seen many reboots happen for a ton of 80s toyline-to-animation properties, I approve.
Powerless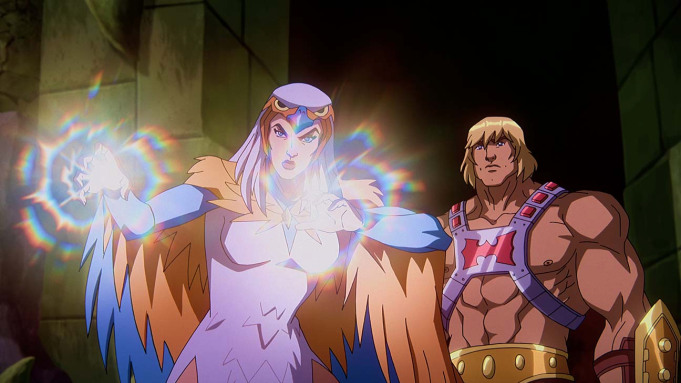 A few problems with this reboot-sequel's current path though: the writing can get wretched at times, Teela comes off as whiney and entitled, to the point where she can't get over her betrayal for FOUR episodes straight, and the voice-acting does not feel unique. If the writers can tone down Teela's personal story arc so that she doesn't come off as selfish, then maybe her actions and persona can be tolerable. It's just written poorly here, and makes me care more for the supporting cast. That's a problem when you choose to focus the plot on Teela and her quest though.
This problem is exemplified in one of the later episodes where she ends up in Eternia's version of the underworld and she confronts her worst fears. The end result is cringeworthy and unnecessary; better writers would have actually made more sense out of this bit.
And no, that's not Teela and Skeletor's voices you're hearing. That's Buffy pretending to be Teela and Joker pretending to be Skeletor. As star-studded, the cast is, most of it is mostly because it will attract the masses & pop culture aficionados rather than because it felt right for most of the characters.
Yes, I'm aware this is a PG kid's show and that some of the lines can get corny and on-the-nose, but most of the plot requires all that knowledge of the 80s Mattel toy line and lore ingrained in your mind. Striking that balance between old and new fans is tough, and in this regard, this one is skewed towards the former. If you're jumping into this fresh, you'll have no idea who the hell Moss Man is, and why there's only one person guarding the one major location that every bad guy in the show wants to conquer.
It's arguable that the show the hardcore He-Man fans wanted may not be this, and believe me there's a lot of videos and articles bringing this up. I blame this more on the marketing that happened prior to the show's release. As a standalone follow-up to an 80s toy property with a cartoon tacked onto it, it's fine. Just remember that this is one-half of a full series that will wrap up how Eternia will end up. At the very least, the shocker of an ending for this season really has me looking forward to the next half.
Masters of the Universe: Revelation certainly has the power, but it still needs to channel it right to reach its full potential. Here's hoping the second half will sort that out.
Final Score: 60/100