The PUBG Challenger Rumble Season 2 marks the return of teams across Southeast Asia; from Malaysia, Singapore, Indonesia and the Philippines. 
Taking place from 31 July to 15 August 2021 (every Saturday and Sunday), the top professional teams across these four countries will face off to secure their spot in the PUBG Continental Series 5, where they will go head to head with the best of the APAC region. 
With the country qualifiers taking place on the 17 and 18 July 2021, teams from Indonesia, the Philippines and Malaysia/Singapore went head to head for their chance at securing a slot at the PUBG Challenger Rumble Season 2. After intense competition over the weekend, the stage is set for PCR with the top four teams from the Indonesia Qualifiers, top three teams from the Philippines Qualifiers and top three teams from the Malaysia/Singapore Qualifiers, heading to the main event.
Indonesia Pool 1Â 
Indonesia Pool 2Â 
Philippines 
NRX ESPORTS

BAHAMUT GAMING

NOMADS
Malaysia/Singapore 
FRIENDLY FIRE GAMING

BOT SLAYER

FRIENDLY FIRE ACADEMY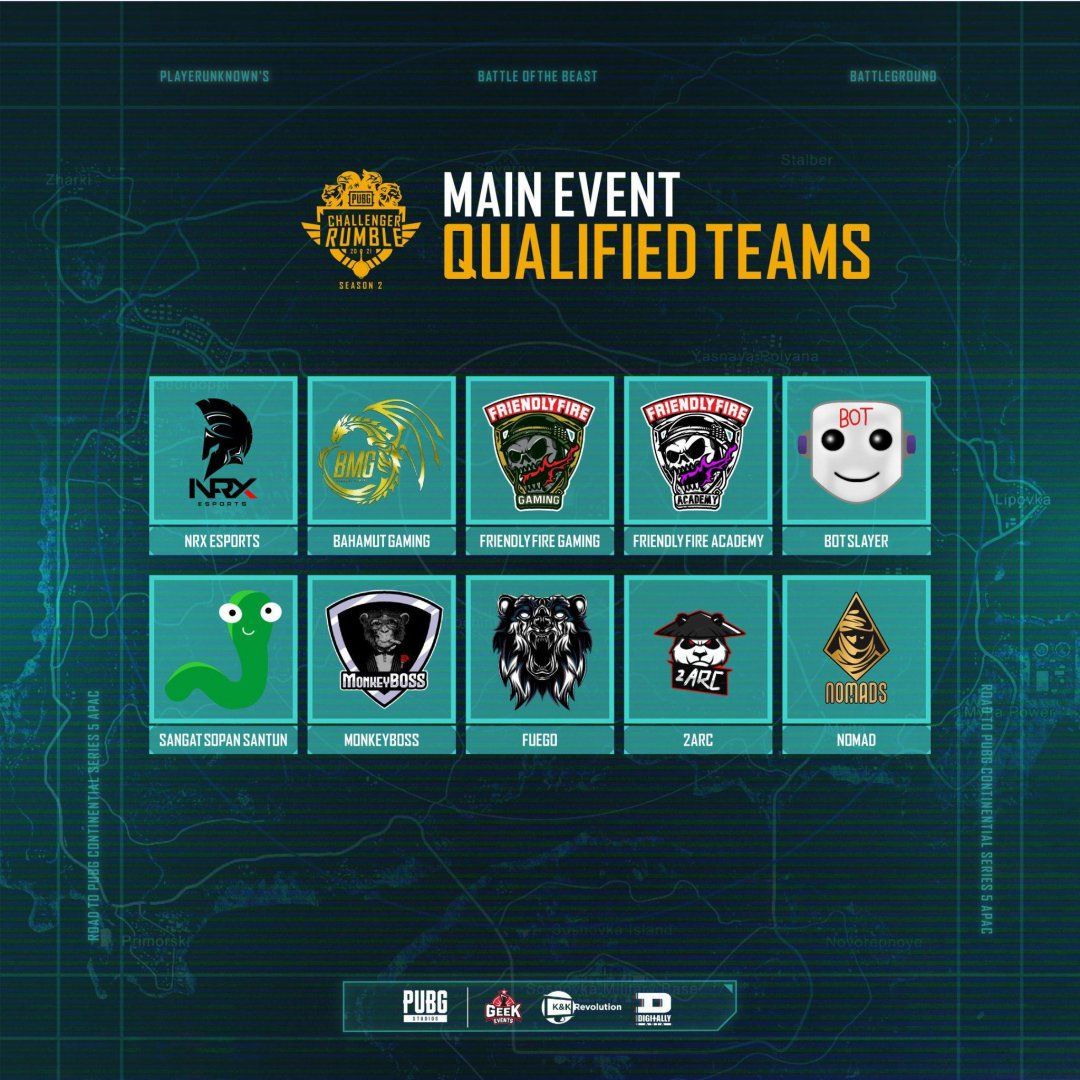 The PUBG Challenger Rumble Season 2, organised by Geek Events, will also feature exclusively invited teams from the Philippines and Indonesia; Arkangel Predator, The Colony, From The Future, Eagle 365 Esports, Team Extraordinaire and 4 Samurai. 
While Victim Rise held the initial invitation, the team disbanded early last month, shortly after PUBG Continental Series 4: APAC, the invitation was then passed on to From The Future, who held 7th place at the PUBG Challenger Rumble Season 1. All teams will take it to the battlefield to determine the champion of the PUBG Challenger Rumble Season 2 and secure themselves a spot in PUBG Continental Series 5: APAC.
With a prize pool of US$5000 USD to be spread among the teams, the champion will be determined based on the team that has accumulated the highest amount of prize money (US$4500 USD) within the 3-week tournament. This season will also see a special prize of US$500 USD set aside for Overall MVP (US$250 USD) and Team with Most Kills (US$250 USD).