Lay out all of the gadgets you regularly use on a daily basis. Your smartphone, laptop(s), perhaps your wireless headset or earbuds and even your tablet if you happen to have one. Oh, you are one of the few people in 2021 who carries around a dedicated camera as well? Add that as well.
Quite a stash isn't it? Which leads to this question: how do you streamline all of this into one?
Of course, something has got to give and to have access to all technology, one will almost always have to sacrifice space. But what if we told you that in the Galaxy Z Fold 3, you can have all the items listed above, in a device crammed with flagship-tier specs with extra bells and whistles to boot?
On par (specs-wise) with many flagship phones of 2021, the Z Fold 3 comes with the Snapdragon 888 chip, Adreno 660 GPU, a screen with 120hz refresh rate (non adaptive, sadly) and a premium build.
If there's a phone that embodies 'jack of all trades, master of none', the Z Fold 3 is easily a prime candidate to fill that role.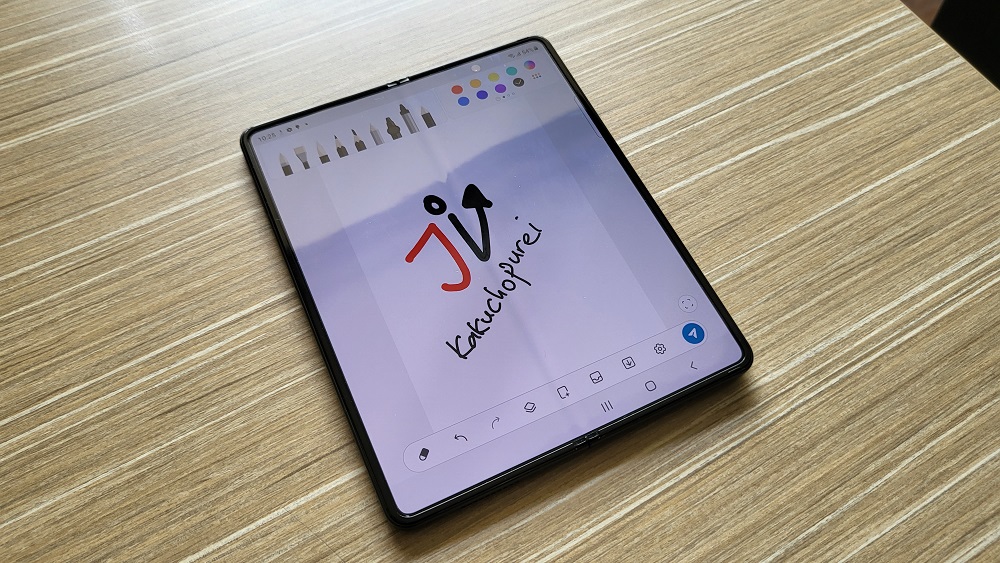 If we are to liken this device to say, a professional football player and in the S21 and its Apple contemporary, the iPhone 12 and 13 are akin to the flashy forwards in Leo Messi, Cristiano Ronaldo and Neymar; the Z Fold 3 carries a more workman-like vibe in Steven Gerrard and Frank Lampard. In no way lacking in talent, this device is an all-rounder which can be relied on in many scenarios, especially for the work-centric power user.
If you were put off by the 'Fold' line due to issues in the past, worry not. Tougher and more durable than its past iterations, the Fold 3 is the most robust one to date. Certified IPX8, this latest Fold device is water-resistant but like its slimmer cousin the Flip 3Â , isn't immune to dust. It will survive your standard drops or the occasional spills but considering its heft, we would definitely recommend slapping on a shock-proof case on your device and coating the outer screen with a protector considering the lack of a lip protecting the glass portion.
Still, you can now with confidence switch in between the two modes without worrying about the screen cracking and giving way. Samsung claims that their latest foldables are made of sturdier and longer-lasting material.
We'll take their word for it as throughout our daily usage of the Z Fold 3 for this review, did not notice any compromise to the structure; both the hinge mechanism or even the folded glass parts.
Two Modes, One Device
Always dreamt of a device with a huge screen yet compact at the same time? Then you're in luck as this is literally the Fold line's party trick. Throughout our review period, we spent a bulk of our time using the 'outer' 6.2in screen of the Z Fold 3. Due to its folded form, the phone does appear thicker and taller in this state. This is a fully-functional screen which allows you to run any app on it, from standard messaging to scanning QR codes at shopping premises to playing games like Call of Duty Mobile or PUBG.
This is great in several ways. First, it does not necessitate opening up the phone each time you want to interact with it and second, it subconsciously shape how you interact with your devices. The actions of opening up the Z Fold 3 is a deliberate one now. It also helps conserve battery in the long run as running a smaller screen equals better battery efficiency.
Our favourite part? The slim form of the phone when clasped allows easy navigation with one hand so you don't need to worry about appearing ridiculous slapping a huge slab of glass to your cheek when picking up calls. It is weighty by modern phones standards but since the weight is distributed evenly throughout, is actually quite comfortable to the grip.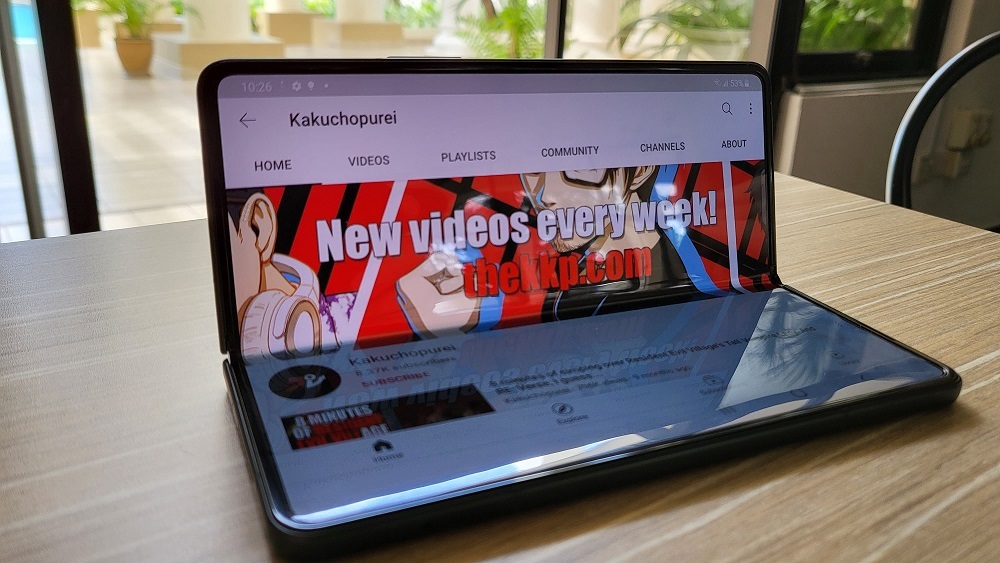 And when we feel like consuming media be it Netflix, Youtube, Disney+ or for some strange reason, a blown-up, disproportionate version of Twitter and Instagram, 'unfolding' the device presents the second 'mode' which is wider and thinner overall. The 'inside' 7.6in screen is bright enough for outdoor consumption and you get a stereo experience with two speakers blasting from grills situated at the top and bottom of the phone.
Yes, the crease is noticeable but just like on the Flip 3, does very little to affect our viewing experience. The fact that the crease is vertical means that we have fewer instances of having our fingers swipe over it.
While the Z Fold 3 could definitely use a larger and longer-lasting battery, we feel the final product is like a mid-point between design, functionality and the limits of present-day engineering so we won't be too hard on them for it. Also with Samsung actively pushing the bluetooth ear buds market, it is understandable that there are no headphone jacks added to the Z Fold 3. These are definite negatives but alas, compromises we can live with what is essentially two phones wrapped, I mean folded, into one.
Snappy Snap
The cameras on the Fold 3 are good, but not great. Yet they are still able to deliver high quality photos which tend to fall on the vibrant side of things – a trait common with Samsung's photo processing. The triple camera setup in the rear consist of the main, telephoto and ultrawide 12MP cameras. Good enough for your kid's birthday party, posting on social media and the occasional roadside fender benders us Malaysians time and time have been guilty of.
Since the hinges on the Z Fold 3 are firm and stays in place at almost any angle, you are able to adjust your phone into a make-shift stand to take selfies or even accept video calls. The fourth camera is situated at the top of the outer screen.
This 10MP camera can be used for selfies or TikTok-ing – if you're into that.
Also, let's be real. Unless you are a hobbyist or a professional photographer, these specs delivers more than what you'll ever need. Otherwise, you should be focusing on a different phone altogether – like the Galaxy S21 Ultra perhaps.
The fifth camera is an engineering marvel yet a questionable move in the grander scheme of things. It is worth mentioning that there is no notch in the Fold 3. Instead, the camera is hidden behind the screen. This presents us with a seamless square when watching videos full screen on opened mode. However, if you look closely, you can spot where the pixels are less dense. The front camera is also not something worth shouting about. In short, it looks like it's taken from a 2016 device. Samsung should just stick with a punch hole aesthetic moving forward. The inside screen is hidden 99% of the time anyway.
Looking for an upgrade to your Galaxy Note device? Boy, do we have news for you.
The Pen Is Mightier…
When Samsung unveiled the Galaxy Fold 3, certain sections of the tech community gasped at the thought that they won't be getting a new iteration of their beloved Note device. 'Unbelievable!' cried the crowd.
However, after spending a good two weeks with the new Samsung Galaxy Z Fold 3, I want to tell them this – They can step back and take a long sigh of relief as they not only get a worthy successor to the Galaxy Note 20. The Z Fold 3, in some aspects, bring some significant upgrades from the device which was released in 2020. The inner or wider screen is S Pen compatible which in turn, presents a totally new experience with the Z Fold 3. The experience of writing, doodling and scribbling can be simply described as wonderful. The input is super responsive and I did not notice any lag.
I do, however, have some issues with the implementation.  Firstly, the Z Fold 3 doesn't come with a method to store the S Pen which leads to us thinking that the S Pen support was more of an afterthought. Secondly, the S Pen is sold separately. So if you intend to experience the Z Fold 3 to its full potential, you must be ready to spend a few extra bucks.
In The Fold
Overall the Samsung Galaxy Z Fold 3 presents a compact, multi-faceted smartphone which is geared for those wanting to eke as much as possible from their smart device. This is definitely NOT a device for the casual user.
The fact that Samsung was able to tick a lot of boxes through one sole device should be commended but it doesn't mean there's no room for improvement.
Pros
Brilliant build.
All-round workhorse.
Comes with S Pen support.
You're essentially getting two devices!
Cons
Subpar battery life.
No expandable storage.
Lack of S Pen storage.
Final Score: 80/100
---
Vital Statistics
Platform: Android 11, One UI 3.1.1
Body: Unfolded: 158.2 x 128.1 x 6.4 mm; Folded: 158.2 x 67.1 x 14.4-16 mm
Build: Glass front (Gorilla Glass Victus) (folded), plastic front (unfolded), glass back (Gorilla Glass Victus), aluminum frame
Chipset: Snapdragon 888 5G (5 nm)
CPU: Octa-core (1×2.84 GHz Kryo 680 & 3×2.42 GHz Kryo 680 & 4×1.80 GHz Kryo 680)
GPU: Adreno 660
Display: Foldable Dynamic AMOLED 2X, 120Hz, HDR10+, 1200 nits (peak)
Cover display: Dynamic AMOLED 2X, 120Hz, Corning Gorilla Glass Victus; 6.2 inches, 832 x 2268 pixels, 25:9 ratio
Memory (Internal, non-expandable): 256GB 12GB RAM, 512GB 12GB RAM UFS 3.1 – non-expandable
Main Cameras:
12 MP, f/1.8, 26mm (wide), 1/1.76″, 1.8µm, Dual Pixel PDAF, OIS
12 MP, f/2.4, 52mm (telephoto), 1/3.6″, 1.0µm, PDAF, OIS, 2x optical zoom
12 MP, f/2.2, 123˚, 12mm (ultrawide), 1.12µm
Vide: 4K@60fps, 1080p@60/240fps (gyro-EIS), 720p@960fps (gyro-EIS), HDR10+
Sound: Stereo speakers. No jacks given
Battery: Li-Po 4400 mAh, non-removable; Fast charging 25W; Fast wireless charging 11W; Reverse wireless charging 4.5W
Price: RM6699 (256GB/ 12GB); RM7099 (512GB/12GB) via Samsung Malaysia
A review unit of the Samsung Galaxy Z Fold 3 was sent to us for review courtesy of Samsung Malaysia.