When's the last time a Disney film has touched upon the importance of family? Since forever, of course, as the House of Mouse has touched upon the topic various times from the oddballs like Lilo & Stitch to even cult hits like A Goofy Movie. So is it any wonder why the 3D animated feature Encanto feels oddly familiar and standard despite its fantastical magic-slash-telenovela aesthetic?
The Loud House
Stop me if you've heard this one: Youngest girl in the Madrigal family is an outcast when compared to the rest of her sisters, mother, father, cousins, and extended family, and wishes to seek approval from the family matriarch. In this case, the Madrigal family are powered by magic gifts from a candle (and a magic door that acts as a trigger and gives them their own giant room within infinite space) and use that gift to help their homestead and village in Columbio. They can cure people with food (Julieta the mum voiced by Angie Cepeda), lift heavy objects and buildings (Luisa voiced by Jessica Darrow), grow flowers and is the seemingly perfect child (Isabella voiced by Diane Guerrero), and more.
Our outcast is the powerless Mirabel (Stephanie Beatriz) who finds out that the enchanted house and community they've built is in danger of eroding, and wishes to get to the bottom of it, while her family seems to turn against her because of this revelation. In the middle of this is the pariah uncle Bruno (John Leguizamo) who has the power to see the future, which also comes with its own baggage.
The film starts out loud and strong, with musical acts and lyrics waxed by current musical poster child Lin-Manuel "I did motherf***ing Hamilton" Miranda that feel in-touch with today's young audience. So of course, only half the songs resonated with me in beat and tone, with my personal highlights including the one about Bruno and Isabella. The reprise of the opening tune at the climax is also a nice touch, but this is a Disney trope that's been perfected like a tale as old as time. Everything else, from the family investigation via Mirabel and the eventual implosion all goes by like clockwork, and while it's still a hoot to watch, it isn't as impactful as it should be.
Bruno is a delight to watch and feel for, given his future-sight gift and curse, while the rift between Mirabel and her powered-up family does show the conflict our main protagonist is dealing with. Too bad the rest of the family only has a few moments of character development apart from having their powers define them. I think this film could benefit a bit more from a few extra minutes of development time between Mirabel and her siblings and cousin; these moments feel like drive-bys even for hour-and-a-half Disney segments.
A Proud Family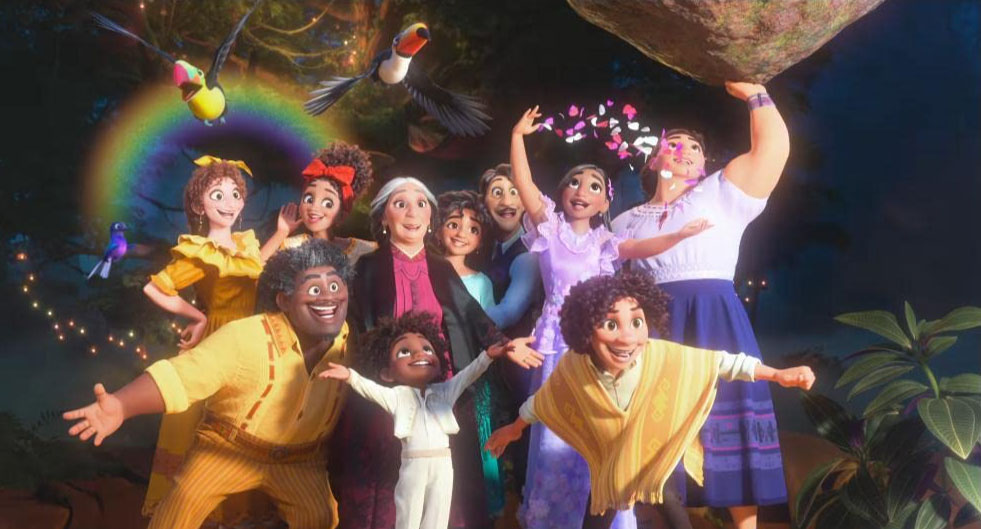 I'll say this though: parts of the middle act and how the rift ends up being resolved in the climax is definitely noteworthy, though the latter bit gives out a mixed message when the status quo reverts Disney-style. It's clear as day that Encanto is going for spectacle and style rather than a meaty story about family, complete with pretty obvious symbolism: Isabella and flowers, the aunty's moody temperament matching the weather she inadvertently summons, and the shapeshifting nephew who hasn't found himself(?) yet. Oh, and the obligatory little child addition who has the power to talk to animals for the "aww" moments and slapstick humour factor.
Jared Bush, Charise Castro Smith, and Byron Howard may not have directed a hard-hitting animated film like Zootopia (within the PG-rated spectrum), or even anything better than past 2D works. However, Encanto's music (some of it anyway), lavish colours, and La Familia style of presentation will delight audiences of all ages, even for a few days. Just don't expect a higher level of Disney work than usual; I suspect over time, this film isn't going to end up as legacy-inducing as your Frozens and the aforementioned furry cop movie.
Final Score: 70/100
Related