Platform(s): PC (version reviewed), Xbox One, Xbox Series X|S
Genre: RPG Adventure
The newest entry into Obsidian Entertainment's extensive catalogue of games, Pentiment is a 16th-century murder deduction story that insights and entertains. Players take hold of Andreas Maler, a journeyman artist that has found himself in the towns of Kiersau Abbey and Tassing and finds himself mixed up in a series of crimes and mysteries that span over 25 years. Andreas has taken up temporary residence in Tassing to work in the neighbouring town's scriptorium—a place where books were copied and painted, but during this time, are slowly becoming surpassed by innovations like the printing press.
The year is 1518 and Bavarian society is on the brink of falling into shambles with Martin Luther's words threatening a thousand years of papal dominance of western Christianity, the peasants of Tassing up-in-arms regarding high taxes, and the rich and powerful guarding their value with violence if necessary. The last thing that anyone needs is to find the corpse of an aristocrat strewn across the floor of your monastery let alone the fact that it's none other than your friend and mentor.
Andreas takes it upon himself to find the true killer. You have too many suspects and not enough time to gather the evidence you need to convince the adjudicator that one of them is guilty. However you choose to spend your time, there are going to be stones left unturned and questions unanswered.
Decisions, Decisions…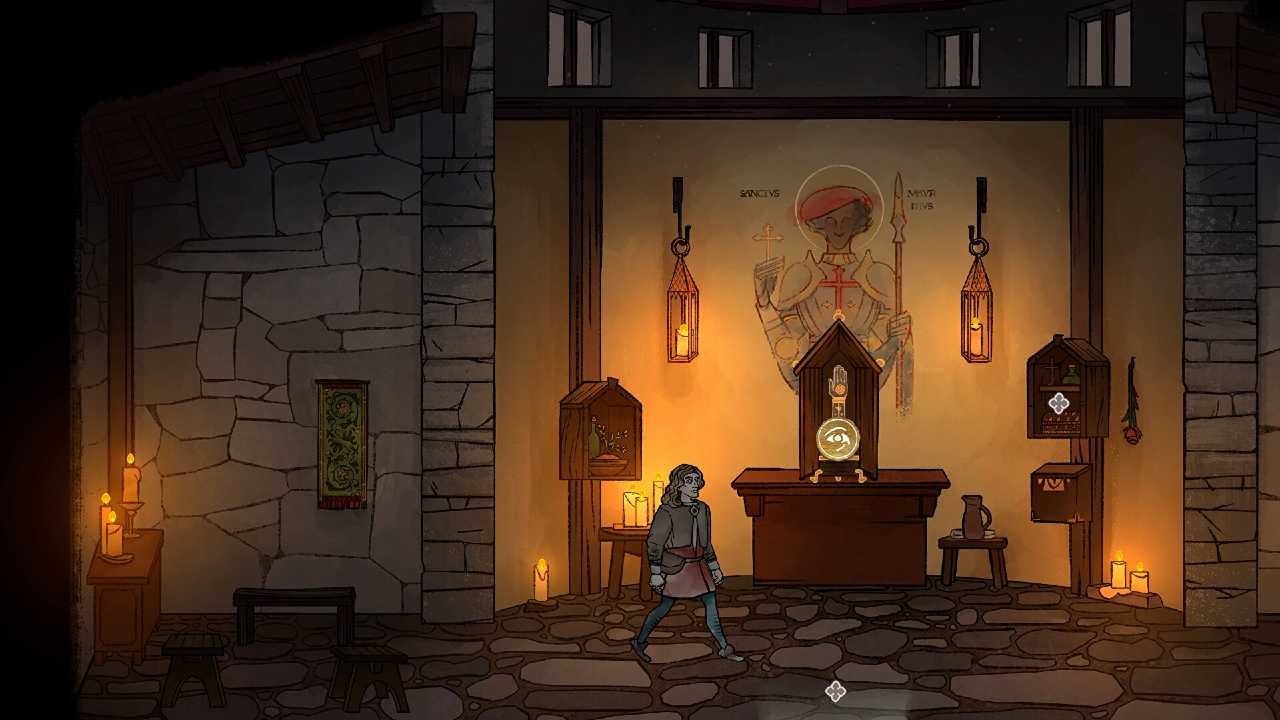 From numerous interviews, we know that the folks over at Obsidian really wanted to put emphasis on the choices you make throughout the game in comparison to their other works. With some choices having consequences you won't see for decades to come. At the very start of the game, you can choose where you studied and what you studied with even these choices being able to drastically help you solve the case or help you with other decisions in the future.
Many of the choices are time-sensitive, especially in regard to the murder as the people demand justice, but lack patience. With only a matter of days to figure out who the true killer is, you'd think that every hour counts. But it's quite the opposite in fact, as there's no ticking timer to it instead, time passes whenever you make a significant decision. These decisions could be exploring certain areas of the town or having supper suspect. The game has a tendency to stress the fact that you are making an important decision by doing a certain thing that you otherwise could do an alternative. Understandably this leaves you in a state of "what if I chose this instead of that" which, for me at least, encourages replayability.
The game never strictly tells you if you got the right culprit or not, but in hindsight, I'm pretty sure I got the wrong person as I was solely focused on one suspect. I happened to focus on them instead of one of my other suspects and collected more evidence that pointed to them as a result. I'm sure you will find other reviews that will tell a very different story which just goes to show that replayability is definitely something that the devs had in mind when creating this butterfly effect of a game.
A gripe I had from early on in the game was that when you're making an important decision, it's not always blatantly obvious that you are making an important decision. Usually, there are indicators and warnings but on a couple of occasions where I only realised I'd made a choice after I'd made it which did frustrate me a tad bit during my playthrough.
Print Screen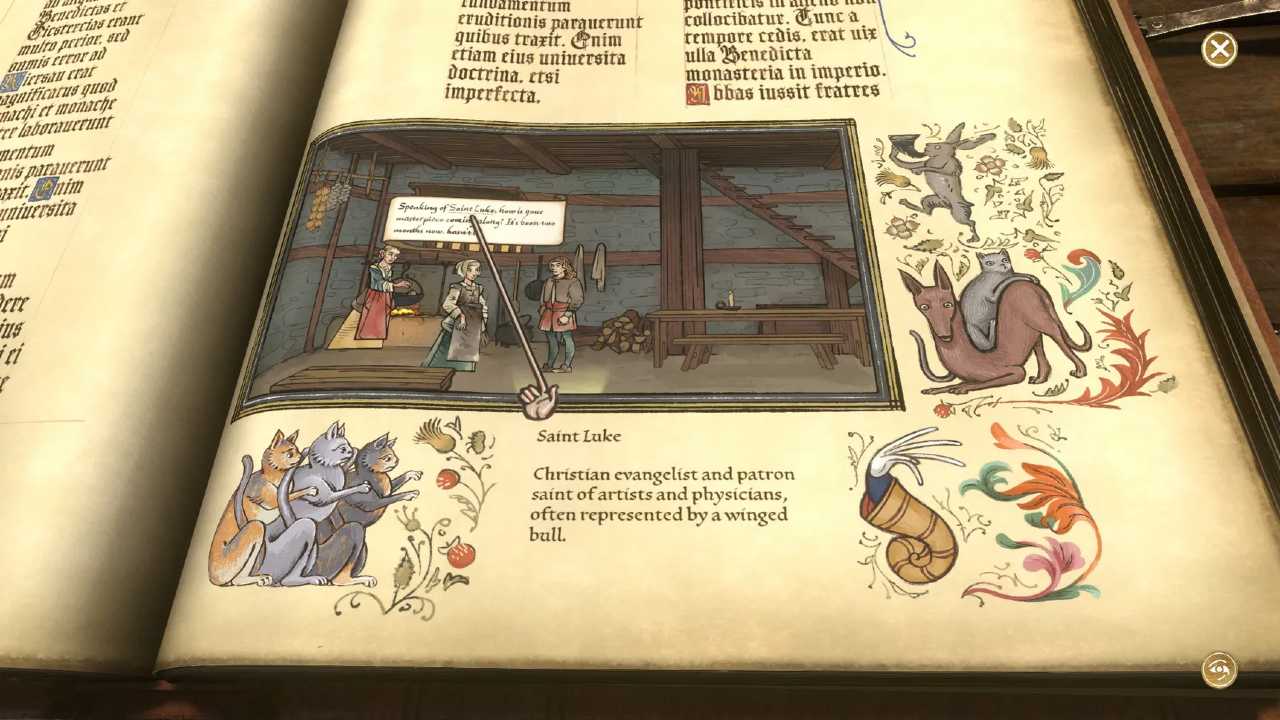 Pentiment's art is really something else. Never have I played a game with such a unique art style that just feels like it would be wrong if it was done any other way. It's obvious that it is heavily inspired by the late illuminated manuscripts and early printed books of the Renaissance era. Because of that, it really aids in shaping our perception that this game takes place in the past.
In what would otherwise be another dry history lesson, the artwork really draws you in as if you're reading the book the game takes place in.
Another aspect of the art that I admire is the font. Fonts are used prominently throughout the game as you read literally every line of dialogue as there is no voice acting. Not only that, but every word is stroked in letter by letter and after talking to the Senior Producer, Alec Frey about it, I can imagine of much of a headache this was to code and develop. One last note about the font that I really did like is that everyone's dialogue font is solely determined by their status. Priests speak in an intimidating and laborious gothic script, peasants in what can only be described as decipherable scratches, the upper class in a mess of serifs and curlicues, and people like our protagonist will speak in a sober and readable style.
The Sound of Music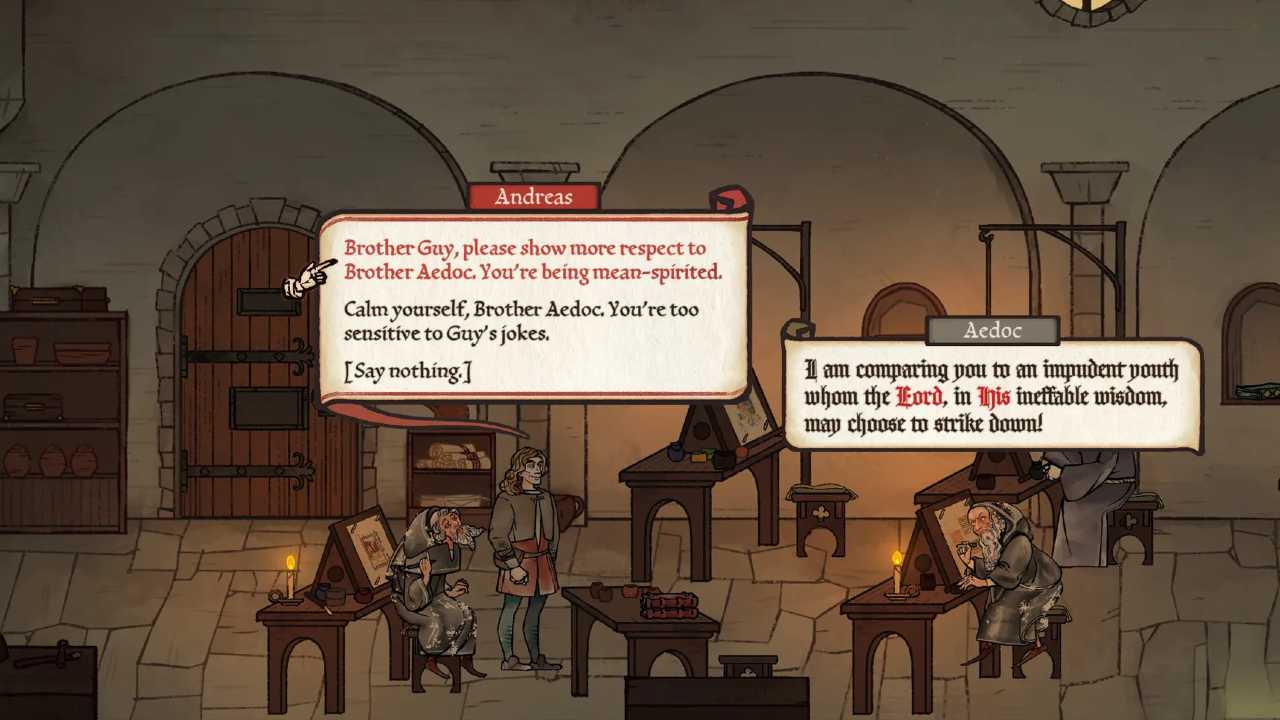 As I mentioned before, the game has no audible dialogue so a lot of emphasis is put on the ambience and soundtrack. The soundtrack is absolutely perfect for the setting of the game. When you think of the era in which the game takes place, the soundtrack perfectly portrays it with its heavy use of period-accurate instruments.
The ambience, although subtle, really adds to the immersion of the game as it aids in conveying a sense of place whether you're in the monastery or out in the meadow. Another aspect that I think will go unappreciated is in regard to the pen strokes. Almost as if ASMR, the scratches that the pen makes as each letter strokes is enough to lift the hairs on my arms in a therapeutic way.
The Court's Verdict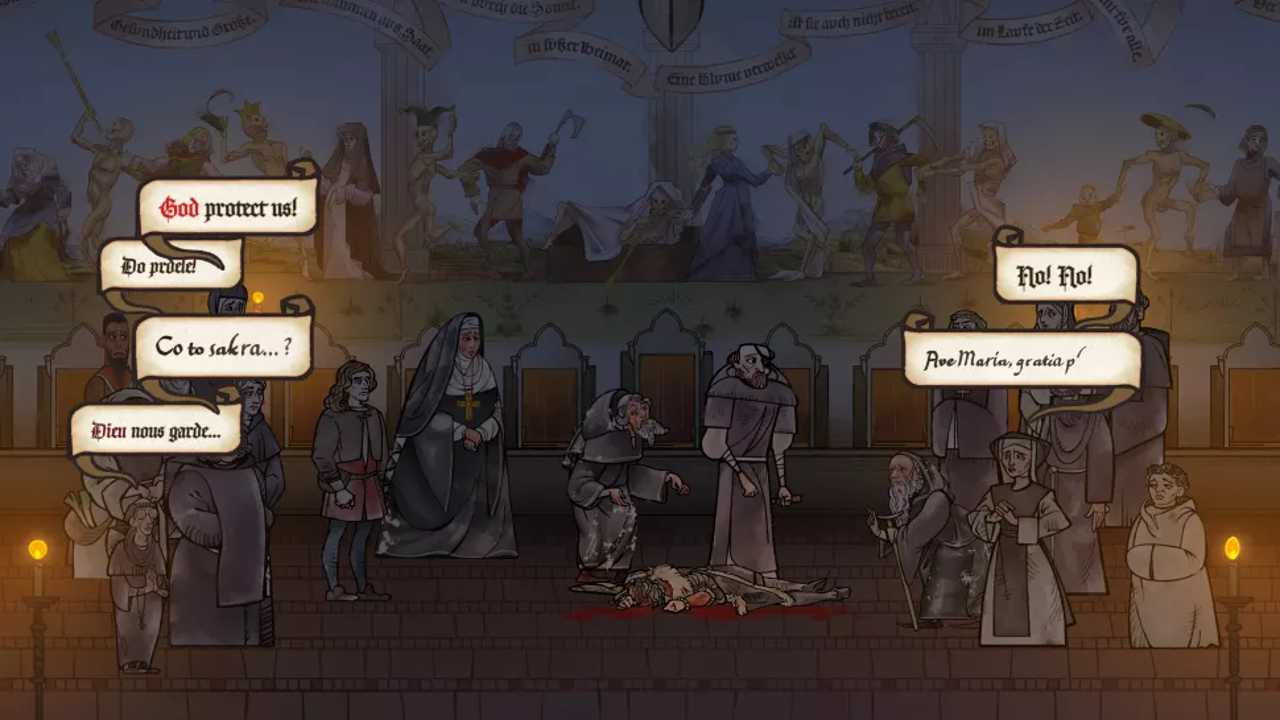 Pentiment is truly a passion project and differs greatly from Obsidian's lengthy, mechanics-heavy RPGs. At 20 hours, the game is relatively short, but there is so much potential for replayability as you will probably find yourself going back to find out what other paths you can take and ultimately spend triple the amount of time of your original playthrough. You can really see the amount of effort the team put into this game, with convenient little features and details here and there that make your playthroughs smoother than you've ever experienced.
Obsidian knew just exactly what they wanted to do with the game and executed it with perfection. Obviously in terms of the game itself but also in 'vision'. When I play this game, I really feel as if I am experiencing the team's vision of the game and when that vision of the game is an exceedingly enthralling story-slash-art history lesson, I can't help but feel satisfied. And the fact that this game will be available on the Game Pass feels like I'm committing daylight robbery. I wholeheartedly recommend giving this game a shot.
Final Score: 90/100