Platform(s): PC (version played), Nintendo Switch, Xbox One, PS4
Genre: Music rhythm platform game from the Bit.trip makers
The League of Legends spin-off November onslaught is capped off with this quirky music game title Hextech Mayhem. In this 2D platformer with music rhythm Simon Says-ish gameplay, you play as explosive personality Ziggs as he wreaks havoc all over Piltover. Stopping him is scientist Heimerdigger and the entire Piltover police force, so you'll need to collect as many shinies as you can and complete each music-laced level by blowing stuff up, avoiding pitfalls, and jumping your way to victory.
Eruption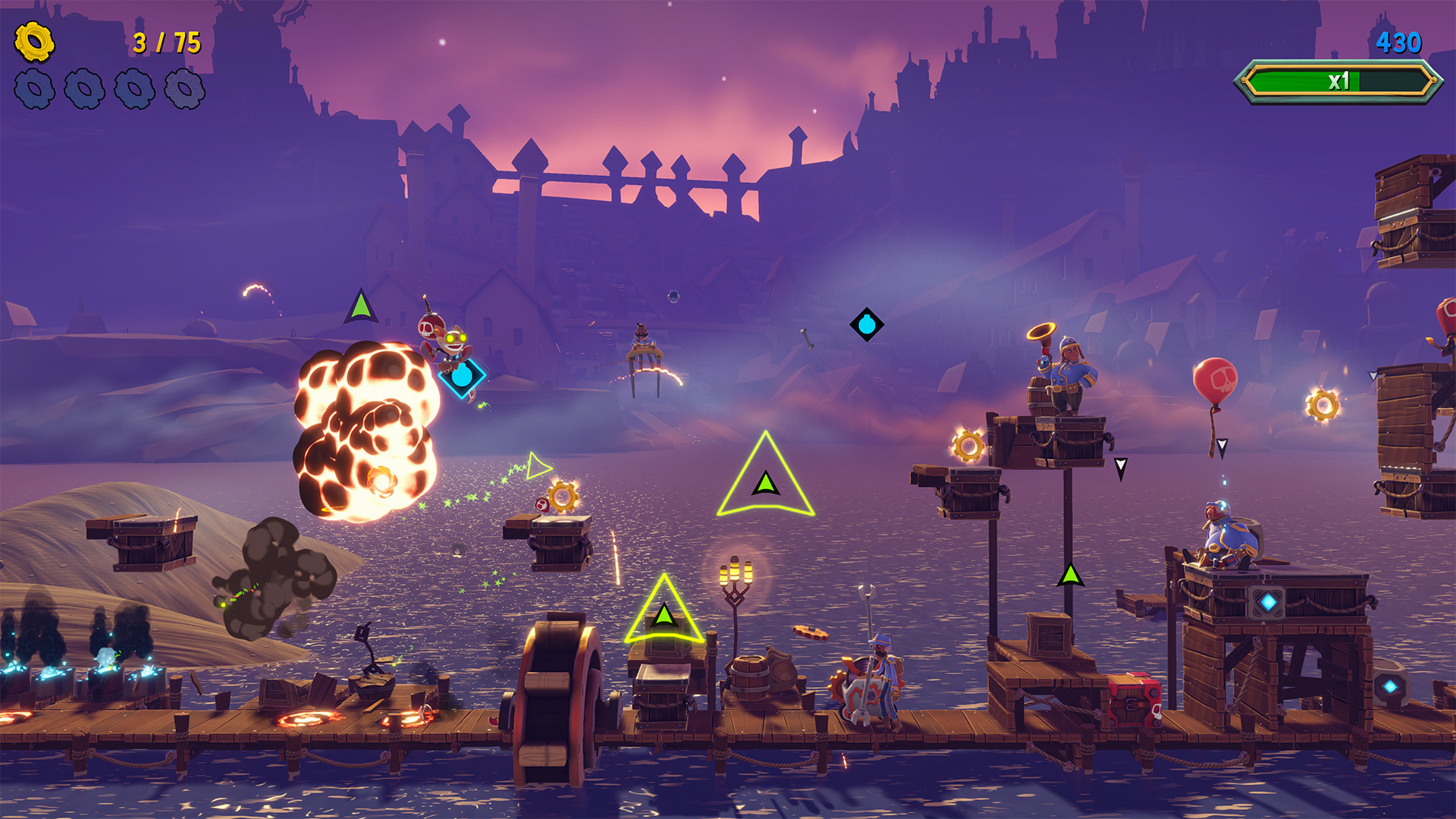 Hextech Mayhem's gameplay is as simple as they come: the music plays, you jump, throw bombs, and quick land with the jump button, bomb button, and down d-pad input respectively, and you do the prompted actions according to the beat of the song. See an upward triangle? That's a jump. See a downward arrow? That's when you press down. See a bomb icon? You chuck bombs. Missed a beat? No problem; just don't get hit by obstacles. Got struck by one? You can recover but you'll miss out on extra points and collectables as you're slowly getting back to the beat chart.
You fight a boss after a slew of levels; generally, it's the same except you have a lifebar and you cannot screw up too much lest you start all over again. What makes this music rhythm game a little different is that you can start hammering buttons in a freeflow manner without any restriction while a stage is ongoing. As you play through the earlier stages, you realize that you won't be penalized at all if you go off-script.
In fact, one of the criteria for completing a stage and getting a high Diamond or Master rank is to cause as much destruction as possible. Yes, following the icons that are in-sync with the music will net you precision points, but to get max destruction, you need to start chucking bombs and jumping/stomping things on your own accord to the beat of the game's drums. And guitar chords if you're doing well; the game's feedback is pretty sound.
Symphony of Destruction
That's the part where Hextech Mayhem shines: giving you the chance to play around with the song with impromptu button presses but also rewarding you for sticking to the "notation" on-screen. Developer Choice Provision did a great job at treading that fine line, making sure that it's not too restrictive and orderly, with that flair of chaos like its bombs expert protagonist.
And with 30 levels and 3 bosses to deal with, along with other new modes of play that are challenging and requires total improvisation, you'll get your money's worth with this arcade-style action game. League of Legends fans and lorehounds will get a kick out of seeing interactions between Ziggs and Heimerdigger, though it's clear that non-fans will just see two furry midgets playing each other off with colourful banter while driving their respective instruments of destruction in the boss segments.
Even without much of the LoL context, Hextech Mayhem is still a fun ride for music game aficionados and 2D platformer fans. Just avoid the Nintendo Switch version; we heard that version has some bugs & goes out-of-sync at time.
Final Score: 80/100