Platform: PC
Genre: 2D shooter roguelite with orbital mechanic
Publisher Assemble Entertainment & developer SmokeStab seem to be fans of the PS4 game Resogun, if its new game Orbital Bullet is of any indication.
You play as an unnamed soldier who has to make his/her way out of a sci-fi dungeon. The kicker? the whole game is a fast-shooting action-platformer with wrap-around 360-degree levels like that PS4 classic. If you die, you start over from the beginning, but you can get permanent upgrades to help you in your future runs. You also get a range of weapons like plasma ball launchers with splash damage, sniper rifles, and rapid-fire old faithfuls.
Round & Round
What makes Orbital Bullet worth spending time on is its tight controls and its levelling up system. Jumping, rolling, and the act of firing a gun just feels great. I know it's still in Early Access, but everything here in my few hours of playthrough just felt good to the point where I just didn't keep track of the time. You can also plan out your level-up path via the Class system. You have four different Classes to level up to, be it the armour route or the Engineer path, each with its own passive buffs and perks to help you out.
Each of these 360-degree levels are interconnected and you can warp to previously-cleared area with the game's insta-travel. In fact, some stages have their own inner and outer lanes that you can switch back and forth in, since you need to do that to clear all the enemies in a stage to proceed.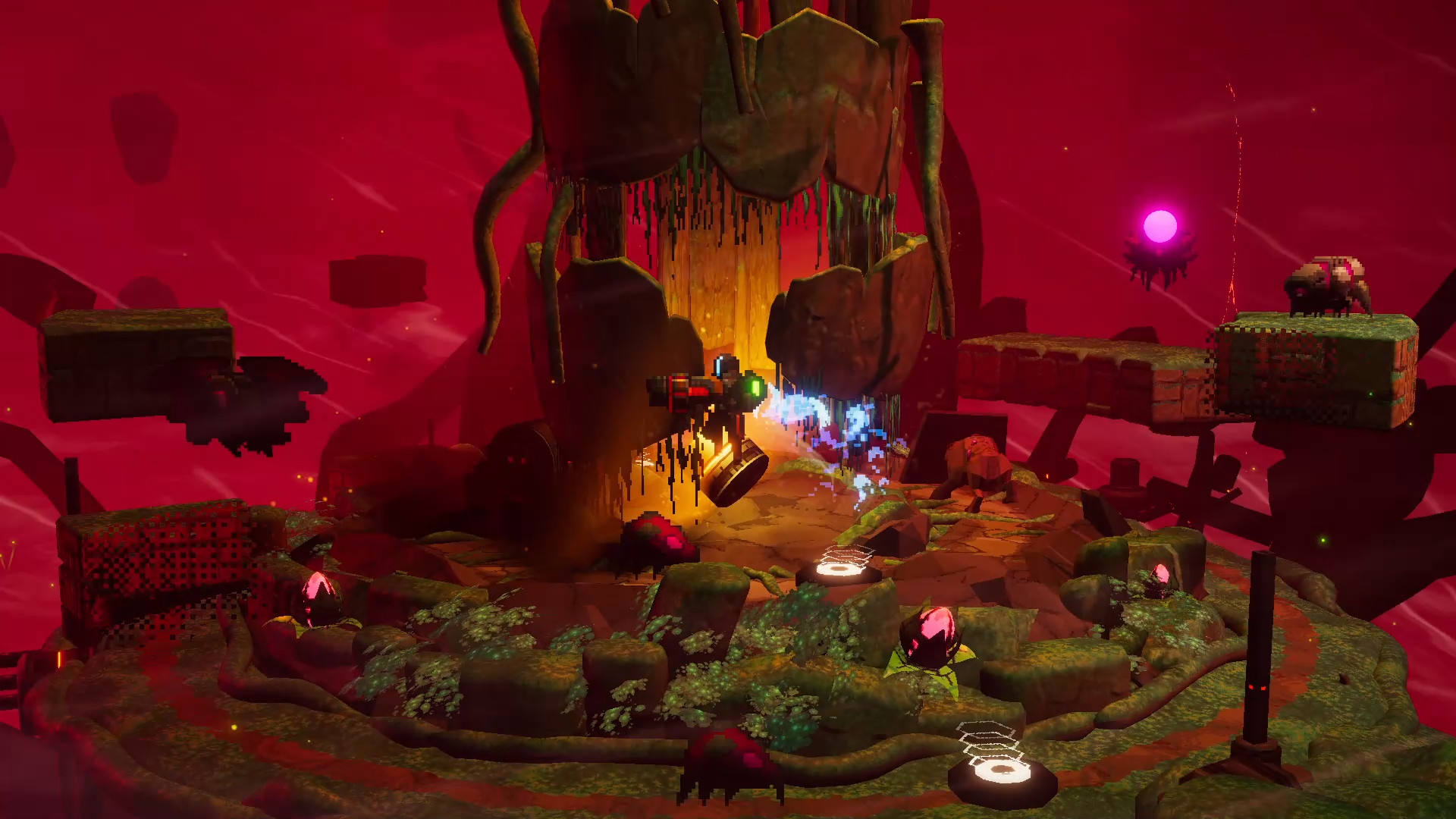 Speaking of which, they are plentiful. Some have armoured fronts so you need to attack them from behind, while others fly around and shoot their own delayed blast projectiles. While their patterns are easy to figure out, you just have to worry about the number of foes as well as your bullet count. When all else fails, you can jump on their heads Mario style.
My favourite part of Orbital Bullet? When you clear a stage, you can press the Left Bumper to just speed straight to the level's exit, then do a cool leap to transition to the next stage. This animation never gets old, especially with the lo-fi 2D sprite and 3D landscape combo it's going for.
So far, Assemble Entertainment has the pick-up-and-play aspect of Orbital Bullet down pat. Now all it needs to do is add in more stages and also polish up the UI and UX; clearly it's in need of some refinement.
Orbital Bullet is out now in Early Access form on PC via Steam.