As modern flip phones go, the Huawei P50 Pocket's overall package on paper is easily somewhere near, if not, at the top of the pile. With the current flippin' champion of 2021 (at least in our books, that is) being Samsung's Z Flip 3, Huawei's challenger does measure up nicely on paper. The P50 Pocket has a wider, unfolded screen, bigger battery, higher RAM and storage for its base models and is equipped with a better array of front and rear cameras.
Comparing the P50 Pocket with modern flip phones released in 2021 and earlier, we are astounded by how far things have progressed in such a short span. However, it does not come without its share of flaws. We have a number of issues to pick with the Huawei P50 Pocket and we aim to address them as we progress further into this review.
Flip Grip
Before we go any further, we would like to state that despite this being a review of the Huawei P50 Pocket, you will definitely see a ton of comparison to the Samsung Z Flip 3 simply due to it being the current leader in the flip phones market. This is akin to when the early waves of hybrid cars were released to the market. Most, if not all, reviews compared them to the Toyota Prius which has set the bar prior. The same goes with the P50 Pocket. The comparisons were made not to belittle or dismiss either the Samsung or Huawei models, but are as markers on how far technology has progressed, and the high bar foldable tech has come.
However, let's get acquainted with the Huawei P50 Pocket. Out of the box, the Huawei P50 Pocket feels like it took a look at the Z Flip 3, scrutinized its flaws and improved on them where possible. This phone is sleek. If you thought the Z Flip 3 was compact, the Huawei P50 Pocket improved on it. Unlike the unsightly gaps between screens when closed as seen on the Z Flip 3, the screens on the P50 Pocket sits flush against one another.
To ensure they stay in place when closed, there seems to be a magnet embedded within the frame to give you that oh-so-satisfying clap when closed. We do, however, worry if you mistakenly get something stuck in between – a grain of sand, for example. How would the screen hold over time and will there be permanent indentation to the screen.
We did, however, noticed an odd sound – like crinkling – whenever the phone is folded. It could just be the review unit we were given or a wider issue for the phone in general. Make sure to test it yourself if you happen to get hold of one.
Under the hood, the P50 Pocket sports 2021's flagship-tier Qualcomm Snapdragon 888 SM8350 (5 nm) processor and an Adreno 660 GPU making it on par with other flagships currently in the market. It is important to state early on that due to the US ban on Huawei from using Google services, the P50 Pocket utilizes EMUI 12.0.1 which while is operable, is a crutch for users who are fully entrenched with the Google ecosystem. Some 'official' apps like GSpace may require side-loading or only be accessed via browser, which can be a deal-breaker so do take note.
The phone only comes in two colours; white for the 8GB/ 256GB model and in 'Premium Gold' for the 'Premium Edition' which gets you a 12GB/ 512GB package. While both versions do look ultra-luxurious with the textured outside panels at first glance, we aren't fans of the floor-tile aesthetics. Sadly though, the whole lux feel quickly wears off once you have it in hand as the build quality left a lot to be desired.
While it does have a metal frame doubling up as fingerprints magnet surrounding the chassis, the plastic panels belie the device's overall attempt at feeling luxurious.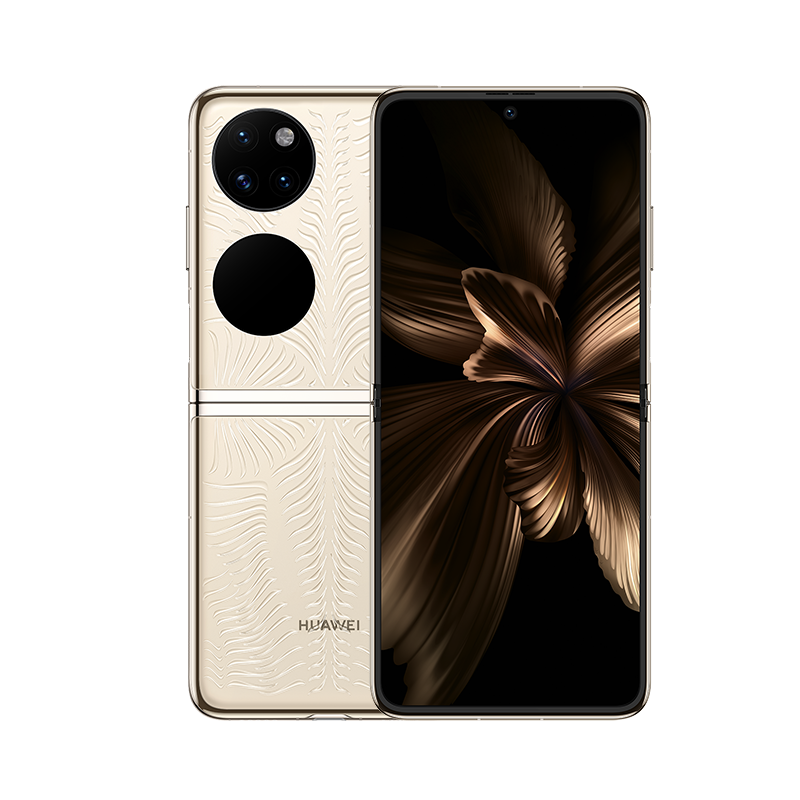 A Handful
We are also sad to report that the P50 Pocket is not water-resistant. So nope: no beach holidays for this one. We combed through everywhere on the internet for the P50 Pocket's IP rating and have failed to find any to date so we'd err on the side of caution when it comes to its overall build durability.
Build quality-wise, the screen on the P50 Pocket struggles to remain "open" when angled below 90-degrees. Unlike its Samsung counterpart, the hinges on the P50 Pocket seems to be designed to be in only three states; fully flat, 90-degrees or closed. Also unlike the Z Flip 3, the P50 Pocket does not have its equivalent to 'flex mode' where apps correspond to the screen's orientation, separating the 'top' and 'bottom' half of the screen,
Speaking of screens, this is where the phone excels. When it's fully open, that is. It is bright, vibrant and is responsive as heck thanks to its 120hz screen. We have very little to complain about here, and we feel it is one of the best ones out there when shifting between screens, or just scrolling through photos or just navigating. But just like Samsung's Z Flip 3, the main screen on the P50 Pocket does pick up fingerprints very easily so it is highly advisable to have a wiping cloth or a soft tissue within reach to wipe off any of those annoying smudges.
We are, however, aren't huge fans of its front cover display. Its circular instead of a box-shaped screen makes it odd, super small for 2022 and we have a hard time finding its reason for existing apart from being used for selfies. Even at that, most will have a hard time framing their photos plainly due to its awkward orientation. It is great that the screen is built-in flush with the back panel but alas, deemed pointless since the protrusion from the camera bump pretty much makes this wonderful design choice null.
Camera-wise, the P50 Pocket is a dream to use. With a host of modes and specs that comfortably blows the Z Flip 3 out of the water, this is one area that should be the deal maker if you are still on the fence between both models. The pictures taken are crisp and vibrant with added sharpness unseen on many smartphones released in 2021, save for the super high-end ones. Shutterbugs and social media users who focus mostly on posting images are going to have a field day with the camera.
If battery life is something you are a stickler about, then you'd be pleased to know that the P50 Pocket comes with a decently-sized battery that would easily carry you through the day. It charges quickly too thanks to the 40W fast charging to juice up the 4000mAh battery.
Flip or Flop?
At the start of this review, we mentioned how the P50 Pocket looks great on paper. But after a week of use, we realize its real-life performance is lacking in a number of categories. Sure it looks luxurious but sadly, it does not feel premium.
Yes, the cameras are awesome and are clearly in a league on their own and the battery performance is significantly better than its nearest rival. However, the lack of official Google support is a very huge setback. We would be a bit more forgiving if it was priced much more generously, but with a base price of RM5,999 for the white (only) 8GB/ 256GB model, it is a lot of compromise to take.
Still, it is indeed a head turner and if you can live with the compromises listed earlier and puts a high priority on a device that snaps really good pictures, then the P50 Pocket is the device for you.
Pros
No gaps between closed screens
Looks ultra-posh
Great camera all round
Large battery
Brilliant screen in terms of size and brightness
Dual sim
Cons
Construction feels cheap
Awkward cover screen which lacks utility
Absence of Google support might turn away users who are highly entrenched in the ecosystem
Overpriced when compared to its overall package
Final Score: 70/100
---
Vital Statistics
Platform: HarmonyOS 2.0 (China), EMUI 12 (Europe), no Google Play Services
Body: Unfolded: 170 x 75.5 x 7.2 mm; Folded: 87.3 x 75.5 x 15.2 mm
Chipset: Qualcomm SM8350 Snapdragon 888 4G (5 nm)
CPU: Octa-core (1×2.84 GHz Kryo 680 & 3×2.42 GHz Kryo 680 & 4×1.80 GHz Kryo 680)
GPU: Adreno 660
Display: Foldable OLED, 1B colors, 120Hz
Cover Display: OLED, 1.04 inch, 340 x 340 pixels, 328 ppi
Memory (internal, non-expandable): 256GB 8GB RAM, 512GB 12GB RAM
Main Cameras: 40 MP, f/1.8, (wide), PDAF, Laser AF; 13 MP, f/2.2, 120Ëš (ultrawide); 32 MP, f/1.8
Video: 4K@30fps, 1080p@30/120/240fps, gyro-EIS
Sound: Yes, with loudspeakers but no stereo or jacks given
Battery: Li-Po 4000 mAh, non-removable
Price: RM5999 (8GB/ 256GB); RM7299 (12GB/512GB)
A review unit of the P50 Pocket was sent to us courtesy of Huawei Malaysia.
Related