The King of Fighters XV is 2022's premiere fighting game experience, so no doubt you'll find plenty of people to fight online.
But who should you put in your 3-person fighting team? We're here to help; here's a KOF XV tier list of 2022 to sort you out and help you with your team-building.
This tier list is based on a huge number of high level plays online from KOF pros like Xiaohai, Reynald, Akira, and ET, along with fighting game content creators like Twitter user frionel and personal online experience from yours truly. A bit of a disclaimer: this is by no means a definitive list since the game is barely a month old, and the meta may shift after a few months of online play and tournament standings. However, this list is a good indicator of which characters you should try to main as in your 3-person team.
S Tier (Best characters at this point in time)
Ralf, Terry, Robert, Dolores, Elisabeth, King, Mai, Vanessa, Gato
It seems as if right now, Ralf and Terry are the top picks in most team compositions. They both have reworked normals and footsie tools, combos, and damage output. They're pretty good to the point where a mediocre team can be elevated by having them as anchors to use all that meter built up by your point and mid characters.
Speaking of point characters, Robert, Mai, Vanessa, and King are top picks as starter characters since they have great moves and specials that aren't meter-intensive and are made for KOF's speed and space-controlling game. Elisabeth is also a good point and mid character due to her excellent pokes and jump attacks coupled with decent damage output and mixups.
Dolores is definitely the best new character. Imagine a grappler with some zoning capabilities and no movement penalties; that's Dolores in a nutshell.
A Tier (Strong characters overall)
Yashiro, Chris, Joe, Andy, King of Dinosaurs, Blue Mary, Antonov, Clark, Kula Diamond, Leona, Athena, Krohnen, Angel, Kukri, B.Jenet, ROCK HOWARD
Yashiro and Chris are rushdown characters, though the latter is faster but has terrible range and normals compared to the former.
Somehow the underappreciated big body fighters of KOF XIV are getting their time in the spotlight: Antonov and King of Dinosaurs are reworked and better than ever to put in many high-level teams. They're obviously slow compared to the S tier folks, but they make it up with pure damage and armor moves.
Athena has great zoning tools and has a good confirm with her forward B+ Phoenix Arrow combo. You may need to practice confirming to her Shining Crystal DM (the one with the spinning crystals) as you need to know how it comes out and when.
Angel is a special case; she is godlike in the right hands and with the most MAX and DM meter available, assuming you know how her movesets work. However, knowing her strings and attacks is already a challenge in itself.
Krohnen/Nameless/K9999 may not be as dominant as his appearances in KOF 2001 and KOF 2002/2002UM, but he can still hold his own with his drills, anti-airs, and quick input DMs.
B Tier (Decent picks)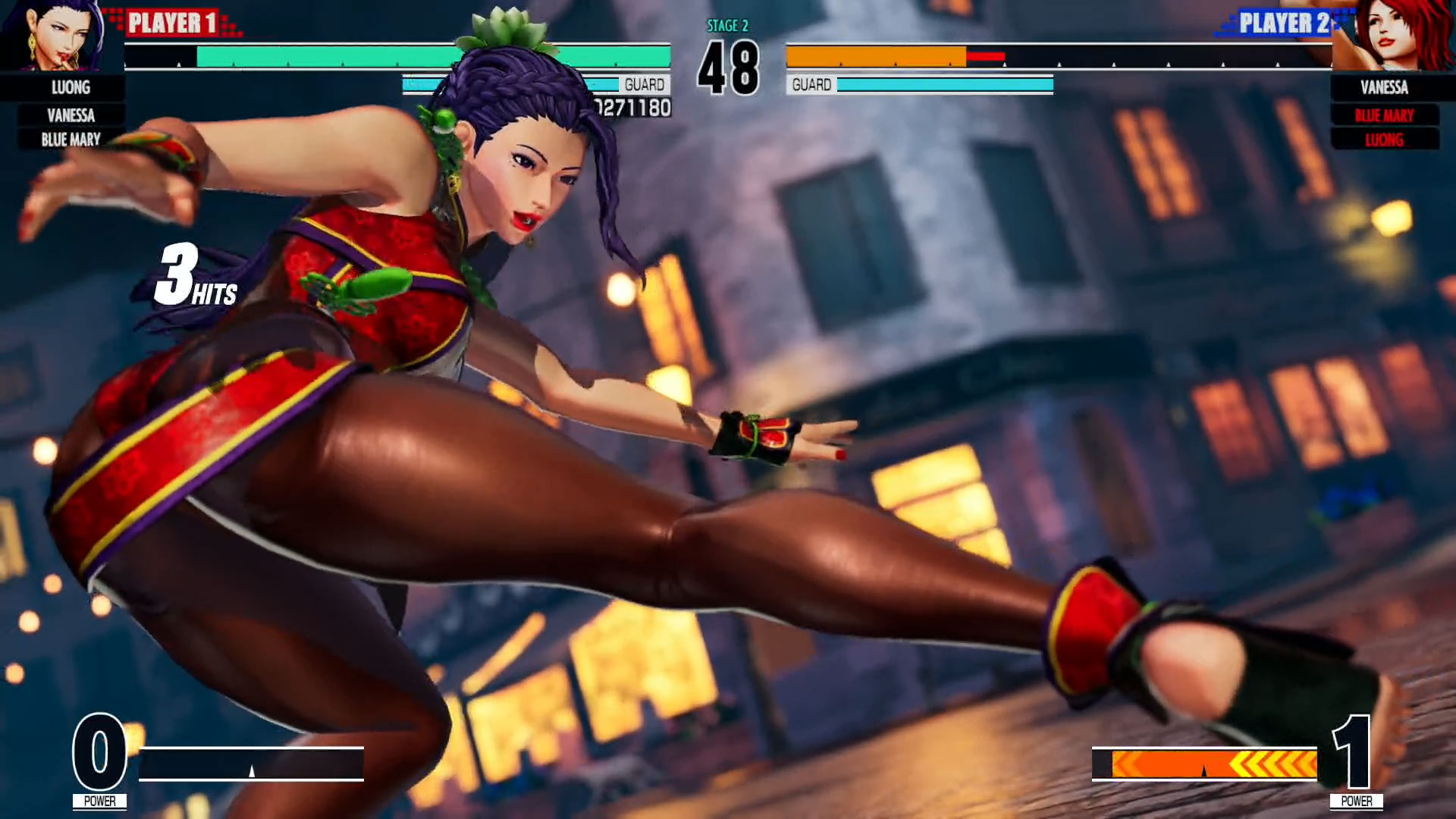 Shun'ei, Meitenkun, K', Maxima, Chizuru, Ryo, Benimaru, Shermie, Ash, Isla, Ryo, Luong, Kyo, Iori, Yuri Sakazaki, Heidern
Shun'ei and Ryo are pretty good shoto-style characters who are unfortunately outclassed by others of his kind like Robert and Terry, especially in damage, combo potential without meter (or little meter), and hit confirm to DMs and Climax DMs.
As for the rest, they seem decent but the S and A tier characters have better options and kits for combos, damage, pokes, and jump attacks overall.
C Tier (Needs help from two other high-tier picks)
Ramon, Whip
As of now, these two are the runt of the litter. They seem fun to play but aren't that viable in competitive play and are tough to use (compared to the others on top of this list). Most players will struggle using them unless they back the C-tier characters up by two S and/or A-Tier characters.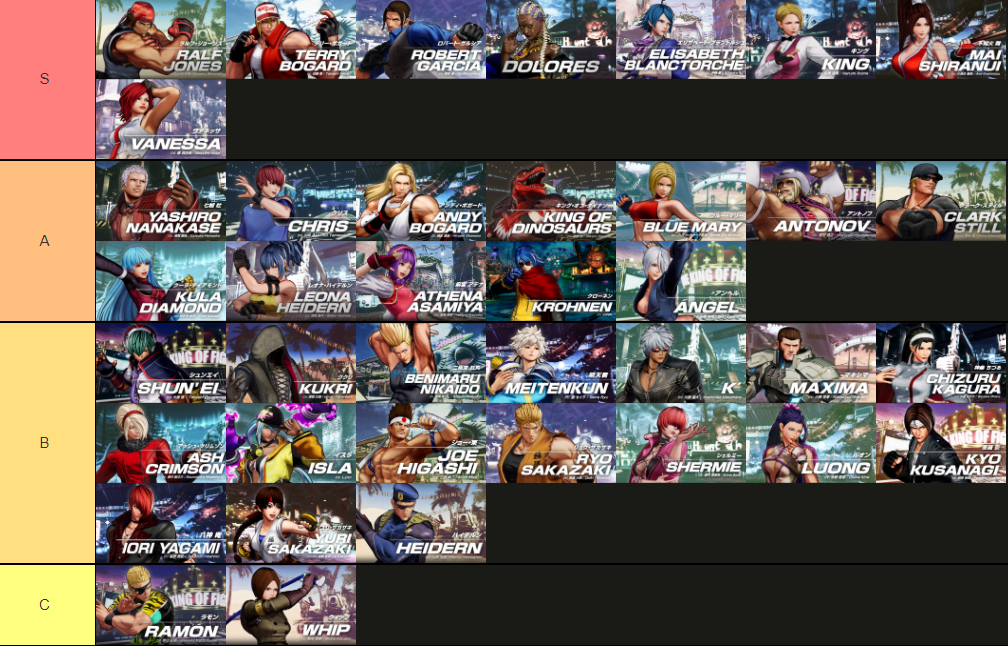 Our takeaway here is that KOF XV is pretty balanced for a fighting game that just launched. There is no wrong character to pick as one character can cover the weaknesses of the other in a team-based format. Likewise, a good combination of S-Tier characters who complement each other will win you games online.
Great examples of teams include:
Robert/Ralf/Terry
Robert/King/Terry
Isla/Dolores/Terry
Vanessa/Robert/Terry
Vanessa/King/Robert
Meitenkun/Shermie/Ash
KOF XV Point, Mid, & Anchor Tier List (via Alioune)
Top 3 Point Characters
Top 3 Mid
Top 3 Anchor
Terry, Dolores, Elisabeth