Platform(s): PC (Steam and Epic Games Store)
Genre: Real-Time Strategy Fantasy And War
I have hundreds or possibly thousands of hours across many Total War games, so trust me when I say I'm no newbie to Creative Assembly's Total War franchise (you can even check my Steam profile for validation). However, I've always preferred historical titles like Total War Rome 2 and Total War Attila, instead of newer Warhammer fantasy titles.
My review will therefore be from the perspective of a long-time player of the franchise, seeking to answer the question: Should historical Total War fans or newcomers try out Total War Warhammer 3, the long-awaited final entry of a trilogy that started all the way back in 2016? Read on to find out.
Blood For The Blood God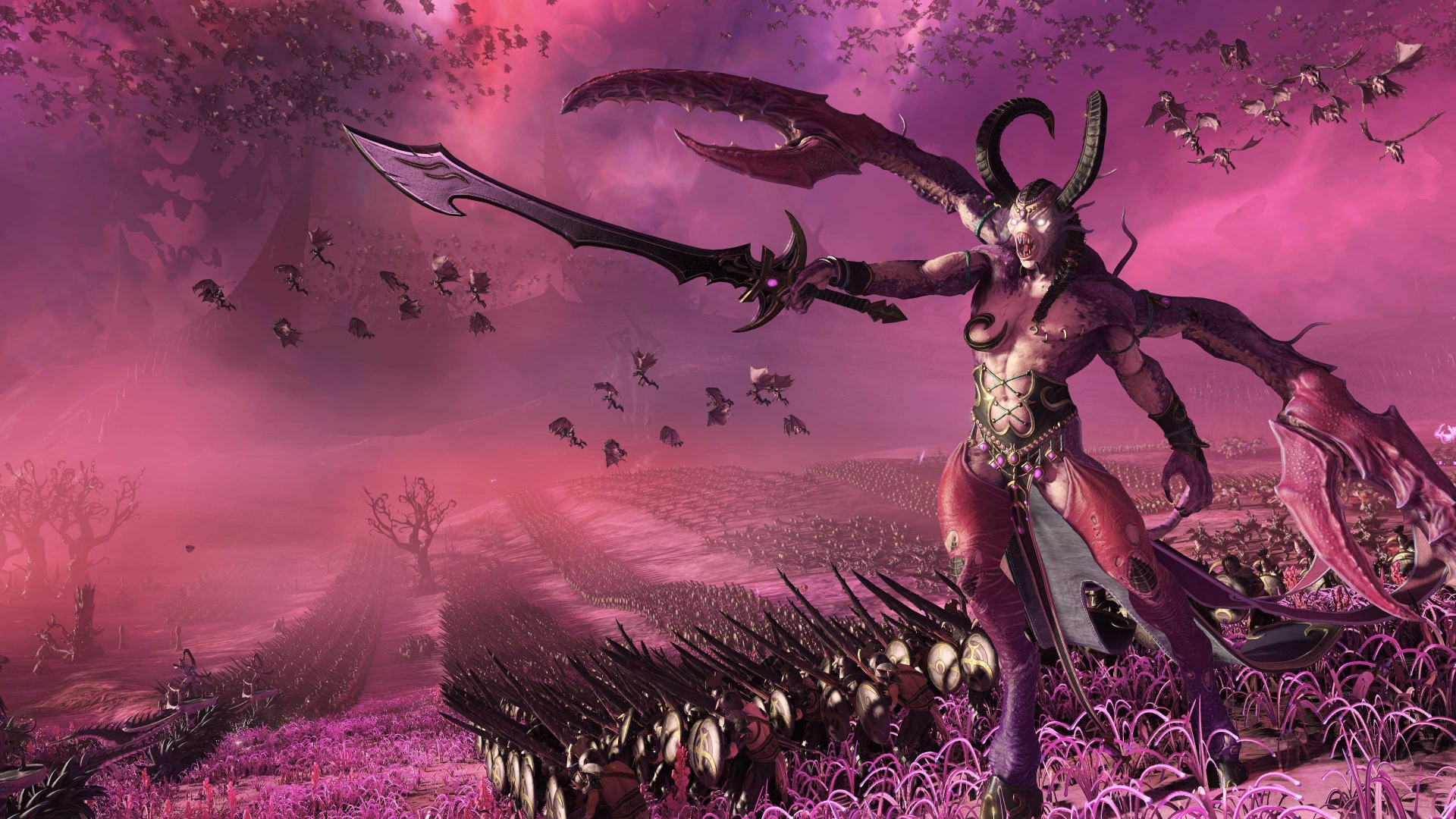 As a predominantly historical Total War player, trying out Total War Warhammer 1 and 2 for the first time was overwhelming. Even for someone like me with lots of experience in the franchise, these fantasy-focused titles were heavy on Warhammer lore, which I wasn't familiar with. There were too many different Lords and races/factions that I didn't know who to start playing with.
While Total War Warhammer 3 is technically the end of a trilogy and also takes place in the Warhammer universe, the problem is somewhat lessened this time around. There are only seven factions to choose from at launch in this game. Only two of those are human while the rest are non-human or daemonic factions. Still, this might possibly be the most chaotic and hectic Total War yet.
Total War Warhammer 3 doesn't really play like traditional Total War. The gameplay loop is different. In most previous Total War titles, you could take your time to build and expand your empire before the shit hits the fan (with some exceptions, such as if you're playing as the Romans in the apocalyptic Total War Attila). In a way, playing Total War Warhammer 3 feels a lot like Total War Attila, with the chaos (pun intended) cranked up to eleven.
In this game, the grand campaign follows an ambitious narrative, and it's one of the most ambitious in the franchise yet. Just like the Vortex campaign in Total War Warhammer 2, there is a main objective for factions to strive towards instead of simply waging war and conquering each other. The great bear god Ursun is dying and all the factions are trying to reach him for their own benevolent or evil purpose. How do you do this?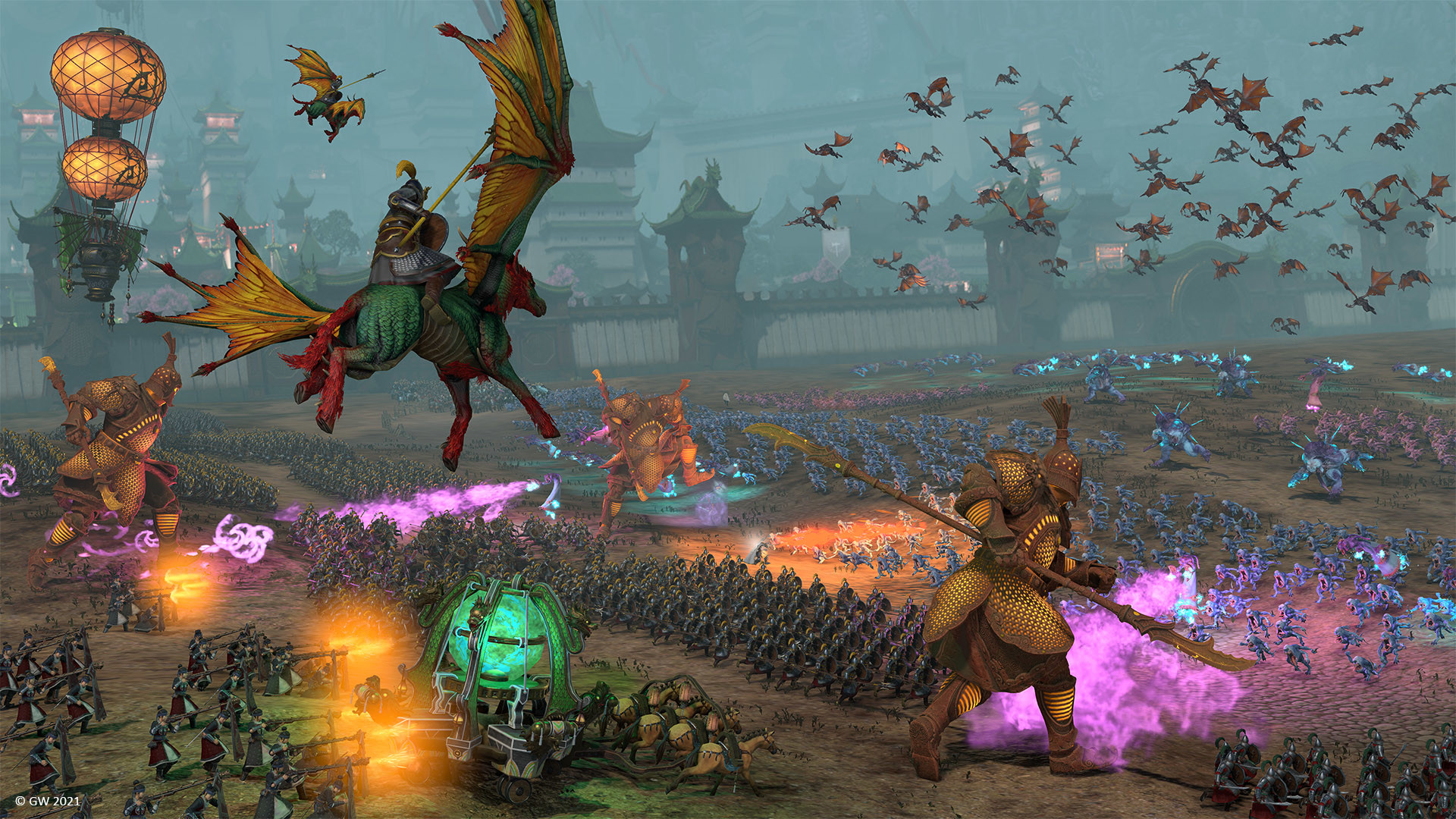 Well, every once in a while (every 30+ turns or so), rifts (portals) will randomly spawn all over the map. You can use these rifts to travel to any one of the four Chaos Realms (that of Khorne, Slaanesh, Tzeentch and Nurgle), each of which has different aesthetics and level design. However, these rifts also work the other way. Not only can forces from the Chaos Realm enter the map via these rifts, but the mere presence of these rifts will continue to corrupt the very land they spawn on, which is a big problem if you're a human faction. You can also use these rifts to teleport to another or close them by sending an army or hero.
What makes the gameplay particularly stressful and hectic is that you'll have to juggle the usual conflicts with other factions on the map and attempt to expand your empire WHILE ALSO trying to handle these spawning rifts and the coming waves of the Chaos Realms. This means having to defend your empire on multiple fronts at the same time, which is tough even for veteran Total War players like me. It's hard to plan the expansion and growth of your empire when you know that you'll have to prepare for the arrival of the Chaos Realm rifts. This translates to a learning curve in Total War Warhammer 3 that is extremely high, even more so compared to previous titles.
That's not even mentioning how every faction has unique mechanics of its own. For instance, playing as Tzarina Katarin of the Kislevs will mean that you'll have to compete for the support of the people in your empire with a rival Kislev faction by accumulating an additional resource called Devotion. As one of the Grand Cathay factions, you can send trading caravans to faraway lands, which you'll have to micro-manage since they can be attacked while travelling.
My point is that you'll have to re-learn how to approach the grand campaign with every faction because they don't even play according to the rules and they don't share the same mechanics. If you really have the time to invest and delve into Total War Warhammer 3, it would be a very rewarding experience. The diversity in factions, as well as their units and mechanics, means that there's potential for you to spend countless hours with this game. That is; if you're willing to spend the time and effort to do so.
Chaos Rising
While playing Total War Warhammer 3, I found it to be much more fun playing as any of the daemonic Chaos factions instead of the two human ones (Kislev and Grand Cathay). The highlight had to be playing as the Daemon Prince, which the game actually recommends for beginners to choose if it's their first time playing (besides Kislev). And it's for good reason too; playing as the Daemon Prince is a simple yet varied and interesting faction to use. He's the only playable Lord (leader of a faction) in the game that you can change the name of and customize like a bonafide RPG character.
As the Daemon Prince, you can devote your Glory resource to any of the Chaos gods or even Chaos Undivided, thereby attaining specific units, items, and other perks. You can actually change the body parts of the Daemon Prince, including his head, wings, hands, feet, and of course, choose his weapons. These also change his appearance, which means that no two players' Daemon Prince will be the same. Plus, you can use any unit from any of the Chaos gods, instead of having to choose one like Khorne and being forced to stick with his units exclusively.
This results in perhaps the single most replayable faction in Total War history. This bodes well for the future of the franchise. Imagine more freedom with the way you can build your leader/Lord and faction, just like with the Daemon Prince. Maybe Creative Assembly can experiment with more RPG elements in the future, even in the more conventional historical titles, which some would argue do need something significant to make them as relevant as these more farfetched fantasy-focused titles in the franchise.
There are lots of other improvements and quality-of-life touches that Total War veterans would appreciate. First and foremost, thank the Chaos gods that Total War Warhammer 3 features the same improved diplomacy system which was originally introduced in Total War Three Kingdoms and later incorporated into A Total War Saga Troy. These more precise diplomacy mechanics make this part of the game more enjoyable and less of a hassle to actually interact with, especially the ability to make Quick Deals (which factions would be most likely to deal with you on any particular diplomatic action).
There are also several other small improvements. One little feature that most may overlook but one that I definitely appreciated after years of playing Total War is the ability for armies to move while in an Encamped stance. This means that you can replenish your units even in enemy territory and avoid forcing players to waste turns just to return to their own territory just to replenish.
Total War Warhammer 3 does introduce some big new additions to the gameplay. A new siege supply system allows players to accumulate supplies as a resource after capturing points on the map during a battle. You can then spend these supplies to build fortifications like traps, walls and towers that attack enemies at specific spots on the battle map. They're basically tower defence elements introduced into a Total War game. However, I find that you could pretty ignore this altogether if you want because it all seems too much like busywork, making battles feel more tedious than they should be. It's ultimately a good idea to spice up battles, but this mechanic really needs to be refined a lot more.
Survival battles are another new addition to shaking up the gameplay. They're massive endgame-level battles with multiple waves and layers to them. They're the game's equivalent of boss battles, but there's a major problem. They take way too long to finish, and by the end of these survival battles, you'll be exhausted. That is; if you even manage to finish them. Thankfully though, the developers have included the option to Auto-Resolve the Survival battles as well, so you won't be forced to manually play them, unlike the Mythic Quest battles in A Total War Troy Saga.
Optimization Issues
The biggest problem in Total War Warhammer 3, and one that is the reason why the game is currently getting Mixed reviews on Steam, is the stability and performance of the game at launch. Total War games have often been notorious for having bad launches, such as the catastrophic launch of Total War Rome 2 back in 2013. I thought that Creative Assembly had already fixed that with impressively optimized launch states of both Total War Three Kingdoms and A Total War Saga Troy, both of which I could run smoothly even at launch.
Much to my disappointment, I can't say the same about Total War Warhammer 3. It runs pretty bad on my gaming laptop, despite the fact that I could run the last few recent Total War games smoothly and without hitches. It's not that bad to the point of my laptop crashing, but the game stutters even outside of battles and when I move my armies/heroes across the map. The buggy and poorly optimised current state of the game could be fixed with future patches, but as of now, it's a trainwreck to try and run, especially on less powerful rigs.
Before you think about getting Total War Warhammer 3, just know that this is a game that will ask a lot from you, in terms of time and effort. It's demanding and stressful, with the most hectic and chaotic campaigns in the franchise to date. However, the sheer variety, diversity and aesthetics of the game can make the experience satisfying and rewarding. As an experienced Total War player, I can certainly say that this is the most enjoyable Total War Warhammer title yet. That said, it might be wise to wait a while for Creative Assembly to bring in a few patches and optimizations before you jump into the game.
Pros
The most chaotic and hectic Total War yet.
Diverse factions and unique mechanics for each of them.
The Daemon Prince faction introduces even more RPG elements into the franchise.
An improved diplomacy system inspired by Three Kingdoms and Troy.
Small quality of life improvements like the ability to move while Encamped.
Cons
Buggy and poorly optimised, unstable performance at launch.
Daunting and demanding game for newcomers and those not used to the game's mechanics.
New battle mechanics can be more tedious than engaging, such as Survival battles and the siege supply fortification system.
Final Score: 70/100
Review copy provided by Sega. Played on PC. Total War Warhammer 3 is now available on PC via Steam and Epic Games Store.