Grammarian Ltd Will Make You Realize You Have Bad Grammar In A Grammar Nazi World
Grammarian Ltd is a game that could humble most people who thought they had a perfect grasp on grammar. Although its premise is really bizarre and specific, seriously niche doesn't even cut it for this game, it does a pretty respectable job at educating despite the boring gameplay loop.
Grammarian Ltd is set in a fictional world where the grammar-n*zis have won and society is entirely obsessed with perfect grammar. Thanks to a system that a revolutionary professor created, society has apparently flourished through grammar validation agencies. Your player character, barely scraping by, manages to land a job at the professor's agency and that's where the game starts off.
Watch Your Words
What you'll be doing mostly is completing assignments for the day in your cubicle, tasked with correcting and sprucing up emails from random people. You'll go from folks talking about cats and dogs to people discussing lawsuits and offshore accounts.
How the core gameplay works is by clicking on words for the given assignment. Sometimes they'll have you look for nouns, which can evolve into looking for and correcting irregular nouns, compound nouns, collective nouns and more. And that's just for nouns alone. The core gameplay loop trickles down to just clicking on the words you're looking for and sometimes having to choose the right correction.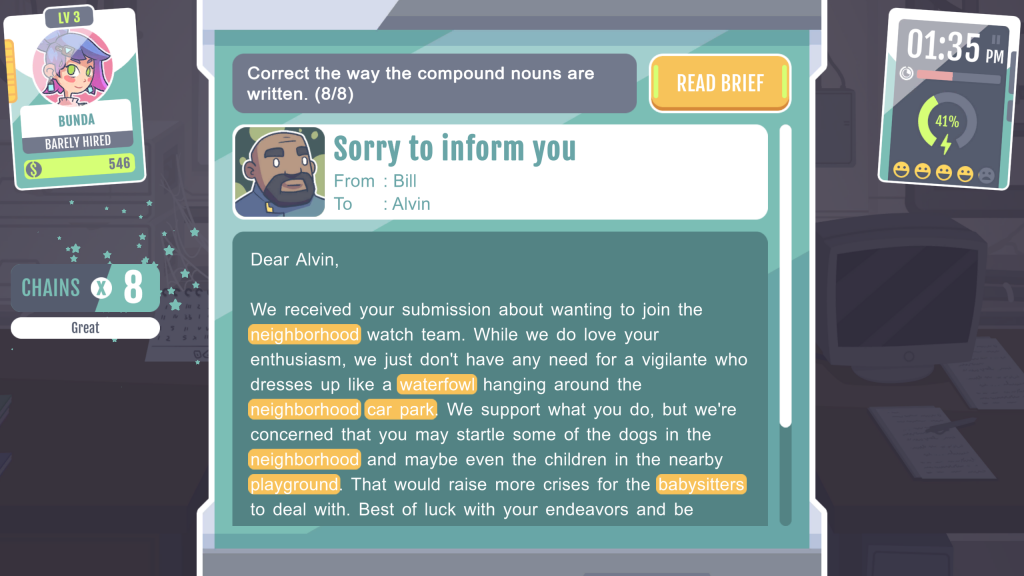 For example, when looking for nouns you'll simply click on the many words like cat, dog, etc. with the game telling you how many more you're missing. Sometimes you'll have to correct pronouns, turning an incorrect him to a her because misgendering isn't cool, man.
This can get extremely tedious pretty quickly, not to mention the boatload of grammar concepts the game throws at you makes things get overwhelming sometimes. You have a manual with all the concepts taught you can pull up at any time but each explanation is a full textbook's page. There will be a lot of text to read through, both in game and for the tutorials, but most of it are concepts that you probably already know and use on a daily basis. It still doesn't change how much of a slog the game is though, so it's best to play this title in short spurts.
I have to give the game some credit though: some portions of the game were tough and had me feeling pretty embarrassed at my own grammar. You learn something new every day, it seems.
Get That Bread
When you're not clicking on words, the game turns into a life sim when you clock out, taking you to your room. From here you'll be able to customize your dingy apartment into something fancier as you progress, with the game's main motivation in getting better stuff for your home. Many of these items have additional bonuses that can help you work better. Coffee machines and beds allow you to recharge more energy when you sleep, or decorations and furniture that increase your mood.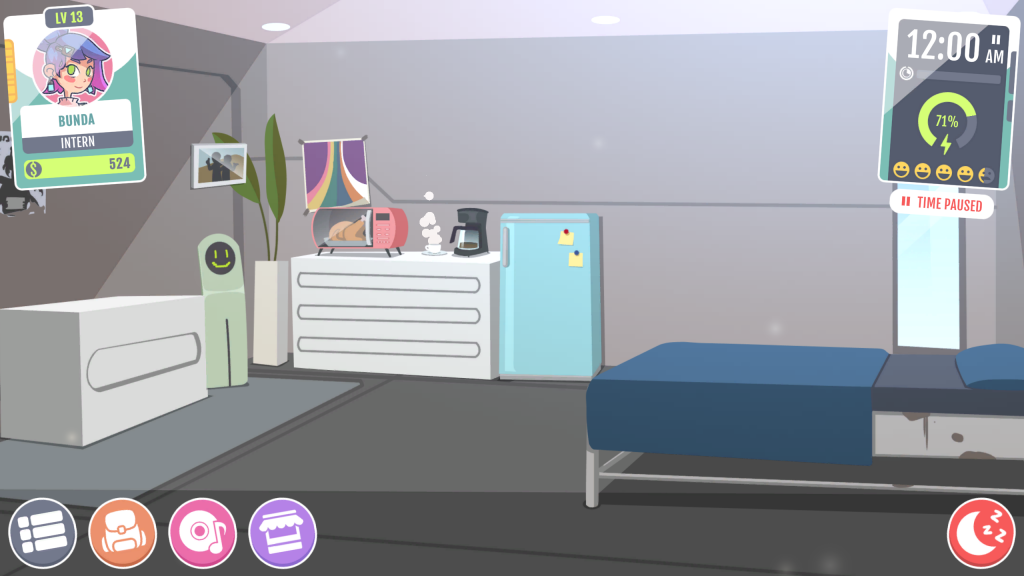 Grammar validation is apparently a competitive field and you'll have to battle other candidates in promotion battles. This event all comes down to the same gameplay loop, just now you have an AI racing against you. Win the duel and you get a promotion with a hefty raise, which you'll need to survive in this totalitarian police state. I mean seriously, things in this game are hilariously overpriced. It costs $85 for a murtabak.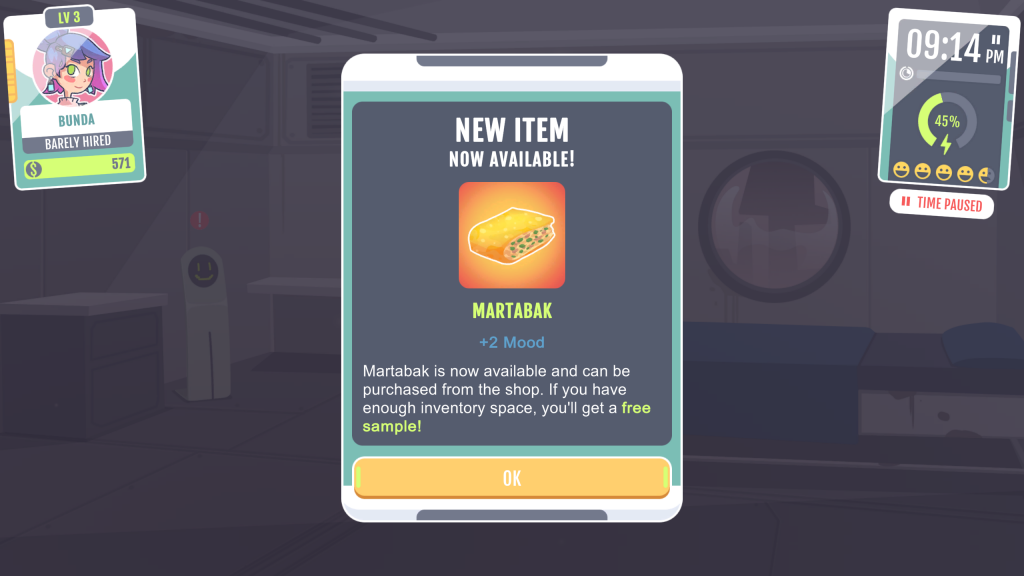 Heard You Had A Bad Day
This brings us to the Mood System the game implements. The game has a meter you'll need to keep topped up, which is your Mood. It's signified by five smiley faces and dictates how productive you are. Turn those smiles into frowns and your player character runs the risk of procrastinating, which is an event that can trigger randomly when your mood is low enough.
This event makes your timer meter drop rapidly, and you'll be given a funny prompt telling you you've been doom scrolling on your phone for 2 hours or something. This means you have less time to finish your tasks for the day and can be a pretty pressuring albeit cheap way of providing challenge.
Every misclick reduces your mood and this incentivizes the player to not simply spam click on everything to get by, unless you run the risk of procrastinating. You'll need to rely on items such as food and your home decor to improve your mood and keep you at a top productive state. Factors such as how you commute come into play as well, as walking may be free but will use 25% of your energy and reduce your mood.
Your character's having a bad day? Why not take the train so you don't tire out and improve your mood. Feeling grumpy? Go scoff down some murtabak you'll feel better. Sure, you'll have to spend some money but sometimes you gotta treat yourself. The game makes you juggle many things in this way and although it feels menial, I have to say it's endearingly realistic.
Although the game had my eyes glazed over from boredom, at least I know my whos and my whoms now. This game won't get people away from Elden Ring but I'm sure there's a linguist or some language enthusiast out there that is bound to get a kick outta this. Grammarian Ltd. will be out on 20th April for PC (Steam).