Platform(s): Xbox Series (version played), Xbox One, PC, PS4, PS5, Nintendo Switch
Genre: 3D platformer with a marsupial mascot
You have to hand it to Tate Multimedia, perhaps the only folks with the best of intentions to bring back an obscure 3D platformer mascot title back to the 2022 limelight. Honestly, was there a subsection of gamers who were clamouring for a Kao The Kangaroo reboot or sequel? In any case, this new iteration will have to do. Is it perfect? No, but it could have gone down worst.
Boxing Day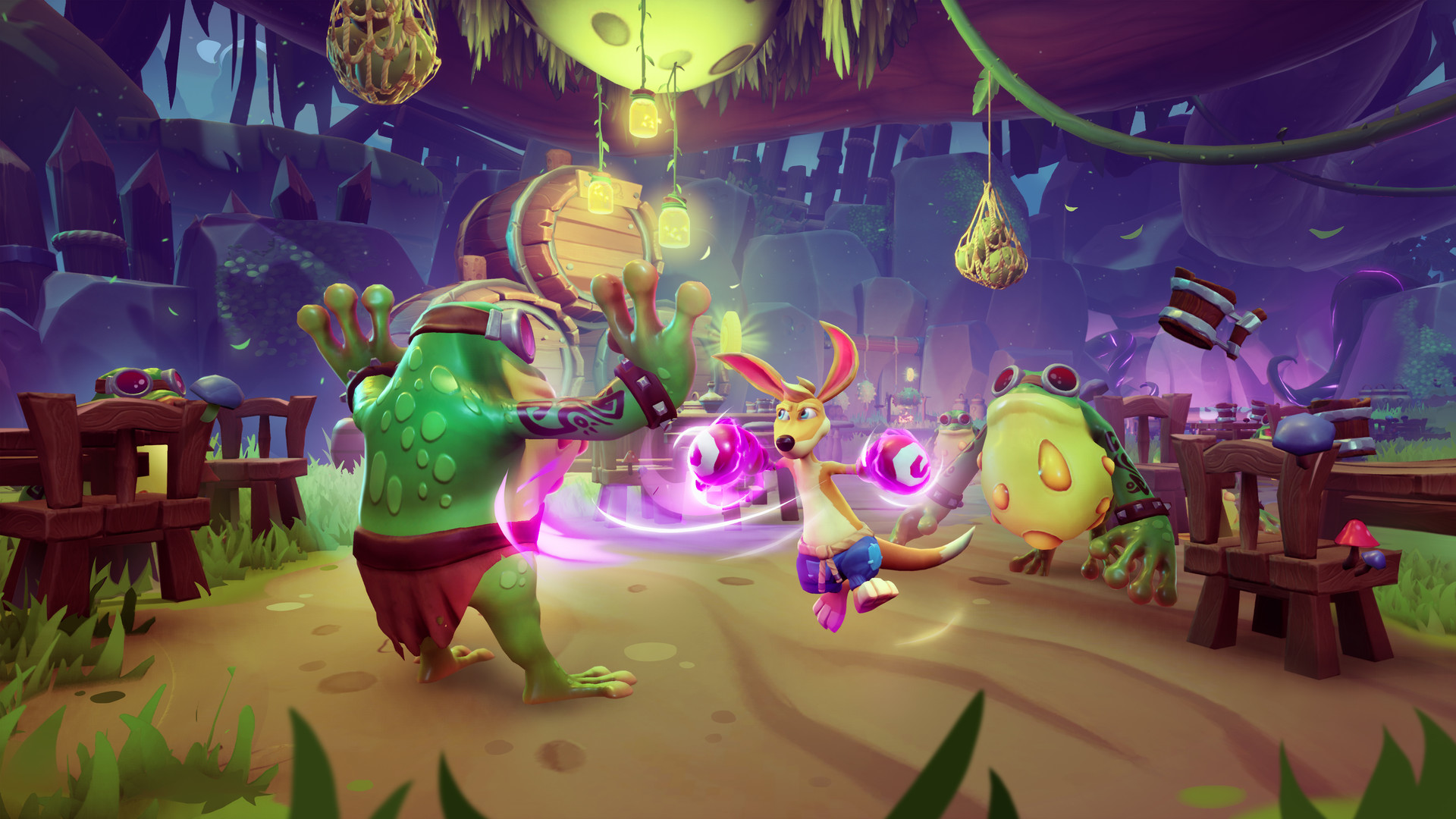 Kao The Kangaroo pits you as the title character as he is on a quest to search for his missing dad and sister. He comes across a pair of magic boxing gloves that help him. So off he goes as he runs, jumps, boxes, and platforms his way through cutesy enemies and 3D platforming challenges. As far as level design goes, it occasionally entertains.
There's an elemental gimmick where Kao can collect orbs to lace his gloves with either fire, ice, or wind. When powered-up, he can destroy specific obstacles or trigger certain puzzle pieces to advance his movement. This is to switch things up from the combat and platforming, and it's handled adequately. See a puddle of water with a block nearby? Freeze it with the ice glove so you can slide the block to act as a makeshift platform for the high ledge. See a spiderweb blocking your way? Set it on fire with your fire glove. See a boomerang pedestal and a ledge from far away that needs freezing? Use your ice gloves, take the boomerang, and you have an ice projectile to turn that ledge to a popsicle.
The keyword here is "occasionally entertains", because there is nothing here that wows and impresses me from both a level design perspective and from a presentation standpoint. The levels feel standard, the game looks fine, and you can't help but notice that the developers have half the work done fine, but the other half is lacking in making this feel like the reboot that screams "comeback". For instance, the game not playing any sort of victory jingle when you've completed a stage. When the camera bugs out and clips through a wall when you're manually turning it in a place with tight corridors, making you unable to see what's ahead. Some levels like the one that copies Crash Bandicoot's trademark "run towards the screen from an obstacle" chase stage just felt awkward to play; like it's thrown in without having the knowledge to make that stage fun or tightly-paced.
Speaking of which, the controls can sometimes be unresponsive at crucial moments, which is a no-no for a platformer that requires precision. This is evident with the grapple hook parts and parts where I'm climbing ledges from bottom to top of the stage; I had to restart these segments because the game doesn't register me clinging onto the the ledge even though I was 100% next to the thing. It's frustrating to say the least.
Punch Down
There are a ton of games that are worthy of your time within Kao The Kangaroo's price range. Heck, most of these are more stable than Tate Multimedia's 2022 offering.
Kao the Kangaroo has a few bright spots here and there. I didn't mind the mindlessness of the combat and the boss segments are fun even if the presentation and cues aren't up to snuff. And while the story is standard and the voice acting is not great, it isn't outright terrible and has some semblance of charm to it. Like it's purposefully channeling the English dub way of things in the early 2000s, when overacting and barely-passable voice work were the norm.
However, the experience is soured by the game's bugs and imprecise platforming at times. I really wanted to be enamoured and charmed by the game, but I was glad I was done with the ordeal rather than left wanting more after the credits rolled. It's not as disastrous as Balan Wonderworld, but it's a few steps close to that snooze pit.
Kao's 2022 venture is serviceable and by-the-numbers at best. Its developers have their hearts in the right place in using this 2000s mascot in their new 3D platformer reboot, but this sure isn't even a bronze medal effort if we're being honest. Unless you really want a 3D action platformer that reminds you of the early PS2 days of 3D mascot platforming and are a fan of the genre (unironically or otherwise), you can give this marsupial a miss.
Pros
Serviceable platforming and action.
Fun boss fights.
Cons
Presentation feels lacking; has some issues.
Controls can get janky.
Final Score: 50/100