Ever looked at your local college and campuses and go "hey, I can do a better job at managing this place than those deans can"? Well, Two Point Studios (ex-Bullfrog/Lionhead devs who made Theme Hospital and Fable) is giving us a chance to put money where our mouthes are with its upcoming comedy-laced simulation Two Point Campus.
After 8 hours with the preview build, the game came to one conclusion: I can't keep my campuses clean and pristine to save my life, but I can at least turn a profit.
Dangerous Minds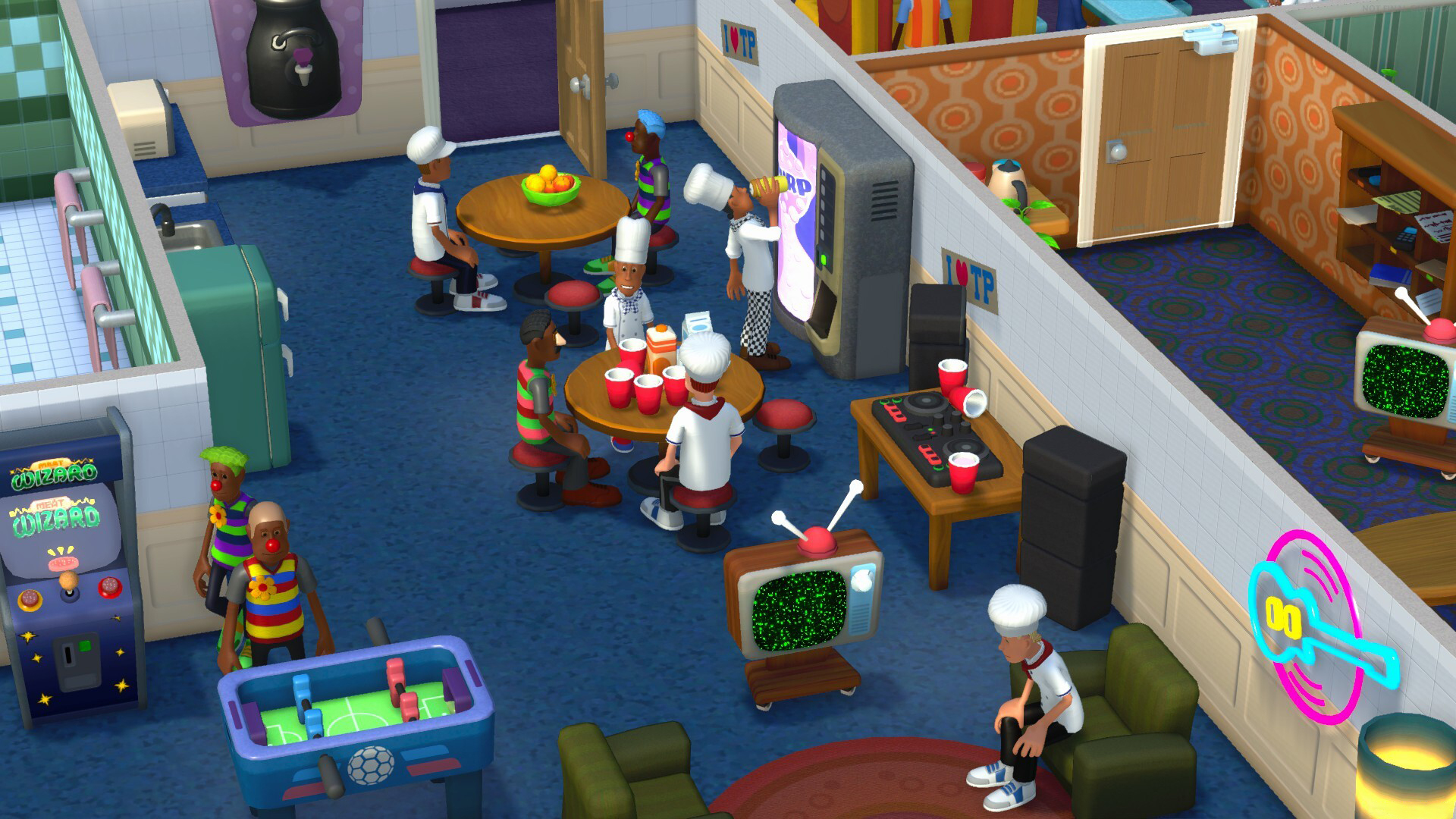 To call Two Point Campus a reskin of its previous game Two Point Hospital is doing this new game injustice. While it has some familiar elements, there are some key differences. Visually, you're handling a campus ground with tons of different classes and colourful students ranging from knights to clowns from actual clown colleges. 
Each of the four levels we're given in the preview build has its own problems for you to sort out as the new owner of the campus organization in the game, from the easiest to the toughest. The first level is the tutorial, where you're given a generous amount of funds to get the hang of campus management. You learn the ins and outs of the game: bring in students with your classes, keep them happy, they fork out more money and probably ace their classes, you get more money for high passing grade rates and bigger selection of classes. More classes, more dough.
The second level lets you deal with chefs and culinary arts learners in the Piazza Lanatra campus, where you have Gastronomy courses available with their own subsection of classes. You also get to use Student Events and Clubs as ways to keep student happiness at an all-time high, provided you have the funds and time to schedule them.You quickly learn from this segment and the previous stage that happy students who aren't tired as heck are more willing to spend money for their education. So it becomes a balance of entertaining students while also motivating them to pass their courses. This is the part in the game where I went hog-wild with the park benches, water coolers, and special "car seats" to get students to socialize with each other.
The third level, the Knight campus, has invaders. You need to hire special janitors with the "Security" skill to fend them off otherwise they'll vandalize and trash your place, effectively lowering the attractiveness of your school. Speaking of which, this is the stage I struggled with the most because while I'm making bank with the increased campus syllabus and classes, the constant earthquakes had me overworking my janitors while also figuring out the best way to beautify each room. It got tedious with the micromanaging, but them's the breaks if you want to ace the stage's 80% attractiveness rating. After an hour or two, I conquered this with a literal army of janitors and makeshift decoration skills for each single room I crafted, from the jousting arena to the clown college I shoved in for sh**s and giggles.
The Magic school Spiffinmoore has hexes and invasions aplenty, making this stage the toughest among the 4 here for regular players. You also need to draw out a loan and repay it in full, while also making sure the campus is adequately warmed up with radiators since the school grounds are in a god-forsaken freezing hole. At the very least, I didn't have to make half the school super-attractive so I save money on outdoor decorations and can rely on less janitors than the last stage.
Once you get at least 1 star in each of the four levels, you open up the meat of the game: Sandbox Mode. Here, you can create the campus you want without any specific goal in mind except for "get high passing grades from students" and "don't go bankrupt". Personally, I'm fine with this sort of gatekeeping of the good stuff because it allows new players to learn the ins and outs of Two Point Campus' gameplay and systems.
Accepted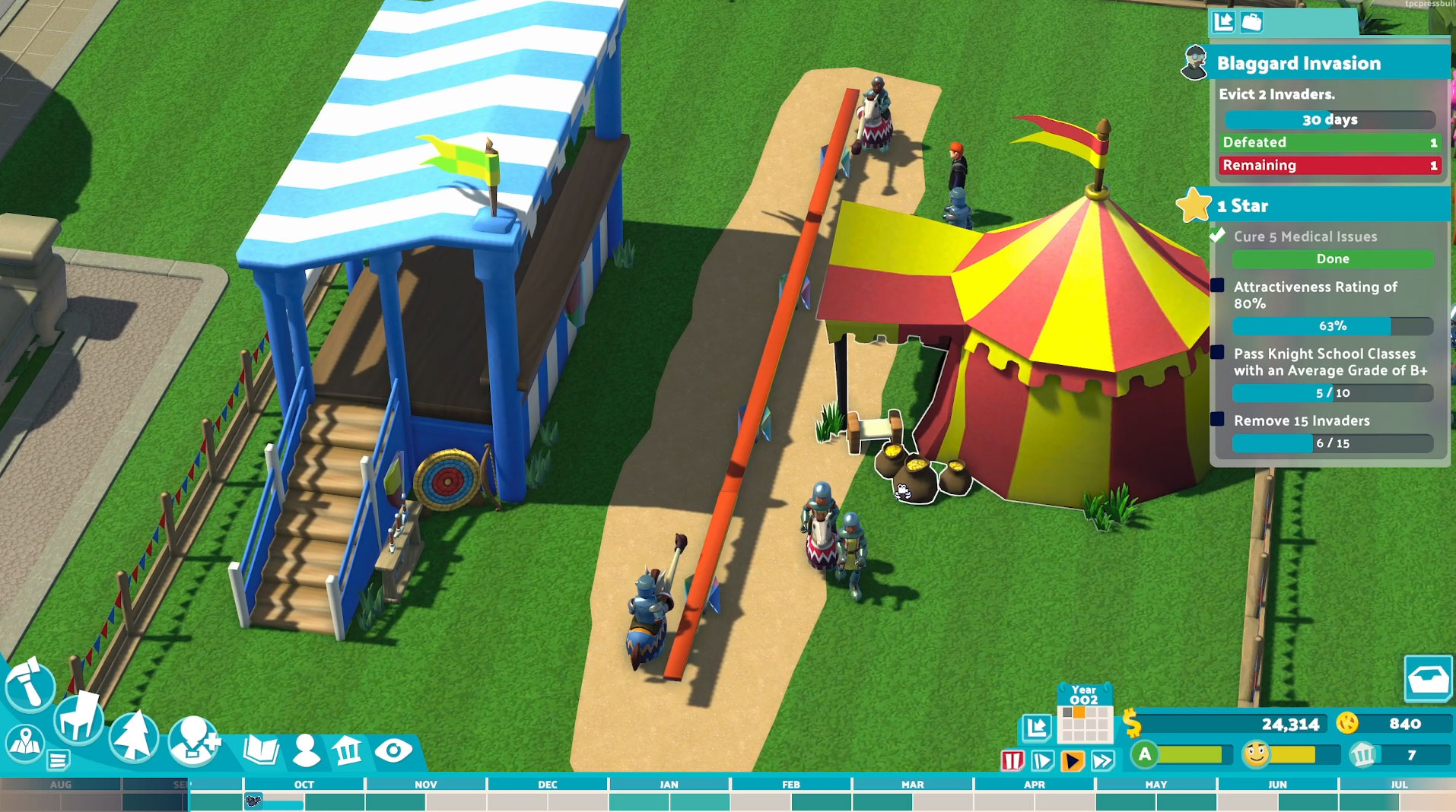 While Two Point Campus might seem similar to Two Point Hospital based on the interface & game structure -build successful thing, make sure to profit, don't lose customers- it's the aesthetics, settings, and quality of life changes that sets this one apart; possibly higher. Yes, the UI is still a work-in-progress as stated by the devs, but it's still pretty darn clean, intuitive, and easy for me to place buildings, structures, and amenities without major issues whatsoever. I also appreciate the fact that you can stop time and edit/adjust your school to your heart's content. Most importantly, it's fun to see your sandbox play out with knight students jousting, partaking in mock fights, getting chatty with significant others at the relaxation areas you've set up, or even taking a nap at the dormitory. Just watching them doing their classes is also a hoot, though it might wear thin after the 30th time you're possibly doing this in the final game.
We've only played four levels (out of 12 or possibly more if there's post-DLC) of this campus simulation title, but it's shaping up to be a magical time indeed. Maybe not so much the students who had to muck through the grimey school I created because I'm too cheap to hire more janitors, but still fun when you're overseing everything and amassing a large income from providing education. This sure as hell will not translate to real life campus management skills, but the spectacle of seeing your school grounds grow to newer heights is a joy to watch so far; let's hope the final build of the game pushes that further with its remaining 8 levels and sandbox additions.
Two Point Campus will be out this 9th August for PC and consoles. Preview code is provided by Sega.
Related