The mobile MOBA Arena of Valor's fifth International Championship is officially on its way as the results of the Group Stage draw conclude.
16 teams across 10 regions gather to compete at the biggest AoV tournament of the year, Garena and Level Infinite's Arena of Valor International Championship (AIC) 2022.
The theme for this year's AIC 2022, "New Rivals, New Honor", encapsulates the rising rivalry within the AoV community, as more up-and-coming young teams across new regions enter the battlefield to vie for the ultimate honour.
AIC 2022 seeks to honour the grit and tenacity displayed by teams as they strive to overcome all odds in their journey to victory.
All times listed are GMT+7.
GROUPS & TEAMS
Hailing from across 10 regions, the 16 teams will be facing off their strongest opponents during the Group Stage from 16 June to 19 June.
Fans and players can look forward to a dynamic viewing experience as teams showcase their best skills and strategy while scaling the championship ladder.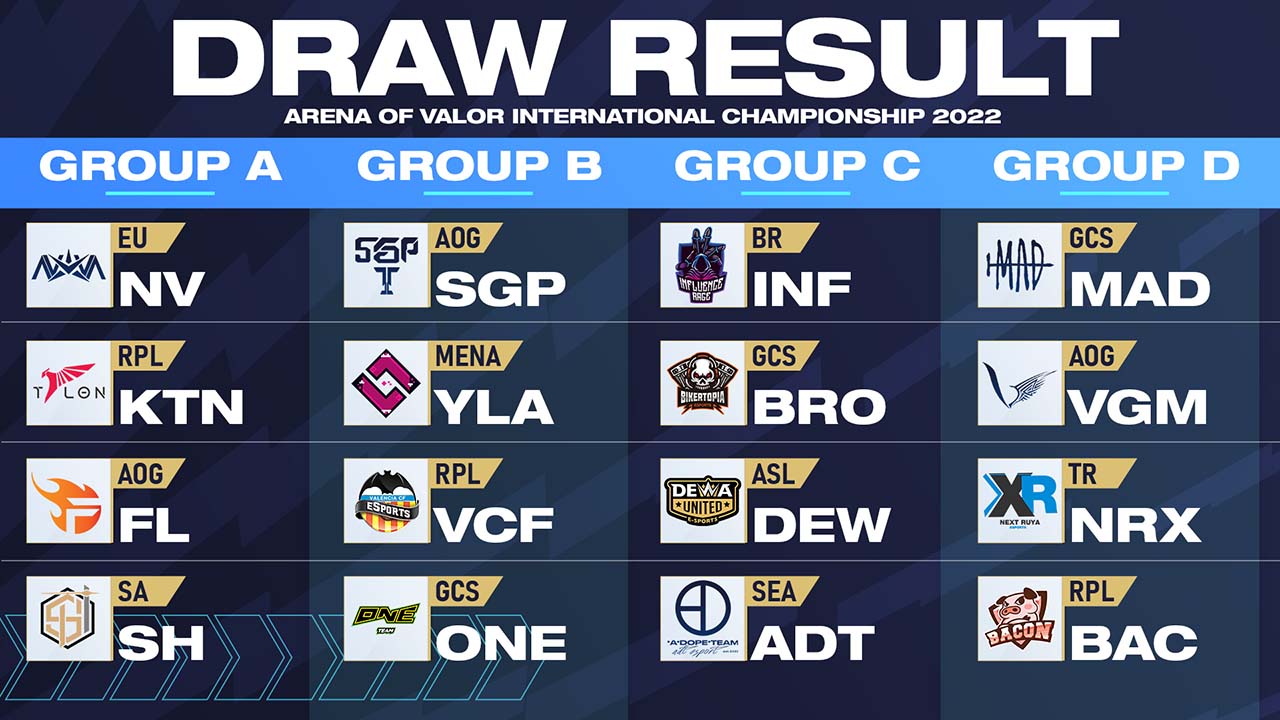 Group A: Nova Esports, KFC x Talon, Team Flash, Starry Hope
Group B: Saigon Phantom, YaLLa Esports, ONE Team Esports, Valencia CF Esports
Group C: INFLUENCE RAGE, Bikertopia Esports, Dewa United Esports, A Dope Team
Group D: MAD Team, V Gaming, Next RuyaRüya, Bacon Time
FORMAT & DATES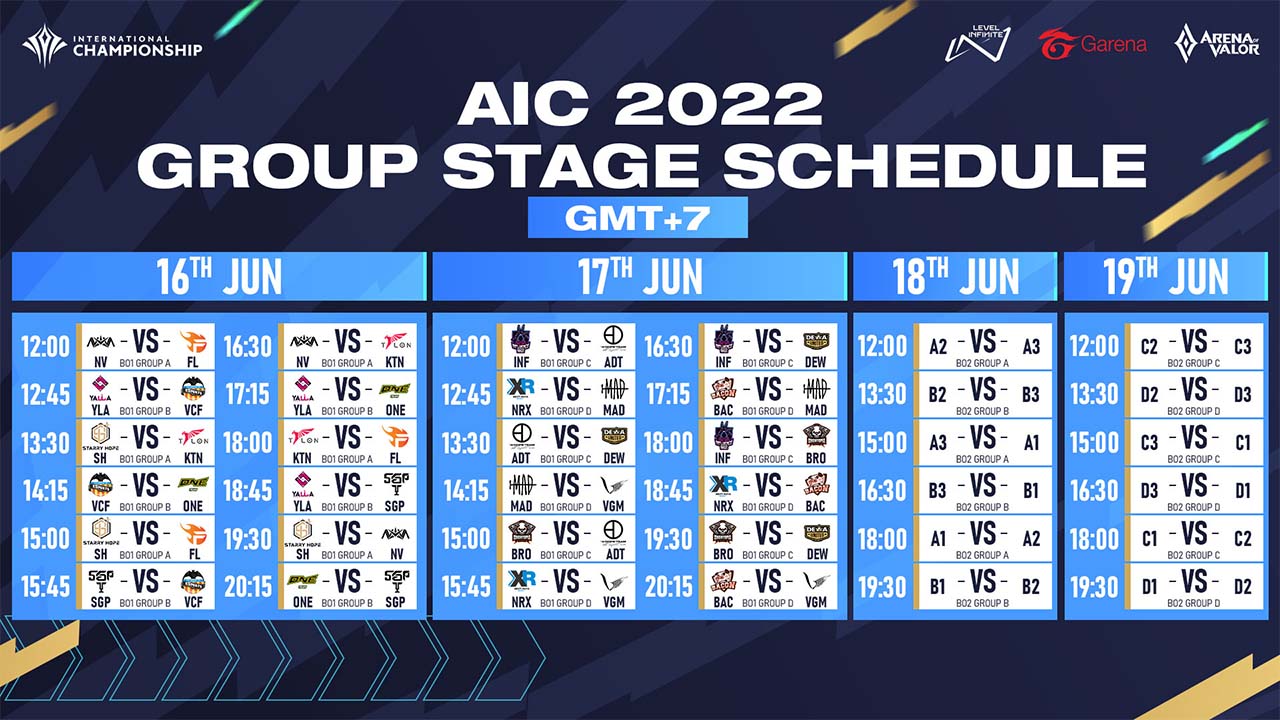 The AIC 2022 Group Stage will be split into 2 phases, where all matches will be played in a single round-robin format.
Taking place on 16 June and 17 June, the first phase of the Group Stage will see matches being played in a Best-of-1 (BO1) format, with the top 3 teams of each group advancing to phase 2.
Phase 2 will then be played on 18 June and 19 June, with the top teams of each group advancing to the playoffs.
Matches in phase 2 will be played in a Best-of-2 (BO2) format, in which a result of 2-0 will earn the winning team 3 points and 0 points will go to the losing team. Tying 1-1 will give teams 1 point each.
The global ban pick rules will also be implemented to enhance the strategy and pick diversity of the teams.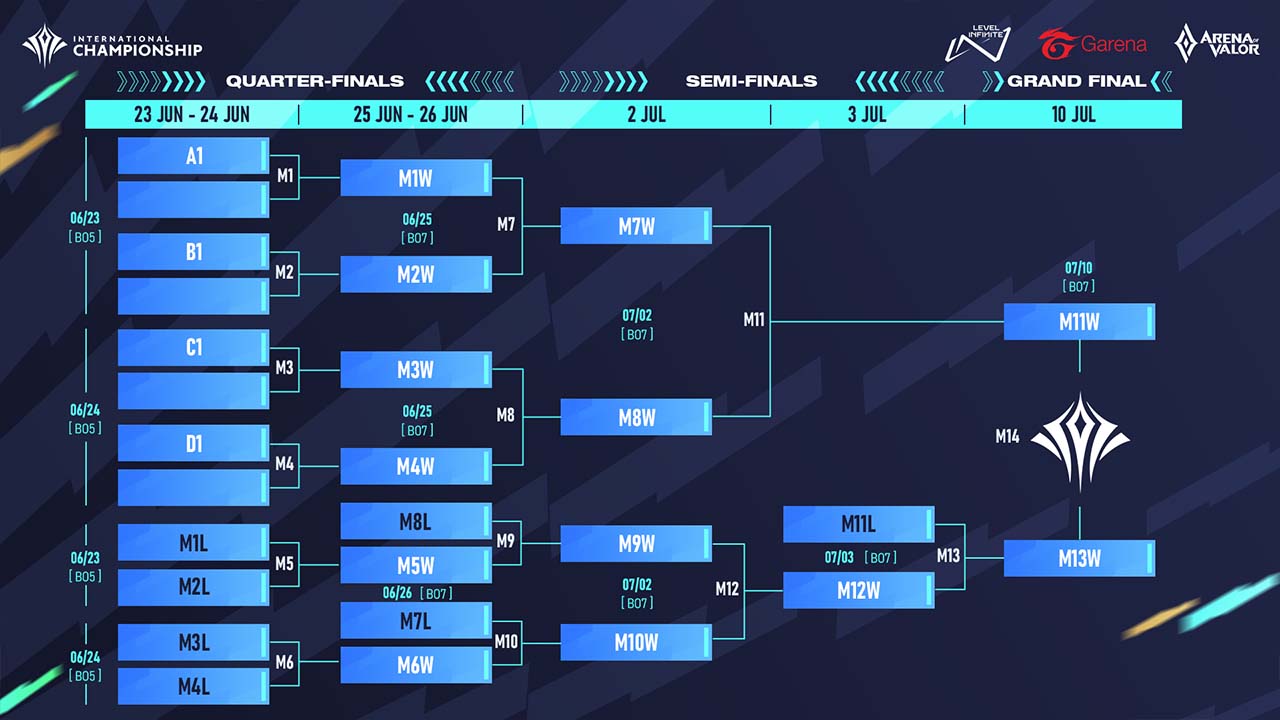 WHERE TO WATCH
If you're interested in watching the matches live, you'll be able to catch all the action on the official Arena of Valor YouTube channel.
Related