Platform(s): PC
Genre: Survival, ARPG, Crafting, Action
V Rising is an early access, open world survival game from Swedish developers Stunlock Studios, best known for 2017's Battlerite. Their new game is basically an ARPG with survival and crafting mechanics, where you're a vampire. It's sort of like Valheim but with vampires but with a top-down perspective and MMO elements.
You start off as a vampire who wakes up from their coffin. You then immediately head into the map of Vardoran to hunt prey, kill humans, build a castle, collect resources, and take down a list of bosses. As you build your castle and take down more V Blood bosses, you unlock new recipes and abilities that power up your vampire and unlock more stuff for your castle.
What's great about the game is that you're not forced to play online or multiplayer. Players can choose to play solo and co-op online or offline. You also have the choice to play in either PvE or PvP.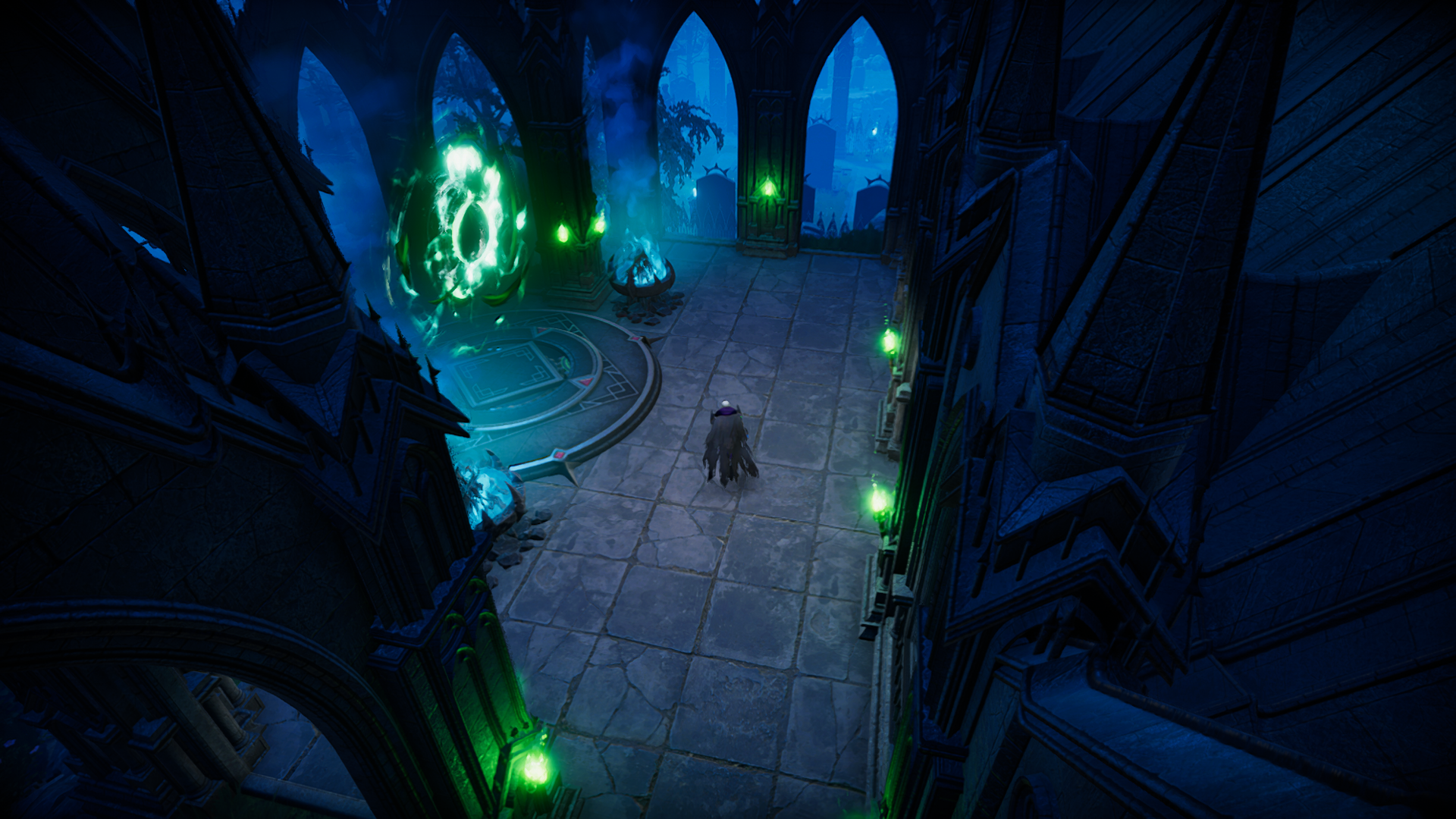 Instead of gaining experience and levelling up normally, your vampire gets more powerful by increasing their Gear Score in V Rising. To do that, you need to equip gear with better stats and Gear Score values. You can get higher gear-level items through crafting, or if you're playing on a full loot PvP server, you can defeat other players.
Unfortunately, there's not much of a narrative in V Rising. Once you build a blood altar and your castle, you get a list of bosses you need to kill to unlock new abilities and better technologies. That's the main progression loop and routine in the game. Between hunting these V Blood bosses, you'll spend most of your time gathering resources and crafting stuff, which feels like a slog if it's not your cup of tea. Gathering resources is slow going, and refining them at crafting stations takes even longer. There's a lot of waiting around for ore to smelt or for boards to be milled.
Your weapons in V Rising are simultaneously your resource-gathering tools. An axe is ideal for chopping trees for wood. A sword is great for cutting down vegetation. A mace is required for mining stone and ores from rocks.
There are a few interesting mechanics with potential. For instance, when you feed on an enemy, your blood type will change and you'll gain temporary buffs. Feeding from a Worker-class enemy will give you better mining and gathering yields. Feeding from a Creature-class enemy gives you a boost in movement speed and sunlight resistance. Feeding from a Rogue-class enemy gives you increased critical hit chance and damage potential.
Another annoyance is that since it's a survival game, you have to keep sustaining your gear (which deteriorates), and your castle (which decays) by continuously feeding on blood and gathering blood essence. Unlike other survival games, there's no procedurally generated map in this game. It's more like an MMO, where the map is always the same, and it's to your advantage to learn everything about it as you explore.
The biggest obstacle to your enjoyment of V Rising will probably be the grind. Like I previously mentioned, outside of combat, you'll have to collect resources and do a lot of crafting. You have to do that because you can't progress or get stronger through combat alone. While there's hours and hours of content to look forward to, the mechanics can still get old and boring fast because there's a lot of grinding.
V Rising has all the basic pillars of a decent survival and crafting game. There's exploration, there are enemies to fight, weapons and armour to craft, technologies to unlock, bosses to slay, and giant castles to build. If you look past the vampire theme, it's really just another survival crafting action game in a sea of the same genre.
Early Access preview copy provided by Stunlock Studios. Played on an Acer Predator Triton 500 (2020). V Rising is now available on Steam Early Access for RM39.
Related