Platform(s): PC, Xbox One, PS4, Nintendo Switch
Genre: 3D platformer with a grapple hook in the form of a frog's head on a gun
The wave of 3D platformers for this generation with 90s aesthetics continues, with some of them featuring some semblance of quality behind its aesthetics. OUr next entry? The endearing-looking Frogun, which may seem typical, but hides a sadistic streak amidst the toothy grin of its kid protagonist.
Jump & Snag
As you can tell from the title, Frogun is about a little girl named Renata who has to rescue her archaeologist parents from the depths of the ruins using a frog-gun hybrid as her sole weapon. The "hook" here is that your Frogun shoots its tongue out to either grab enemies, pull objects, or pull yourself onto walls to cross over pits. Anything is fair game to grab and latch onto, meaning you can get creative in crossing from point A to B in the fastest and most efficient way possible.
While that makes the majority of Frogun a breeze to complete since there's no lives system -you just restart from your last checkpoint if you fail- the challenge actually comes from getting special Fly medals. You get these post-stage rewards for finding all the coins in a level, completing the level without dying, finishing the stage faster than the intended time, and collecting hard-to-reach green emeralds and purple demon stones. If you're a one-and-done kind of player, you may find some fun in Frogun for the first 4 hours or so, but completionists and achievement hunters will find lots to love in replaying Frogun's levels in a challenging new light.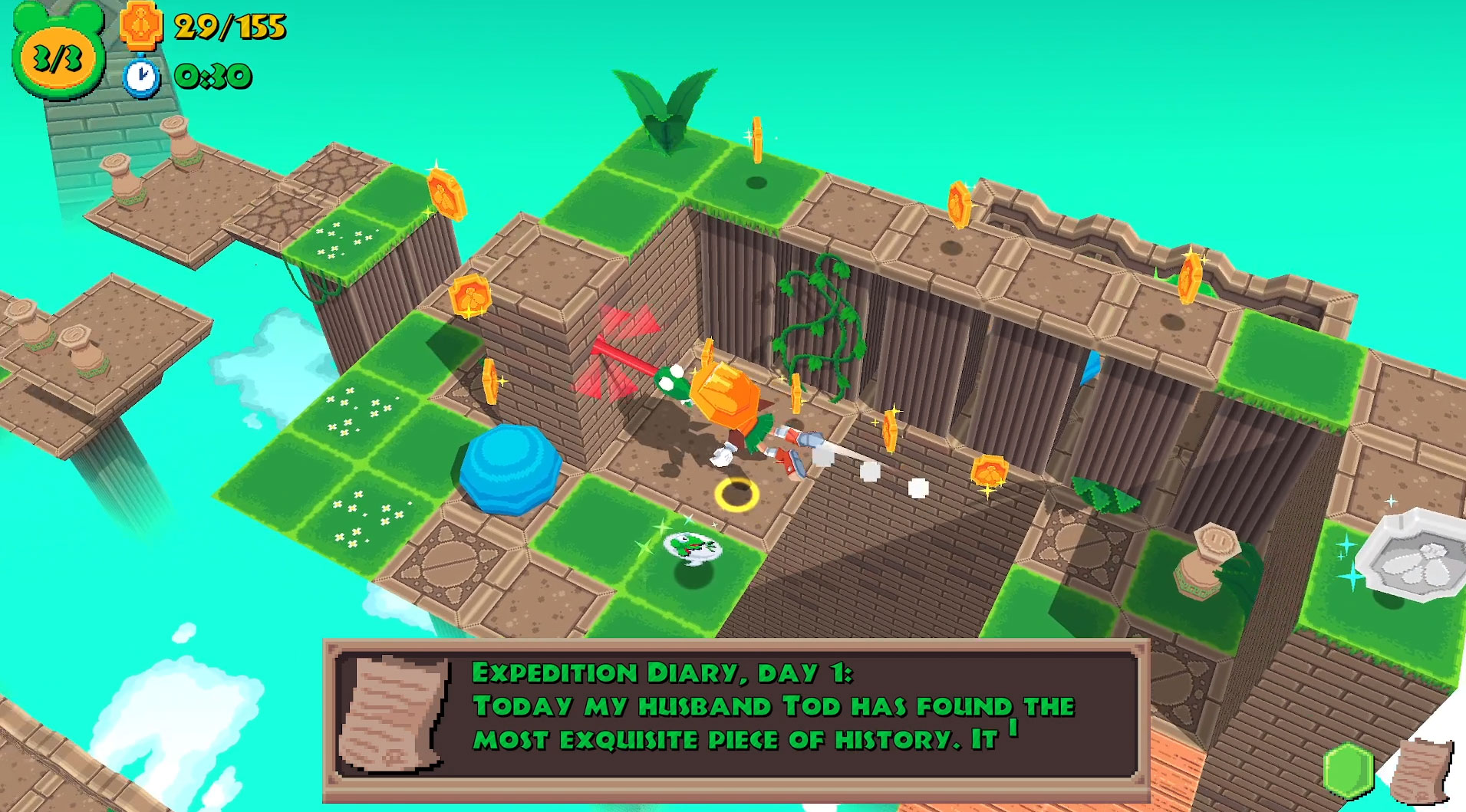 It helps that Frogun has a quaint simple 3D aesthetic. It's a pity about the controls, especially the titular Frogun. While jumping and shooting your Frogun while aiming at certain grappable spots can be tricky if you're in a hurry, I had no issues just pacing myself, aiming properly, and just shooting my tongue away. At least for the earlier levels. As long as you're grappling and colliding, you can proceed to fire your gun again while airborne. If you miss while in the air, however, you can't shoot it again.
Mechanics like these make a supposedly friendly game unnecessarily frustrating. You'll need to be precise with your shots especially in later levels that feature a ton of moving parts and a plethora of pitfalls. And there's a lot in the last half that will make you break your controllers due to the no-miss nature of the levels.
Frogun is cute, charming, and offers quite a challenge for anyone who wants a brand-new 3D platformer with some quaint level design and a nifty grapple hook mechanic. Perhaps it's a little too challenging for many who just want another mascot platformer that's a bit fair and breezy. Frogun's aesthetics belies an annoying kind of 3D platformer that demands precision. For that, I'm not sure if I should recommend the game to everyone but the most hardcore of platformer enthusiasts.
Final Score: 50/100