By Alleef Ashaari|September 15, 2022|
Netflix TUDUM, the global virtual event that garnered over 25 million views from fans in 184 countries around the world last year is returning on Saturday, 24 September 2022 with five global events in 24 hours.
Fans can tune in for an exciting day of exclusive news, never-before-seen footage, trailers, and first looks, as well as interviews with Netflix's biggest stars and creators. The free virtual event is a celebration of Netflix fandom and is dedicated to sharing the scoop on over 100 fan favourite shows, films and specials from across the globe.
Check out the lineup: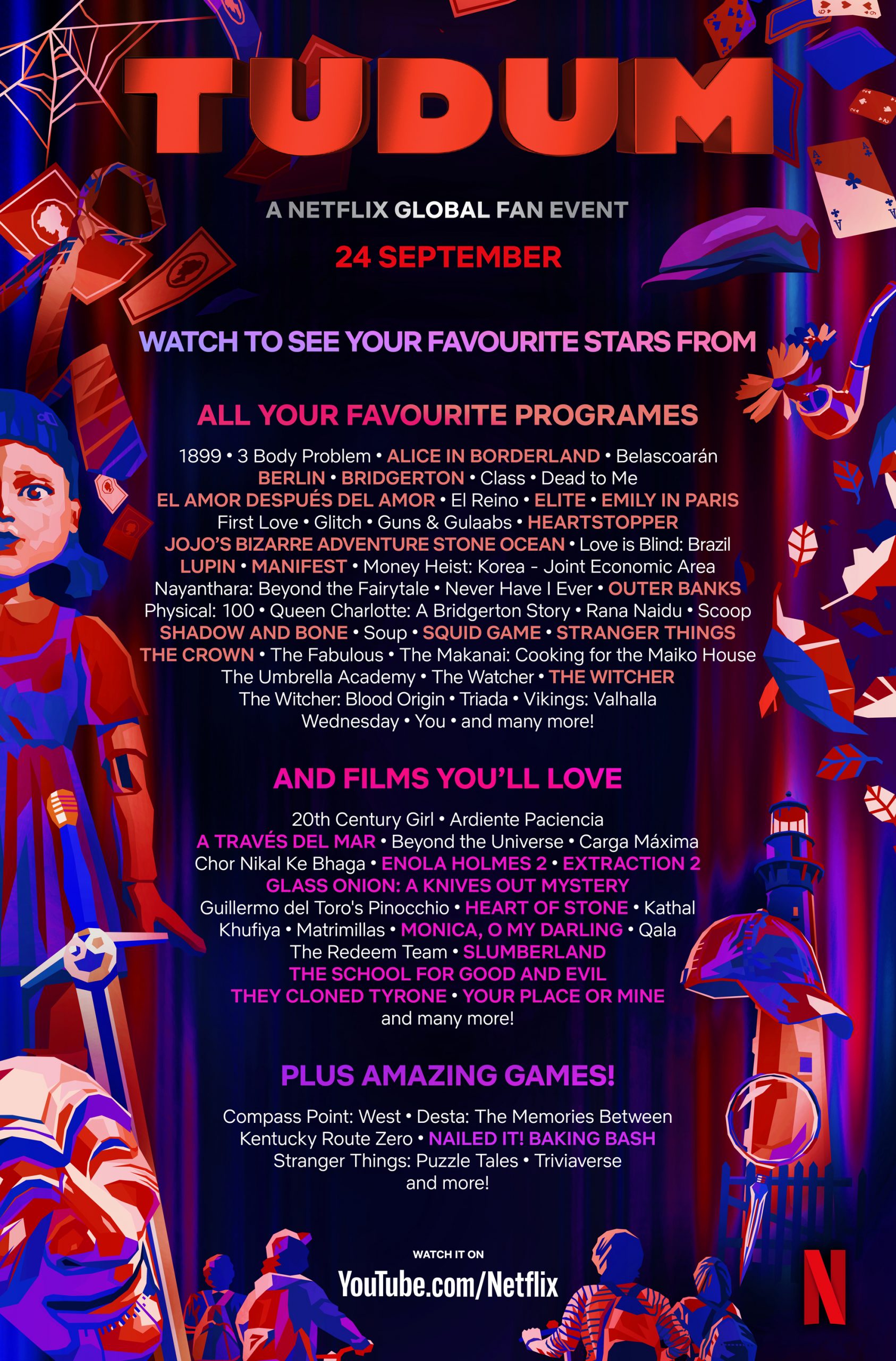 On 24 September 2022, TUDUM will span four continents with five events, taking fans on a whirlwind trip around the world:
At 10:00 am MYT / 11:00 am KST (7:00 pm PT September 23), TUDUM kicks off with an exciting show out of Korea.

At 1:30 pm MYT / 11:00 am IST (10:30 pm PT, September 23), fans will be treated to a fun look at what's ahead from India.

At 1:00 am MYT September 25 (10:00 am PT September 24), TUDUM kicks off as a two-part show with Part 1 out of the United States and Europe, and Part 2 at 11:30 am PT out of Latin America, including surprises from other countries.

At 12:00 pm MYT September 25 / 1:00 pm JST September 25 (9:00 pm PT September 24), our stars from Japan will close out TUDUM with a celebration of our Japanese entertainment.
TUDUM A Netflix Global Fan Event will be available across Netflix YouTube channels in a number of different languages. Mark your calendars now for September 24 and 25!
Netflix TUDUM 2021 gave us our first look at The Sandman, Stranger Things Season 4, and more. What's in store for us this year?