Movie-lovers are now set to enjoy blockbusters in a big way with GSC BIG, Golden Screen Cinemas' brand-new proprietary premium large format (PLF) screen, which was launched today by the leading cinema exhibitor in partnership with Hong Leong Bank (HLB). GSC BIG was launched at GSC Starling Mall, Petaling Jaya in conjunction with the release of the highly-anticipated superhero movie, Black Adam, with Golden Screen Cinemas' Chief Executive Officer, Ms. Koh Mei Lee, and HLB's Managing Director of Personal Financial Services Mr. Andrew Jong officiating the event.
Promising an all-round big screen, big sound, and big experience for cinema-goers, BIG has been specially designed to enhance the excitement of the most intense action-packed films. The screen brings to life high-octane, adrenaline-rushing scenes on a larger-than-life cinema screen with dimensions of over 20-metres in width and 10.8-metres in height, powered by a 4K laser projector for astounding visual clarity, sharpness, as well as colour accuracy and dispersion across the entire screen.
Complementing its visual prowess is a 32-channel multi-speaker Dolby Atmos surround sound setup that delivers pristine, crystal-clear audio. This revolutionary spatial audio technology entrances and fully-immerses audiences in the film with environmental sound from all directions. Combined with additional subwoofers native to BIG halls, the bass of sounds and music are deeper, more pronounced and have greater impact than regular cinema halls.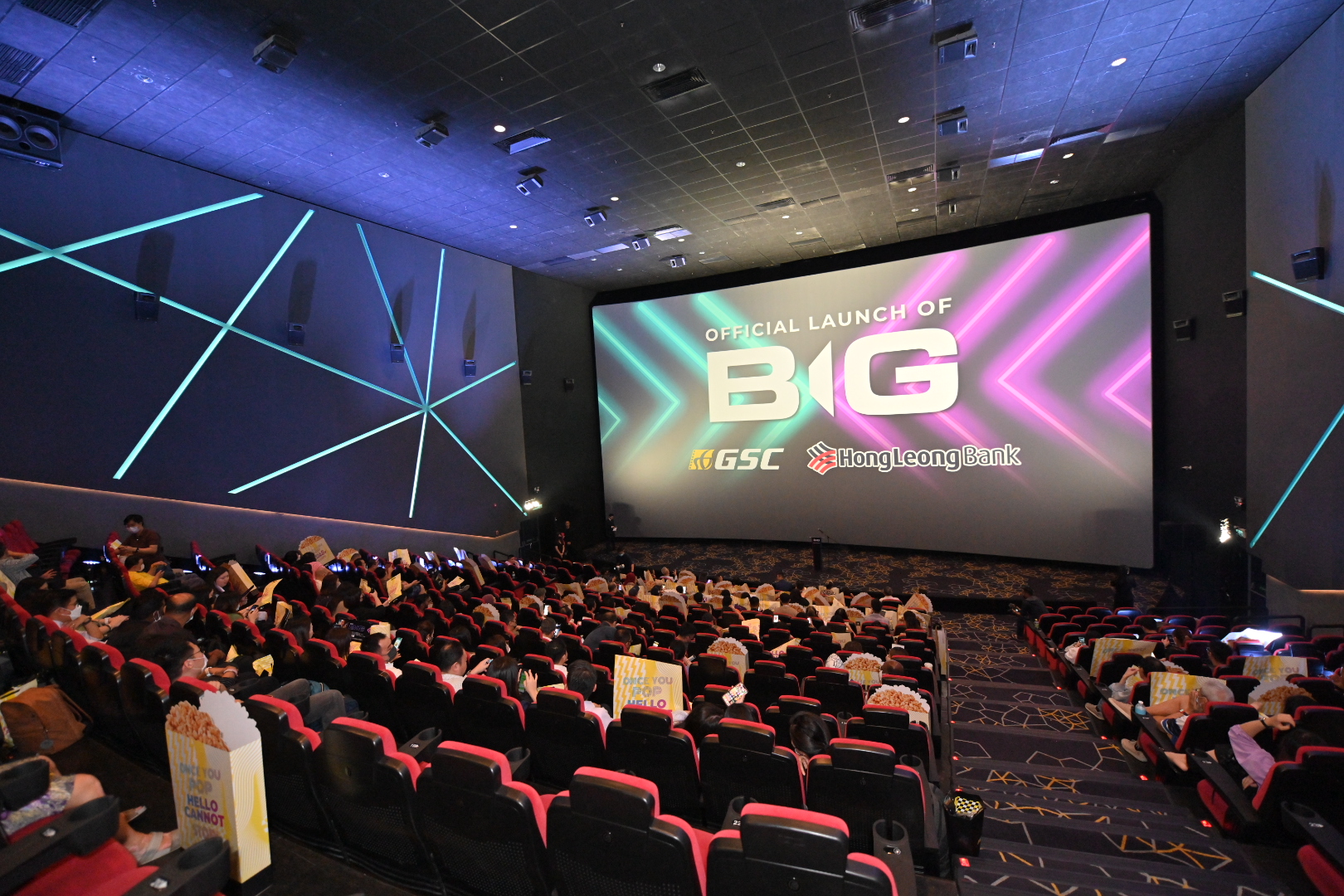 The big experience at BIG comes from its plush, spacious seating; 396 people can watch a movie comfortably in BIG at GSC The Starling Mall with ample leg room across aisles. Selected BIG halls also feature recliners and D-BOX motion seats for those seeking a differentiated experience, where they can also feel the movement associated with each movie scene.
"Hong Leong Bank has been our long-standing partner for many years and we are thrilled to collaborate with them on another milestone to provide movie-goers a new, captivating cinematic experience. As GSC's very own premium large format offering, BIG will be the ultimate audio-visual experience for those seeking the biggest screens, most powerful audio systems, and most comfortable seating to enjoy their favourite movies.

We look forward to building this new brand in Malaysia as we continue to craft enriching cinema experiences, innovations, and promotions for our customers together with Hong Leong Bank," said Ms. Koh Mei Lee, Chief Executive Officer of Golden Screen Cinemas. 
The launch of GSC BIG signifies an important milestone in the longstanding, successful partnership between GSC and HLB, which is in its fourteenth year since the introduction of the HLB GSC Credit Card, Malaysia's first-ever co-branded credit card with a cinema chain. Through this successful partnership, customers have enjoyed special discounts and perks on movie tickets and food and drink at GSC cinemas over the years. With the introduction of GSC BIG, HLB is bringing even more wonderful and rewarding cinematic experiences not only to its customers but also to movie lovers across Malaysia. 
"We want to be always present for our customers where life happens for them," said Mr. Andrew Jong, HLB's Managing Director of Personal Financial Services. "We know our customers love the special deals and rewards for their tickets and concessions and we want to expand the wonderful movie outing experiences that they have come to expect from HLB and GSC to even BIG-ger moments.

In addition to the special deals and rewards, movie lovers can have lots of fun at our User Generated Content booth at selected GSC BIG where they can take pictures with their families and friends, play games and win prizes, all while waiting to catch the next-level, bigger-than-life movie experience. As cinemas go into full swing and more people head to the silver screen for the next blockbusters, we are very excited to bring this new, innovative experience to everyone."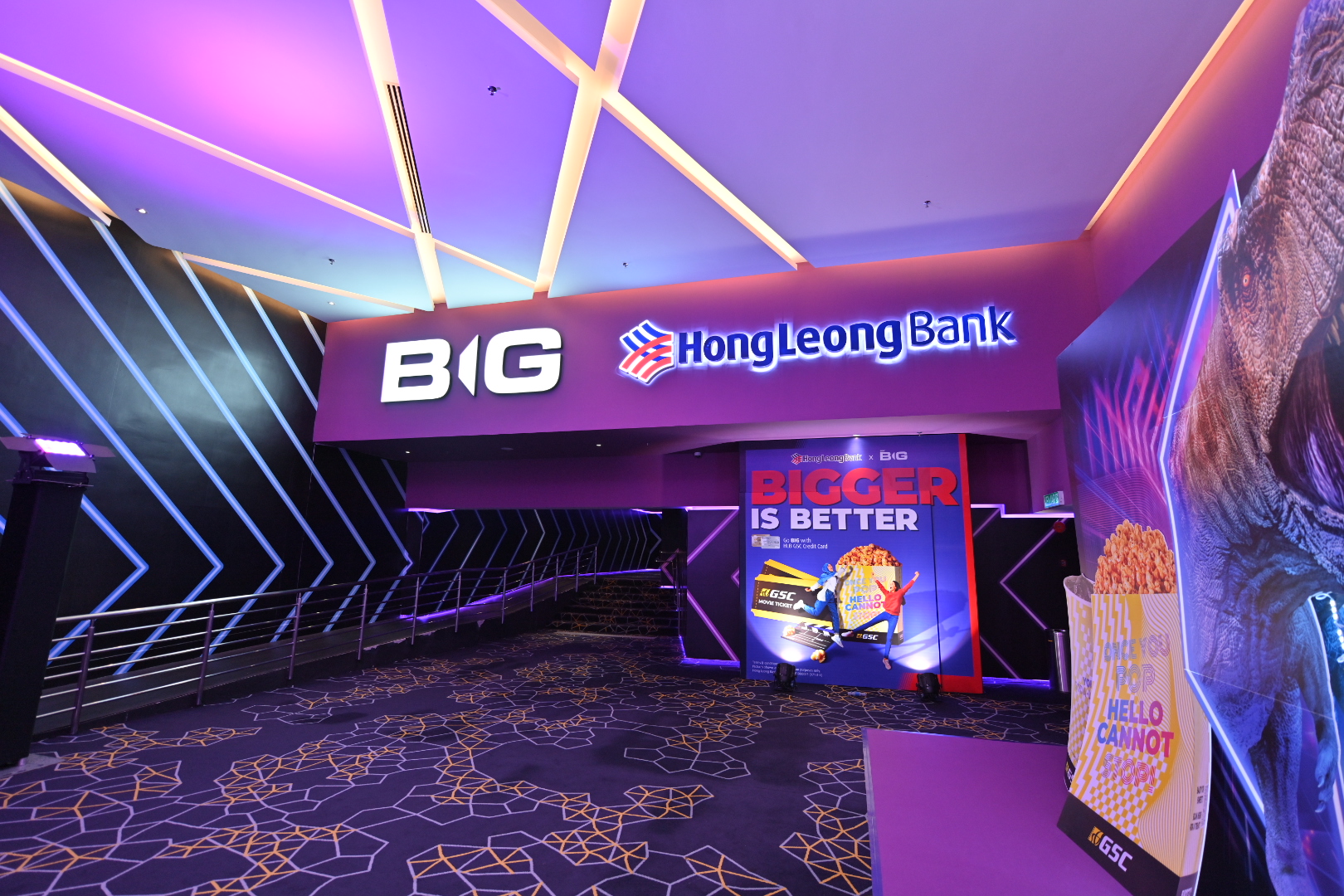 While GSC BIG is presently available in GSC The Starling Mall and GSC Tropicana Gardens Mall, this new PLF experience will be steadily rolled out to more GSC theatres across the region in the coming months. GSC BIG will replace all existing GSC MAXX locations, as the latter is phased out from use and replaced by the new cinema offering, which promises an even more impactful and immersive movie viewing experience.
The full list of GSC BIG locations are as follows:
GSC The Starling Mall, Petaling Jaya

GSC IOI City Mall, Putrajaya

GSC Tropicana Gardens Mall, Kota Damansara, Selangor

GSC MyTOWN Shopping Centre, Cheras, Kuala Lumpur

GSC Kuantan City Mall, Kuantan, Pahang

GSC AEON Mall, Bandar Dato' Onn, Kempas, Johor Bahru

GSC The Spring, Bintulu, Sarawak

GSC Paradigm Mall, Johor Bahru
GSC X HLB EXCLUSIVE PROMOS
In conjunction with the launch of GSC BIG on 20 October 2022, customers can enjoy various promotions by HLB at GSC The Starling Mall. Only available for a limited time, customers who apply for a HLB credit card or open a HLB account, or just spending a minimum of RM200 on their HLB card at The Starling Mall within a maximum of 2 receipts will stand a chance to redeem various prizes worth up to RM500.
For more news and updates, follow GSCinemas on Facebook, Twitter, or Instagram or visit the website at www.gsc.com.my.