Platform(s): PC (version played), Xbox Series, Xbox One
Genre: Left 4 Dead first-person multiplayer PvE game but with Warhammer 40k
Developer Fatshark is currently the de facto developer when it comes to co-op PvE first-person games which involve hordes of monsters coming at you, and where teamwork matters. They've proven themselves with the previous Warhammer Vermintide games, so it's apparent that they're in charge of the next iteration of the genre, putting pretenders like Turtle Rock Studios to shame with Warhammer 40K Darktide.
Is it a jolly and bloody ol' time with people? Yes, and it's not just because of the Warhammer brand, though that helps.
Not-So-Suicidal Squad
Fatshark's new Warhammer 40K game is essentially Left 4 Dead but with space heretics, guns, and grim scifi over-the-top trappings, though it's more than a sum of those parts. For the uninitiated, Warhammer 40K Darktide pits 4 players in a team to complete objectives in a given map, which usually takes about 20 minutes or so. The game will throw enemies and traps at you thanks to the in-game director that oversees the scenario you're in and spawns obstacles for you to deal with. In most missions, you'll have different objectives ranging from staying alive for 5 minutes or so while a horde attempts to overwhelm you
While mowing down heretics with your melee weapon and guns is fun and thrilling, players will have to watch out for elite enemies & bosses that usually accompany the mob. These include snipers that can take down your shield with one shot from far away, space hounds that can incapacitate a player and require others to rescue him/her, and Beasts of Nurgle that can swallow players whole. Sometimes the wrong kind of enemy spawns can turn your seemingly-easy mission upside down due to your squad getting incapacitated when they least expect it.
Co-op games that take the vein of Left 4 Dead live and die by its pacing and AI director that determines the flow of the game. That's why Back 4 Blood fails since it couldn't get that core gameplay right. Thankfully, Fatshark has tons of experience with its previous Vermintide games, using what they know and bring it to Darktide while tweaking some mechanics here and there to make it stand out. For one, there's a bit more gunplay here with various ranged weapons like autorifles and even ballistics for the bigger classes.
Speaking of which, you also can choose between four classes. While they start out similarly, their buffs, passives, and weapon preferences set them apart. The Veteran favours guns and has skills that amplify their shooting skills while the Orgyn can serve as the squad tank and use big weapons. Plus, they're three feet taller than the rest. Psykers have brain-exploding magic, and that alone make them flood the servers I'm usually playing in. I just use the Zealot because I like getting into the thick of things up close and her special skill involves her charging in and getting damage reduction and a critical slash to boot. It's perfect for myself who favour shock trooper tactics while your other members support you, or flank the opposition.
It's also gratifying to play a shooter that doesn't take itself seriously sometimes, especially in a grim world where your hub base is a space cathedral and the majority of enemies bleed maggots when you hit them with your melee. The Scottish/Welsh/Irish/European-accented banter between your party helps too; they range from humorous to sarcastic. It's what you would expect from convicts forced to work with each other but won't kill each other since they do want to make it out of their hellish predicaments and dangerous missions in one piece.
With a plethora of maps and missions that can escalate at any time, a ton of skills, weapons, and curios to unlock and use, and the ever-present danger of wiping out, especially on higher difficulties, there's never a dull moment in Warhammer 40K Darktide's co-op sessions. 
Wave Of Destruction
If there are some chinks in the Darktide armour, it's due to the half-hearted nature of the game's live service elements. There are cosmetics you can earn for free in-game, but it seems as if the good stuff are in the real-money shop which usually costs up to US$12. The fact that Darktide is a full-price game is a little disconcerting. There's also the
Thankfully with the servers more or less stable after the game's 30th November launch, I haven't come across any disconnects or issues midgame. I did have an issue or two logging in at the start, but that error only persisted after the second or third time I logged in. No amount of server issues is going to keep me away from serving the God-Emperor.
Simply put, Warhammer 40K Darktide is fun for all who love their multiplayer online PvE group games. There's a simple but unique RPG system, a ton of detail in its grim universe and levels, fun classes to play as, tight and intuitive controls, and overall fun and cathartic gameplay that will challenge you when you want it. All this comes equipped with an amazing and moody Jesper Kyd industrial soundtrack that reminds us why he's still at the top of the game music-making business.
If you're still not sure about the online stability even after I assured you with my earlier words, you can choose to wait another week or two. Fatshark sure as heck isn't going to let its new scifi baby girl out to die like a maggot-bleeding heretic. This is clearly 2022's best feel-good multiplayer group game with dark humour, carnage, and accents aplenty, evolving from Vermintide in all the right and satisfying ways.
Pros
Great combat and gameplay with expertly-paced co-op action.
Fun classes & dialogue/interactions.
Class system & character build options have depth.
Online connection seems stable (at least on our end).
Cons
Level graphics can look similar given the series' aesthetics.
Potential metagame grind issues.
Final Score: 80/100
Review copy provided by publisher.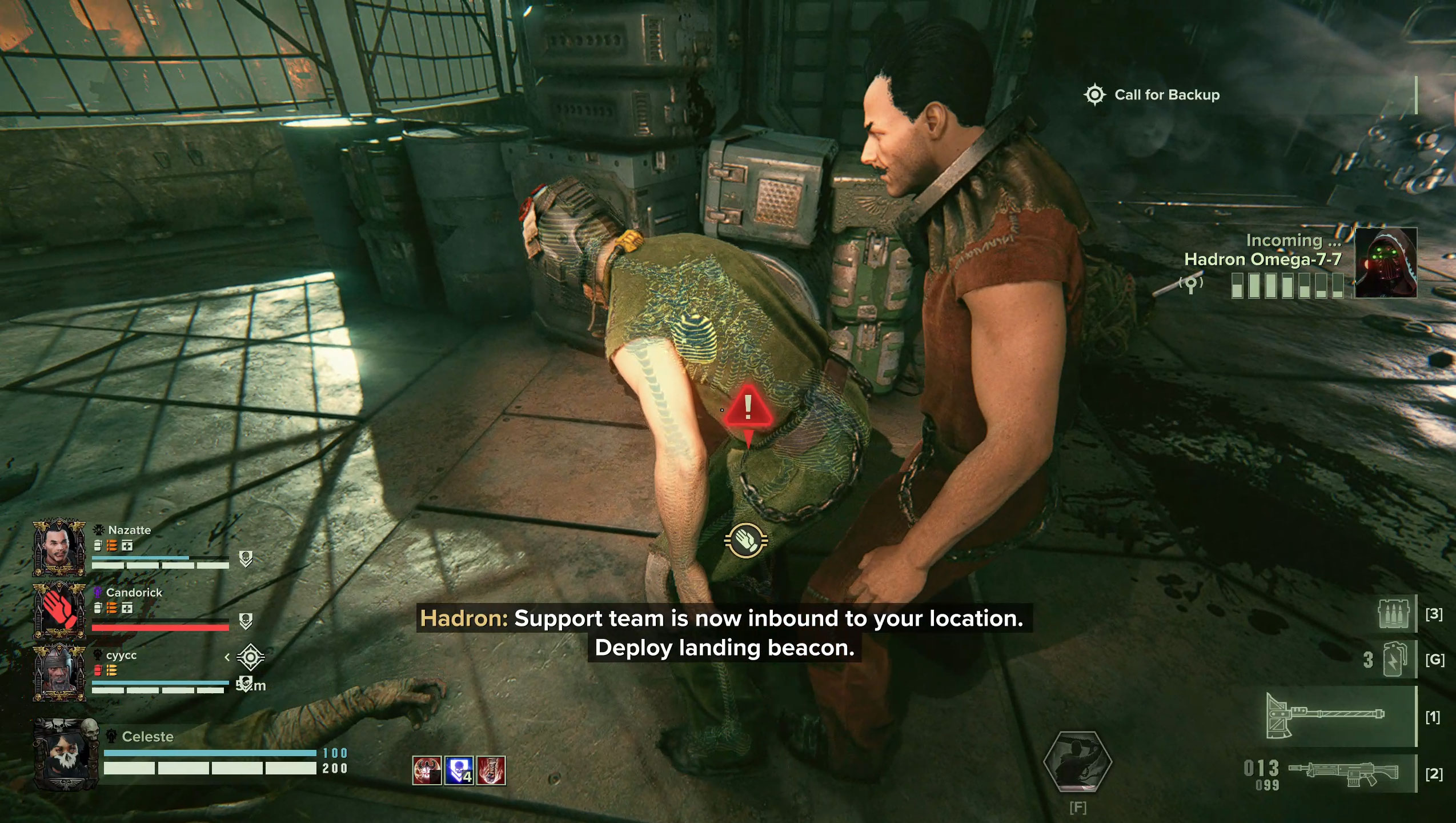 Related