Platform(s): Xbox Series (version reviewed), PC
Genre: Character action game with music rhythm elements
Trust Tango Gameworks and its founder Shinji Mikami to somehow break their own mold of horror and spooky games. The makers of the Evil Within titles and last year's ho-hum Ghostwire Tokyo have gone back to its supposed 2000s action game roots in what could be a spectacular debut of a new IP: during a January Xbox developer showcase.
Many were taken by surprise with the newly-announced-and-released-on-the-same-day Hi-Fi Rush, and with good reason: it looks like a beauty and plays great. At least from my 8+ hours with the title; it's clearly gunning for the 2023 gaming top spot.
Jam Session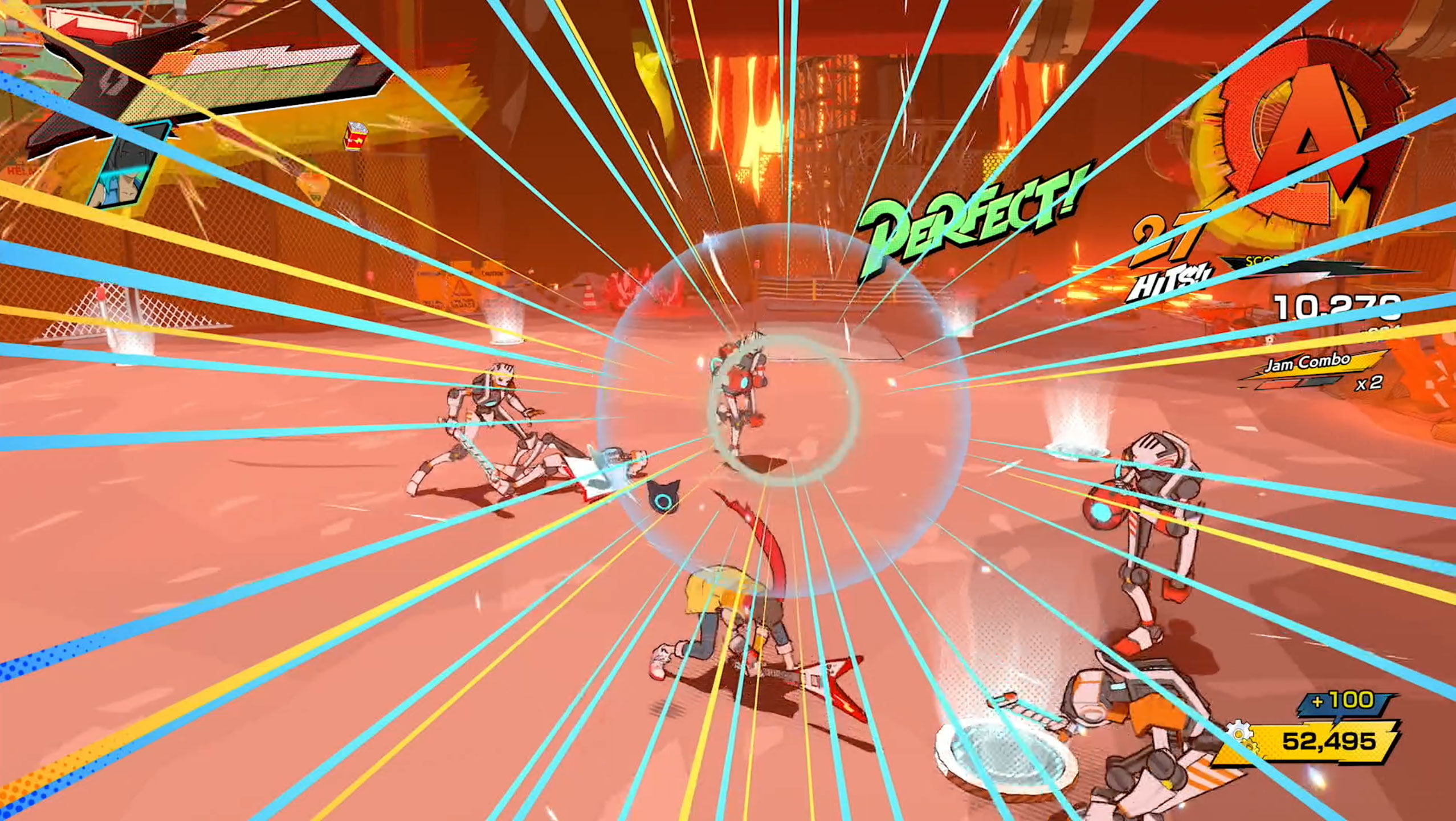 Hi-Fi Rush is about a guy named Chai who wants to be a rockstar but somehow ends up being labelled "defective" by a sinister tech company while getting refitted with cybernetics. As he escapes from killer robots, he gets embroiled in a corporation takedown orchestrated by a lone woman named Peppermint and a robot cat name 808. The story is fine, as it seminally entertains and is told in a goofy fashion with its loud-but-proud protagonist trying to work with his more orderly companions.
What separates Hi-Fi Rush from other 3D action games with combos and high-flying moves, apart from its outlandish presentation, is its emphasis on music and rhythm. All combat in the game is tied to the rhythm and tempo of the background song and stage. Every successful hit builds up to a Beat Hit, leading to bigger damage as long as your inputs are in sync with the beat.
If you're not musically inclined, it's OK because your robot cat acts as a metronome to get you in sync with the timing. You can also press the options button on your Xbox controller to bring up a bottom-screen visual guide in case the cat's blinking lights aren't enough. However, if you want to effectively deal with enemies in the later stages and attempt the other tougher difficulties, you'll definitely need to master each stage's rhythm.
Chai's basic attacks are powered up if you land the rhythm, which the game does a great job at telling you without being distracting. Land a hit to the beat, and you'll hear a "hey!" or "Chai!" chant. Successfully "Beat Hits" inputs (the circle that appears and closes in when you're at the end of your combo) means extra attack properties like projectiles, area-of-effect hits, and more damage. Dodging to the beat means you can chain two extra dodges for extra invincibility and close in on enemies faster. Parrying beats automatically reflects damage back at enemies no matter where they are.
And if you want more, you can buy moves and Special Attacks (fill up Power Meter, expend it for a strong powerful attack), as well as slot in chips that buffs your character, and purchase the standard health, energy, and equipment/chip slots. This gives you the incentive to play the game further and replay it to amass more Gears (the game's currency) and power up Chai to be a countering and fighting half-machine.
Five For Fighting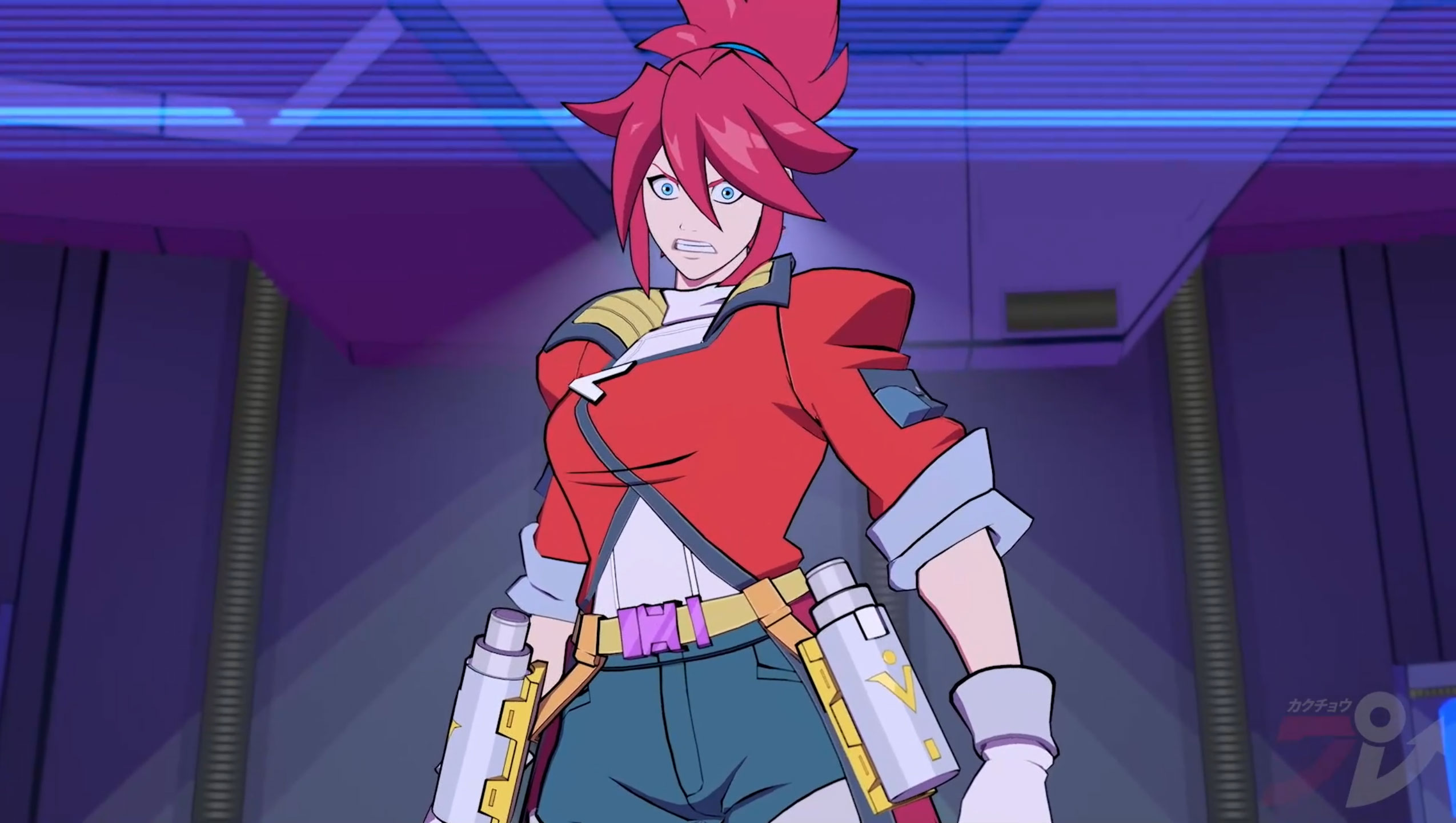 And let me tell you: landing these attacks and dealing with multitudes of mechas in grand fashion is just fun, especially with the feedback you get, Chai's agility and many great defensive options, and the responsive controls overall. Coupled with partner attacks (Peppermint's laser blast and Macaron's ground slam) that are required to deal with certain shielded enemies to even grounding flying foes, and you have ample moments to land huge combos, juggling foes for big points, and deal with them as quickly as possible to get that coveted S rank. My go-to setup is to have chips that lessen the cooldowns of my support attacks, while using my single-target and AoE Super for elite enemy killing and crowd control.
Amidst all the fighting, there are also platforming and traversal puzzles, with some of them being timed and tricky to navigate, requiring split-second decisions. There are even on-rails sections where you're on a zipline speeding through the giant-as-heck tunnel system and short 2D platforming segments to liven things up.
Hi-Fi Rush is essentially a royal mash-up of Devil May Cry, Rhythm Tengoku, and Viewtiful Joe (style-wise) that just gels well from start to finish. The game wears its 2000s-era style-and-substance old-school action sleeve loud and proud, especially with the boss fights that will make use of your rhythm game skills in intervals.
Being a rhythm-heavy title, one expects Hi-Fi Rush's soundtrack to be just as attention-grabbing as its polished cel-shaded Saturday Morning cartoon look which transitions seamlessly between cutscenes and gameplay. Both the licensed music and original music do their job adequately and do fit well being in sync with the tone and feel, but I feel that it isn't completely memorable especially when you compare it with its clear inspiration, No Straight Roads.
Art and music tastes are subjective though, but call me someone who likes a lot more genres that tie well together. I also do wish that the stage replay option is available earlier rather than after finishing the game, as well as the option to visit certain sections instead of going through the 30 to 40-minute stage over and over.
For Those About To Rock…
To address the elephant in the room, Hi-Fi Rush is to No Straight Roads like how Dune 2/Warcraft is to Herzog Zwei for RTSs. Tango Gameworks takes inspiration from an already-awesome hybrid idea and put its own spin on it, arguably making its gameplay better given the pedigree of the company.
The game's tight controls, fun action, and a multitude of stages spanning for 6 to 8 hours across different sci-fi factory & corporate locations along with fun characters to hang out with make for an exhilarating and unique mash-up. Hi-Fi Rush is clearly one of 2023's most pleasant gaming surprises, as well as a respectful nod to the glorious 2000-era of action titles where you just want to have pure unadulterated fun with simple mechanics to comprehend.
Unless you really, REALLY hate music rhythm games or anything resembling that genre's traces, you'll want to tune into this rock festival for the full tour.
Pros
Stylish art style & presentation.
Fun combat system and rhythm game mechanics.
Chai is fun to control and play as.
Loads of gameplay and boss battle variety.
Cons
Stages can get long in the tooth.
Replaying main stages seem limited.
Might turn off non-rhythm game fans (who may struggle in the quick time events).
Final Score: 80/100
Related