The most awaited survival horror sequel game finally went into Early Access on February 23. Sons of the Forest is the sequel to the controversial survival horror game The Forest which was released in 2018. Now Sons of the Forest starts out with you being sent out with other mercenaries to find and rescue a billionaire family on a deserted island. However, your helicopter crashes (what a surprise!) and you end up on said island. The game can be played alone or with up to 7 friends. The game is essentially similar to The Forest, but has many improved features.
Starting out can be tough as you're pretty much just stranded on a huge (not to mention beautiful!) island, with no idea how to survive. In this guide, I'll be sharing some tips on how to survive (at least the first few nights) and get your feet planted on the ground.
Sons of the Forest Beginner's Tips
Loot The Crash Site
Like its predecessor, you start out at a crash site which has scattered many belongings and items. Before you leave the area, make sure you loot everything here. Rummage around the area (in snow or bushes depending on which area you've been spawned in) so you don't miss anything. Here you'll be able to find some food and water enough to keep you going until you build your first base. You will also find useful materials and items such as duct tape, ammo, tarp, medicine, grenades and all sorts to help with your crafting adventure later on.
Your Inventory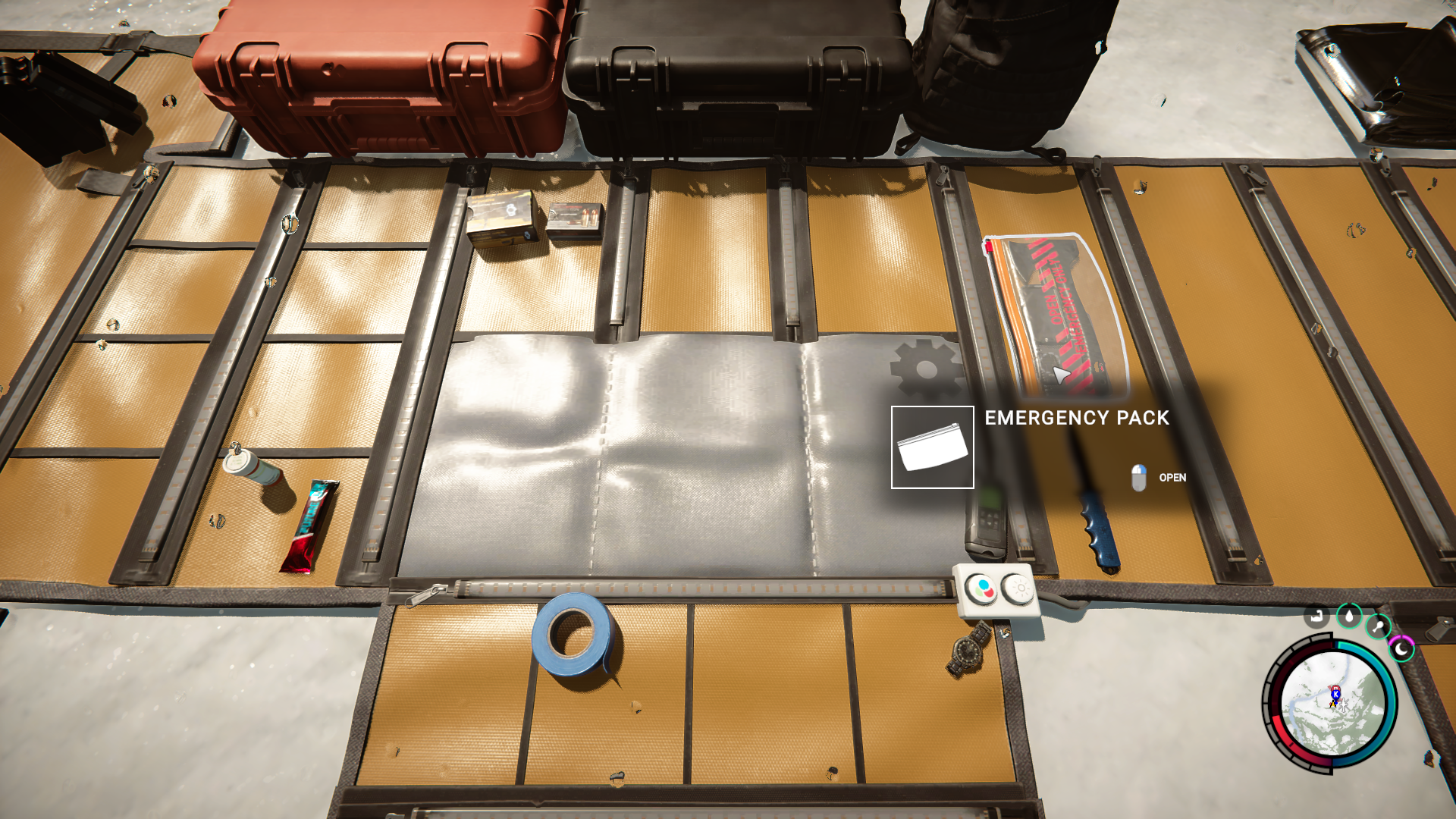 The inventory is very different from The Forest. It stretches out from left to right. Basic materials like stones, and leaves will mostly be placed at the bottom of your inventory. To access your inventory you will have to click I. The first thing you should do as soon as you access it, is to open the Emergency Pack. This will give you your Tactical Axe, a GPS and your Guide Book (which you can quick access by pressing B).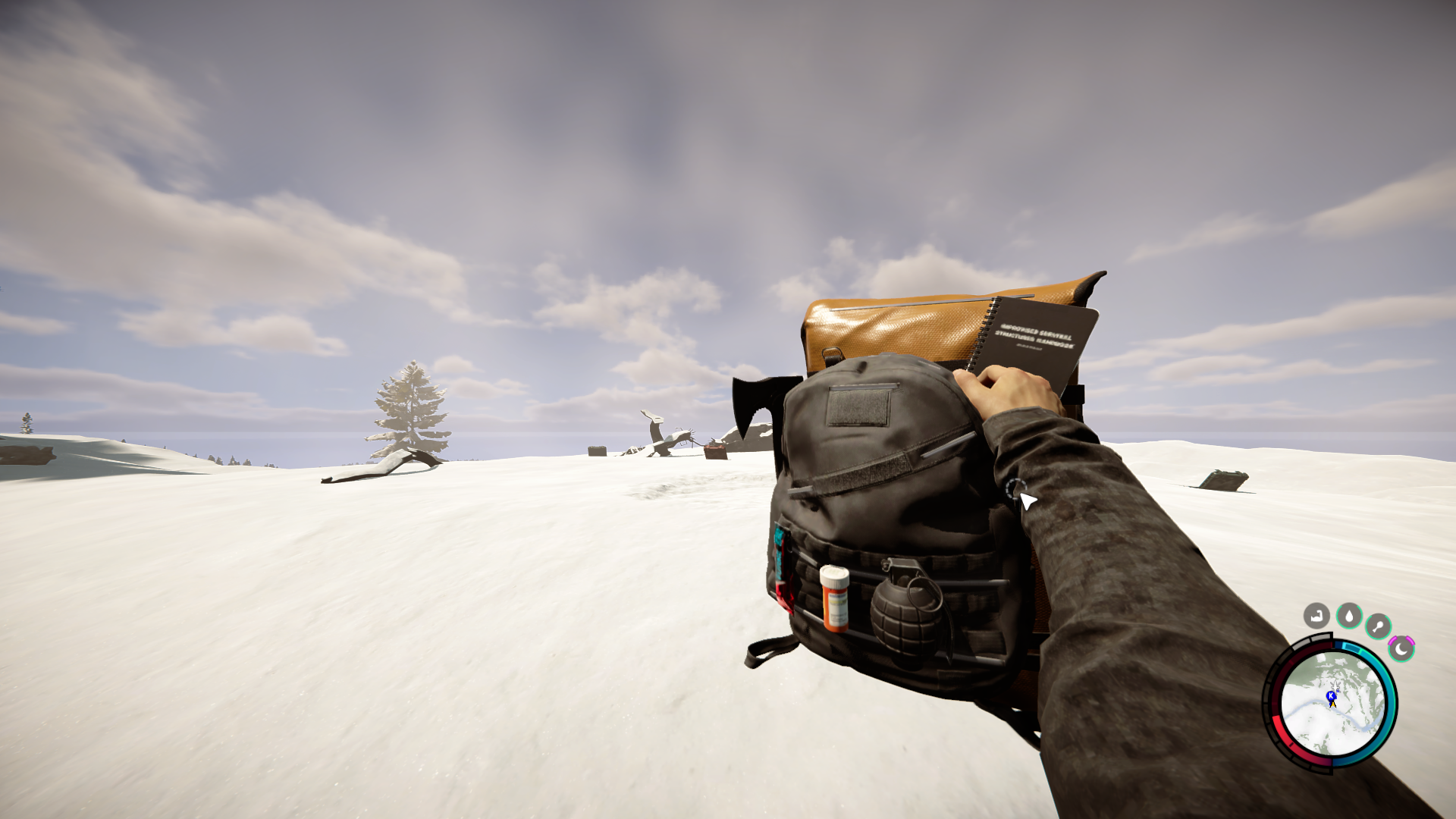 Something they don't tell you is that you can actually HOLD I down to quick access things from your inventory.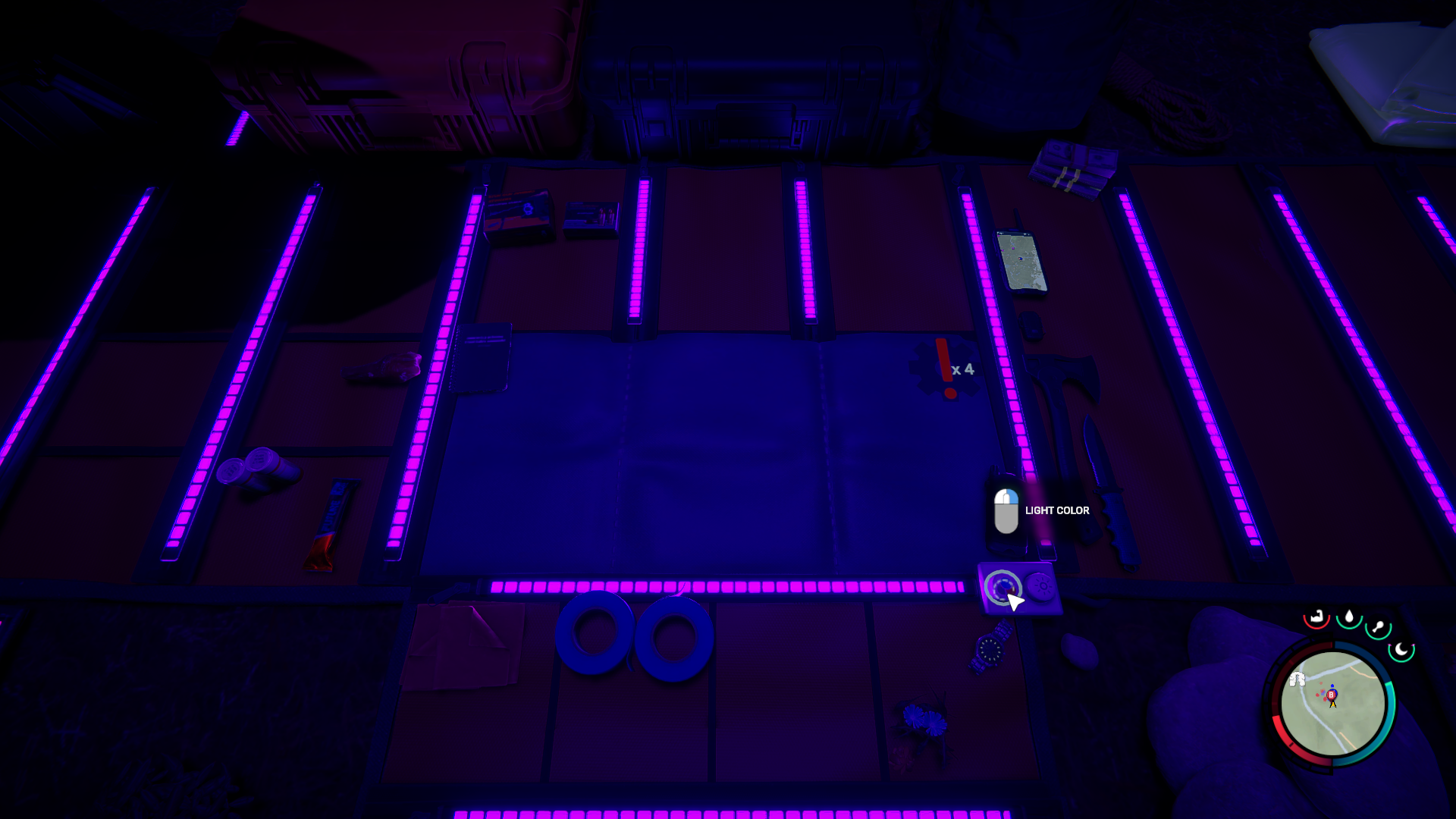 Also another cool feature, which is my favourite, is by clicking the light button, you can change the colour on the inside of your Inventory. Want some neon purple? They got you with it. Neat eh?
Kelvin!
You spawn in with a strange man. This NPC is called Kelvin. The best advice I can give you is to KEEP HIM ALIVE! He cannot hear us or speak to us, but you can communicate with him with a notepad. Have a little mercy on Kelvin as you can use him as your own personal slave to do all the boring stuff like collecting wood or even finishing structures.
What I did was make him collect fish for my friends and I… well, all day. There are other companions that you will meet along the way. Another helpful tip to know is that once Kelvin is dead, he's gone for good. So if you plan on adventuring out, tell him to stay put at base.
Building A Base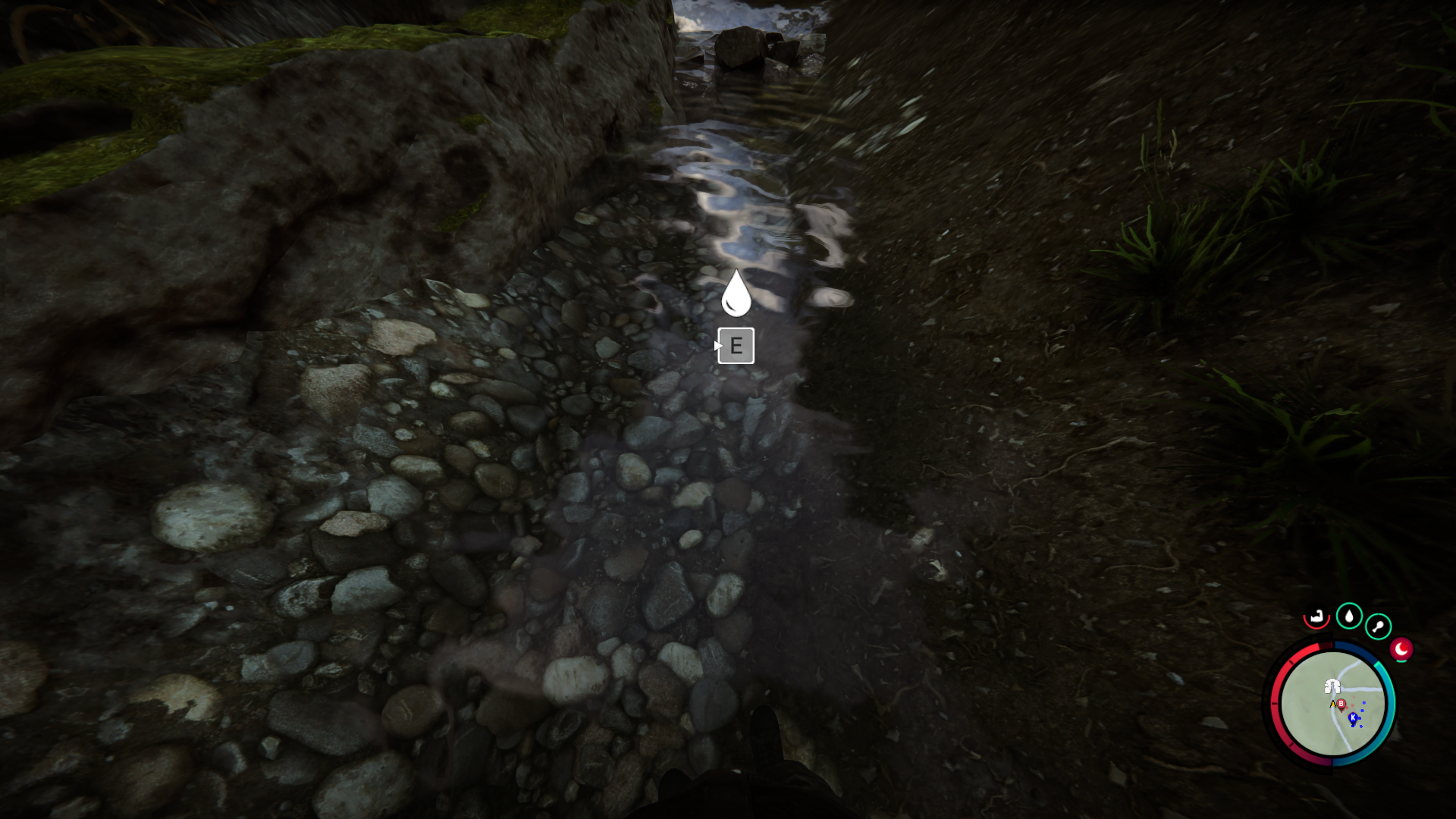 I'd suggest to build a base near a river so you have an endless source of water. What I love about this game compared to The Forest, is that you can drink any source of water. You can use a GPS Locator to find a river if you get a little lost. You use this as a resting point or as a save point.
If you're lazy like me, you can build a small little tarp corner as a base.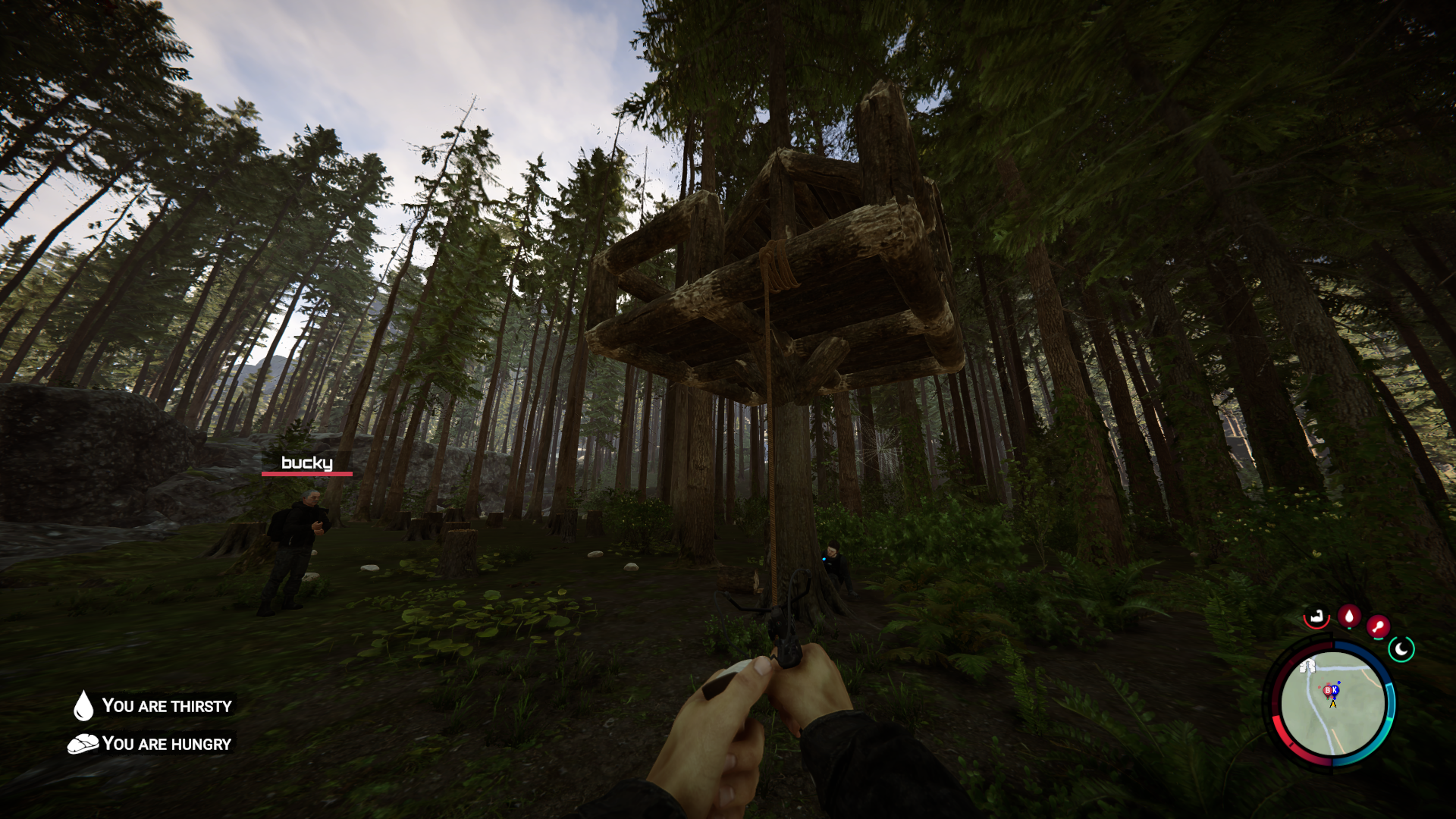 Or if you're feeling fancy, a little treehouse to keep the enemies at bay. Make sure you build a bed so you can rest in it!!!
Or just your usual wooden lodge.  All of these are accessible by using your guide book or inventory.
Cooking & Food
Building a fire may be a little complicated at first, but don't worry, I've got you step-by-step below.
First, pick up a stick, crouch down to the ground, right-click until you get this option.
This will make you break the sticks into two, and then you will have an option to light it.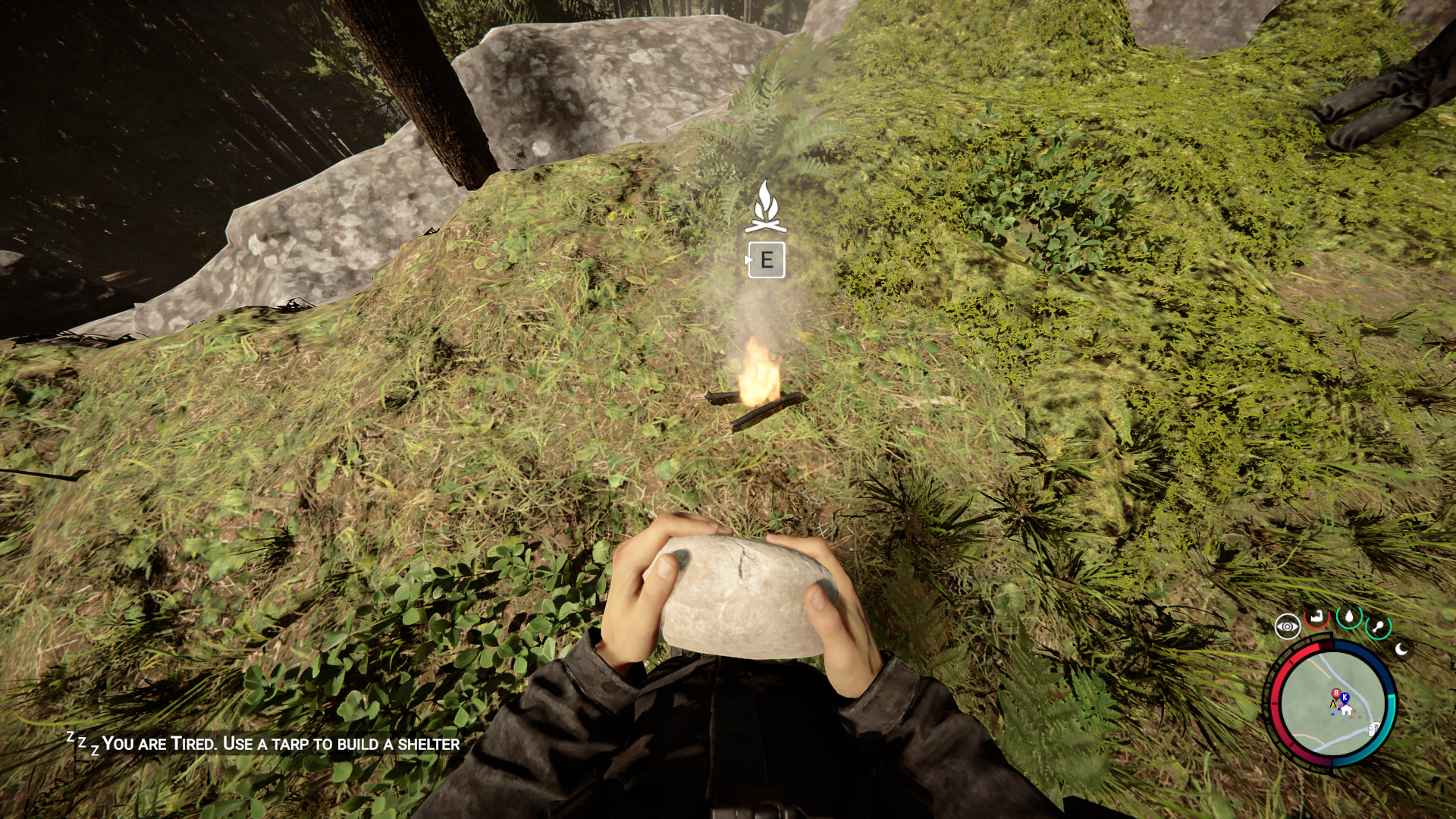 AND THERE YOU HAVE IT! Your first campfire! But let's take it a step further. The campfire you just made will only last a short while. Enough for a fast cook and snack. But if you want to make the campfire permanent, you can add stones to it.
You start off by taking a large stone from your inventory and then you will get the option to place them around the fire. Fill the holes up and TADA! Now your campfire lasts forever.
One tip I have (which my friends say IS THE WORST tip to give but I PROMISE IT'S HELPFUL) is that as you wander around, you start to see all these plants and mushrooms with these question marks above them. Well, my advice is… eat them. You see, you only need to eat something once for you to know whether it is edible or not.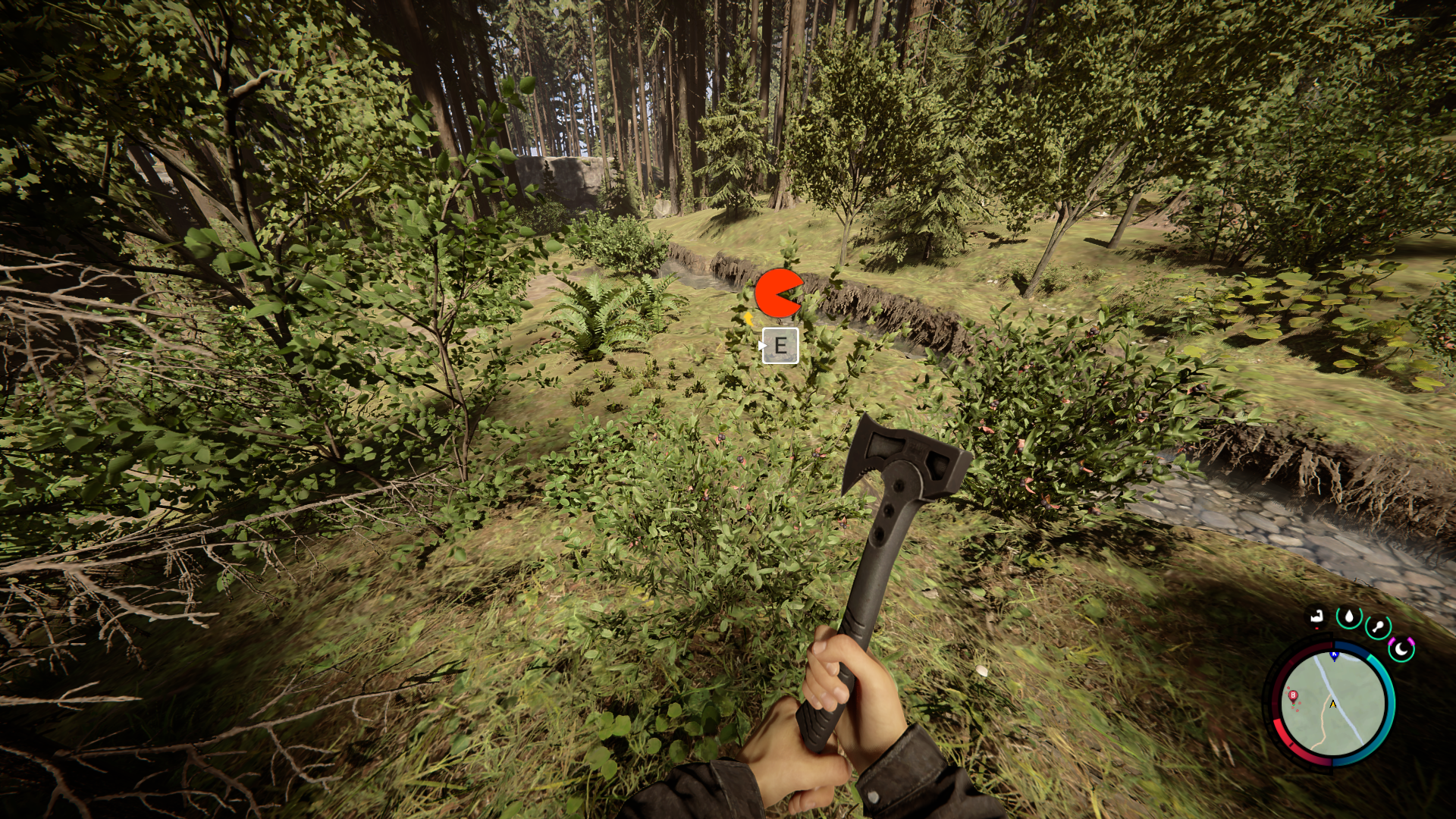 If it's something poisonous, it will show up as this next time you come across it. Instead of eating it, TAP E so you collect them instead of digesting it.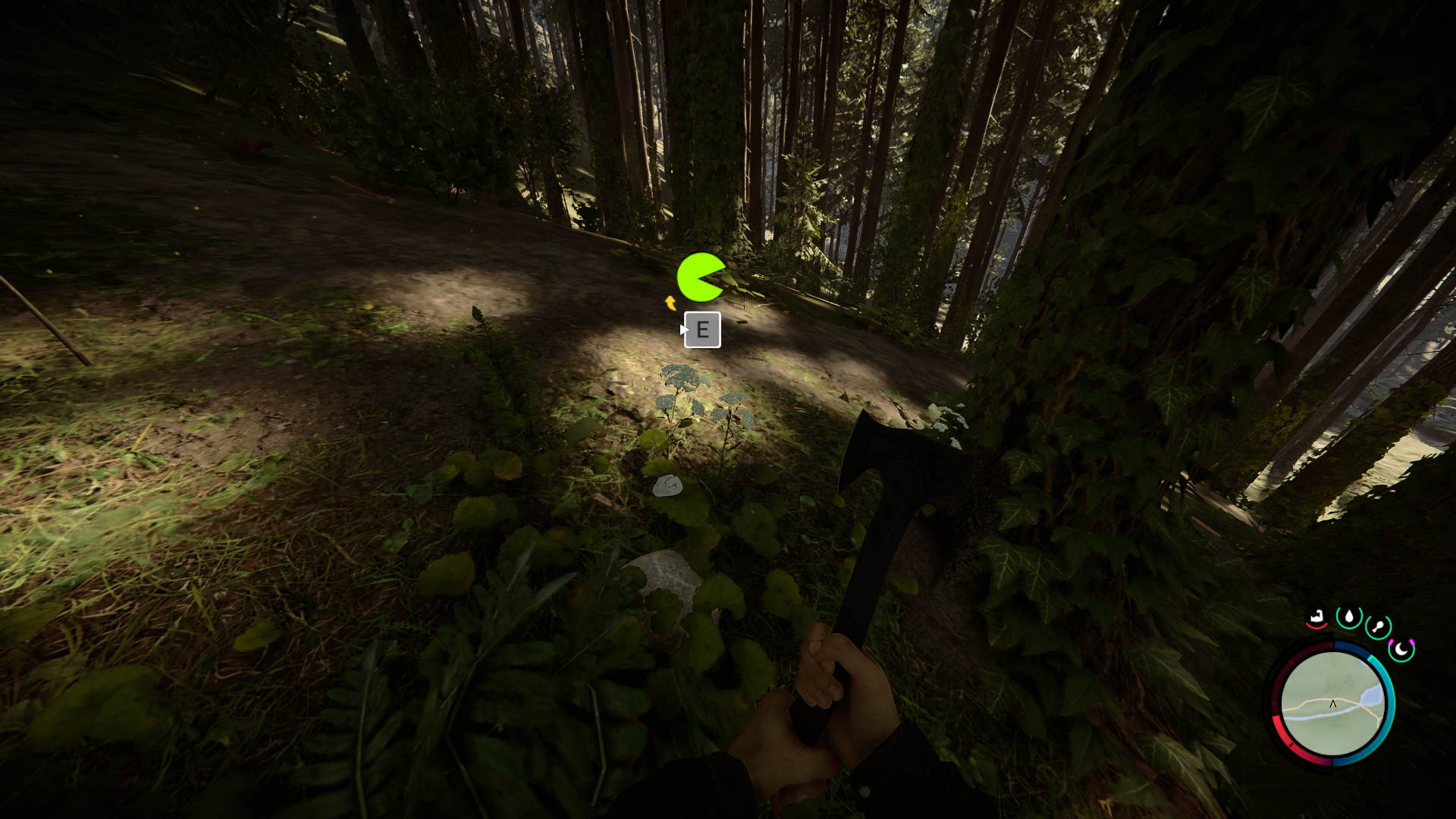 And if it's edible, you get this green sign, so you can definitely run by and eat them if you see it again.
When you are cooking on the campfire, you can TAP E as well to collect whatever you are cooking so you can eat it later. Or HOLD E to consume it now. Also, don't forget to make a drying rack so your food doesn't spoil.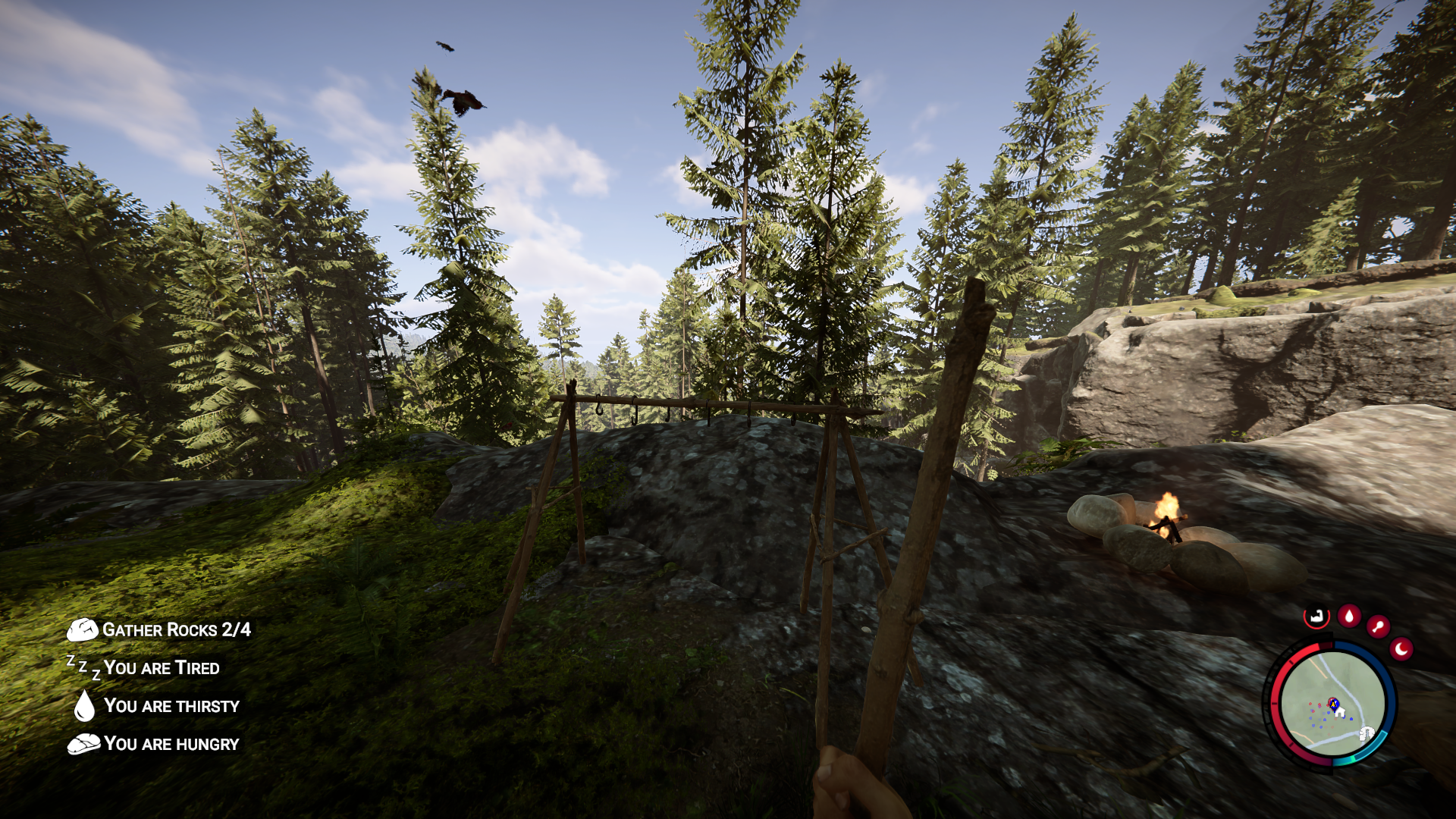 Ammo Is Scarce
Ammo is of course hard to come by. Later on, you will be able to get a gun in the game. With that in mind, make sure you save these for the tough fights and for your scary cave adventures. Combat is still more melee-focused so you can save the guns for emergencies.
For more guides on Sons of the Forest, head here.
Related