HBO's The Last Of Us Episode 9 is now streaming on HBO and HBO GO (HBO Max in the US). Check out our breakdown of Episode 1, Episode 2, Episode 3, Episode 4, Episode 5, Episode 6, Episode 7 and Episode 8 here.
The Last Of Us, based on the critically acclaimed video game of the same name developed by Naughty Dog exclusively for the PlayStation platforms, is written and executive produced by Craig Mazin and Neil Druckmann. The series is a co-production with Sony Pictures Television and is executive produced by Carolyn Strauss, Evan Wells, Asad Qizilbash, Carter Swan, and Rose Lam. Production companies include PlayStation Productions, Word Games, The Mighty Mint, and Naughty Dog.
The Last Of Us takes place 20 years after modern civilization has been destroyed. Joel, a hardened survivor, is hired to smuggle Ellie, a 14-year-old girl, out of an oppressive quarantine zone. What starts as a small job soon becomes a brutal and heart-breaking journey as they both must traverse the U.S. and depend on each other for survival.
The cast includes Pedro Pascal as Joel, Bella Ramsey as Ellie, Gabriel Luna as Tommy, Anna Torv as Tess, Nico Parker as Sarah, Murray Bartlett as Frank, Nick Offerman as Bill, Melanie Lynskey as Kathleen, Storm Reid as Riley, Merle Dandridge as Marlene, Jeffrey Pierce as Perry, Lamar Johnson as Henry, Keivonn Woodard as Sam, Graham Greene as Marlon, and Elaine Miles as Florence. Ashley Johnson and Troy Baker also star.
Courtesy of HBO Asia, we were lucky enough to be the only Malaysian media to participate in interviews with Craig Mazin and Neil Druckmann, Pedro Pascal and Bella Ramsey, Merle Dandridge and Gabriel Luna. You can also check out our spoiler-free review of the entire season by heading over here.
Spoilers ahead:
That's Ashley Johnson, The Original Voice Actress For Ellie From The Games
It's extremely poetic that Ellie's original voice actress, Ashley Johnson, would play Anna, the mother who gives birth to Ellie in the HBO series. I'm crying.
This entire sequence is fully original and not from the games. It's a treat for long-time fans of the game. I won't lie, I definitely teared up a bit watching this whole sequence.
The Iconic Giraffe Scene
They stayed true to the game and they kept the iconic giraffe scene from the game. This scene is still breathtaking.
That Ending And That Doctor Will Play Into The Last Of Us Season 2
That ending still hits hard, despite having completed the game multiple times.
It's important to note that the doctor/surgeon that Joel kills in the operating room is the father of Abby, one of the main protagonists of The Last Of Us Part 2. The role of Abby has yet to be officially cast at the time of writing.
You can compare the ending with the ones below: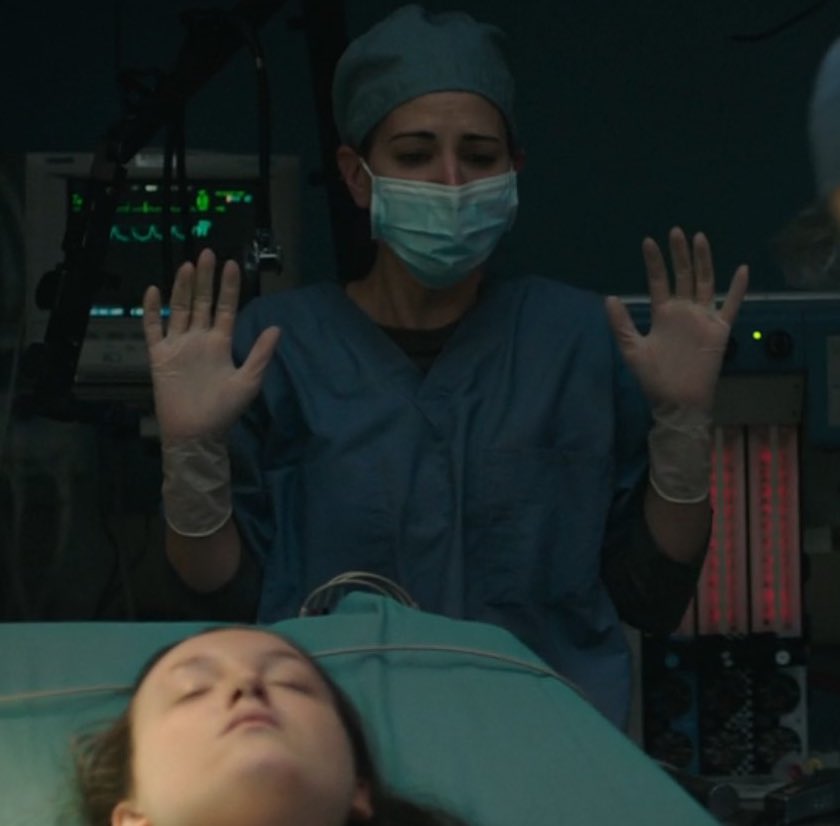 Laura Bailey, who voiced everyone's favourite character in The Last of Us Part 2, makes a guest appearance as one of the nurses in the hospital scene.
That's all, folks. It was a good run! The Last Of Us is already renewed for a second season, so hopefully, we won't have to wait long for that.
No other details have been revealed thus far, but a second season will likely be adapting the divisive video game sequel, 2020's The Last Of Us Part 2. The Last Of Us Part 2 is available for the PS4 and PS5. In the meantime, check out my full spoiler-free review of the game here, or check out my 4000-word spoilerific article on why I believe the hate for the game isn't justified.
Related