Platform(s): PS5 (version played), PS4, PC, Nintendo Switch
Genre: 90s JRPG with eight protagonists, tailored for a 2023 audience
If you're looking for an epic JRPG experience, you don't have to wait until Final Fantasy XVI to arrive this June. Instead, you should spend way more time with the gorgeous-looking-and-epic-sounding Octopath Traveler 2, the sequel to 2018's hit JRPG title that has you playing through 8 unique character storylines and have them team up together in their respective fantasy tales.
In fact, the sequel itself is a huge improvement over the first just because it actually cares about tying each of the new eight party member's stories to one epic finale.
Table Two, Party Of Eight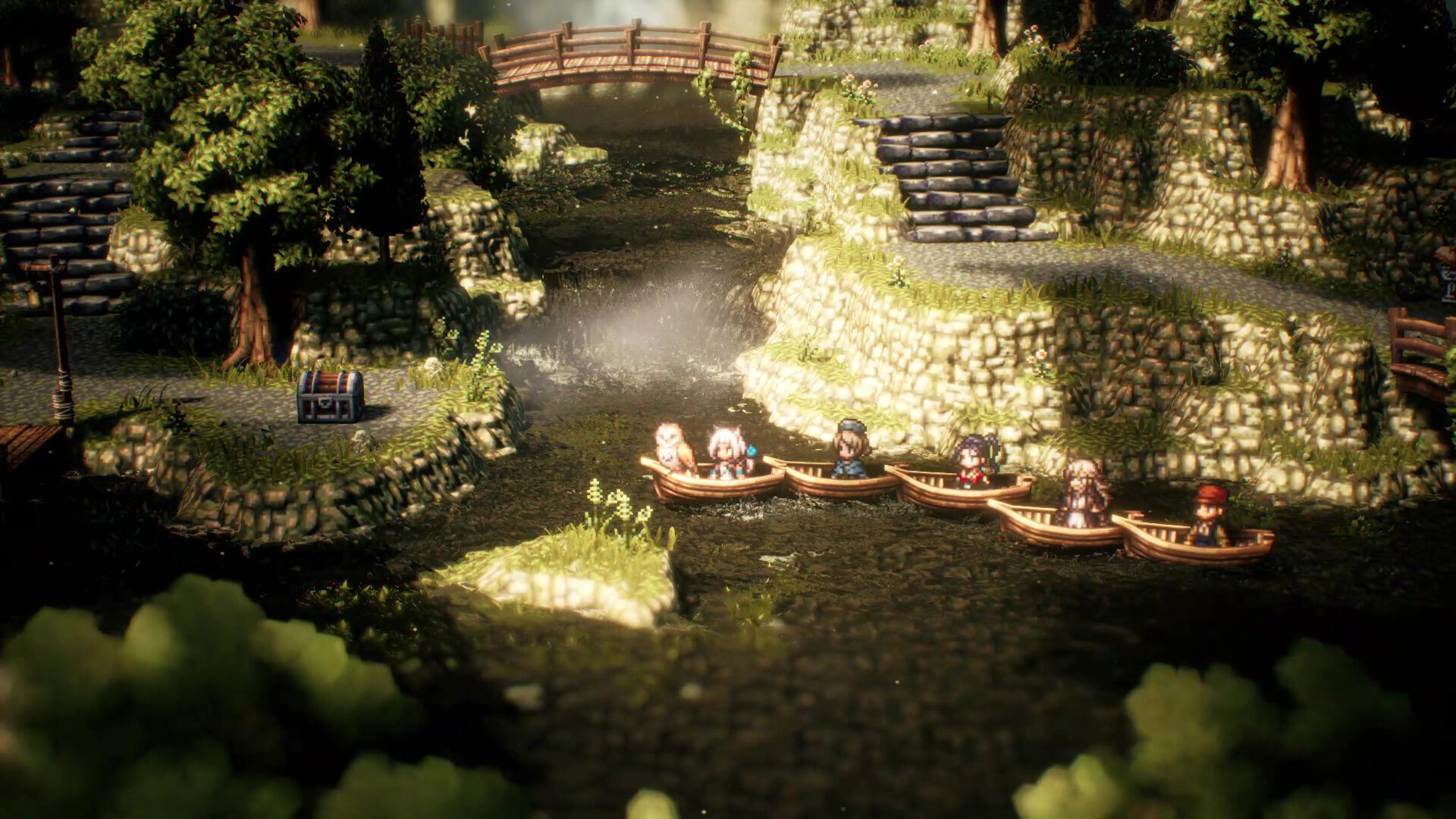 At the start, you pick either one as your "main character" -from noble young warrior Hikari to framed scholar Osvald who seeks revenge on those who wronged him- and then proceed to explore the world of Solistia any way you want after their initial Story chapter. Since each character's second and third chapters start off at high levels, this would be the part where you recruit all eight party members to your team; the modus operandi of the game is in the title after all: Octopath = eight paths to experience.
You want to maximize your time seeing through everyone's story from start to finish, which will take you about 40 hours plus, and I'm proud to report that there aren't any bad eggs storywise. Everyone's tale from merchant Partitio to thief Throne has its twists, turns, revelations, and insightful story beats punctuated with appropriate bookends. The developers clearly took the first game's feedback to heart, and even learn some lessons from last year's Live A Live remake. Now, every party member acknowledges each other better than in the first game where they're treated separately narrative-wise. The battle quips, the cross-paths stories between two party members as they team up and make you care for everyone more, the frequent traveller banter, and the final story quest that ties it all together: it all works.
Taking Turns Hitting Each Other In 2023
None of this would matter if the combat sucks. Thankfully, Octopath Traveler 2 has many improvements over the first game. You still take turns hitting each other and rely on BP points to power up your attacks and spells from various Jobs (classes) -both default and secret ones which you have to go out of your way to find. You also have access to Latent Powers where you can fill up its gauge by getting hit a lot, and then unleash special skills like taking two actions in one turn or getting access to powerful samurai attacks; all of them are awesome and useful. The enemies you fight as you go past the 10 hour mark also gets tougher than usual, requiring you to use all your skills in JRPGing to get through. You can still grind your way through the game, and at least you get the option to speed up the process.
My only gripes with the sequel are the basic dungeon design and reserve party members not getting XP while your main members are out. It's pretty old-school to a fault in this regard; the dungeons are all straight pathways to the story's boss or main treasure spot, and having to switch out party members and leveling them up alongside your higher-levelled characters does take time. It's not a huge issue as JRPGs are meant to be timesinks, but some form of XP osmosis would be nice to cut down grinding time.
Despite all that, everything else about Octopath Traveler 2 is superior to its prequel in every way. From the little touches like party members bantering with each other during combat to the cross tales, to even the improved story beats and combat, it's no wonder Square Enix and Acquire are still looked-up to when it come to throwback-tailored JRPG beats. Octopath Traveler 2 is 40+ hours JRPGing well-spent that will keep you engrossed in the genre for the whole year, amplified by its HD-2D art style and its amazing music from composer Yasunori Nishiki.
Pros
A strong cast of characters with great stories & unique abilities.
Day and Night system is flexible and equals freeform exploration options.
Deep combat system with much-needed improvements.
Amazing art and music.
Cons
Dungeon layout and designs are basic.
Final Score: 90/100
Related