Platform(s): PC (version reviewed), Netflix
Genre: Reverse Building Simulation Without The Preaching
Developer Free Lives are taking quite a turn with its new simulation title Terra Nil. The jump from 2D action title Broforce and Genital Jousting (yes, THAT'S a thing), to a game where you build up forests and burn them to create the perfect ecosystem to fill up the required bars is stark. However, the creativity streak the team has displayed in its plethora of titles is anything but diminished.
Terra Nil should be played by anyone with a mild interest in climate change and nature, or even anyone who likes puzzles mixed in with their building simulator.
Going Green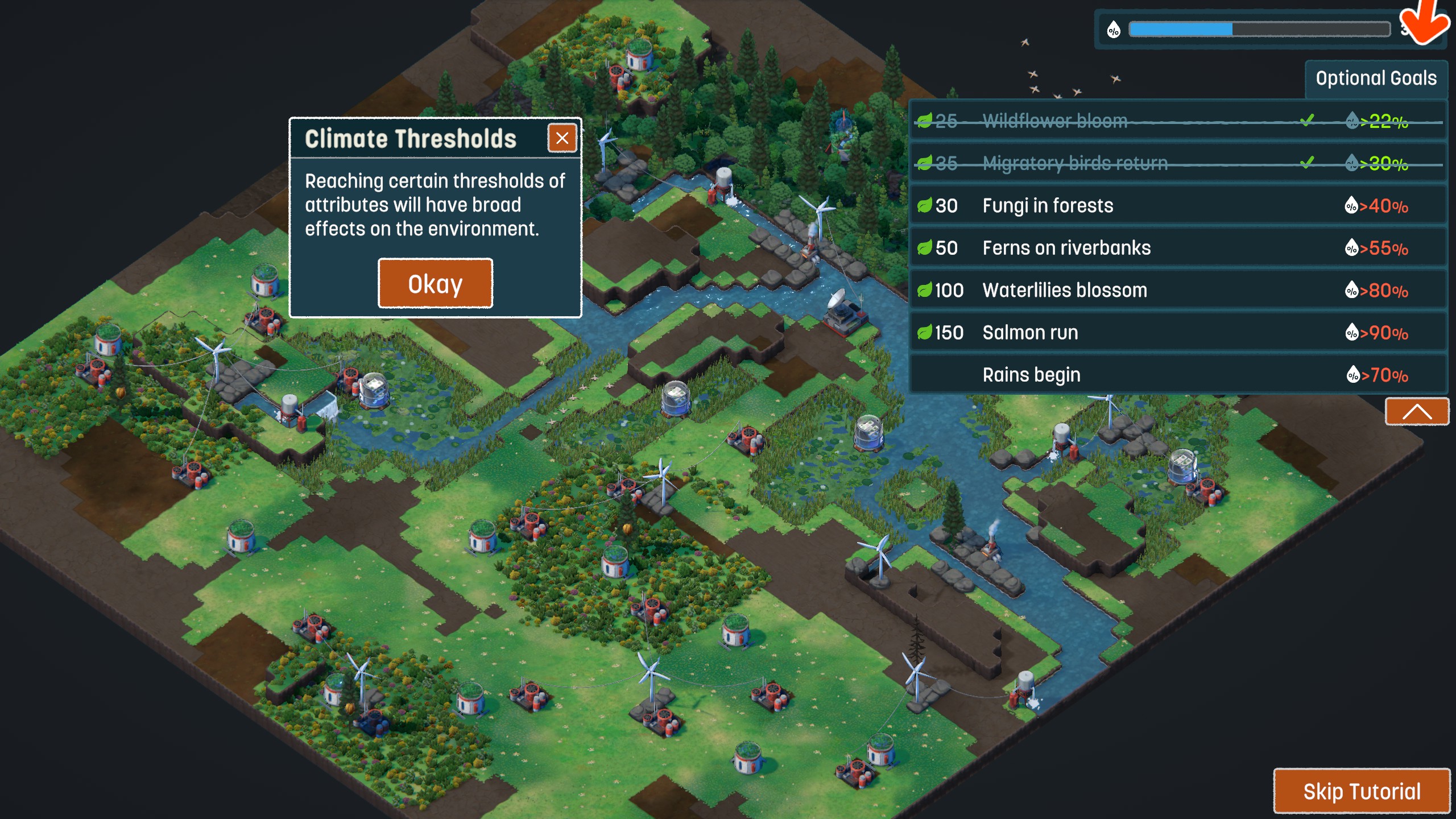 Terra Nil starts you with a patch of wasteland on a desolate planet: your first objective is to fill it up with greenery. You're given leaves as currency: place windmills and build irrigators at spots where grass and vegetation grow after cleansing it out with toxic scrubbers, and then you start filling the valley with non-toxic growth and some semblance of nature. Then, the second phase happens: you have to create different types of environments to fill up four separate biome meters. You will need to build more complicated structures like cloud seeders and dehumidifiers that change up the weather and climate so that certain biomes like tundras and mangroves can grow; the former needs less humidity while the latter needs more of it.
Sometimes, you will need to burn down meadows using solar amplifiers and nearby dried grass to create healthy ash, which then allows you to build structures that grow forests. I'll confess: most of the buildings' names are lost on me, but generally you need to weather (heh) certain spots in the environment so that they grow enough biomes to fill up each individual meter.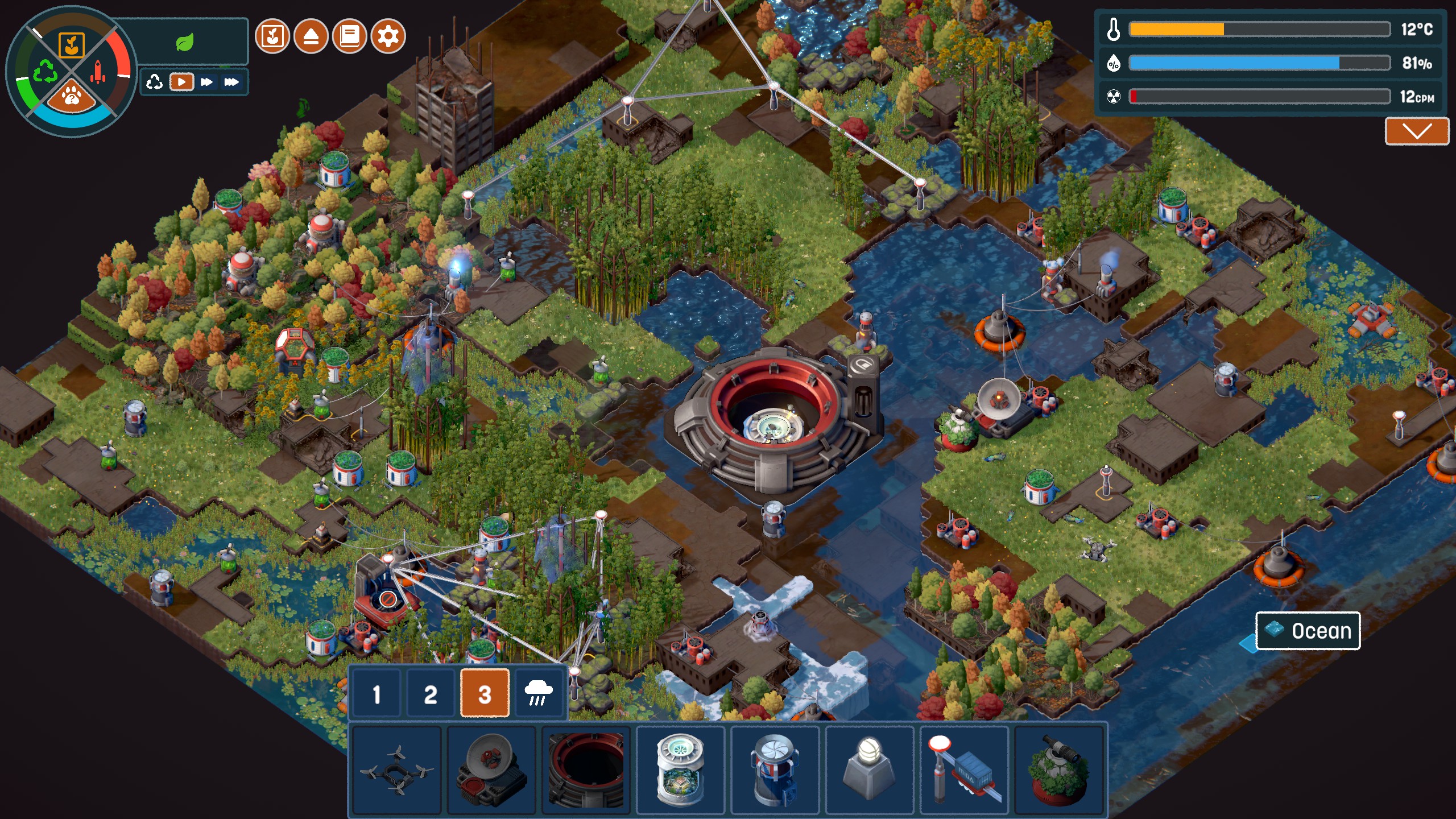 Then comes the third and final phase: the recycling and pack-up part. You set up a recycling airship (or interstellar rocket), then recycle everything you've built and use "nature sonars" to ping animals to gather at your biomes. Once that's done, you've completely enveloped that section of the map with restored nature. Then you move on to the next zone and continent until the planet's restored with greenery. If you think that sounds complicated, well, Terra Nil doesn't let up with different biomes requiring many different requirements and temperature balancing.
However, the game is incredibly helpful with its nature & building encyclopedia, and there's no time limit at all. You're free to chillax and build/destroy/create the ecosystem in whichever way you prefer. True, you still need to fill up the appropriate biome meters so that they don't sway unbalanced, but what you place and where you place it is entirely up to you.
Terra Nil succeeds at implementing the wholesome feel of restoring nature to its original state without pressuring stakes, with soothing nature music and lovely isometric graphics to enrich your eyes and soul with. The building order and management takes a bit of practice, but once you see the results unfold, it's splenderous to look at. Just watching bamboo crops popping up once you set up the correct temperature conditions and vegetation just warms my heart.
Just some nitpicks to this unique take on a simulation: I do wish there were options to undo your actions multiple times. Almost every time I start a new zone means I have to learn new lays of the land (so to speak), each with their own gameplay systems. For instance, I messed up my attempts at creating monorails to transport irrigators with coral lab attachments to create kelp in oceans (and other water-related biomes), but there's no easy way to undo it in a few steps unless I start over from the beginning of the phases. Still, you can "give up" playing it the real way and turn on Zen mode, with no limited resources to stress over. I don't blame you if you do: Terra Nil gets brutal with its challenges and eco-puzzle building in the later hours.
Natured & Nurtured
Terra Nil is quite a puzzling affair; while it features a ton of unique methods of creation and destruction which all leads to you spreading fauna and flora joy, it's also quite a tough game to grasp especially if you're not playing it in Zen mode. The costs, the structures, and little room for error when placing structures mean that its ecosystem challenges are meant for the patient and methodical players. And if the regular zones aren't tough enough, you can play alternate versions of each zone for more building and placement challenges to extend your replay of the title a tad more.
Still, Terra Nil's aesthetics and calming ambience mean that you might be playing it wrong if you're stressing out over its message and its environmental education method via an easy-to-control simulation. I'm honestly glad that titles like Terra Nil exist to help combine the fun and challenges of a simulation together with an encyclopedia on how to grow your own tundra. Even as an absolutely low-level simulation purveyor -I personally gravitate towards action titles and RPGs more- I definitely see Terra Nil's eco-savvy appeal for simpletons like yours truly.
Final Score: 80/100
Review copy provided by Devolver Digital.