The heatwave isn't the only hot thing around – have you heard of Fire Eating Noodle Champs by solo developer Wombok Games? Who can eat these spicy noodles the fastest? Only one way to find out!
Made in one week, the indie hit has spawned not only the original digital version – available to play for free! – but now a new dice-based version that's getting a physical launch event in Melbourne later this month. We're super excited to have had the opportunity to interview the student dev on their journey into games; here's what Wombok Games' Sara has to say!
How did the idea of Fire Noodle Eating Champs came up?
I created Fire Noodle Eating Champs as part of a Game-a-Week program run by Billy Dent and Andy Karalis. I saw via Twitter that they were hosting a six-week program in Naarm/Melbourne, Australia where participants would have to prototype a game each week based on a theme. There would also be weekly meetups to brainstorm ideas and to playtest each other's games. It looked fun and I wanted to challenge myself, so I signed up!
The theme for the first week was 10 SECONDS OR LESS, where the gameplay would have to be within 10 seconds. During the meetup for that week, we explored different ways that this could be approached. One way was through creating a microgame, similar to those found in WarioWare and Cooking Mama.
I remembered I used to frequently play this minigame from Alien Hominid on the PS2 called All You Can Eat, where the player has to mash a button to be the first to finish their meal. I liked this idea of an eating competition, and combined with my fascination with fire noodle eating challenge videos on YouTube, the idea for Fire Noodle Eating Champs was born.
Were there any set inspirations for the art style?
Wombok Games' Sara: Because of the time limit of one week, I kept the art style quite simple and MS Paint-like. I wanted the vibe of the game to be silly and lighthearted, so I made my characters very friendly and round. I had games like Dumb Ways to Die by Metro Trains Melbourne and Push Me Pull You by House House as inspirations on my Pinterest board at the time. I was also influenced by the style of Jenny Jiao Hsia's Morning Makeup Madness, a 10-second game from the 2016 Game-a-Week class at NYU. 
Overall, how long did it take to develop?
It took exactly one week – I used up all the time I was given! I spent the first day just brainstorming, then the next day planning out the art style and putting together the basic gameplay in Unity. Then for the remaining days I was creating assets, putting them in the game, tweaking gameplay, getting together sound effects and background music, and polishing!
What's your story on getting into game development?
At university, I studied Design and Interactive Media so I had a bit of exposure to drawing and 3D modelling. However I never really thought of actually diving into game development until last year. I really wanted a creative outlet outside of my full-time job, and so that's when I thought I would try to design and code my first game using GameMaker. I decided to create what I thought was a simple arcade game, but I ended up spending a few months on it learning how to design gameplay loops, how to implement art assets and game juice, etc. It all paid off though, because seeing my friends and family play the completed game made me feel so happy. And immediately I wanted to make another game!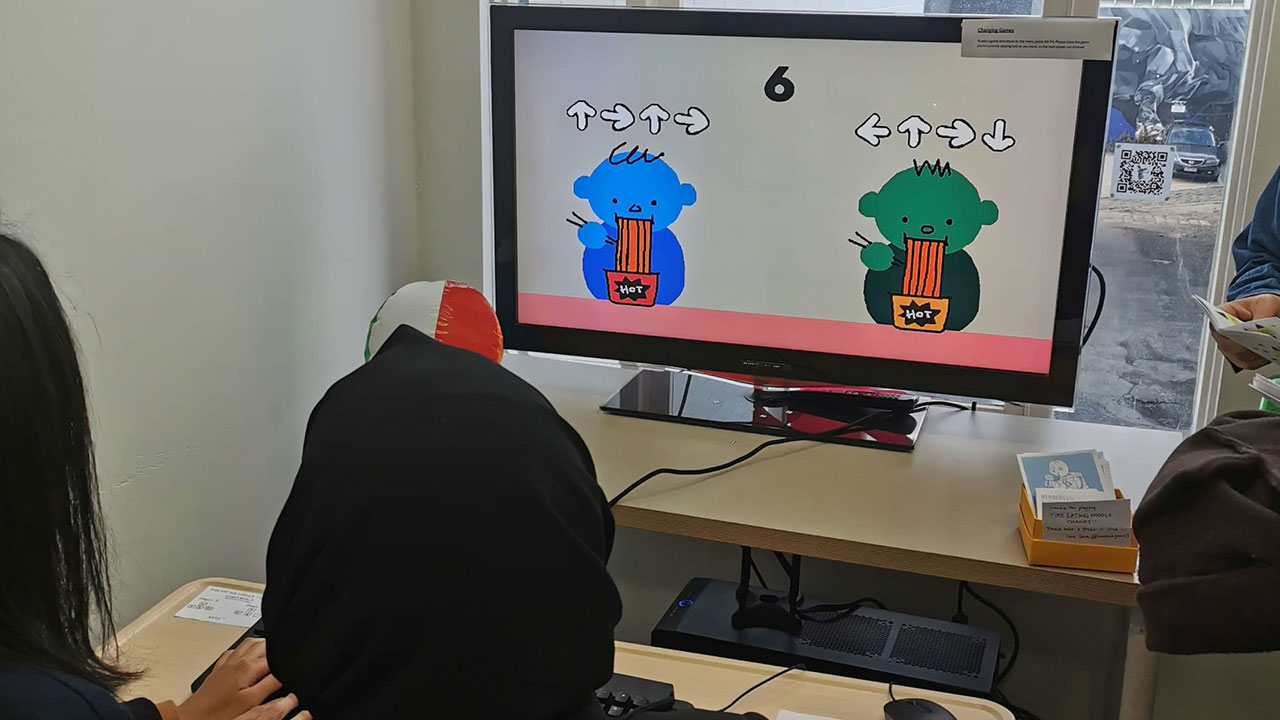 Do you have any tips for game development newcomers?
My biggest advice is to start small! Get into the habit of finishing projects, releasing them out into the wild and getting feedback. Done is better than perfect, and by putting yourself out there a lot of surprise opportunities and collaborations may come your way!
On that note, it's also helpful to find a game dev community and to get involved, whether that be in person or online! While developing my first game, I started going to a lot of game creator talks and meetups to get inspired, and in the process, I was able to make a few new game dev friends.
It has been really fun to bounce off ideas with one another, and they have really motivated me to power through projects even when the initial shine has worn off. From my experience, everyone is really friendly, so don't hesitate to reach out to someone if you're interested in their work and what they do!
Any final thoughts on how one should tackle game development?
You never know where a small project will take you! Thanks to the Game-a-Week showcase that we had at the end of the program, I was able to meet a tabletop games designer who has since turned Fire Noodle Eating Champs into a dice game (which you can print and play here!)