A while ago in my glowing Honkai Star Rail review, I dismissed the game's main plot and narrative choices as being tedious. In that same review, I did mention that the game's plot is elevated by the stellar voice acting. Readers will also have to take into account that I can only spend so much time before getting a review of the game out, especially in its first phase with many more soon to come.
I still think the main plot is pretty much what you've seen before in other older JRPGs set in space or in any alternate fantasy world. After spending way more time with the game and actually having some free time to check out the non-essential stuff, however, I was in for a surprise.
I did not expect the game's numerous flavour text, side interactions, and random clicking of trash cans and displays to have so much more character. This short feature is about all that and why it's just a treat to spend more time with Honkai Star Rail.
Garbage In, Treasure Out
The eccentricity of Honkai Star Rail's writing from my point of view started from my random interaction with a trash can at Jarilo-VI in Boulder Town and the Administrative District. Just when I thought I was getting a simple quip, along comes a slew of flavour text that just goes over-the-top with its quirkiness. I experienced this while reviewing the game, but due to time constraints, I just wrote this off as a one-time thing.
Little did I know that it went beyond just the trash can. Mannequin displays, cars, alien pigeons (crane?), and a Chinese vase. Nothing is spared from the writing team at Honkai Star Rail who were clearly inspired by the combined writings of a Tim Schafer joint, Sega's Yakuza series, and 2019's epic RPG Disco Elysium.
Post-review, I did play through the game again on a separate account and took my time with it. Boy, did I have more fun than before since there's a lot more clever nonsense & goblin-level of trolling text to find, especially for a game of this calibre and F2P reputation.
There is a short sidequest involving the Trailblazer filling up a suggestion form for the Goethe Hotel. The way it's delivered feels a bit tongue-in-cheek and dramatic at the same time, with the narrative double-checking if the hotel really deserves such ratings. There's even a sidequest (via Elliot) where you had to infiltrate a foxgirl chatroom service to help out a space research employee. You'd swear you were stuck in the same predicament as Kiryu Kazuma if this game were set in modern-day Tokyo instead of in space.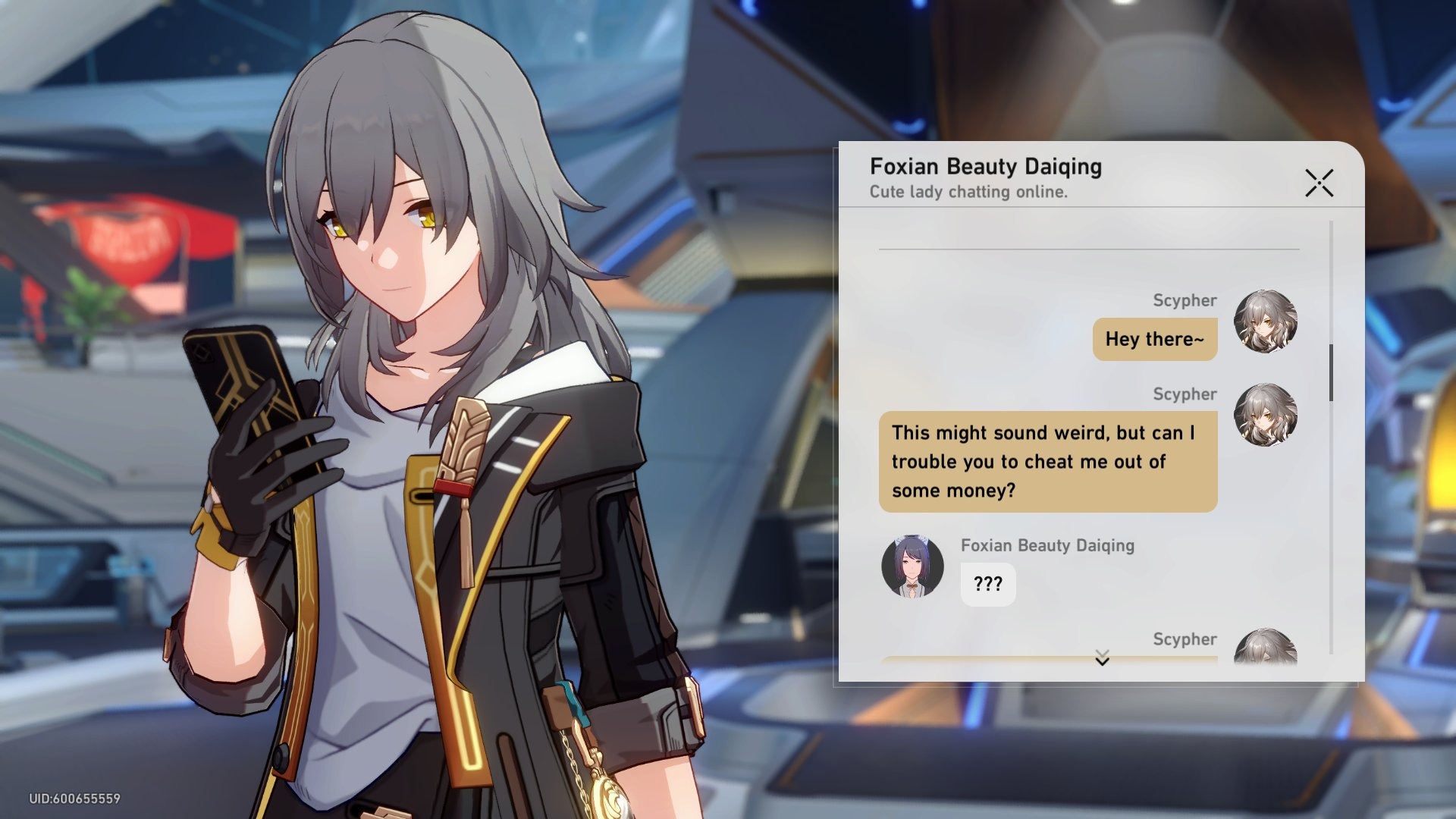 When you think free-to-play gacha games, the last thing I expect is "stellar writing" and "flavour text up the ante". Titles like Brave Exvius and Seven Knights aren't exactly high on the "stories with effort & proofreading" list. Thank you for proving this jaded soul wrong, HoYoverse, and I hope this trend continues in future expansions and DLC for the game. There's hope yet for mobile games to have stories that are on par with your Obsidian RPG epics and Bioware games pre-Dragon Age 2.
Honkai Star Rail is out now for PC and mobile devices. Check out our review of the game here, along with some guides.