Platform(s): PC (version played), Xbox Series
Genre: Borderlands-slash-Destiny clone from Arkane
When I first saw Redfall, I thought wow, this reminds me of Buffy the Vampire Slayer but with guns, co-op, and loot galore. Quaint neighbourhood inhabited by vampires? Sounds like my kind of game.
I am fortunate that I got this game for free since I had the Xbox Game Pass, because Redfall is definitely not worth the US$59.99. Simply put: it sucked. And no, not just "vampire sucks blood" kind of suck. But it sucked suck.
Blood Vendetta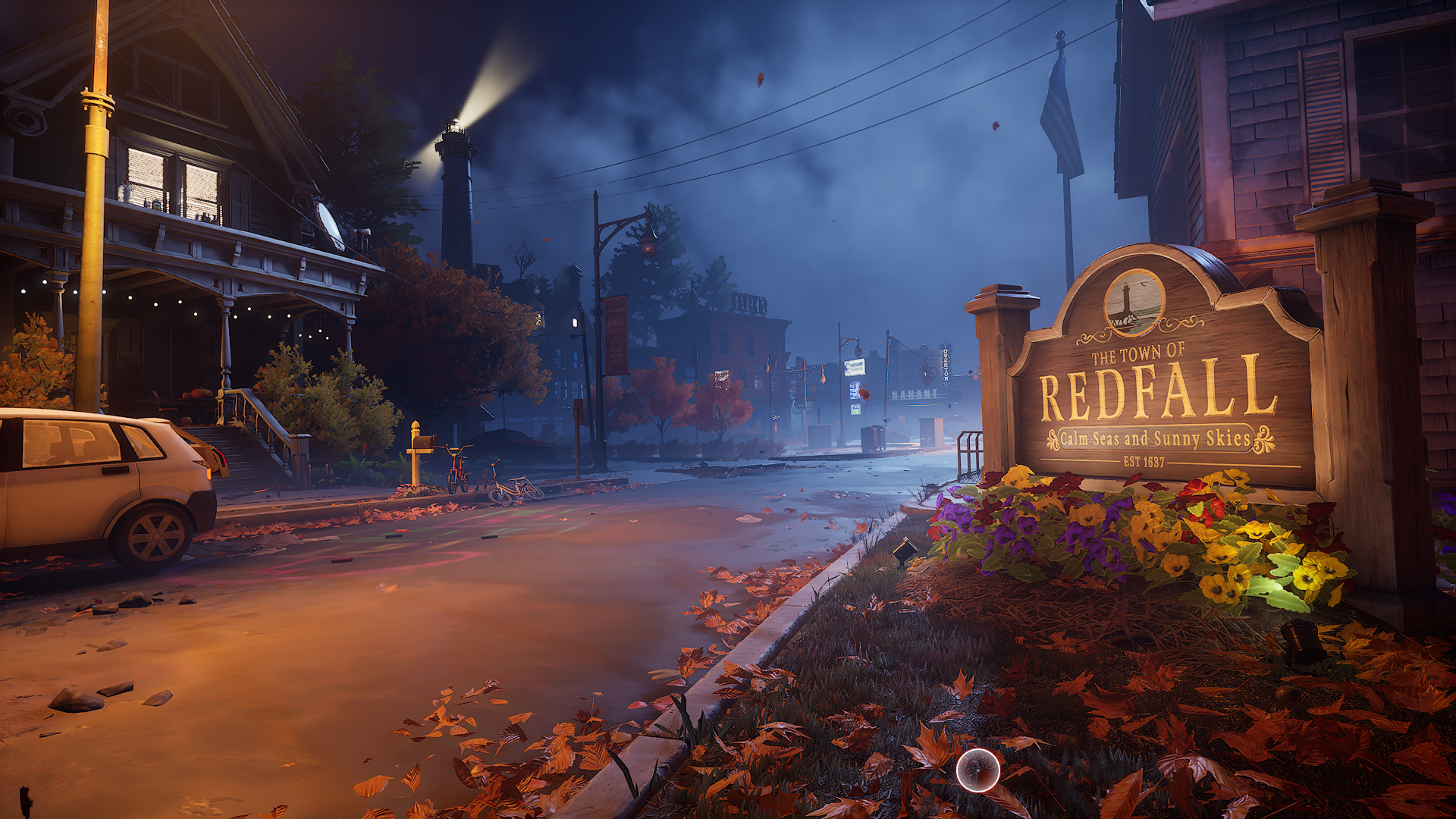 Redfall is a first-person shooter looter game made by Arkane Studios, who are known for many popular titles like Dishonored, Prey, and Deathloop. What's the most frustrating thing about this is that you can see all the interesting ideas that Arkane Studios were going for, but it just doesn't connect.
You've got a bunch of vampires, some cultists roaming around the streets and it's set in a cute little town. The vampires used their dark magic to block out the sun and push out the ocean just to isolate the town with well, a literal sea wall. Why? I have no idea. I still wonder why out of all the things they could do, they chose to make a sea wall to just block out one town. Although I must admit, there is something beautiful and eerie in the way the waves loom over the town.
You get to pick one out of the 4 characters. Devinder Crousley, a cryptozoologist, Layla Ellison, a telekinetic, Remi De La Rosa, a combat engineer, and Jacob Boyer, a sharpshooter. Some of them have magical abilities, and others have got some handy inventions to help them out in sticky situations. I feel like the characters you pick don't really make much of a difference in combat.
Playing Layla, well, her lift, just felt buggy and mostly did not work. Sure, she can summon her ex-boyfriend to kill people for you, but the guy barely stays around to kill more than 3 people, which shows you why he's her ex-boyfriend in the first place. Devinder felt like a budget Symmetra from Overwatch. Think he's got to take some lessons from her because his teleportation device needs more work.
The game has a unique skill tree for every character in which you can spend skill points to improve things like your abilities and utilities. Most of the upgrades involved reducing cooldowns of abilities, increasing ammo capacity and so on. Although it didn't feel like it made much of an impact in gameplay, which means if you didn't upgrade your tree, it really wouldn't make any difference at all. In fact, some of these skills can be contradicting one another: if you're playing Jacob as a stealth and sniper guy, upgrading his raven means that you throw his major trait out the window since summoning it onto enemies automatically alerts everyone to your location.
Twilight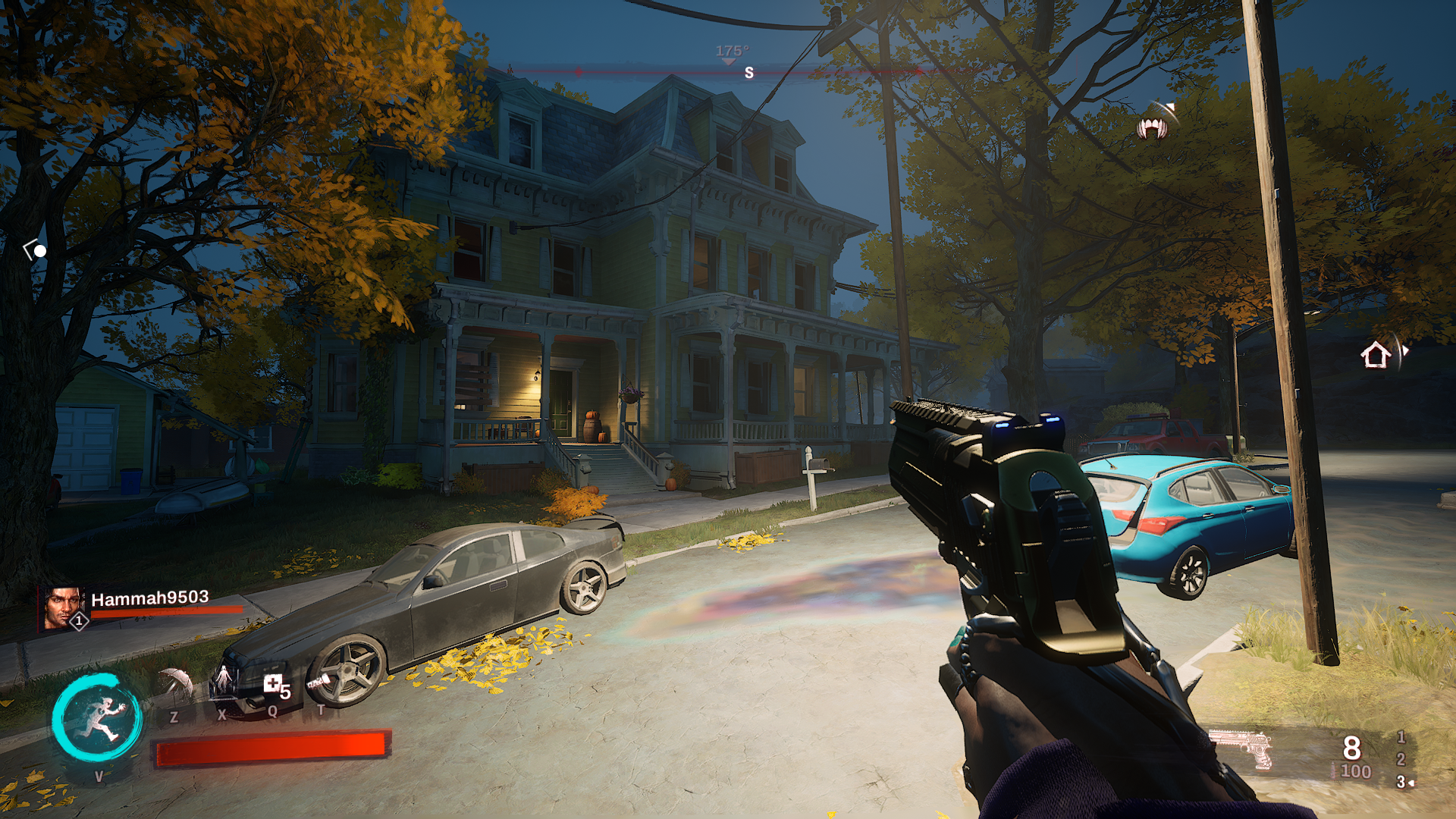 I have a huge bone to pick with Redfall's loot and reward system. If you know me, I am a massive loot goblin. The cash reward system was absolutely useless. The only thing you can spend your money on is med kits, hack kits, lock picks and low-rarity weapons. Even the low-rarity weapons you can buy is absolutely useless since you can get much better loot in the open world. So basically, you spend your money on lock picks and hack kits, go out into the open world, pick and hack safes in houses for loot, and repeat. This is also the best way to get high-tier loot.
I did like the gun designs, even if the gunplay felt clunky and awkward. They had some really cool guns designs from guns shooting UV light beams, to shooting stakes.  I think one of the things I actually liked about the game was finding out what kind of gun I got. The UV beam gun was definitely my favourite. Turning vampires into stone and then crushing them into tiny pebbles felt satisfying. The sound of staking vampires was also very satisfying. The iron sights on the game though, felt awful. For an FPS gamer, I felt like I really could not aim to save my life. And for a game with multi-coloured loot that sells the pretense of Borderlands/Destiny-style legendary weapons, the high-tier guns offer passives and just deals more damage, without anything crazy or fancily unique to set them apart.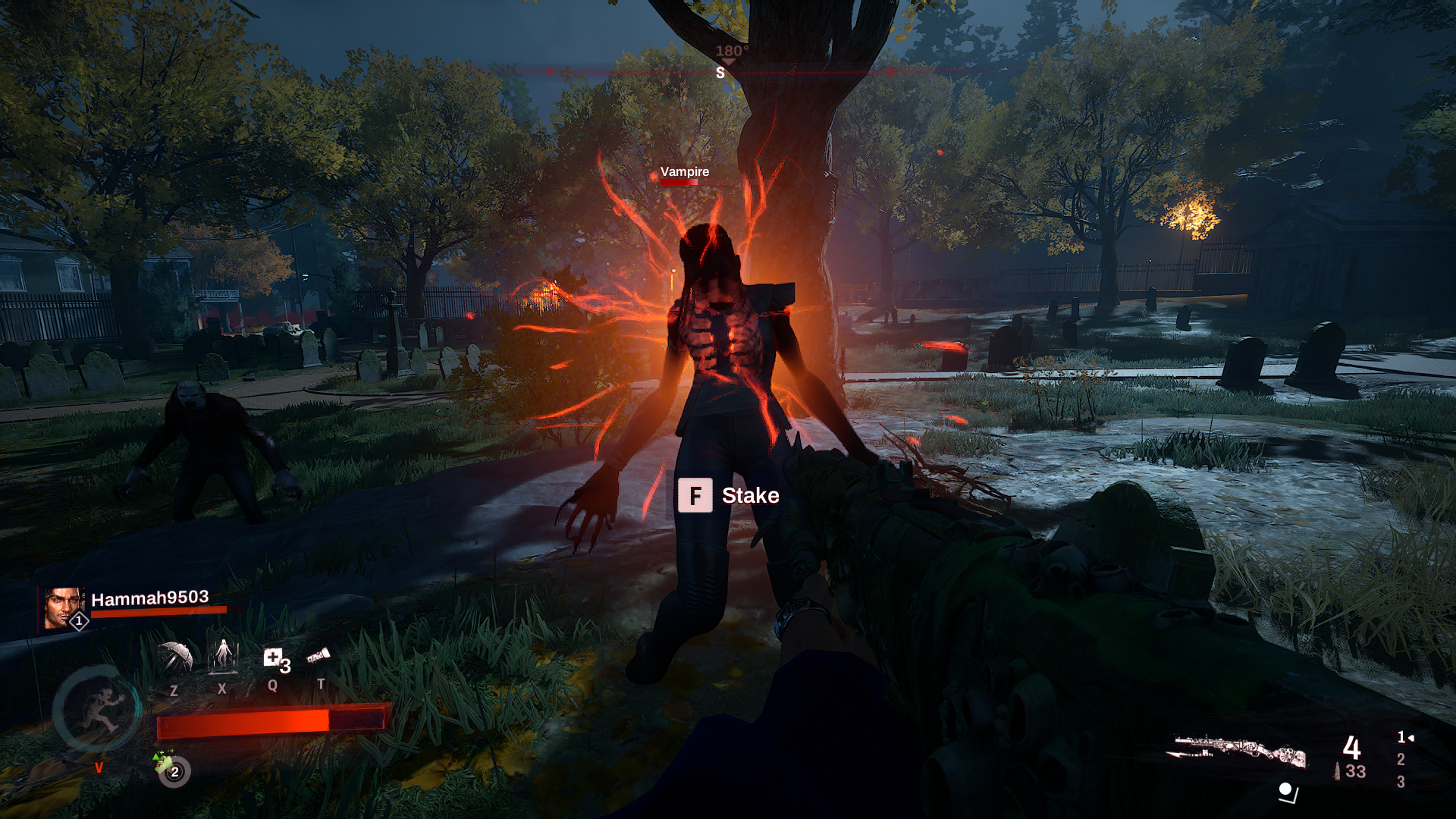 All this is however useless since the enemies are absolute wimps and brain-dead to fight most of the time. I played on the highest difficulty, and it didn't even feel like it was a challenge. The cultists travel in packs but like, small packs.
Speaking of combat arenas and the landscape you're in, the town felt… very underpopulated. The cultists would pretty much stand still and stare at you dead in the face for a good second before taking our their gun to shoot you. Vampires kind of just zoom towards you in a straight line.
I feel like there should have been more. More cultists running at you. More vampires flying at you with their long ass fingernails ready to scratch at you. Just….more.
I wanted more. I should not be able to stand out in the open shooting at enemies on the highest difficulty freely without being punished for it. The aesthetic of the vampires was at least cool to look at. They hover over the ground and smile at you menacingly. Some of them have got a real good sense of fashion.
All of Redfall's missions have a "ugh, let's get this over with" vibe rather than tasks that make you want to delve deeper into its narrative & rewards. They're more or less the same, just asking you to go to a safe house, or deliver something. They felt very repetitive and not very interactive. The little side notes you'd find all around the world were one of the best things about the game. You get to hear interesting stories that captivate your attention more than what the main story offers.
An hour or two in, I thought, hmmn, maybe give it more time and it will get more interesting, but it was just too slow. The missions were structured in a way to reveal more of Redfall. This makes you unlock safehouses and do more side missions to unlock more areas. But there's really little to no point to feel invested when the town is pretty empty and lazily-designed.
Like all co-op games, Redfall is best played with friends. It's fun to slay some vampires together, griefing your friends by lifting them off certain areas and taking over neighbourhoods from some vamps, making you feel like some big mafia boss. The characters also synergize well. I had my partner teleporting me here and there for loot, and I'd lift us up to rooftops. I also like that the more missions, and fights you do together, build trust among you and your friends. This unlocks special perks.
The thing is, only the host's story will progress, although everyone else will gain experience and rewards from missions. With all this, there still isn't much replayability. No reason for you to grind the same missions over and over again.
No Fangs For The Memories
And the technical issues; they are numerous. My game crashed about 6 times in my first playthrough. The loading screen took at least 5 minutes once you start a game, making it frustrating already to begin with when all you want to do is to log in and shoot some damn bloodsuckers. My game would freeze every few minutes while trying to just run around to loot. The performance issues and the many bugs that come with Redfall just make it hard to enjoy the game, even with friends.
While the game's early access state means that its technical issues can be fixed, Redfall's major problem is that its makers do not know what makes this type of shooter work. Maybe Arkane did not have enough time to properly make it, or maybe they shipped it a year too early. Whatever the case, this just feels like an obligation project, with its team woefully inept at figuring out why this genre of shooters functions in the first place. From its uninspired and not-so-hot loot system, its broken combat, its empty world, and ho-hum-to-boring missions that are poorly designed, there is really no sane reason why you should play Redfall. Well, apart from mild curiosity and the fact that you can subject yourself to the suckfest for free on Game Pass.
Long story short: save your time and play something better. This shooter from Arkane Studios feels unpolished and poorly designed. This is a big shock given the company's past titles.
Pros
Interesting player characters to pick from.
Some parts of the game are pretty & moody.
Cons
Everything else, from gameplay design to fun factor to technical portions.
Final Score: 40/100