What. A. Week.
No thanks to these unprecedented results, Power Rankings are harder than ever to produce. With upsets all around, the definition of 'The Strongest Team' is getting flimsier by the day as teams start to figure each other out better. So without further ado, here are this week's Power Rankings, ahead of Week 3 matches.
1. New York Excelsior (21-3); +54. Last week: 1Â Â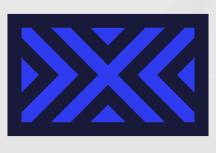 The NYXL are still the best team in the league but their aura of invincibility is probably at its lowest since the start of Stage 2. Not only were they shocked by the relatively under-strength Boston Uprising, they struggled to get past the Houston Outlaws. We have no doubt that they will regain that swagger but watch out SBB & Co. – the rest are indeed catching up
2. Philadelphia Fusion (16-8); +11. Last Week: 4
Talk about being in it for the long run. While the Fusion started the season slow, they have been one of the most consistently improving team and now sit second in our Power Rankings. Who would have thought the team who skipped pre-season and had one of its player suspended for over 30 games to turn out this way. To simply attribute this rise to Snillo and Eqo would be a disservice to the rest of the team as the Fusion have been one of the most dependable, solid unit regardless of who start. They can win in whatever condition you put them in and is easily the most enjoyable team to watch in the league at this moment.
3. Los Angeles Gladiators (13-11); +4. Last Week: 5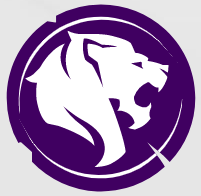 Like the Fusion, the Gladiators are a team who played the long game in constantly improving, fixing their weaknesses and have been successfully avoiding from shooting themselves on the foot – which is endemic amongst Overwatch League teams at the moment. The Korean core of Bischu, Asher and Fissure sets a solid foundation for the likes of Hydration and Surefour to shine and pop off. Barring some spectacular collapse, we don't see the upward trajectory of this team to be derailed anytime soon. A solid contender for this season's stage finals.
4. Boston Uprising (16-8); +16. Last Week: 6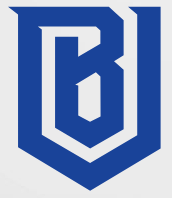 We honestly thought they'd crash and burn in Week 2 following the untimely removal of Dreamkazper but Mistakes slots into the starting DPS role like a glove and BAM – the Uprising are currently 2-0 post-Dreamkazper. No one saw that 3-2 win over NYXL coming and they managed to stave off the Mayhem over five sets but wins are wins man. However,  their mettle will be truly tested in Week 3 as they face ailing Spitfire and Dynasty so it's going to be a make or break week for them.
5. Los Angeles Valiant (15-9); +21. Last Week: 8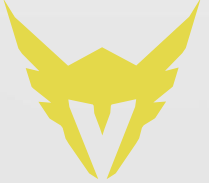 The Valiant started strongly and are currently the Stage 3 leaders but we are still unsure about them and believe the results were more due to favorable schedule than true shows of strength. Sure they defeated the Dynasty but it was an under-strength Dynasty who had most of their starters rested. The Valiant's subsequent teams were against the Dragons, Shock and Fuel – games they were expected to win anyway. Matches against the Gladiators and Spitfire this week will determine whether the shock moves done prior to the start of Stage 3 were indeed  strokes of genius.
6. Seoul Dynasty (16-8); +18. Last Week: 3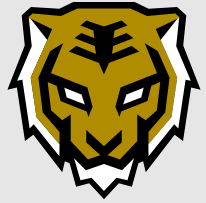 We wouldn't call it a crisis but the Dynasty do have several pressing issues at hand. One of it is – did they release the wrong Tracer to the Valiant? While Munchkin is indeed a top-tier Tracer, we can't help but think that Bunny would have done a better job than him. In a Tracer-heavy meta where peeling and destroying backlines determine the winners of teamfights, Dynasty is surprisingly weak in this department. Another apparent weakness is their lack of depth outside the starting six. A bad day for the likes of Ryujehong, Tobi, Zunba, Miro and Fleta would spell defeat for this team which has the capability to bully any team on their best day. They have a relatively easy week coming up with Shanghai and Uprising on the cards – two matches they cannot afford to drop as they have two big ones in the following week – Philly and NYXL.
7. London Spitfire (16-8); +32. Last Week: 2
Losing three of their first four matches isn't how the Spitfire boys thought their Stage 3 would start but they can look forward to a much kinder schedule going forward. No disrespect to the the Gladiators and Valiant – but we think the Spitfire have more than what it takes to not only defeat these teams, but correct the course of their rough start to Stage 3.  Wins in these two games have added importance though, as both teams have the Spitfire well within their reach as teams scramble for that top-six finish.
8. San Francisco Shock (8-16); -19. Last Week: 7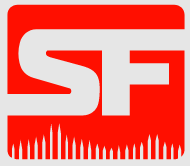 The pieces are finally in place and the new-look Shock are stronger than ever. While everyone have been focusing on Sinatraa, it was Super who surprised everyone with his calm and collected, smart plays. The rise of Danteh as Shock's starting DPS over BabyBay was also a welcomed surprise as he is turning into one of the league's most effective Sombra players. Their slow start for the season may see them languishing in the bottom half of the league at the moment but this is a team for the future. Expect them to finish this season strong, and big things from them next season.
9. Houston Outlaws (13-11); +12. Last Week: 9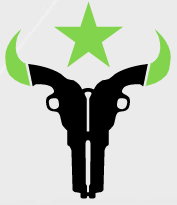 Like most teams from Texas (read Cowboys, Mavericks …. Fuel) , they are more bark than bite at the moment. Sure they have one of the loudest fanbases in the league with equally talented players to boot but we don't see them outplaying teams above them in consistent manner. Of course their setup allow the odd win or two against the likes of Spitfire and Dynasty but it does not properly reflect where they stand in the league. Despite really good performance in Stage 1, they have stagnated and is one of the team we can confidently say will miss out on the playoffs this season.
10. Florida Mayhem (4-20); -44. Last Week: 10Â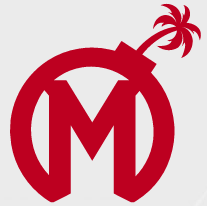 Keep a lookout for the Mayhem as we are expecting a 2-0 week from them. Despite the recent run of four consecutive losses, they have looked very impressive following the additions of Sayaplayer and aWesomeGuy. A win against the Shanghai is in the cards but we fancy their chances against the Outlaws as the Mayhem's aggressive style are the perfect counter to  Outlaws' slow and methodical approaches.
11. Shanghai Dragons (0-24); -77. Last Week: 12Â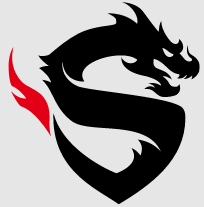 Surprise surprise! The Dragons are off the foot of the table and with a great reason too. They looked much more coordinated since the start of Stage 3 and the new players seem to be bedding in well. Ado is popping off, Geguri is getting the backup she richly deserve and while some may reduce this team to just 'playing for pride' it is the most effective motivation any team can play for. The Dragons are no longer the same team we saw in Stages 1 and 2 and if you pit the current team against the Fuel, we have no doubt on which team that will come out on top.
12. Dallas Fuel (6-18); -28. Last Week: 11
So where do we start. Head coach? Replaced. Star DPS? Released. The other star DPS? Threatening to leave if things don't improve. Main tank? Good, but nowhere great yet. AKM? Plays like he's on duo-queue with Unkoe. Off-tank? Well Mickie seems like the ONLY bright spot from this team at the moment and him alone cannot lift the glum off this franchise in disarray. We might have given them a sliver of a fighting chance if they still had Custa, who was clearly a team leader prior to his trade to Valiant but nope. They showed him the door as well. The only consolation for the Fuel at the moment is that they are assured that they will not end this stage at the bottom of the table. A far cry from the top-4 predictions many of us had for them at the start of the season.
---
Week 3 of Stage 3 starts tomorrow with these following matches. All times listed are in Kuala Lumpur/ Singapore local times: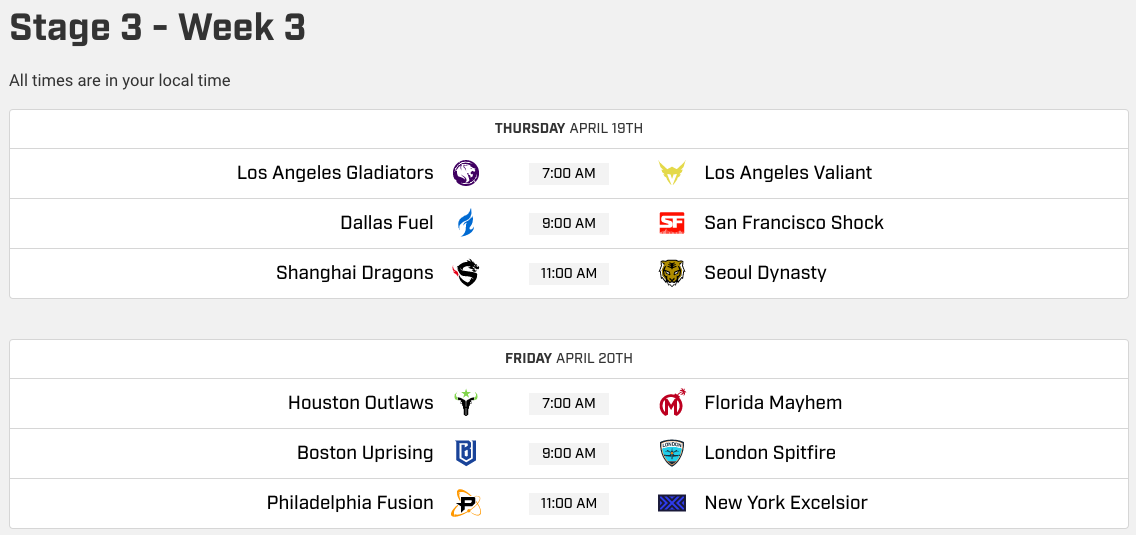 Related