Platform: PS4
Genre: Action, Gundam Gunpla Grindfest
These days, the only successful toy franchise that is killing it with video games is LEGO. From the LEGO Star Wars titles to whatever the hell LEGO can grab nowadays -see LEGO Dimensions- you can't help but enjoy these games because of their "klik klak" collectable appeal that is worked into the co-op mechanic of these games. The fact that they're accessible with all ages too helps make the love and fanfare universal.
So what does LEGO have to do with the concept of Gundam miniatures and Gunpla? Simple: Bandai Namco is putting in the collectable aspect of Gundam miniatures into their games the same way LEGO is doing with the many licenses they are working with.
Case in point: New Gundam Breaker for the PS4. In this third-person action game where you team up with two other Gunpla pilots to complete objectives for the highest amount of points, you can collect Gunpla parts from slain Gundams/Gunplas and add them to your collection. Each pilot can hold up to 5 and can swap them around/discard them with the d-pad, but there's a giant box in the arena where you can dump them for safekeeping.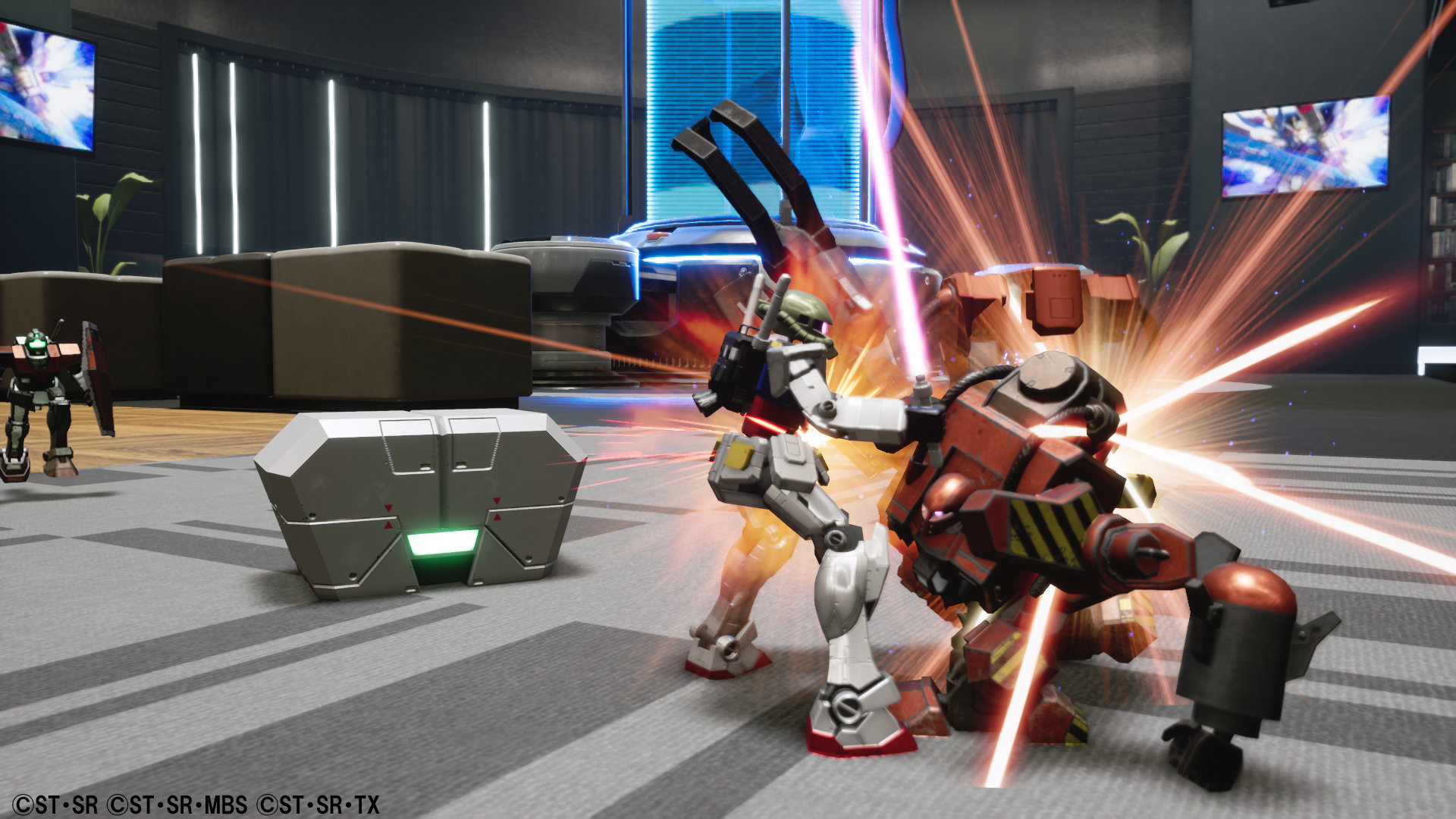 I'll have to admit, I was spending way more time destroying enemies, harvesting parts, and then heading to the box to keep my spoils, main missions be damned. The replayability aspect of just looking for parts is enough for hardcore fans and collectable-hounds to be invested in the game.
It's the LEGO video game effect in Gunpla form: the New Gundam Breakers devs purposely add more green flair to dropped parts, making it more attractive for players to say "eff it" to whatever they're doing and then collect as many of them as possible. And to say nothing of the extensive Gunpla customization page where you get to paint individual sections with different colour schemes and shader type, as well as pose them in different stances for your digital photographing need. If you want to get into Gunpla but don't want to burn your wallet due to real-life Gunpla prices, this game's a great substitute as any.
Unfortunately, Bandai Namco fudges everything else with the actual game itself.
Broken Pieces
Unlike the LEGO games where they just make fun of the franchise's stories in clever and non-demeaning ways, New Gundam Breakers' story is pretty typical if you are familiar with your shonen anime storylines down to a tee. You play a prodigy Gunpla builder/pilot studying in a Gunpla University (because of course) whose goal is to take down the current Gunpla Student Council who are throwing their weight around.
Also, the majority of your AI pilot partners are female and are based on anime tropes like the childhood friend with a past involving the Student Council, a regular-looking girl who gets wet at the sight of a Gunpla battle, and the bookish girl who prefers studying than fighting. Clearly, Bandai Namco knows its market.
Simply put, the devs could have been a bit more creative with its storytelling but all I ended up with is another shoehorned "young upstart and his female entourage taking down the big bad predecessors" storyline. But you're not really here for the narrative; you're here to find out if (a) this is a great entry point in the Gundam Breaker video game franchise and (b) if you need to buy this sequel as a hardcore Gundam Breakers fan.
For the latter, let's just hope you still have your copy of Gundam Breaker 3, because New Gundam Breaker is quite a step back.
One Step Forward, Too Many Steps Back
As I mentioned before,  you team up with two other AI Gunpla pilots in 3v3 battles where the battlefield's objectives change over time and range from "break 10 boxes" to "kill x Gundams or neutral enemies". Whichever team earns the most points wins.
If this is your first-ever Gundam Breaker game, you'll be pleased to know that this game takes it easy on its players since you have pretty competent AI partners during the majority of the game. As fighting and battling go, the controls are pretty easy to follow and the movement is quite flexible.
There will be many instances where you'll be overwhelmed, so you need to learn how to weave and dash out of the way, or even just jump and boost upwards and then re-enter the fray again. But pretty soon, it gets a little easy and manageable; you only have to worry about playing online with other players who may already have better kits and Gunpla parts than you.
There are three major problems though. Firstly, you're doing the same battle mode over and over again only with different pilots. It doesn't deviate much from that formula; the enemy Gunpla pilots change but the battles remain the same.
Secondly, the game moves and plays like an unfinished product. Yes, the controls are fine and all, but there are a ton of frame rate issues mid-game, stuttering and drops when dealing with a lot of Gundams, and half the time the game pauses for a second or two before it loads up another scenario or wave of enemies to kill. While the controls are decent, the auto-lock mechanism is garbage -you're better off targeting enemies manually. And the less said about the clunky user interface in and out of the game, the better.
You'd think with previous Gundam Breaker games since the PS3 days they'd have this down to a science, but nope. The thrill of breaking apart a messload of Gundams is made sullied by the technical incompetence of the game engine. If the main crux of your play experience is this broken, it's hard not to turn this game off in favour of another loot-hoarding dungeon crawler.
Thirdly, and this applies to the older Gundam Breaker players: Gundam Breaker 3 is basically the superior game. Don't be fooled by the "New" heading of this new Gundam game; New Gundam Breaker strips apart all the good things from previous titles and feels watered down.
However, if you're the kind of guy who thinks the Odaiba Gundam statue is as sacred as the Christ The Redeemer statue in Brazil -and can as differentiate between the Thunderbolt Gundam and the Unicorn Gundam, and chastise me for not calling these mechs by their proper names- then you might want to buy this just to see what the hubbub is about.
But for SG$79.90, you might as well get Gundam Breaker 3. It's older, but at least it has a stable foundation that doesn't need fixing.
Pros
-The graphics look nice.
-Controls are good.
-Simple-yet-collectable-addled gameplay…
Cons
-…marred by its game engine & execution.
-Shallow story.
-Not a major improvement over Gundam Breaker 3.
-Too expensive for what you're getting.
FINAL RATING: 5/10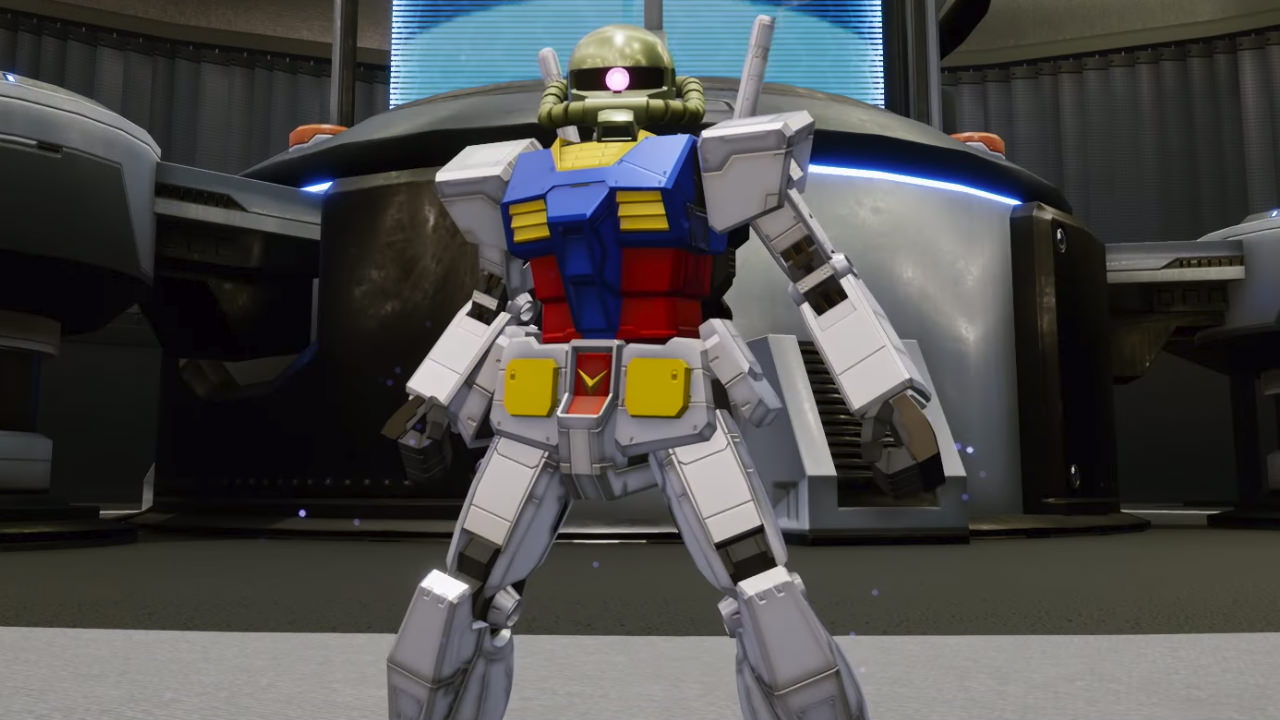 Review copy provided by Bandai Namco Asia.