All You Need to Know About Call of Duty: Black Ops IIII Multiplayer Beta in August
The Call of Duty: Black Ops IIII open beta drops in August and here are some of the important info you'd wanna know. It's a clusterfuck of info so we've broken them down to points for easy digesting:
PlayStation 4 (Early access for PS4) –

for those who pre-ordered the game on PS4

 (Starts: August 4 1am Malaysia/ SG/ HK – Ends August 7 1am Malaysia SG/HK
PlayStation 4 and Xbox One - 

for those who pre-ordered the game

(Starts: August 11 1am Malaysia/ SG/ HK – Ends August 14 1am Malaysia/ SG/ HK
PC Beta Early Access (

for those who pre-ordered the game

)Â (Starts: August 11 1am Malaysia/ SG/ HK) *PC exclusively on Battle.Net
PC Open Beta (Starts: August 12 1am Malaysia/ SG/ HK  – Ends: August 14 1am Malaysia/ SG/ HK)
In short, if you want to try out the game but you don't intend to pre-order it, your only chance to get into the beta is via PC which kicks off on August 12 Malaysia/ SG/ HK.
As incentive for those who participate, all participants in the Beta will receive a unique, one-of-a-kind calling card that they can proudly display. And for every player that achieves max rank in the Beta, they will earn a Permanent Unlock Token to apply to any piece of Create-a-Class content when the game comes out.
Returning Classes
In the Private Multiplayer Beta, players fight across six maps – two of which will make their first public appearance. The participants will be among the first ones to try the new Specialists and reacquaint themselves with returning Specialists Nomad and Prophet, who brings brand-new gameplay mechanics built for Black Ops 4.
Modes
The Private Multiplayer Beta will feature fan-favorite game modes like Team Deathmatch, Domination, Hardpoint, and Search & Destroy. The brand-new objective-based game mode, Control, which was designed to bring out the best of Black Ops 4 Multiplayer gameplay will also be playable.
Returning Features
The Pick 10 system returns to Create-a-Class to give players complete customization over their loadout, and with its return comes a few new changes.
Special Issue Equipment a trait designed exclusively for each Specialist without costing a point against Pick 10.
Gear is an all new slot designed to enhance each player's own unique style of gameplay. Benefits include cheaper Scorestreaks, COMSEC Device, faster healing and Stim Shot. Gear also accords added advantage in situational awareness if you prefer with the wall-hacking Acoustic Sensor. Only one piece of Gear can be used per loadout.
Weapons now have unique sets of attachments, including a new class of powerful attachments called Operator Mods, to really focus each gun on its individual role in combat.
OK, OK. But what about the Battle Royale mode?
While it is the most anticipated mode in the upcoming Black Ops IIII, sadly it won't be on the menu for the August beta. Players will have to wait for the second beta event which drops in September.
"Everyone who works on Blackout or plays is always eager to share a story they have," said Studio Design Director, David Vonderhaar. "That game session might be a triumphant victory or a tragic loss — it might be how land, sea, and air vehicles collided in unexpected ways for a final showdown — or, it just might be a funny fail moment. No matter what, when people get done playing and want to tell the story of what happened to them afterwards, you know you have something special."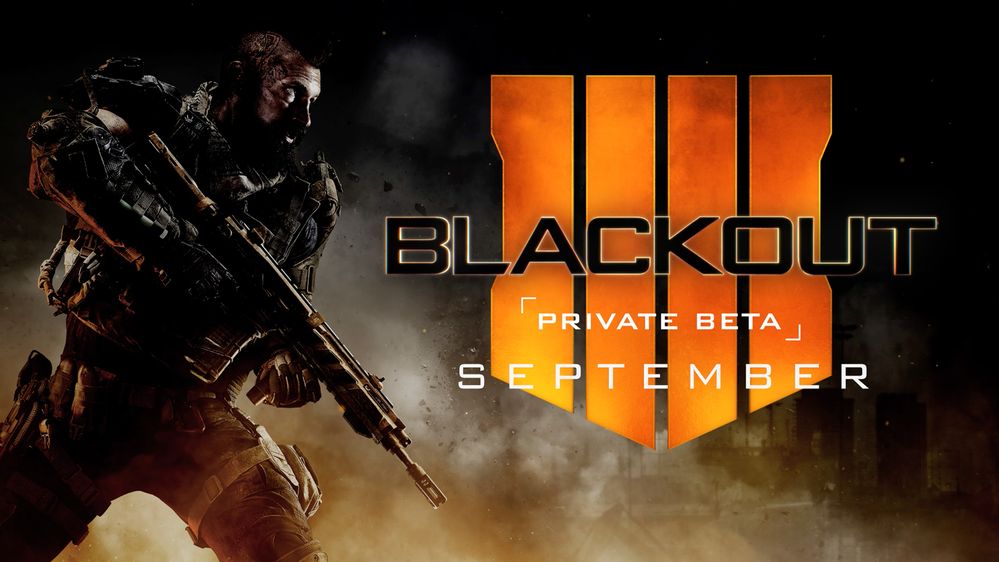 "The team has been having a ridiculous amount of fun playing it internally. We are so excited to be able to share that fun with you in September. The community feedback generated from going hands-on is always incredibly important, and it's never been more so than with Blackout," added Treyarch Senior Producer, Yale Miller.
For more info on the CoDBLOPS4's beta, head on over to their official site here.
---