Overwatch League: Spitfire Complete Sweep of Los Angeles With Stunning Win Over Valiant
By Kenn Leandre|July 21, 2018|
No one gave them a chance in the playoffs but the boys of London Spitfire proved everyone wrong by beating the second Los Angeles team in as many weeks when they overcame a lackluster Los Angeles Valiant 3-0 earlier today, to claim a spot in the Overwatch League Grand Finals.  Going into the series with a one-match lead after an impressive 3-1 win on Thursday, the Spitfire opened the day in the best way possible by winning 3-2 on Dorado.
The DPS pair of Birdring and Profit who played pivotal roles in their Thursday win again were the standouts, outperforming their Valiant rivals. In the next map on Oasis, the Spitfire were again too much for the Valiant to handle as they comfortably won 2-0 and one map away from claiming another LA team scalp.
Coming off the break, many thought the Valiant would finally wake up and show everyone why they were the champions of Stage 4 as both teams head to Eichenwalde but the truth is far from that. The Spitfire, buoyed by their form of the day put out a clinic as they ferried the payload to the end with minimum fuss. Realizing it was make or break time, the Valiant woke up as they pushed hard on their turn to attack, and somehow managed to push the payload all the way to the end as well.
Sadly for Valiant fans, a comeback was not on the cards as the Valiant's payload was stopped just beyond the first chokepoint on timebank round. There onwards, it was a mere formality for the Spitfire to nudge over that yellow box to stamp their ticket to New York. They now await the victors between sixth-seed Philadelphia Fusion and the New York Excelsior.
Since winning Stage 1, the Spitfire form took a nosedive as they struggled through Stages 3 (5-5) and 4 (4-6) which saw their overall standings drop to fifth. Heading into the playoffs, they were considered outsiders by many – even more so having to face the mighty impressive Los Angeles Gladiators who finished Stage 4 with a 9-1 record. Alas, form is temporary but class is permanent as the Spitfire defeated both LA teams, silencing their doubters.
The Overwatch League Playoffs action continues tomorrow as the Fusions seek to pull off a huge upset by defeating heavy favourites, the NYXL. Going into the match with a 1-0 series lead thanks to a 3-0 win on Thursday, the Fusion will bank on their aggressive playstyle to overcome the methodical NYXL who have only lost six games in total throughout the regular season. You can catch all the action live via Twitch here.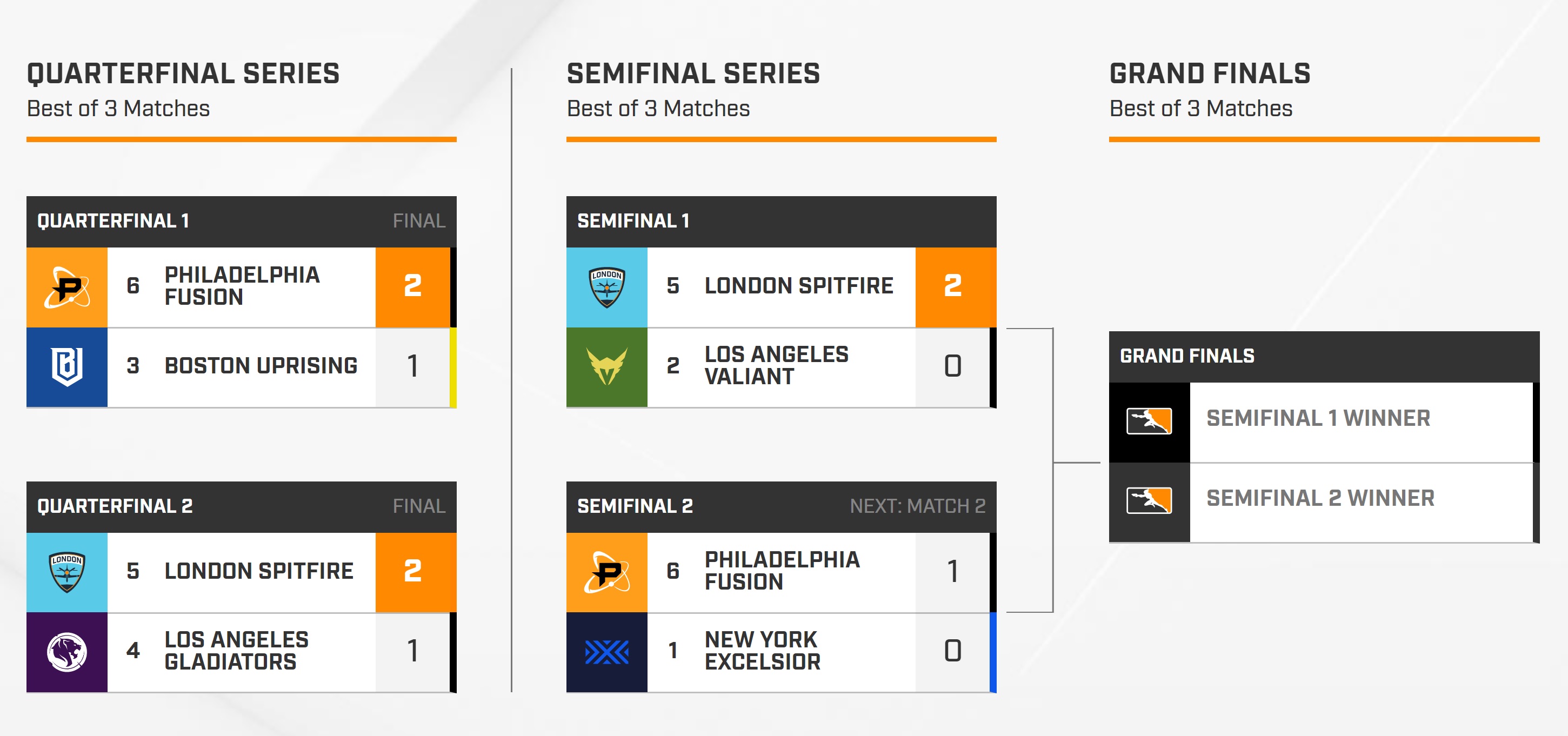 ---