As expected, we got no surprises from the Paris Stage of the 2018 Overwatch World Cup Qualifiers as hosts France and England stuck to the script and qualified through what may be the most boring of the four qualifying stages this year. Like clockwork, the heavily stacked French setup made quick work of everyone else, losing only two maps over the weekend to the German team.
Led by Overwatch League stars such as SoOn, AKM, Poko and uNKOe, the France team made quick work of their closest rivals for qualifying, team England who just pipped the Germans for qualification thanks to a 3-1 win on Day-1. So boring was the weekend's matches that the highlight of it all was Italy and Poland's epic five-match battle which saw the Italians scrape for the slim win and consigning the Poles to the foot of the table.
Right after the set of matches in France though was the Quarter-Finals draw which will be played at Blizzcon 2018 which pretty much spell the end of Team England's journey in the competition. Paired with the heavily-favored Team USA, England would need a miracle to defeat the North American giants and on paper, will have the Koreans waiting for them in the semis.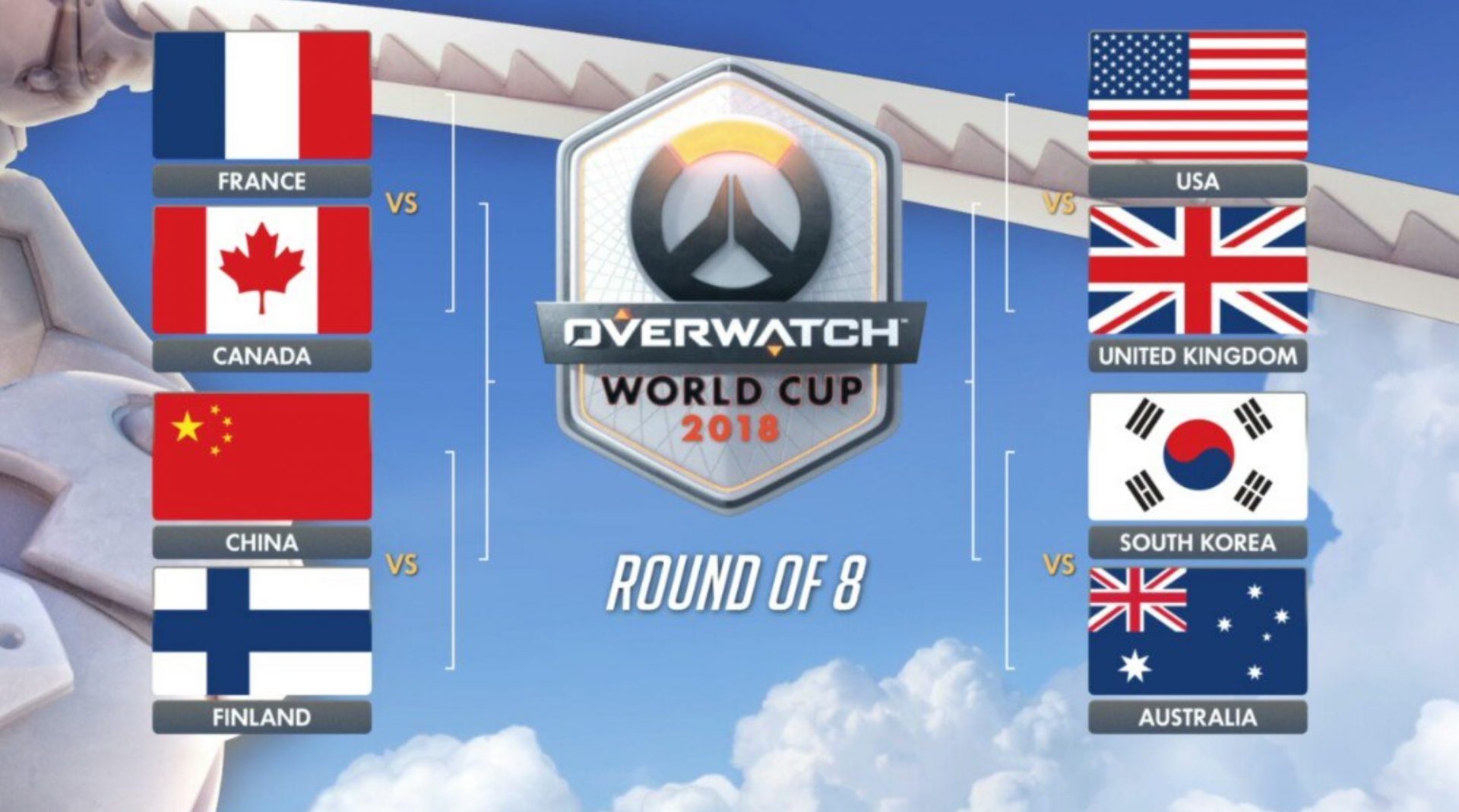 The same goes for Team Australia as no one would expect to see them progress beyond the reigning two-time champions, Team South Korea. We are definitely in for a treat as another USA Vs. South Korea epic is on the cards. With the North American players being much more accustomed to the Korean players thanks to the Overwatch League, this can go either way.
On the opposite side of the draw is the mouth-watering France Vs. Canada which also could see the result go either way.  While many would pick Team France based on paper alone, we favor the Canadians this time around. Lastly, Team China seek to progress their furthest  in the Overwatch World Cup as they take on Team Finland. Impressive throughout their tough qualifier round in Bangkok, the Chinese team is the strongest they've ever been and could even make it all the way to the finals.
We shall end this piece with our quick predictions of the games and our pick for the overall champions at this year's Overwatch World Cup:
Quarters:
Canada Vs France – Canada Win
China Vs Finland – China Win
USA Vs England – USA Win
Australia Vs South Korea – South Korea Win 
Semis:
Canada Vs. China – Canada Win
USA Vs. South Korea – South Korea Win
Finals:
South Korea Vs. Canada – South Korea Win
---
Of course these are just early predictions. Which team will go all the way in YOUR books? Sound off in the comments section below, and we'll seriously consider your points in our upcoming preview piece.