Platform: PS4, Xbox One, PC
Genre: Survival Horror, Action, Third-Person Shooter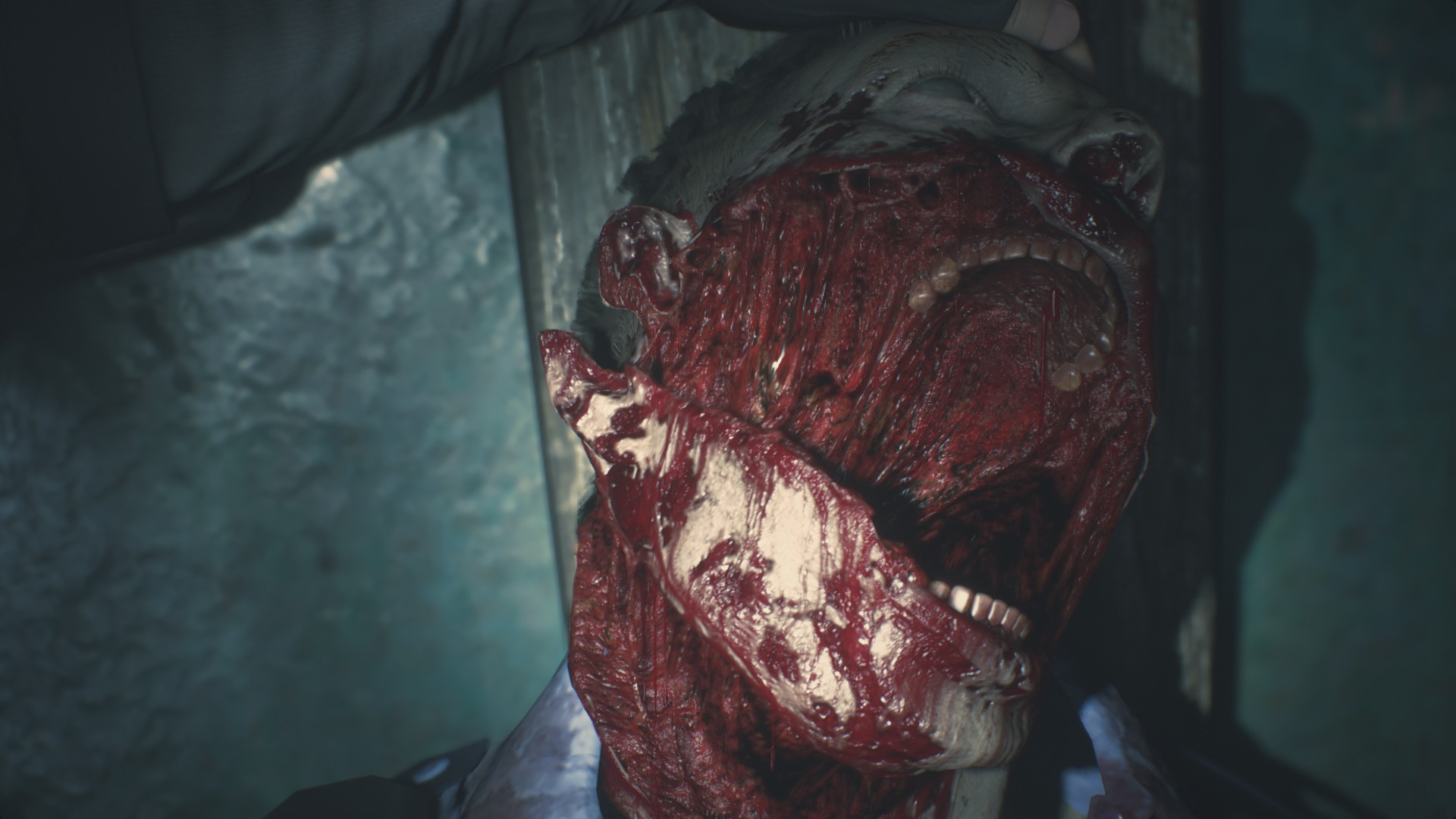 Resident Evil, once the mighty giant of the survival horror genre, has faltered in recent years, only recently re-establishing itself again after 2017's Resident Evil 7. With the Resident Evil 2 remake, has Capcom managed to build on that momentum or is it another Resident Evil 6?
With my heart pounding out of my chest as I write this review (fresh off completing the game in just two days), I'm happy to say I am more than impressed with Resident Evil 2, especially considering that I'm apparently one of the few reviewers who've never played the original.
Yes, it's true, the Resident Evil 2 remake is my first time experiencing the classic title, and with that comes a different perspective. Is the new Resident Evil 2 just nostalgia bait for older gamers, or can first-timers also enjoy the game without all the sentiment?
I can answer that question. My favorite title in the franchise is Resident Evil 4, so that'll be my biggest point of reference.
Returning To Survival Horror Roots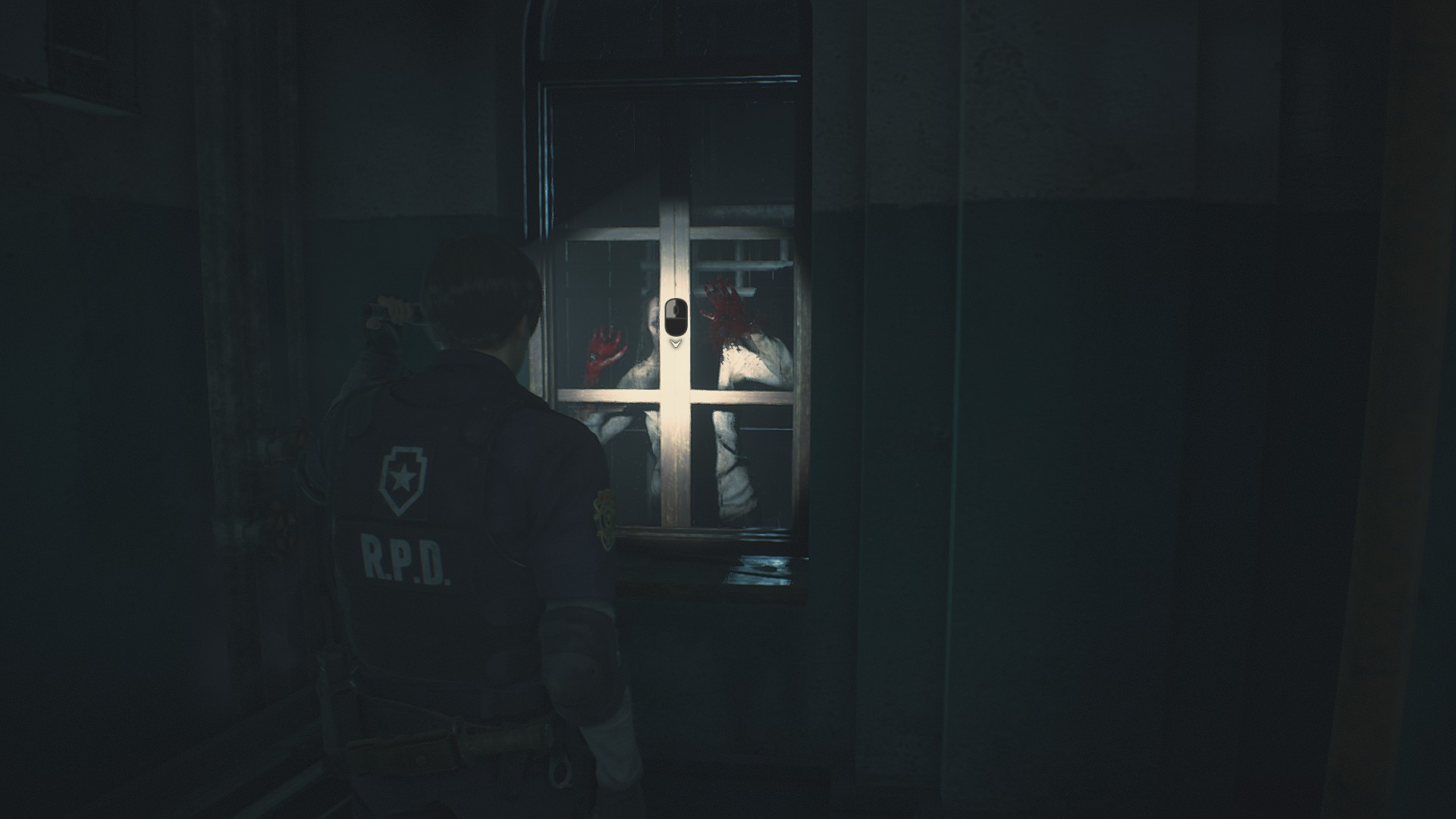 The premise of Resident Evil 2 is simple enough. Players can choose between Leon Kennedy or Claire Redfield, as they enter Raccoon City just as a zombie virus outbreak begins. Leon is there to start his new job as a police officer while Claire is looking for his brother, Chris.
Both plots intersect in several ways throughout the storyline, though the player's choices don't actually affect anything, no matter which character they start with or what actions they take during their playthrough. The ending remains the same.
The Resident Evil franchise may have been more laughably campy than genuinely scary over the years, but Resident Evil 2 is here to change that. Its tone is dead-serious and grim from the offset beginning of the game, and it never lets up, with only the occasional scraps of humor when the protagonists spout banter.
The first time I entered the police station was filled with tension and desperation, as I scrambled to get from one room to the next room. Every door or window could mean a grotesque creature waiting to eat my guts, adding to my sense of dread. No place feels safe, even (ironically) the safe rooms at times.
Something's Lurking In The Dark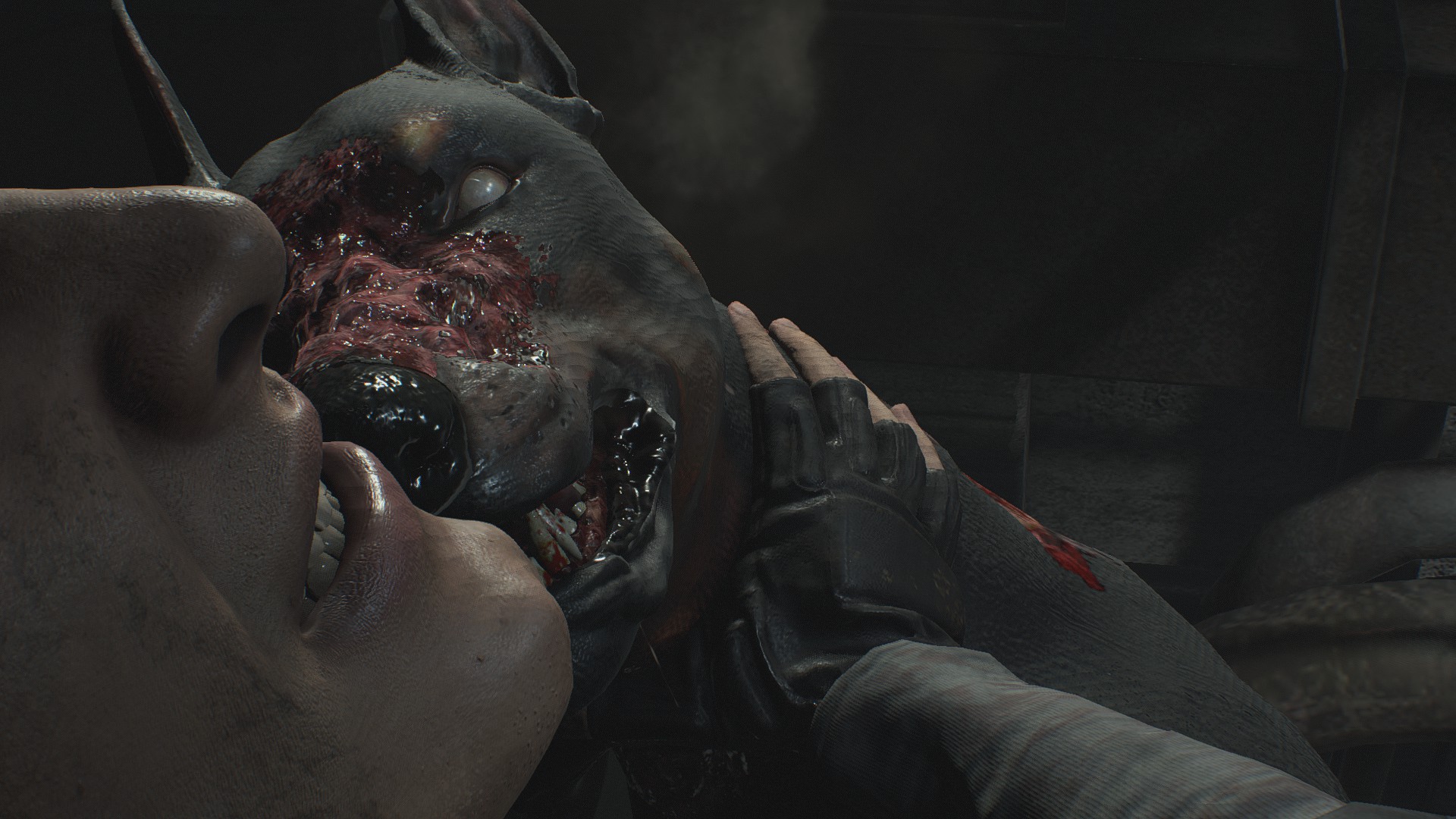 The atmosphere in Resident Evil 2 is creepy and tense, which can be attributed to the new RE Engine. The incredible new engine, which was first utilized in 2017's Resident Evil 7, is responsible for the game's photo-realistic graphics, fluid animations, and impeccable lighting. Leon and Claire have never looked better, and it shows.
Armed with only a flashlight and a gun at the very beginning, the dark has never been more frightening. With zombies lurking on every corner in the darkest places, the atmospheric lighting elevates the game even more, as players are forced to tread lightly, lest they wake up an undisturbed zombie lying in wait.
The sound designers have also done an excellent job in Resident Evil 2. The nearby thudding of heavy thundering footsteps would often leave me running in fear or stuck in place, as they signal the arrival of the unkillable Mr. X or the Tyrant.
The sudden sound of hissing and scratching on the walls would have me prepare my best weapon (or escape plan) as it indicates the presence of a Licker. Every little sound would make me jump out of my skin.
Learning From Resident Evil 4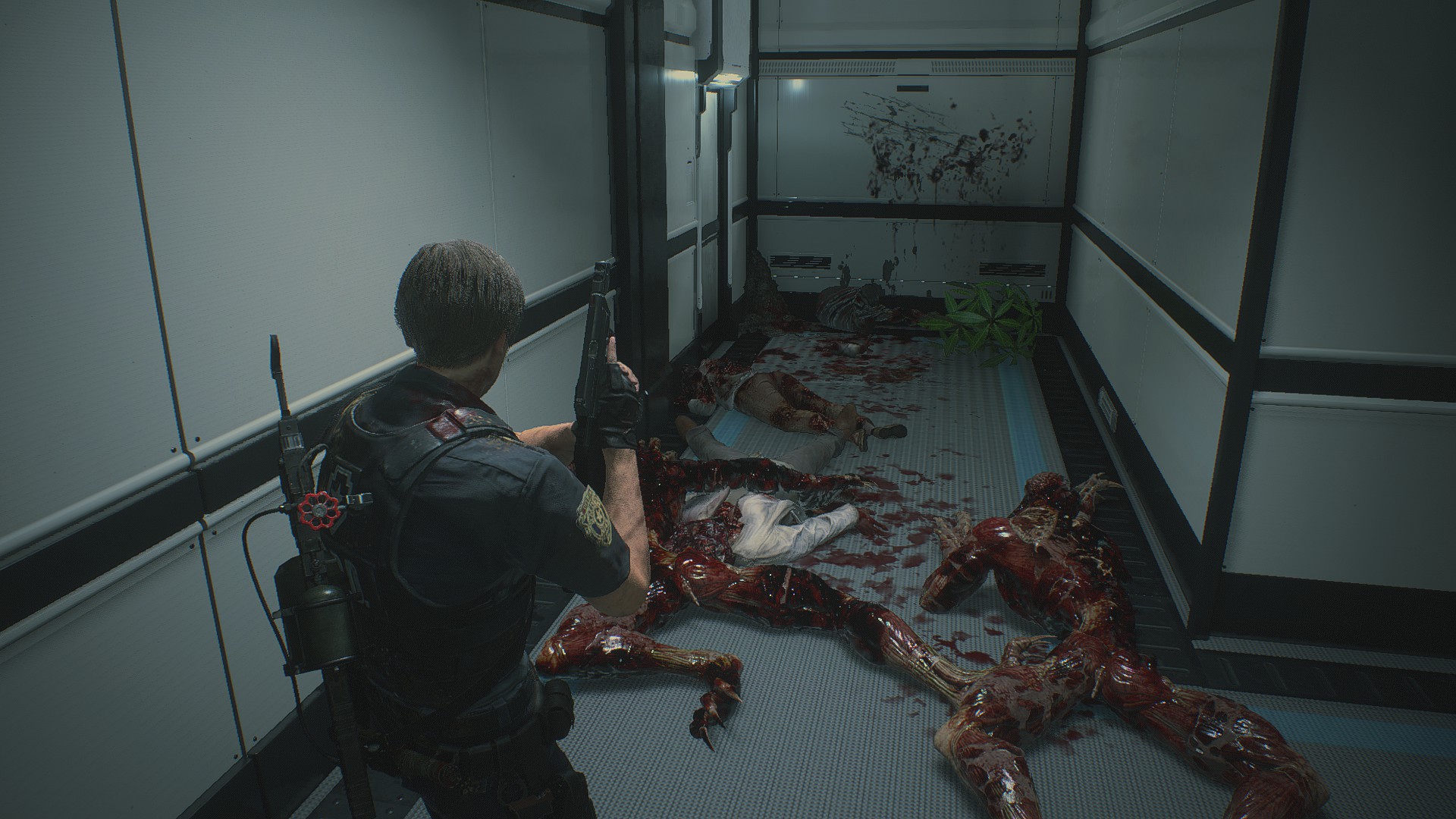 Gone are the fixed camera angles and tank controls of classic Resident Evil games. In its place, Resident Evil has not only co-opted the successful over-the-shoulder perspective of Resident Evil 4 but also improved on it by making it possible for players to actually move while aiming. It makes for a much smoother and less frustrating gameplay experience.
Conserving your ammo and resources, as well as determining which items should be in your meager inventory is a stressful endeavor. In Resident Evil 2, zombies are more resilient and difficult to kill, as some may need more than three shots to the head before they really die.
In fact, the only way to make sure a zombie stays dead is when it doesn't have its head anymore.
There's a lot of quality-of-life improvements in Resident Evil 2, many of which are welcome additions that may players will appreciate. For example, key items that no longer have any further use will be marked with a red tick, indicating that they can then be safely discarded without any consequences.
I also like that the map marks every item that you find, so that you can come back and grab it again without worrying about forgetting where it is. This is helpful because players will often find themselves without a vacant spot in their inventory, which means that they'll have to come back for those items later when they actually have spare space.
Though some gamers may find backtracking tiresome and tedious, that's always been a feature of classic Capcom survival horror games in the past. I don't mind it because there's always a reason to go back to places I've gone before, and the game rewards me for it. The puzzles in Resident Evil 2 are also a pleasure to solve. They remind me of puzzles from older games where the player actually feels 'smart' and satisfied after solving it, and not just annoyed to the point of resorting to searching the solution online.
Admittedly, Resident Evil 2 would have been even better if it borrowed just a few more elements from Resident Evil 4.
I miss having unlimited use with knives (though that can actually be unlocked in Resident Evil 2 by shooting all the Mr. Raccoon statues hidden throughout the game), as well as the ability to melee a zombie while it's staggering.
However, I understand that these would have diminished the game's horror survival mechanics and bring it closer to the heavy action themes of later (past?) titles.
Run, Leon, Run
About halfway through the game, Resident Evil 2 threatens to fall into complacency, as ammo/resources pile up and the player feels more confident. Just as this happens, Mr. X (or the Tyrant) comes crashing into the picture to overturn that dynamic. No longer could players take their own sweet time exploring like they did during the game's first hour or two. Since he cannot be killed, the only option is to run and hide.
Simple things like trying to pick up a vital key item or precious much-needed ammo will need to put aside when Mr. X barges in like an uninvited guest.
Just like Resident Evil 3's Nemesis, he is an unstoppable, relentless, and persistent force. Frankly, he does become more of a nuisance than a threat when the only thing I wanted was to complete a puzzle, and here comes the Tyrant to disrupt my plans.
The Resident Evil 2 remake propels the beloved classic into the future and the continued resurgence of its survival horror roots in a modern era two decades after the fact.
Old fans can appreciate the fact that their game has been recreated with better graphics and updated gameplay mechanics, while newcomers can still experience what made the game legendary in the first place in an excellent, refurbished package.
Here's to prove that I really did complete Resident Evil 2 (2019) and received the true ending, unlike that other big publication *cough*.
Return to the franchise's survival horror roots
Genuinely scary and filled with tense moments
Atmospheric and spooky
Gameplay improvements, taking the best of Resident Evil 4
Mr. X (or the Tyrant) adds an unexpected dynamic
Cons:
Could have been a bit longer in length (though it's not exactly lacking in content or replayability)
Final Score: 90/100
Resident Evil 2 was reviewed on a Dell Inspiron 7577 laptop, via a review copy (PC) courtesy of Capcom.
---
Related