As much as we love being exhilarated by action RPGs and the occasional ball-buster like Sekiro, sometimes we like to shut our brains off and just press away for instant results and gratification. That's where the clicker games come in: whether they're for PC or mobile, you can count on these Skinner box tools to make you feel like you've achieved something out of nothing.
Whether it's building towers or running a city, these games will make you tap hard for your reward while looking & sounding good doing it.
Tap Titans 2 (iOS, Android)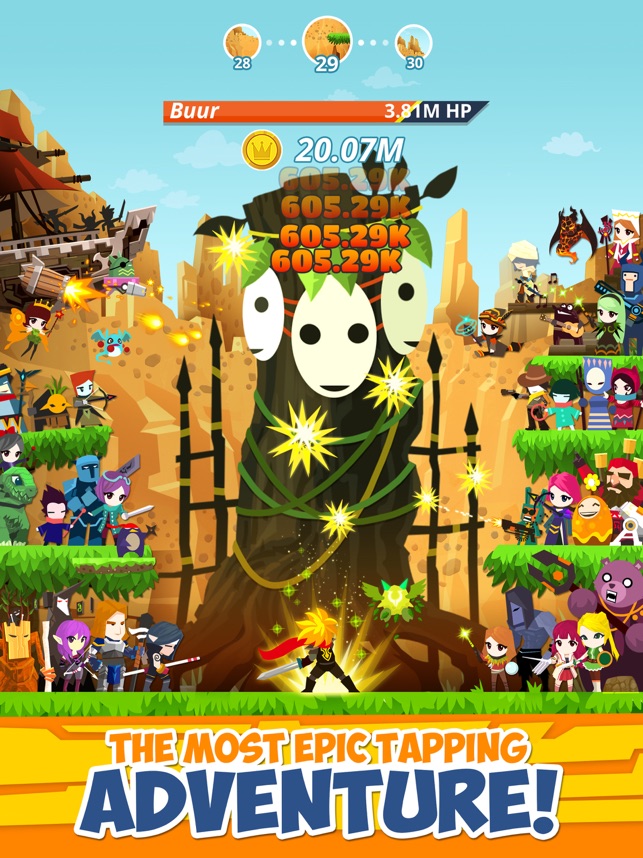 Let's start off with this simple clicker RPG. You control one guy and all he does is kill whatever's in front of him. You tap to do sword swipes or activate powerups to speed up the killing process. You can also hire party members to do the killing for you while you're away.
This sequel adds in pets that can magnify your tap power or your ally power, and gives you even more things to collect and wear. Most importantly, you have options on whether to leave it idle or just tap away just to get to stuff faster. Fun!
Clicker Heroes, Clicker Heroes 2 (PC, iOS, Android, Kongregate, and everywhere else really)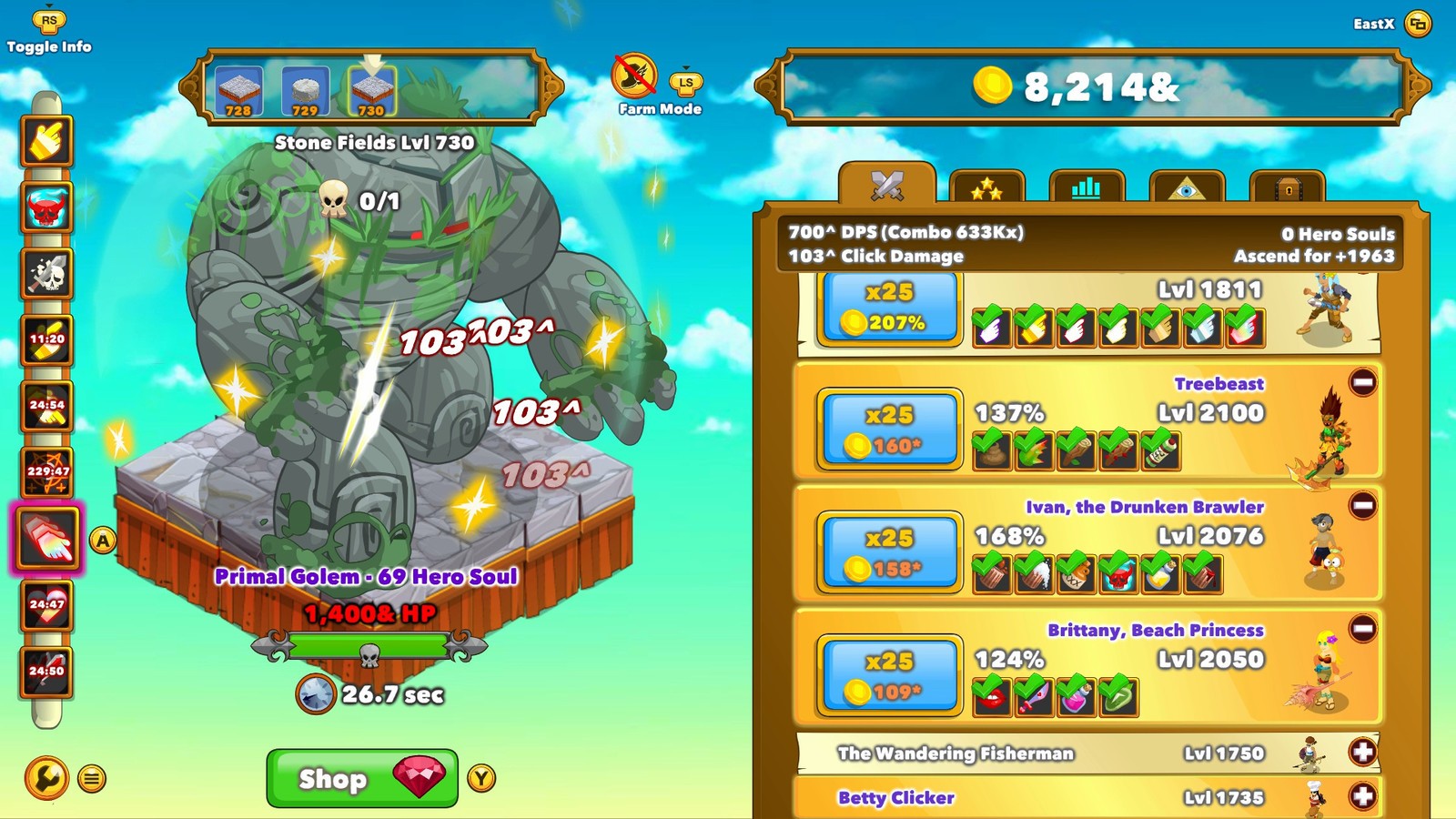 Ahh, the original game that sparked the clicker game madness. You click monsters into oblivion ala Tap Titans, but in an isometric view instead. You start off alone, but you can recruit allies to help deal damage automatically, just like Tap Titans 2.
In the end, it's about your preference: do you want a cutesy-looking clicker RPG game or do you want the original recipe clicker RPG game? Both are good fun to click and they're free.
Adventure Capitalist (PC via Steam and Kongregate)
Want to earn millions by squeezing digital lemonade? Then try out Adventure Capitalist, the game that lets you rise up from a lemonade stand to a bank-running tycoon. The game's progression can get wacky, since you'll be making pizzas, managing sports teams, producing movies, and running accounts.
The more businesses you have, the more profits you get from clicks, though it'll get hard to split your attention to all of your capitalistic ventures. That's why you hire others to run your business and manage your clicks. Adventure Capitalist's art style makes you feel good when expanding your businesses; it makes you want to click more and see what else you can create and buy off. Just like actual capitalism, it just keeps going and going, squeezing people's pockets dry. Also, it's free. 
Plantera (PC)

Remember Tiny Towers? Plantera feels like the fantasy wildlife equivalent of that game. Your clicks here will make you catch butterflies and then grow small patches of crops and veggies that will eventually be a thriving garden. As you progress, you'll hire helpers to help grow the crops while you're idle. You also have to click away at magpies and rabbits who plan to steal the literal fruits of your labour.
It'll cost you RM8.50 for the PC version. Sure, it's not free, but at least Plantera feels like a simulation. Albeit a cute and simple-looking one.
Cookie Clicker (PC via Crazy Games)
Want an incremental clicking game? Not a fan of the veggie onslaught that is Plantera? Then try out Cookie Clicker. All you do is click on a large cookie to get a single cookie per click. Then bake new cookies to buy new cursors that can help with your clicking.
The game allows you to hire grandmas to make cookies, plant a field of cookie seeds, and gives you all sorts of options to help with your cookie clicking endeavour. You even have to barter with a Cookie Dragon from time to time.
Props to this game for being surreal and keeping to the ludicrous cookie theme. It's like as if it's trying to be the Frog Fractions of clicker games.
Time Clickers (PC, Kongregate, iOS, Android)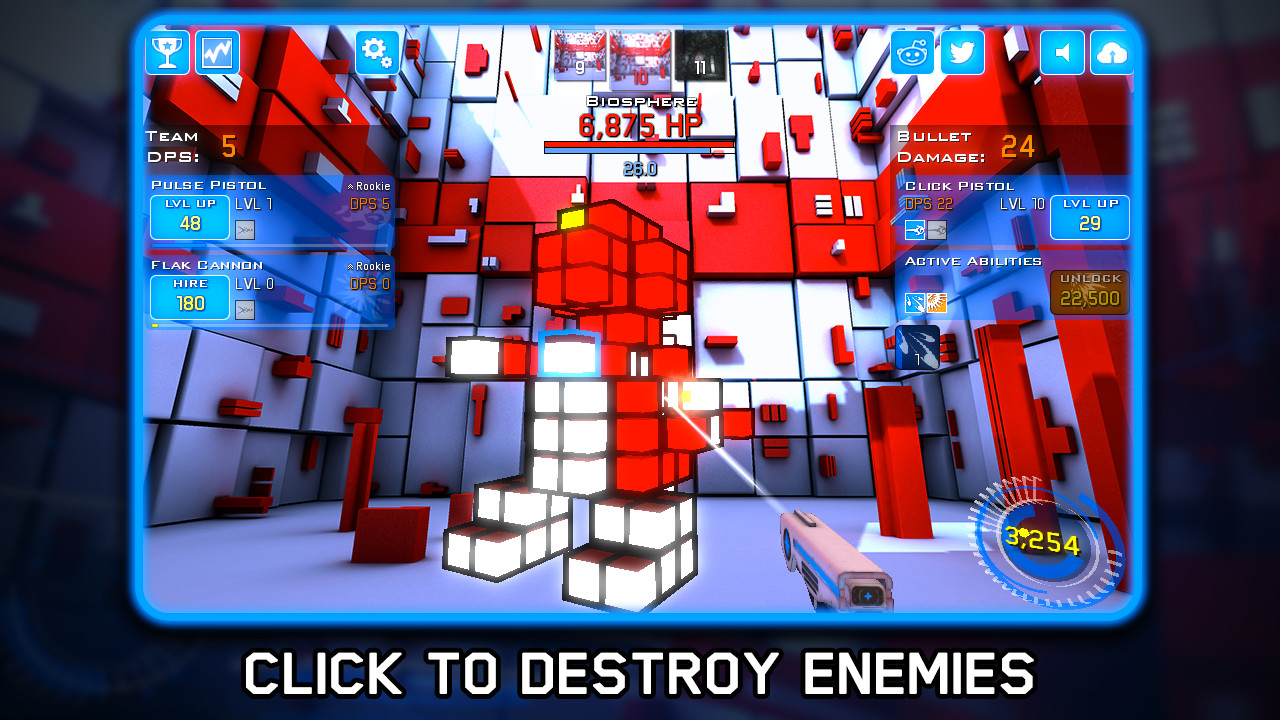 Shoot to thrill, or in this case, click to thrill. This game is to FPSs what Tap Titans 2 is to JRPGs. You are in a first-person view and are given the task to gun down cubes that drop currency. You use said money to upgrade your guns to make bigger bangs and explosions onto bigger and tougher cubes.
Every few rounds there's a boss that acts as a huge bullet sponge. Kill it before the timer rounds out unless you want to get sent back a couple of stages and grind for better weapons and damage power-ups all. It's the kind of meditative repetition that works as pretty-looking timesinks.
Crusaders of the Lost Idols (PC, Android)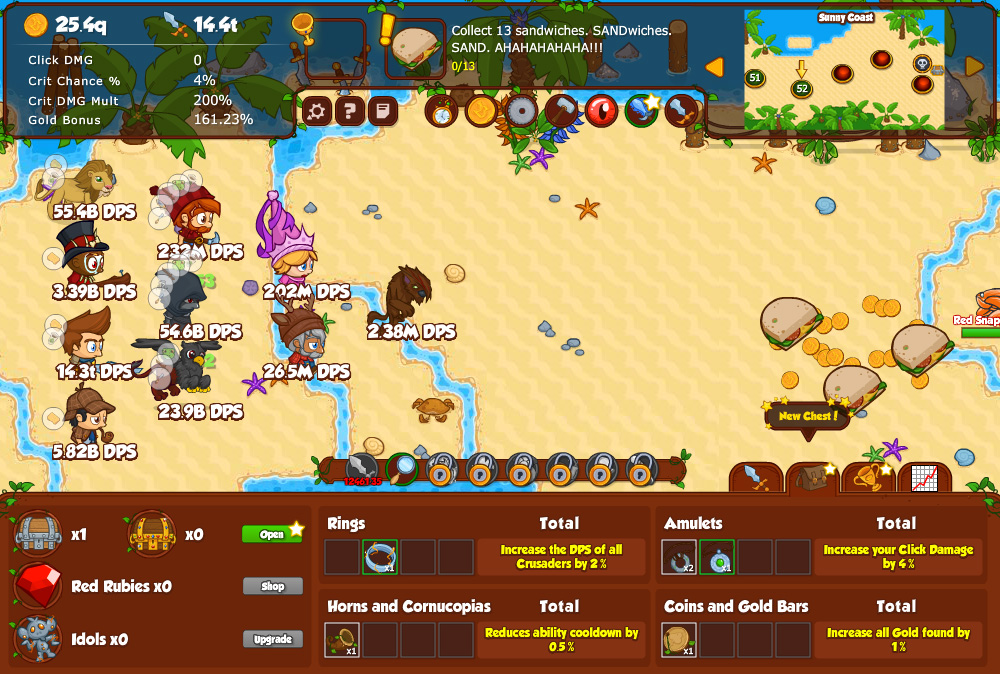 Finally, we cap this feature off with a hybrid clicker game. Call it an RPG, call it a sidescroller; it's still a clicker game in the end.
Control a group of fantasy heroes and defeat bad guys like orcs and goblins for more gold. Use that gold to buy more heroes and crusaders, level them up, and purchase them new skills. Pretty soon, you'll not have a group but an army to control. There's a bit of strategy in this seemingly-mindless game: heroes can do more damage if they're positioned at certain places in your group. Rearranging your party can maximize your flow of gold too.
In any case, Crusaders of the Lost Idols is quite a click trip if you fancy yourself a slightly-taxing clicker game. Get it here on Steam. 
There are a lot more clicker games out there, but we feel that these are the best ones in the market and in 2019. We'll update this list with more clickworthy titles in the near future; let us know about them either on this here article or on Facebook.