Games can be hard, but if you've played Sekiro: Shadows Die Twice, you're probably reconsidering what difficulty even means.
Sekiro is a game that preys on the typical gaming habits we may have developed over the years. Dodging, a staple in action games, just doesn't work against many attacks; to effectively win, you may have to put yourself into the thick of a fight.
If you feel that you've tried all you can and need a little more to overcome Sekiro's trials, you've come to the right place.
We have some expert tips on how you can improve your gameplay and eventually take down that troublesome boss.
#1. Guard, even in safety
Naturally, guarding protects you from incoming blows, but did you know that it can also help recover your Posture?
Since having your Posture broken will leave you open to attacks, you may decide to retreat when the gauge gets too high. Don't just move around while doing this, though. Guarding during this downtime will recover your Posture much more quickly than without, which can be helpful against aggressive opponents that give you little breathing room.
#2. You can deflect multiple attacks in a row
When you play through Sekiro's tutorial, the game quite appropriately teaches that you can deflect attacks by timing your guard just as an enemy's attack lands. You'll want to perform deflects, as these build up Posture damage on the opponent that eventually net you a devastating Deathblow.
However, you may have noticed that many enemies in Sekiro do more than just one attack, like this friendly chap below:
Some of these attack patterns are quick and give you little room for retaliation, but that doesn't mean you're helpless against them. If you time your guard button correctly against these attack strings, you can deflect each individual hit and rack up some serious Posture damage.
We recommend recognising an attack pattern and then counting the hits. Don't worry about mistiming, because the game is cleverly designed so that Sekiro will still block against quick, consecutive attacks. Treat it as if you're playing a rhythm mini-game and you should be fine (you may even have a little fun).
#3. Vitality or Posture?
Sekiro is different from many games in that both you and your enemies have two important gauges, called Vitality and Posture. Vitality represents the traditional health bar whereas Posture shows how close you are to breaking an enemy's guard. If you've played fighting games such as Street Fighter, think of Posture as a stun gauge that helps you land big damage once filled up!
There is one problem though: Some Posture gauges recover quicker than the damage you dole out. If even immaculate deflects don't work against them, consider going for the actual health gauge instead. The more Vitality lost, the weaker an enemy's Posture becomes, as shown in their Posture gauge changing colours.
Sometimes the best approach to victory is a less obvious one, so try whittling their health down before trying again.
#4. Dodge when the time is right
As we mentioned before, sometimes you'll want to go in for an enemy's Vitality. Occasionally, you can get one or two good hits in after a successful guard, but this isn't always the case. There are some tough opponents out there that guard exceptionally well or attack relentlessly so even Vitality damage may prove difficult to achieve.
For these enemies, make sure to look out for attacks with long recovery animations that leave them wide open. Instead of guarding against these and getting yourself locked in blockstun, a well-timed dodge could let you immediately hit them as they swing down.
#5. Staggered? Try guarding
There are some brutal enemies on the road that will send you reeling more than once. Getting staggered from an attack is par for course in a game like Sekiro, which is why you should also be familiar with the options you have in this sticky situation.
If you've played previous Souls games or Bloodborne, you may have the urge to roll away from your troubles. This is a fine tactic, but it's less effective in Sekiro due to how easily attacks track you.
Guard, however, and your character will recover much more quickly from the stagger and be protected against any further attacks. If your Posture isn't in critical danger, this is the best option to quickly get yourself back into the action.
#6. Watch out for sparks
Going on the offence isn't as scary as it initially appears. There are distinct visual and audio queues that signal when you should stop attacking to take up a defensive stance.
Look for big flashes of sparks and a loud clang – a similar effect to whenever you deflect an attack. This means that an enemy deflected you and now has the advantage. Stay attentive and immediately guard or deflect, and you may just make it out alive.
#7. Know the best counters against Perilous Attacks
In case you didn't know, Perilous Attacks are attacks which you cannot guard against. Whenever a Red Symbol appears over your head, that means a Perilous Attack is coming. These are comprised of three types: Thrusts, Grabs, and Sweeps.
Thrusts are attacks that move straight towards you, so you'll want to deflect them or dodge to the side.
If you learn the Mikiri Counter under the Shinobi Skill tree (like our previous guide told you to), you will be able to counter these relatively easily by dodging towards the enemy for a lot of Posture damage.
Grabs will catch you in an enemy's grasp and allow them to deal huge amounts of damage. The easiest way to avoid these is by jumping away.
However, if you perform a well-timed dodge instead, you'll be able to land some good damage in retaliation.
Lastly, Sweeps are circular attacks across the ground that can be avoided with a jump. If you're up for it though, try jumping towards the enemy and pressing the jump button in mid-air for a kick.
It's a counter specific to Perilous Sweeps that also deals heavy Posture damage.
#8. Prosthetics are a helpful niche
In all the chaos, it can be easy to forget about the Shinobi Prosthetic, a handy make-shift arm equipped onto Sekiro. This prosthetic and its different abilities can be difficult to make effective use of, seeing as they're limited by a resource known as Spirit Emblems.
But certain Prosthetic arms can turn the tide of battle if you use them well. Shurikens drop enemies that like to take to the air, and Firecrackers stun even the deadliest of beasts. If you manage to find a weakness, the Shinobi Prosthetic may help determine the difference between life and death.
#9. There's no harm in running away
Last of all, if the cards are stacked against you, remember that escape is always a viable option. In Sekiro, death can mean the loss of valuable experience points and money. It also spreads a plague across the land called Dragon Rot that weakens a valuable boon called Unseen Aid.
These penalties only apply to true death, though. If you happen to get killed and decide to resurrect, you will still have the opportunity to make a run for it. This way, you can rest up and replenish your stocks and Resurrection Nodes for free before trying again.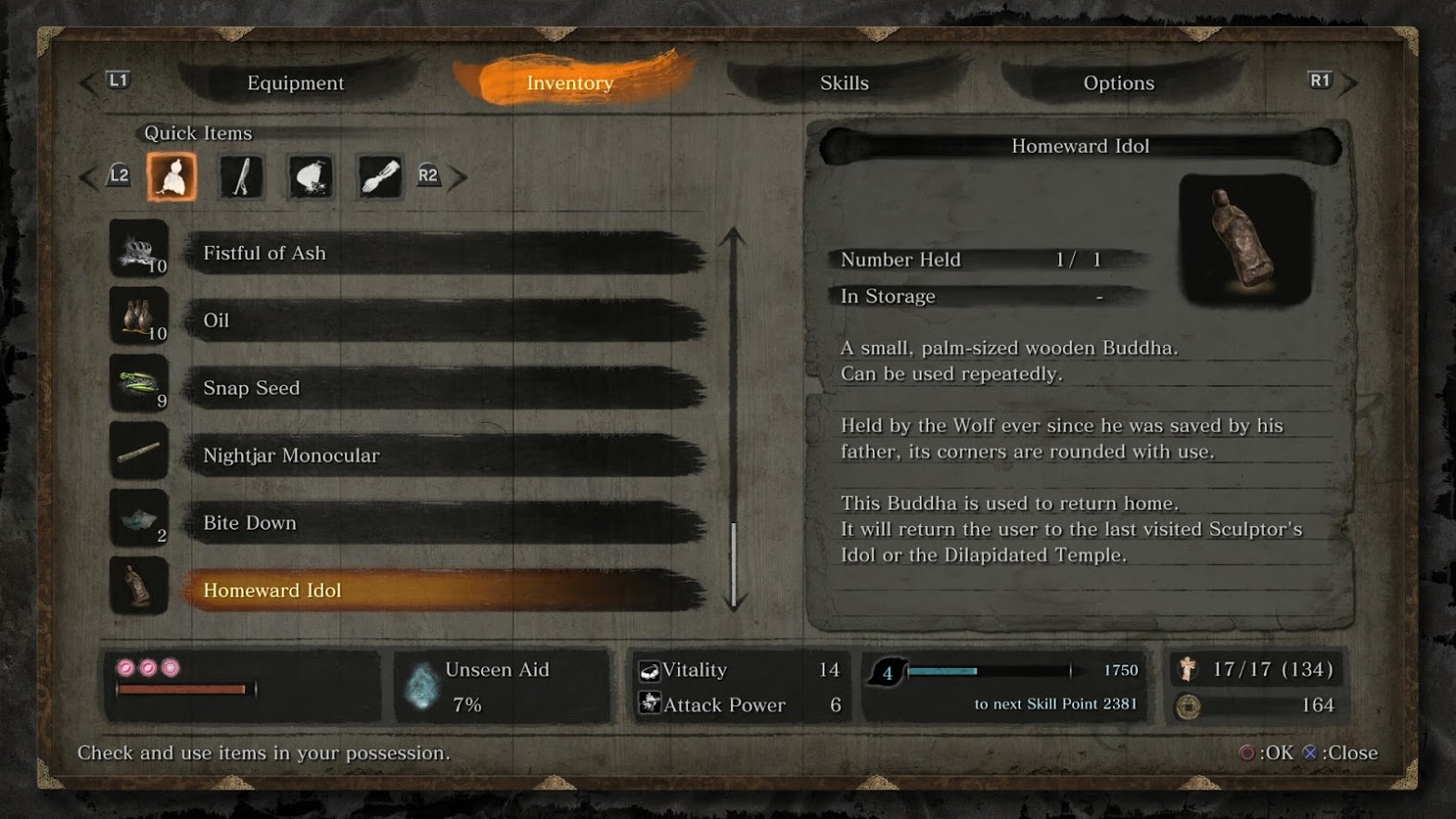 One very helpful method for getting to safety is through an item called the Homeward Idol. This exists in your inventory at all times and can be used to transport you to your last Sculptor's Idol (or checkpoint). It has unlimited uses too, so why not? Just be sure to use this in a safe spot, because the transport sequence lasts longer than you may expect!
Hope you find this expert-level guide helpful! Let us know what you think on the comments below or on Facebook.