We're not sure why Activision chose to call the next Call of Duty Modern Warfare, the same title as the 2007 masterpiece. Technically, the previous game had a "4" in there somewhere, so perhaps there's a slight hint of labelling logic there.
But we digress. What does this new Call of Duty offer? Quite a lot, in fact. Let's break it down.
A More Relevant & Current Experience
This reboot of sorts will take place in a "morally gray world". Infinity Ward's studio narrative director Taylor Kurosaki said that they're putting the Modern Warfare 3 story to bed and reimagining the same characters in the conflicts of today.
"The world we live in is more complex than the one 10 years ago. Enemies often do not wear uniforms … as a result, civilian collateral damage is a bigger part of the equation." Basically, Call of Duty: Modern Warfare is akin to the Casino Royale reboot in 2006 where James Bond is reimagined in a more grounded tone. Other influences include Sicario, American Sniper, and Hurt Locker.
According to recent previews, the game's first few stages are meant to showcase some levels of provocation. One stage takes place in London where SAS soldiers take care of a hostage situation, which then escalated quickly when "civilians" end up getting shot and killed.
Another stage takes place in the Middle East where you control a child escaping from Russian invaders. She ends up killing them through guile and stealth; it's possible that you'll be playing as this new character when she grows up into a freedom fighter.
The team is striving for authenticity and realism; a military sim that's gritty yet violent. Seems like they're doing a good job so far, especially with its new game engine that's rendering everything hunky dory.
Co-op Experiences
Just like the game's Spec Ops mode back in Modern Warfare 2 and Modern Warfare 3, this new Call of Duty will have co-op experiences that have equal billing as the campaign and multiplayer mode. You will get to "squad up and play cooperatively in a collection of elite operations accessible to all skill levels".
That means the new co-op stages will either be from campaign levels or entirely new scenarios with specific objectives across a variety of difficulty levels.

It Will Feature PC-Console Crossplay
In a franchise's first, the "reimagined" title will feature crossplay support for multiplayer on PS4, PC, and Xbox One. This may be a major milestone for community gaming and, dare we say, esports.
Here's the official statement from developer Infinity Ward:
"With the launch of Modern Warfare, the team is taking steps to unite the community. First, the team plans for Modern Warfare to be played together across PC and console through cross-play support."
This isn't stopping exclusivity for some consoles though; PS4 will be getting dibs on new content before the PC and Xbox One versions.
It Won't Have A Season Pass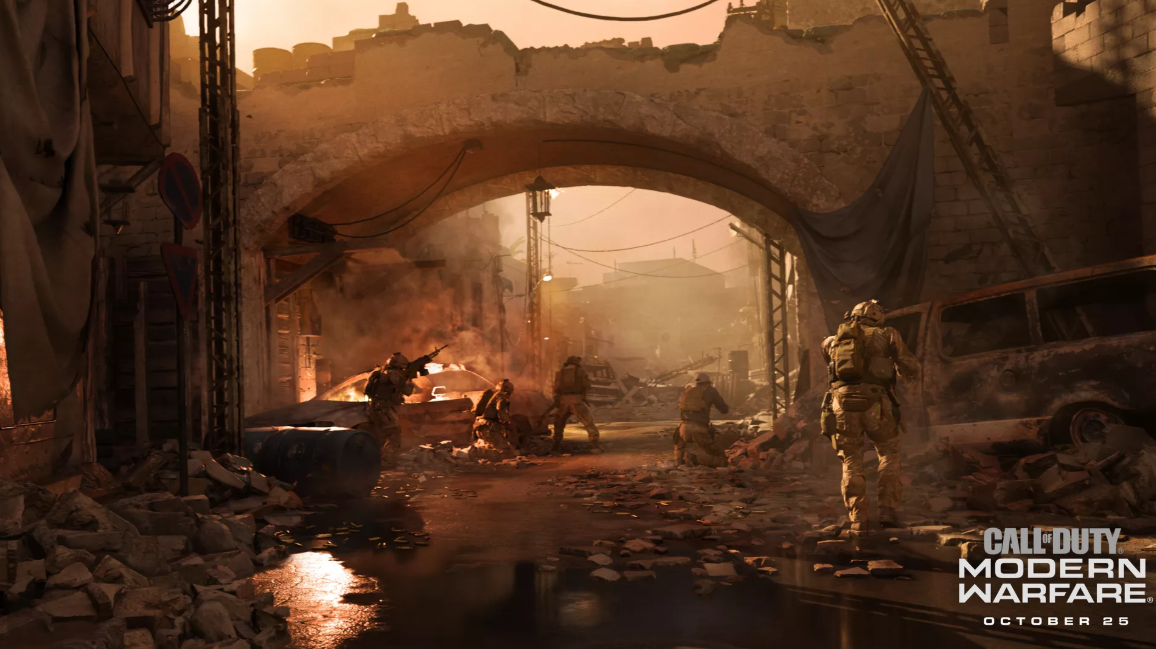 In a surprise move from Infinity Ward, Call of Duty: Modern Warfare will not feature a season pass. The developers plan to release more free maps and content, as well as post-launch events to all players.
However, the devs and Activision did not mention if the game will feature microtransactions.
A 25th October Release Date
We'll be getting the sequel in the next five months, a day before Halloween. Better mark those calendars if you want your modern combat fix, eh?
Related