During Microsoft's Xbox E3 2019 press conference, CD Projekt Red not only unveiled a brand new cinematic trailer for Cyberpunk 2077 but also a surprise appearance by none other than John Wick star Keanu Reeves himself on stage, who revealed the game's release date and the unexpected revelation that he will be featured in the upcoming game.
The E3 2019 Cyberpunk 2077 cinematic trailer showcases a brief backstory of the game's protagonist 'V', who loses his partner in a heist gone wrong. He returns to his employer for compensation before being greeted with a violent confrontation. The next thing we know, V loses consciousness and wakes up to a cybernetic Keanu Reeves.
Unfortunately, no new gameplay footage was shown, but the sheer awesomeness of Keanu Reeves appearing, not to mention the game's release date, is enough to once again drive the hype for Cyberpunk 2077 through the roof.
Cyberpunk 2077 Collector's Edition
According to the official website, here are all the additional cyber-goodies you'll be getting in the Cyberpunk 2077 Collector's Edition: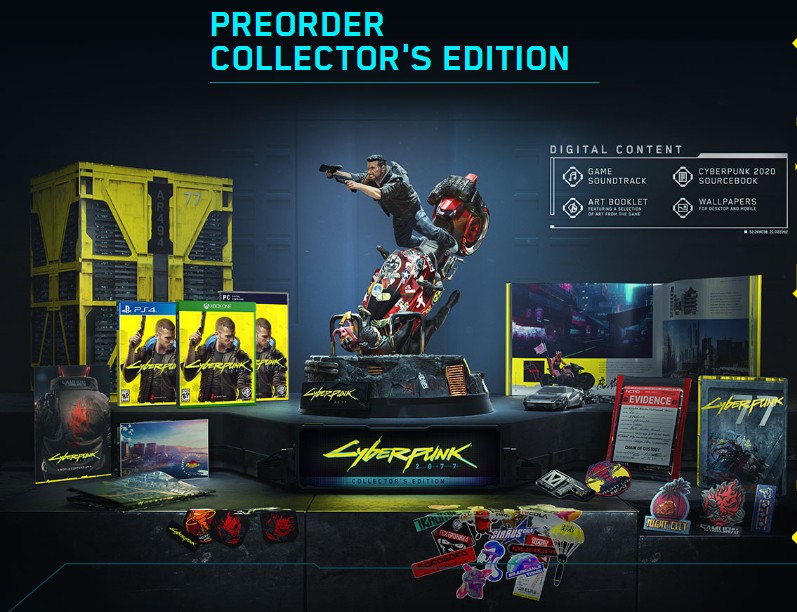 Collector's Edition Box
Physical Case With Game Disc (PS4/Xbox One)
Reversible Cover
Collectible Steelbook
25cm/10 inch Statue Depicting V (Game Protagonist) In Action
Hardcover Artbook
Metal Pin Set
Quadra Vtech Metal Keychain
Annotated Copy Of Visitor's Guide To Night City Sealed In An NCPD Evidence Bag
Embroidered Patches
Cyberpunk 2077 World Compendium
Postcards From Night City
Map Of Night City
Sticker Bomb Set
Digital: Game Soundtrack
Digital: Art Booklet
Digital: Cyberpunk 2020 Sourcebook
Digital: Desktop And Mobile Wallpapers
Cyberpunk 2077 is slated to release for the PS4, Xbox One, and PC on 16 April 2020. Check out the E3 2019 Cyberpunk 2077 cinematic trailer below.
[youtube https://www.youtube.com/watch?v=qIcTM8WXFjk&w=560&h=315]
---