To answer the headline on this Toy Story 4 review: yes. But it's not for the reasons you suspect.
Against all odds, Toy Story 4 did the impossible: it made it past the third film and still has a lot of collective ideas and narratives left to make you emotionally invested in hand-me-down toys given to a kindergarten-level kid from a college student. It also made me give a damn about a made-up arts-and-craft character and even, dare I say, a semi-creepy 50s doll.
Pixar should stop making Toy Story movies because I feel they are at their apex with this fourth film, at least where the franchise is concerned. Some may argue that Toy Story 3 gets the top spot in quality storytelling and life lessons, but Toy Story 4 is up there because it leads up to a great sendoff for the cast, particularly for one 50s toy cowboy voiced by Tom Hanks since day one.
Plus, I'm not sure if I can handle another Toy Story entry on an emotional level, because goddamn these folks know how to make adults sincerely cry a few tears.
Back In The Toybox
Toy Story 4 picks up a few months after part 3: the group embark on a road trip with Bonnie and a new addition to a group: a makeshift plastic fork toy named Forky. After some shenanigans, Woody ends up reuniting with long-lost friend/lover Bo Peep. Yes, we do get a quick showcase on how that Toy Story and Toy Story 2 side character got shafted in Toy Story 3, which now becomes the main focal point of this fourth tale. Like how Princess Schala was bumped up to important status in Chrono Cross. Only with Disney/Pixar CG toys.
Both of them are worlds apart: one still believes in the toy-child dynamic while the other is living free. Tom Hanks and Annie Potts show great chemistry as they attempt to hook up again while working together to help Forky (Tony Hale) out of an antique shop predicament, made complicated by a 50s toy named Gabby Gabby (Christina Hendricks) who resides in said shop with ventriloquist dolls as her cronies.
For a person who is directing a major theatrical film for the first time, Josh Cooley seems to knock it out of the ballpark with his choice of location -a carnival next to a sleepy town- and setpieces. Views we take for granted all look majestic and lovingly-rendered through Pixar's action figure-level perspective. He and the team also made sure that everyone from the new characters and returning ensemble gets enough ample screentime.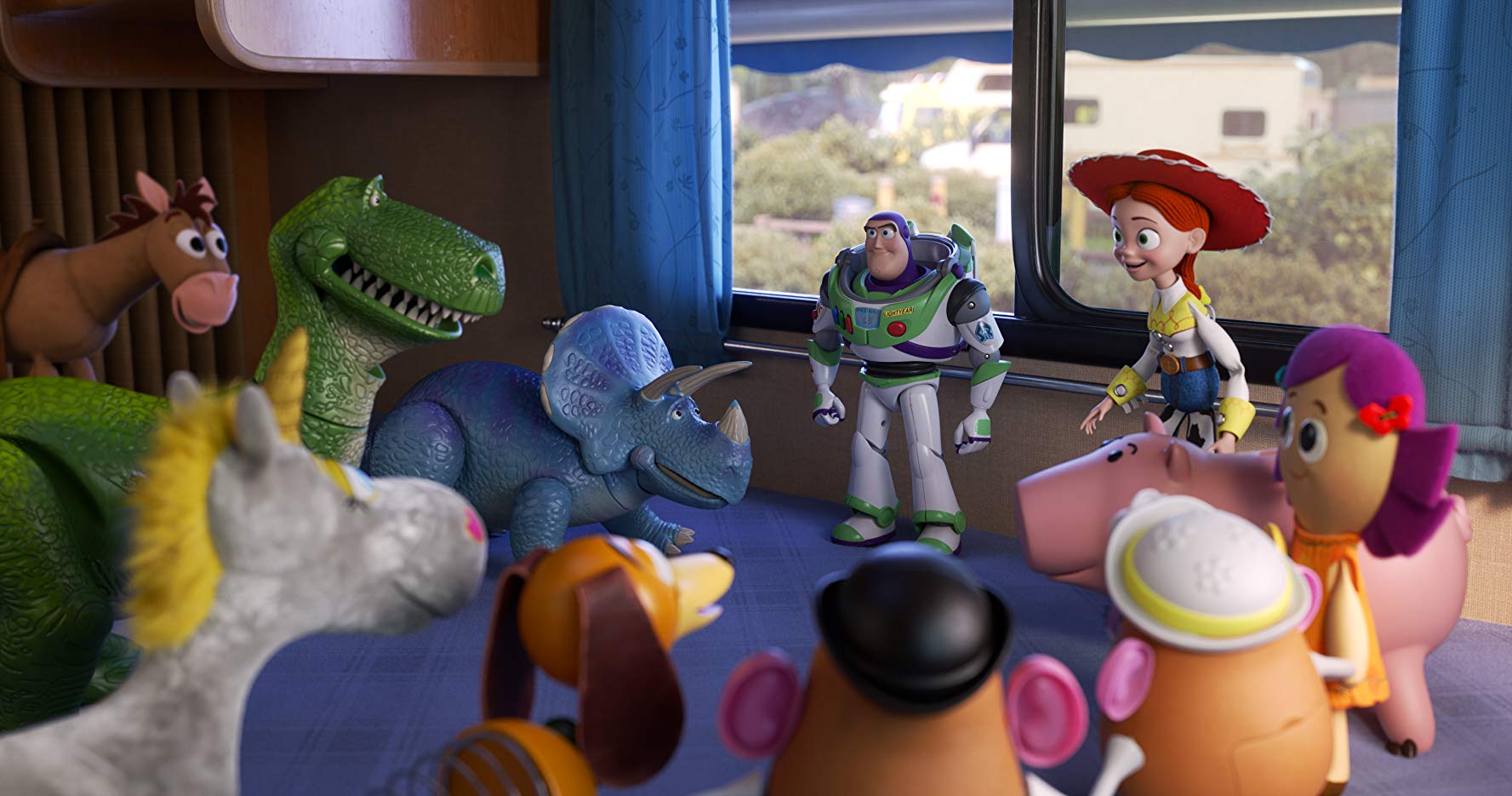 While it's obvious that Woody and Bo get the limelight, we get to see Tim Allen's Buzz Lightyear work alongside director-comedian Jordan Peele and partner-in-crime Keegan-Michael Key as Bunny and Ducky respectively. Bonnie's toy troupe like Trixie (Kristen Schaal) and Buttercup (Jeff Garlin) get a few laughs here and there together with Jessie (Joan Cusack) and the ever-loveable Rex (Wallace Shawn). Cameos like Keanu Reeves' Duke Caboom and Carl Weathers' Combat Carl play out their personas as action figures based on made-up 80s TV show archetypes to humourous effect.
From literal interpretations of inner voices to overactive imagination gags, the jokes and slapstick offer just as much essential weight as its emotional narrative regarding the idea of letting go and being free. Kudos to the team for perfecting that balance once again that entertains kids and makes adults and juveniles think a little deeper about what it means when you've fulfilled your purpose in life.
Finish Line
Much like how the MCU's 10-year story arc comes to a close with Avengers: Endgame, so too does Woody's story concludes with Toy Story 4. It's going to be really hard for Disney/Pixar to top this current act with another sequel, but they're welcome to try. For now, let's not dally on a far future thing; revel in the present and give Toy Story 4 a watch or two.
You can believe an animation studio can outdo themselves like how Duke Caboom can jump 40 feet and stick the landing.
FINAL SCORE: 90/100