One of the biggest surprises that came out of Marvel Studios' Marvel Cinematic Universe Phase Four reveal panel at San Diego Comic-Con 2019 was not only that Natalie Portman will be returning as Jane Foster in Thor: Love And Thunder, but that she will replace Chris Hemsworth's Thor as, well, Thor.
The announcement reverberated throughout social media, confusing many MCU fans who simply can't wrap their head around the concept of a female Thor. Blasphemy, you say? What if I tell you that there's actually a precedent for this in the comics?
The source material has already established a female Thor, and fairly recently too.
The Origin Of The Mighty (Female) Thor
It was only five years ago in 2014 that writer Jason Aaron and artist Russell Dauterman introduced a female Thor. To make things easier and understandable in context, let me start from the beginning.
2014 was also the year that Marvel Comics published their Original Sin crossover event, the end of which resulted with the original Thor Odinson deemed unworthy to wield his hammer Mjolnir.
What this means is that he could no longer even pick up Mjolnir, so it was left abandoned on the surface of the moon waiting for someone worthy again.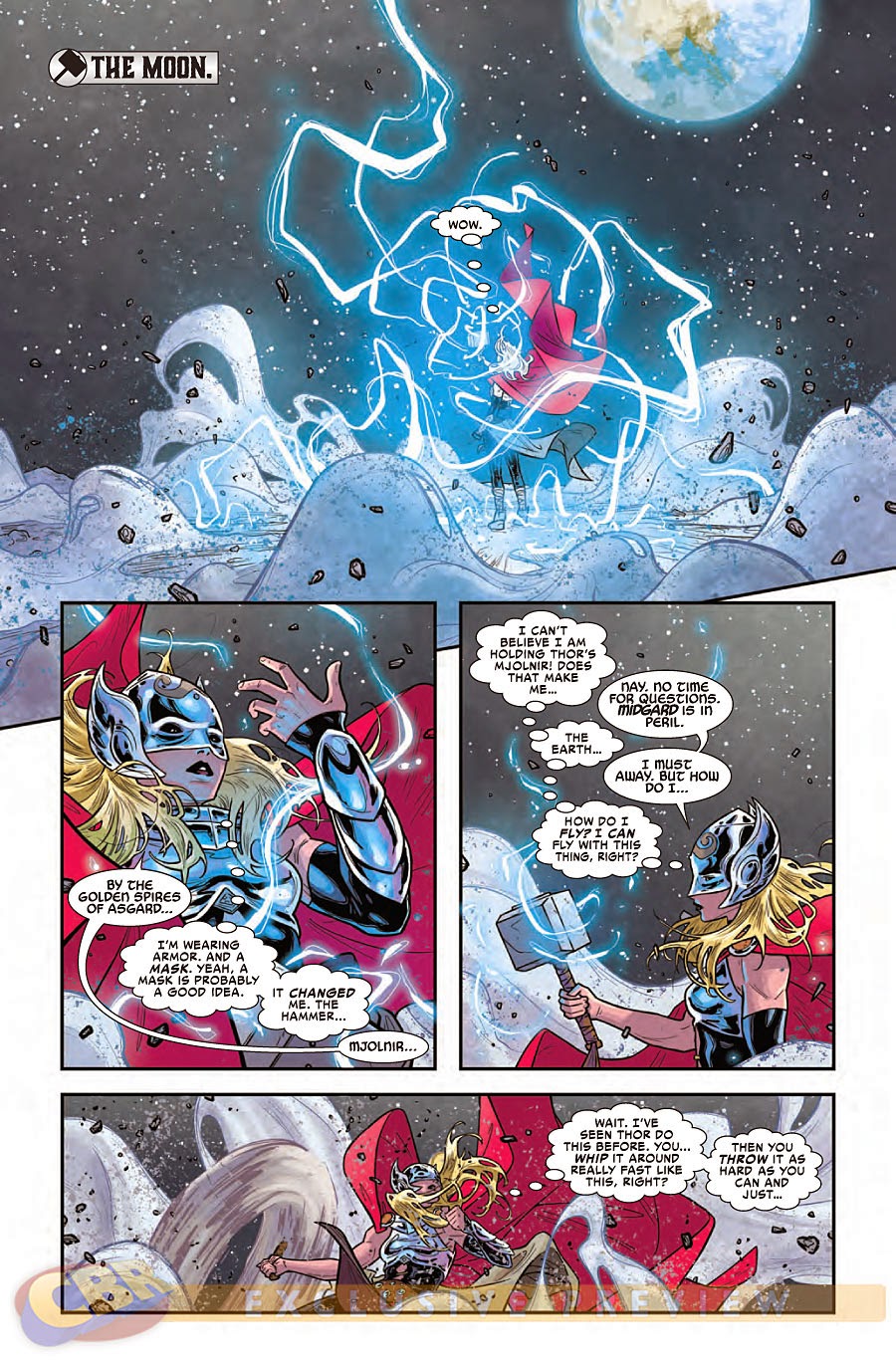 Fans were then eagerly waiting for someone to pick up Mjolnir. Sure, several characters have previously been worthy enough to wield Mjolnir temporarily, but who the heck is worthy enough to replace the original Thor?
They didn't have to wait long, because a new female Thor miraculously appeared shortly  after the events of Original Sin to dish out some thunder on a few invading Frost Giants on Earth.
Aaron didn't reveal the identity of this new Thor immediately, only doing so in issue #8 when the original Thor begged the new female Thor to reveal who she really is.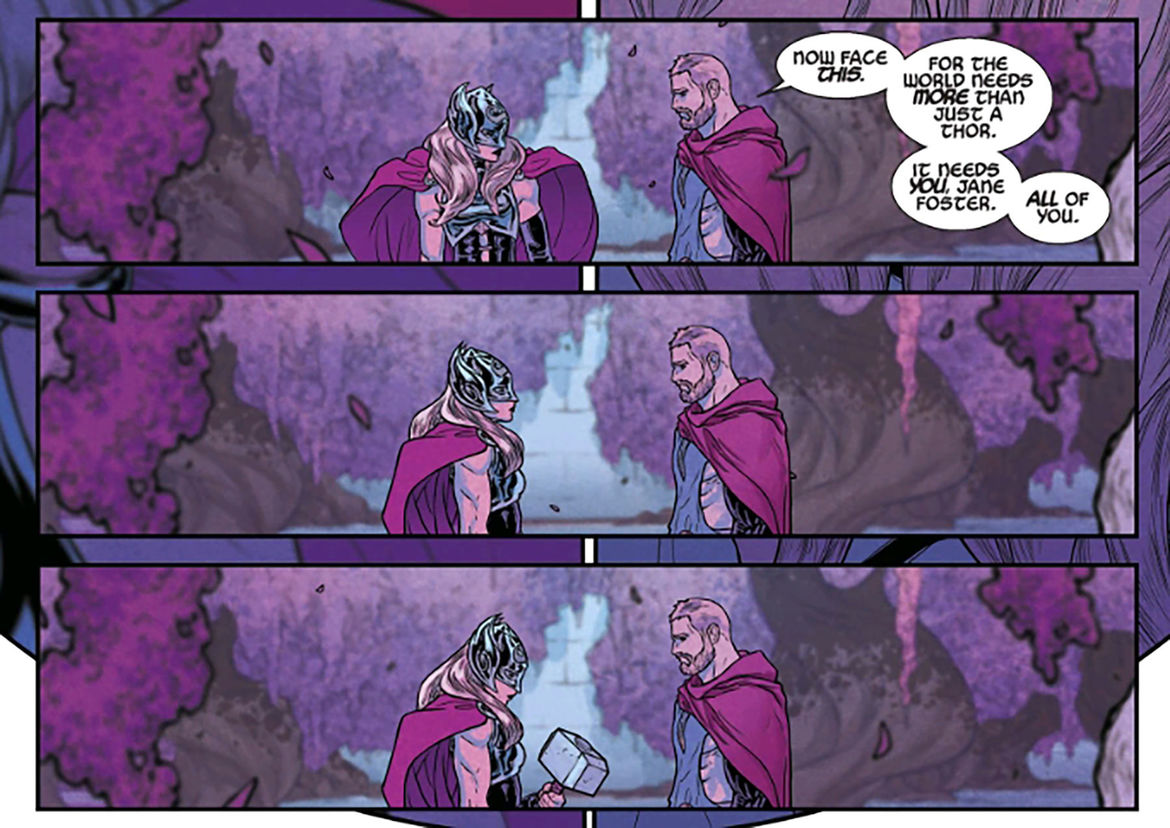 The bombshell dropped and the new Thor turned out to be Jane Foster, who is actually suffering from breast cancer and slowly dying due to her condition. She then drops another shocking revelation when she declared: "I am Dr. Jane Foster. And I will not stop being the mighty Thor. Even though it is killing me."
Yeah, one might assume that becoming Thor and wielding Mjolnir would somehow make her stronger or even cure her cancer. Instead, her condition worsens every time she summons Mjolnir and uses the power of Thor.
Comic book logic dictates that the transformation purges her body of all contaminants. Ironically, that includes the chemicals from her chemotherapy treatment but not her cancer cells.
Original Thor gives Jane his blessings, and she went on to become the Mighty Thor for a couple of years. It took a toll on her, and it all came to a point when Doctor Strange warned her that using the power of Thor just one more time will ultimately kill her.
However, when the vicious Mangog attacked Asgard (with the likes of Odin and original Thor unable to defeat him), she sacrificed both her life (by becoming Thor again) and Mjolnir by throwing it into the sun (along with Mangog).
Jane then finds herself in front of the gates of Valhalla. Odin uses what's left of his remaining Odinforce to bring her back to life, healthy and sans cancer.
She swears to use her new life to continue being a doctor, but this is the Marvel universe we're talking about, and soon another threat pops up in the form of Malekith and his War Of The Realms.
She takes part in the war by doing whatever she can to support the heroes behind the line, even without her powers. That is until she finds the Mjolnir from the Ultimate universe (Earth-1610) and becomes Thor once again to defeat Malekith.
The Mjolnir broke in the heat of battle but it turned out that she could reshape it into anything she wants (not necessarily a hammer), as it is actually an artifact called the All-Weapon (like All-Father or All-Mother, get it?).
The Valkyries all die (including Brunhilde, the hero also known as Valkyrie) during the war, but their spirits survived. They passed the responsibility of the Valkyries to Jane, and she is now the new Valkyrie (albeit with powers equal or potentially surpassing that of Thor).
What's So Special About Jane Foster's Thor?
Many accused Jason Aaron and Marvel of trying to appeal to social justice warriors by genderbending an established male character like Thor for seemingly no reason at all. Fans argue that the female Thor (and other similar gender-bend/racial-bend characters) were created simply for the sake of diversity, thus sacrificing compelling narratives and good character development in the process.
At first, I sincerely thought so too. It felt like they made the original Thor unworthy just to serve the introduction of a female version.
However, Jason Aaron has single-handedly been writing Thor comics since 2013, and since he's already proven himself a brilliant writer, I gave him the benefit of a doubt.
It turned out that I was right to do so, as Jane Foster Thor was unique and different enough from the original Thor that it justified her existence.
She was able to control and manipulate Mjolnir in a way that's graceful and more dynamic than the original Thor ever did. Thor Odinson used Mjolnir to bash heads and hurl it at enemies as hard as he can. That's usually his primary strategies, which is frankly getting stale.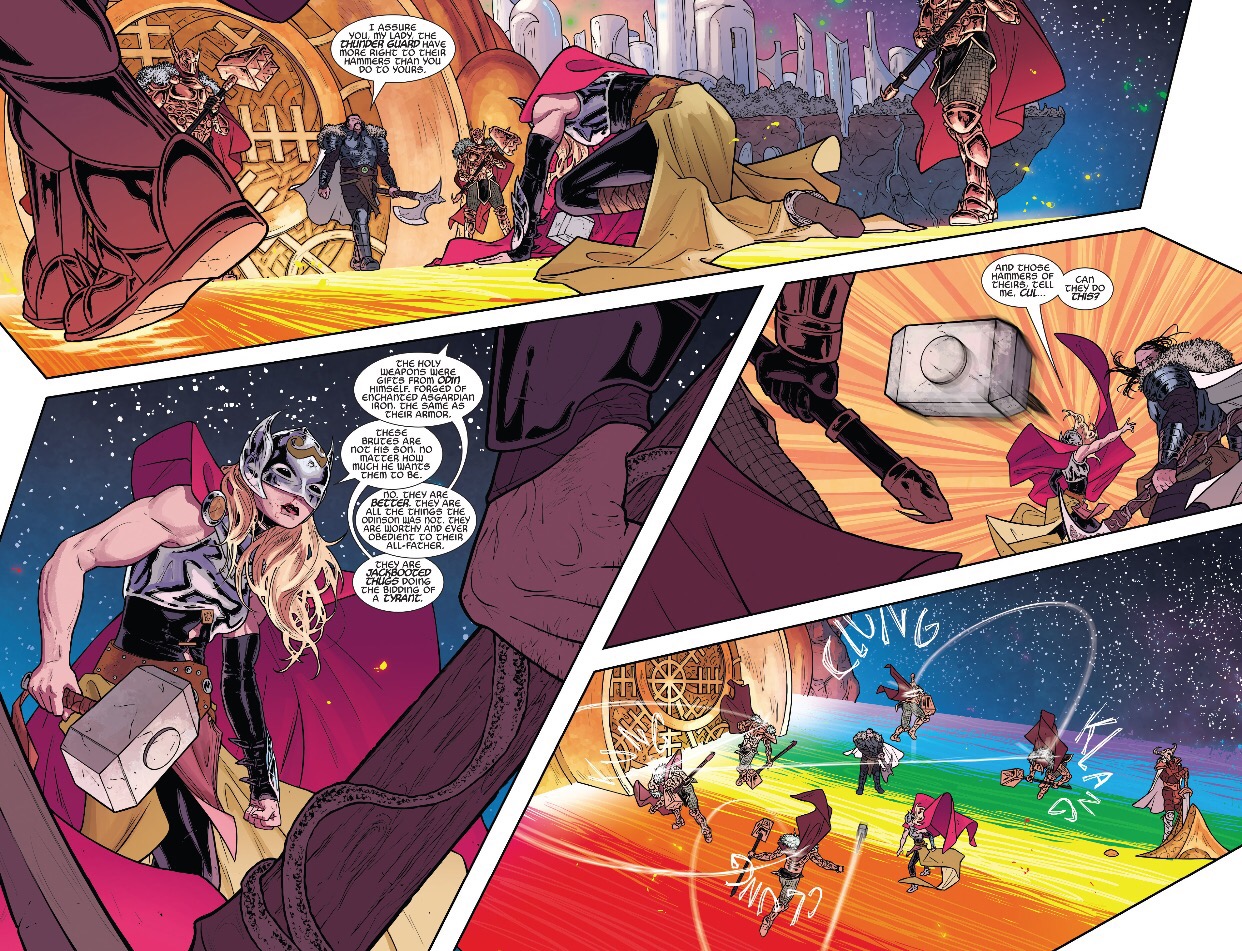 In comparison, Mjolnir comes alive in the hands of Jane Foster, flitting and flying around at breakneck speeds like a frisbee with a mind of its own.
I also like that Aaron didn't simply go the lazy and frustrating route of having her spout feminist crap all the time. She challenged the Asgardian system of hierarchy and questioned Odin's rule in a way that Thor never really did (until now, but that's a story for a different piece).
Jane Foster is worthy because she is brave and ready to do the right thing, even at the expense of her own life. Instead of lying in a hospital bed awaiting her death, she uses her final remaining vestiges of life to fight as Thor.
There must always be a Thor, and for a while, she truly was one. She taught me that anyone deemed worthy enough can be Thor, even if they are mere mortals dying from a disease. You don't need to be a god to be Thor. It's part of her legacy that the inscription on Mjolnir now reads "they", instead of "he" or "she".
Is Natalie Portman's Jane Foster Worthy To Be Thor?
Having said all that, the biggest question right now is whether Natalie Portman's Jane Foster is worthy to be a female Thor.
As I recall, Portman's Jane Foster was devoid of personality in the first two movies. Her character was underwritten, and she had no real chemistry with co-star Chris Hemsworth's Thor.
To be fair, Jane Foster in the comics has never been interesting either. That's part of the reason for fans' backlash back in 2014, but at least she had a long history and relationship with Thor to capitalize on.
The MCU version of Jane Foster can't really boast the same. The last time we saw her was in 2013's Thor The Dark World, but she was recently mentioned and seen briefly in this year's Avengers Endgame. Plus, Thor Odinson has developed into his own independent character in the absence of Jane Foster.
How the MCU version of Jane Foster could ever become Thor is another conundrum. Mjolnir is no longer available in the MCU, and the fact is that Thor Odinson is still very much worthy, as seen in Avengers Endgame.
Thor: Love And Thunder could potentially reveal that Jane Foster is suffering from cancer, but besides that, none of the catalysts for her to become Thor actually line up.
Sure, Earth doesn't technically have a Thor right now, but Thor Odinson is just away in space and could theoretically return at any time with Stormbreaker in hand. On the other hand, perhaps something could happen in Thor: Love And Thunder that makes Thor Odinson unworthy.
Natalie Portman is an award-winning actress. She could just be waiting for a great script that would elevate her version of Jane Foster beyond the bland love interest we've seen so far.
As I've previously pointed out in my Spider-Man: Far From Home review, Peter Parker is the MCU's first true legacy character. With Jane Foster becoming Thor, she would be the second.
I didn't like 2017's Thor: Ragnarok, but that won't stop me from looking forward to Taika Waititi's Thor: Love And Thunder. Thor: Love And Thunder is slated to release on 5 November 2021.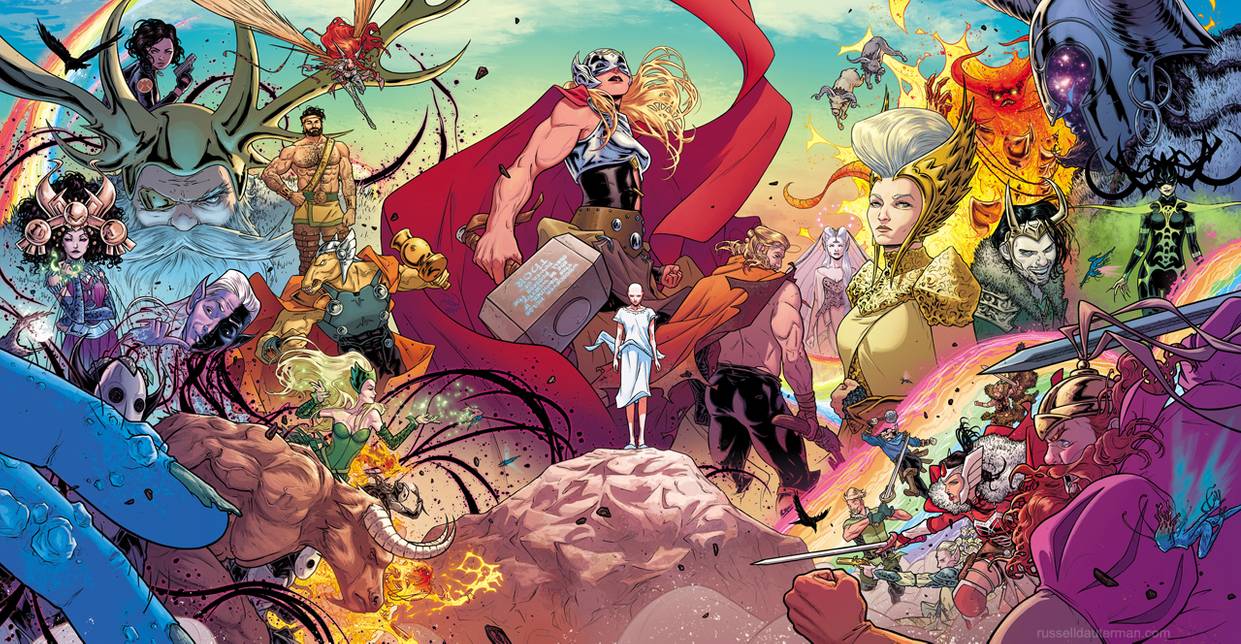 ---