Platform: Xbox One, PC
Genre: The OG cover-based shooter with that gun with the chainsaw
One may argue that the latest Xbox/PC exclusive cover-based shooter set in a gritty future filled with humanoid monster hiveminds is just reiterating on the same formula. But at the very least, you'll get a really polished and meaty experience out of it. Oh, and some nice eye candy and PC benchmarking opportunities.
And man: Gears 5 is indeed a beautiful, BEAUTIFUL game! Developer The Coalition are masters of the Unreal Engine since (most of the) team has worked on past Gears titles, so having a well-rendered game is a given. But aesthetically, the new snow and desert levels do stand apart from not just the franchise, but from other shooters as well.
Yes, I know they've done snow levels in Gears of War 2, but Act 2's vistas and landscapes are a different beast. But all things considered, is it just the same game with a fresh new coat of paint? Is Gears 5 a lot more bombastic and action-packed than the last Gears title?
In a way, yes.
Campaigning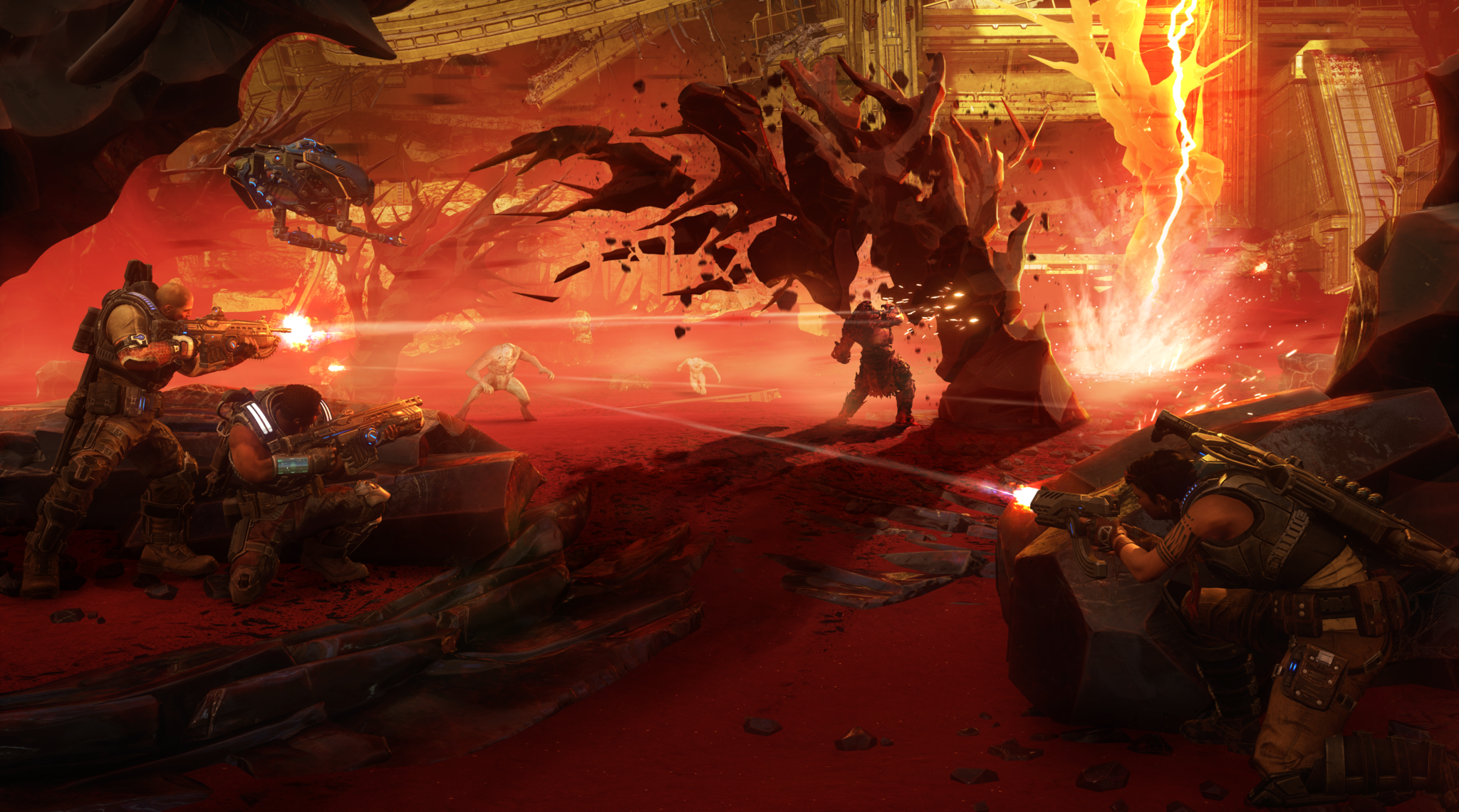 The plot is basically this: Gears of War 4 protagonist Kait Diaz wants to find out more about her secret ties to the Locust since it was teased at the end of that game. Without going into spoiler territory, you'll have a bunch of plot stuff going on involving other protagonists JD Fenix and a few callbacks from the first few Gears of War games.
Remember that giant worm you killed in part 2? There's a huge callback to that in Act 2. And yes, the infamous Crimson Omen jingle makes a return in some form.
There's even the obligatory "make your final choice between two important things for the climax" story moment that feels tacked-on; like it actually matters because one choice seems more obvious than the other. There's really no weight that rests in your decision unless you're really into the game's lore.
Narrative-wise, Gears 5 has its ups and downs that thankfully do not sour the gameplay experience. Act 1 plays out like a typical single-player shooter campaign with corridors, open-air street areas with conveniently-placed pillars and chest-high barricades for Gears-patented cover combat.
Act 2 and Act 3, on the other hand, take on a more non-linear approach. You gain access to a skiff that takes you to multiple spots here and there, be it to complete the main campaign line or finish some side quests. Said quests involve a lot of shooting and killing, with rewards that tie into a character mechanic I'll get to later.
Personally, I get why The Coalition wants to shake up the formula a bit instead of reusing the simple straight campaign path formula (which they got back to in Act 4). They did put some thought into making it a breeze. And in Act 3, they did add in a sequence where you had to drive your way out of the game's wind flare sequence -think desert tornado with loads of lightning that summons fortified sand sculptures. But beyond that, it's still reeks of artificial padding.
It isn't too much of a bother though, because the actual shooting and cover-taking in the game are still fun. The game throws a lot of Swarm types at you, including new ones like the suicide bombers (Juvies with frags), the mobile aerial enemy harasser that can also down you if you're not paying attention (Flock), the fast melee hard hitter who can only be hit in the head (Warden), and stationary-at-times suppressive fire folks (Stumps).
These fresh new enemy types help make the game challenging, especially on higher difficulty levels and the fact that your heroes in the campaign have less health than in previous games.
The Gears 4 enemy types come out in full force too and will fight you in different locales, designed to make you take cover at temporary spots and move you around. These include a space station hangar housing a centrifuge, a red sand playground where the game's windflare creates temporary cover, and a battle on breakable ice that can one-hit kill even the toughest Swarm with a well-timed grenade.
There's a huge sense of satisfaction when you're down to your last bullet, being cornered by two beefy Scions with impenetrable Bastion shields. I threw a frag grenade beneath them. It explodes, shatters the ice below, and just straight-up murdered them. Creative kills through desperation; that's the campaign's level design in a nutshell.
There's also a pretty tense boss fight involving a pretty fast ugly monster and requires a lot of co-op coordination to even win. I learned the hard way that the game's friendly AI is not helpful at the slightest. Half the time, they won't prioritize reviving me when I'm downed by a sniper. So yeah, play this with actual people who know they have your back.
Luckily, Gears 5′s new addition makes the firefights all the more manageable.
New JACK City
Gears 5Â introduces player powerups this time around for both the single-player and multiplayer mode. I'll focus on the former: you have JACK to do all of that. And boy, does he make your team OP at times.
JACK, the droid that follows you in every mission, is now more than just a bot that opens doors. He can participate in combat and can be upgraded with new fancy group-buffing abilities. Want to add armour for all your pals? Use Stim to power on through hazards and enemy fire. Need to set up a hot zone? Use Shock Trap to zap enemies and keep them away.
Side missions in Act 2 and Act 3 let you add further power-ups for JACK to make the game somewhat easier. My personal favourite is the one that lets you still remain cloaked when you fire your gun. Coupled with the other bonuses like staying invisible longer if you kill something, and you can stay hidden longer than usual while the Swarm are standing idly by, dumbfounded. Again, the game's AI late in Act 3 onwards need a bit of work.
Still, the moments where it plays out as intended -challenging and action-savvy moments that require you to be practical and creative with JACK's powers- is the core fun of Gears 5.
As fun as the new weapons are, like the LMG-esque Claw and the long-ranged Breaker Mace that's dropped from a dead Warden, JACK's new abilities are the MVP of Gears' weaponry.
Runaways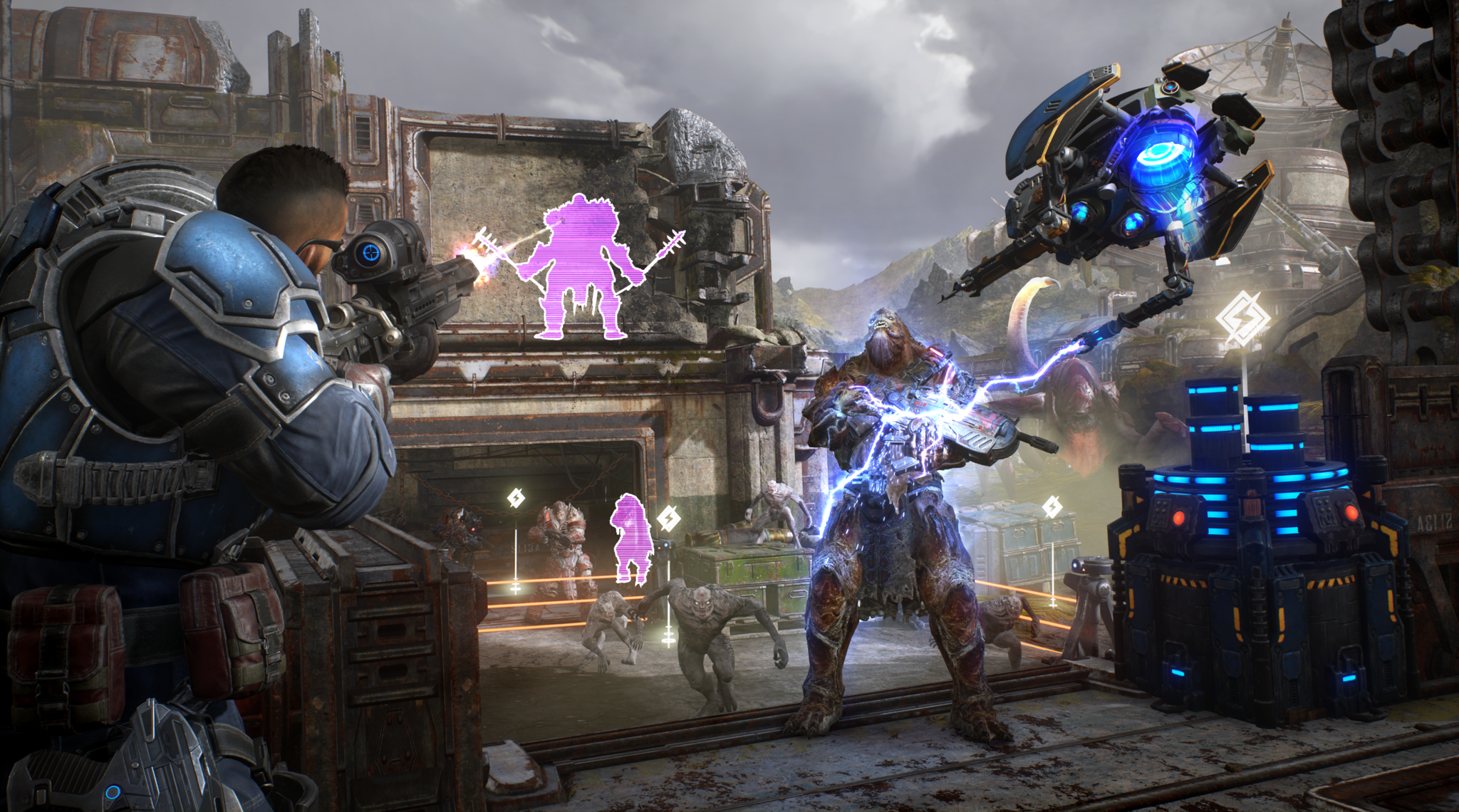 Let's face it: Gears 5 is not going to top the current Call of Duty or Rainbow 6 as the de facto PvP shooter of choice. There is PvP in Gears 5, but clearly, The Coalition's design efforts are tailored towards PvE; something that's lacking in the console and PC space as of late.
And it shows in the improved Horde mode and the Left 4 Dead-inspired Escape Mode. They are enjoyable as heck, even after wrapping up this review.
Horde Mode pits your team of five against an endless wave of Swarm foes from the small Juvies to the giant Snatchers. There's a Fabricator that makes barricades and turrets for you, which feeds on "cash" you get from killing foes. There's not much of a twist here save for the in-game purchasable character upgrades.
It's still enjoyable just like before; having to hold out for 50 rounds while the AI throws big baddies and the ever-annoying Snatchers and Stumps to throw you off-guard. And there's the added challenge of mutators which include having to kill downed enemies up-close.
In Escape Mode, the three of you have to get out of a Hive base with limited resources and an enveloping Venom gas that fills up the room with player-killing gas. You'll have to switch between guns constantly, find safe houses and caches to stock up temporarily and melee a lot of Swarm and Juvies to save ammo when needed. Luckily, your selected character has a mode-specific power-up that can turn the tide a bit, be it a temporary ammo depot or a shock-charged melee attack.
It's simple, effective, and fun. The higher difficulties of Escape Mode means more modifiers like faster Venom or bullet sponge enemies, which leads to thrilling escapes and close call moments. Like when your team is fresh out of bullets and the door closes just in time before that giant Pouncer leaps to your safe zone to eff you up.

Or when you're facing a fully-armoured Warden with no bullets left; hightailing it before the venom fills up the stage seems like the smartest thing to do.
Protip: if you don't like the pre-made Escape maps, you can make your own. The tool is pretty straightforward to use: you have a budget to determine enemy and weapon placement so that you can't go too over-the-top. I do hope in the future they take this limiter off so that budding level map makers can make their own insane creations.
Versus is your standard PvP mode, where you gain points you can trade for better weapons. It's fine, but I had more fun just teaming up with people in the previous two modes than this one. Your mileage may vary.
And if you're not a fan of levelling up your characters in multiplayer mode for loadouts and stuff, Gears 5 isn't going to change your mind. To get player buffs for your selected character, including the Terminator and Sarah Connor, you'll need to play multiplayer mode a lot more than usual. It's not a slog, but it will take up your time in investing.
The game may not be taking the crown for the PvP bits in shooters, but at least it entertains where it matters: with group-based co-op "them against the world" kind of fun that's sorely needed in this esports competitive-centric landscape.
Same Old Song, But With Better Instruments
Is Gears 5 going to convert shooter fans? Maybe, because the weight and heft of combat and cover-taking coupled with the graphics and landscape make for really fun if slightly familiar gameplay.
Does it have legs beyond its 10-hour campaign? Yes, because Horde and Escape mode are a blast to play with multiple people around. In time, I do hope Gears 5's co-op modes gets the attention it deserves.
Newbies may not find any reason to jump onto the Gears train unless they plan on playing co-op through and through, but shooter fans and series veterans will be in for a bloody treat with this sixth iteration (counting Gears Of War: Judgment, FYI).
Just don't expect a major breakthrough in the formula.
Pros
Great gunplay & levels in both single and multiplayer mode.
Jack's assists are a good addition.
Incredibly beautiful game with lovely vistas.
Story is a treat for Gears lore fans…
Cons
…until the Act 4 story choice nonsense.
Open world segments feel like unnecessary padding.
Some immersion-breaking bugs in Act 2 and beyond.
FINAL SCORE: 80/100
Related