Streets of Rage 4 is an awesome throwback beat-em-up that's made for 2020; it also pays huge respect to the past 90s series. By now during the weekend you should have at least cleared the game a couple of times. If you notice, there are rankings you can get for each level from the easiest to the hardest difficulty. It's not easy to get the highest ranking for each stage, try as you might.
This guide is solely for getting an S-Ranking for all difficulties and getting the "Maniac" achievement. While the enemy count and speed are higher and faster, the principles are the same. Let's break them down:
Know The Criteria
Your high score to get an S ranking is determined by the final score of the stage plus these conditions:
Time Bonus: How fast you complete the level. The lower the time, the better your score.
Health Bonus: Basically how many lives you've accumulated, though if you at least lose one, it won't be a huge demerit. Worst-case scenario, you'll lose one life in the end-of-stage boss fight. You can still get an S as long as the other two conditions are available.
Star Bonus: The number of stars you collected. The more you have, the higher the score.
To sum it up, you can get an S (or A) ranking if you're fast, take as little hits as possible (no hits = best),  and if you hoard your stars. Doing this should at least get your score to 20,000 and beyond, which is also a prerequisite for getting S ranks.
Obviously, it'll be harder to get S Ranking at higher difficulties because of a higher score requirement. Plus, enemies can move pretty fast and strike you first even though you swore you hit the attack button first. There are also other factors to take into account that tie into the aforementioned conditions.
Which bring us to:
Beating The System & Enemies
As with all beat-em-ups, the odds are usually against you in horde numbers and damage. Fortunately, you have a TON of tools at your side to clear the wave and stages as fast as possible with little casualties to yourself.
Use "love taps" with your jabs; these are a staple move in a beat-em-up. Press the attack button to see if you can "tap" your foes. Wait a second (turn back quick, then turn facing the enemy again), then tap it again. Note that enemies will fall down after the fifth "love tap". Plus, you recover quicker from a jab, meaning you can cancel to your special moves.
Keep note of your invincibility frames. They are useful in making sure you don't get hit while doing a combo against the mob. Defensive special moves and throws are examples of moves that give you invincibility frames.
Neutral jump + attack. This can save your life more often than usual, especially against grab-happy opponents like the Signal brothers and the green cops.
Keep tabs on anti-air mobs. Enemies like the Donovans (the bald sunglasses dudes) and the Dylans (the dudes with hands in their baggy pants) can anti-air you. Keep that in mind so that you don't carelessly anti-air enemies just to do fancy combos.
If you can find safe spots, exploit them. When you fight certain bosses, you need to do this to minimize the damage you're taking. It's also helpful if the enemy is super-aggressive and loves chasing and spacing you like Ms. Y.
Keep Your Health Full (When You Can)
To get a good score and S-Rank, don't get hit. Easier said than done, right?
This is to ensure you get bonus points when collecting food at high health, as well as get a life score bonus when you finish a stage. It's tough, but once you play through a level at a certain difficulty long enough, the enemy deployment patterns will always be the same.
With this info, you can do preemptive attacks and kill off enemies before they add to the already-hectic mob. Good luck doing this in Mania mode though; the enemies move at ludicrous speed and can take quick potshots at you to break your combo.
Keep The Combo Chains Going
Getting a combo chain going -continuously beating up enemies and keeping the combo count active- is a surefire way to get a high score for that S ranking. If you get hit during this, you get a "Break" signal and lose all of those sweet, sweet points. Ensure that your finger is always ready to pull off an invincibility frame-granting move to avoid these stray hits.
If you have to "sacrifice life" to cancel to a special move for combo chaining, do it. Your aim here is not to get hit as much as possible, so it's good practice to chain moves for bigger rewards. You have to take a bit of a gamble to aim for an S ranking. So practice chaining moves.
If your combos keep getting "broken" by random Galsias and Donovans, you may want to practice keeping your combos to a medium length. When your combo counter is coloured purple, you might want to stop and cash it out lest you lose it all. Go for broke, but don't get too greedy.
Low-Hitting Back Attacks Can Hit Opponents On The Ground
There are OTG moves in Streets of Rage 4. You just have to find out what they are to get the most out of your combos and optimal damage. Blaze's back attack is one great example.
Never, EVER Use Star Moves
This one goes without saying. DO NOT use Star Moves to save yourself if you're going for an S Ranking. At this point in time, you should be less reliant on super crowd control tools.
Pick The Best Characters For Your Score Run
[wpvideo GMRb0oa9]
Generally, you want to pick characters who have decent range with their hits and has good combo potential/corner carries. Examples include Blaze, Adam, and Floyd. Based on our playthroughs on all difficulties, they seem to have the best tools for safe poking, footsies, and first hits, which is essential for keeping their life at the max.
Blaze has good combos and juggles. Her charge attack has good range. Her "forward, forward attack" Blitz move can make enemies bounce, making them ripe for juggling/air juggling to keep the combo count going.
Adam Hunter also has good combos and juggles; you can end combos (and enemies) with his Uzi Punch Blitz move. When you jump kick, make sure to do the "down attack" then chain it with his air special. Also, he can do step dashes, covering good distance while avoiding most attacks deftly.
Floyd is super-slow, but deals the most damage. Hence, he can clear the screen of enemies super-quick. He's not good with combos, but his Blitz move reach makes up for it. Plus, his "coconut cracker" grab (grab one enemy, then move close to another enemy for a smashing good time) is a great mini AoE move.
Unless you're super confident with getting the first hit on enemies, go for Axel and Cherry. These two have arguably better combo properties and toolsets at the cost of crappy range.
Use The Best Weapons For The Right Character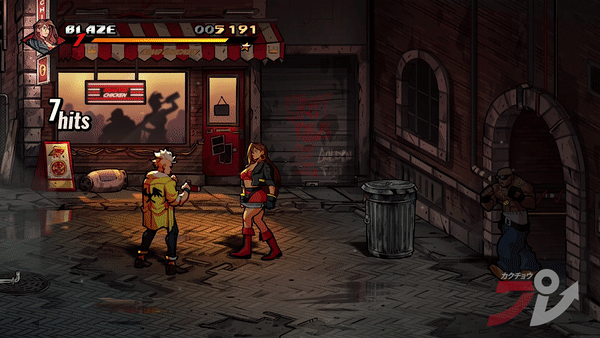 The weapons on the ground can be useful, depending on the character using them.
Blaze is best with knives and short stabby weapons. She can do two-hit attacks in quick succession using these. These can juggle enemies in the air.
Adam's best weapons are pipes and police batons. He has long reach for the former and multi-hit properties that don't cause knockdown state for the latter. Both deal good damage and can juggle enemies in the air.
Floyd is best with pipes and long bats. He has the best reach with them and can follow hits up with his special grab, provided they're in reach.
Keep Track Of Each Stage's Minimum Score Requirement
Here are the scores you need to aim & surpass to get an S Rank (via Jerome Nivart). Keep in mind that Hardest and Mania difficulty's base score is multiplied by 1.3 and 1.4 respectively.
Stage 1: 26,000
Stage 2: 26,000
Stage 3: 20,000
Stage 4: 26,000
Stage 5: 28,000
Stage 6: 32,000
Stage 7: 15,000
Stage 8: 24,000
Stage 9: 23,000
Stage 10: 23,000
Stage 11: 26,000
Stage 12: 35,000
Should You Tackle Retro Levels?
Since time is a huge factor here, you should skip retro levels and focus on combo-racking. They do give you one extra star to add to your collection, but "speedrunning" a stage while getting more combos while staying alive yields a better overall score.
While time is a huge factor to your score, you only need a few minutes to take care of a Retro Level's boss. Regardless of whether you win or lose, you'll get out of the stage with full health, meaning you can collect nearby health items for extra points. In other words, do actively seek them out.
Should I use characters from SoR1, SoR2, and SoR3?
It depends. If you want your score uploaded on the online leaderboards, you can only use Streets of Rage 4 characters.
Otherwise, go nuts. Our top picks for S Rank-dom on higher difficulty levels include:
SoR1 Axel – He's fast and got "one frame jabs", which is perfect for damage and breaking invincibility for certain bosses. He has no reliable wakeup and defensive options though.
SoR3 Shiva – He hits fast, has little to no recovery for his Blitz moves and Special moves, and can dash his way to victory and speedruns.
SoR2 Blaze – Good footsies and range, damaging regular attacks, and has good invincibility and recovery for her Specials. Unlike her SoR4 counterpart, her Blitz move is useless here and should only be used for style purposes.