Update (4th May): A new report has come to light, claiming that The Last of Us Part 2 leaks were perpetrated by hackers who have infiltrated Naughty Dog's private servers. Sources from renowned games journalist Jason Schreier (who now works for Bloomberg) have revealed how the hackers were able to commit their crime.
The hackers apparently discovered a vulnerability in a patch for one of Naughty Dog's older games, taking advantage of that crack in the armour to gain full access into the company's servers.
Another source from Twitter user @PixelButts reiterated the same thing, that it was not disgruntled Naughty Dog employees that leaked the spoilers for The Last Of Us Part 2, but instead hackers with malicious intent that exploited a security vulnerability in Naughty Dog's servers.
There you have it, folks. Don't believe any of the rumours circulating out there until they've been verified. Fans have been waiting for a long time, so let's respect that.
---
Update (28th April): Naughty Dog responded to these leaks with the bottom message. Also, they recently announced the game's new 19th June release date. Guess we'll be getting it in a few months.
Original story:
In case the headline isn't a dead giveaway, there seem to be a number of sources leaking what could be key and pivotal scenes in the upcoming PS4 exclusive action-adventure title The Last of us Part 2.
We at Kakuchopurei will not reveal anything major until the game is out. But just in case these are legit and if you're very curious, we'll put these signs here.
Again, you've been warned.
A number of links and videos on forum sites like ResetEra -and even Twitter to an extent- have revealed a number of short but spoiler-heavy scenes involving the main characters of the game: Ellie and Joel. These scenes also include a few characters who were revealed in the very first The Last Of Us Part 2 trailer featuring brand-new characters.
In fact, there's even a "developer kit leak" that reveals all of the chapters and stages, including a gameplay swerve where you play as someone other than Ellie halfway in the game. That someone is the main woman in that trailer above, and she has ties to the climactic events of the first game.
Reddit threads, Twitter feeds, and forums are filled with minefields of these spoilers. Why? Rumours have it that these alleged spoilers and clips were allegedly uploaded by a disgruntled Naughty Dog employee who was fed up with being overworked. In reality, it's the simplest answer: someone hacked into Naughty Dog servers and uploaded early footage of the game (see explanation above).
Based on our intuition and other sources, it looks real. These scenes are also taken out of context, so it's hard to say what the actual story is until we've actually played and finished the game.
In fact, Naughty Dog recently responded with the following just to make us keep calm and soldier on: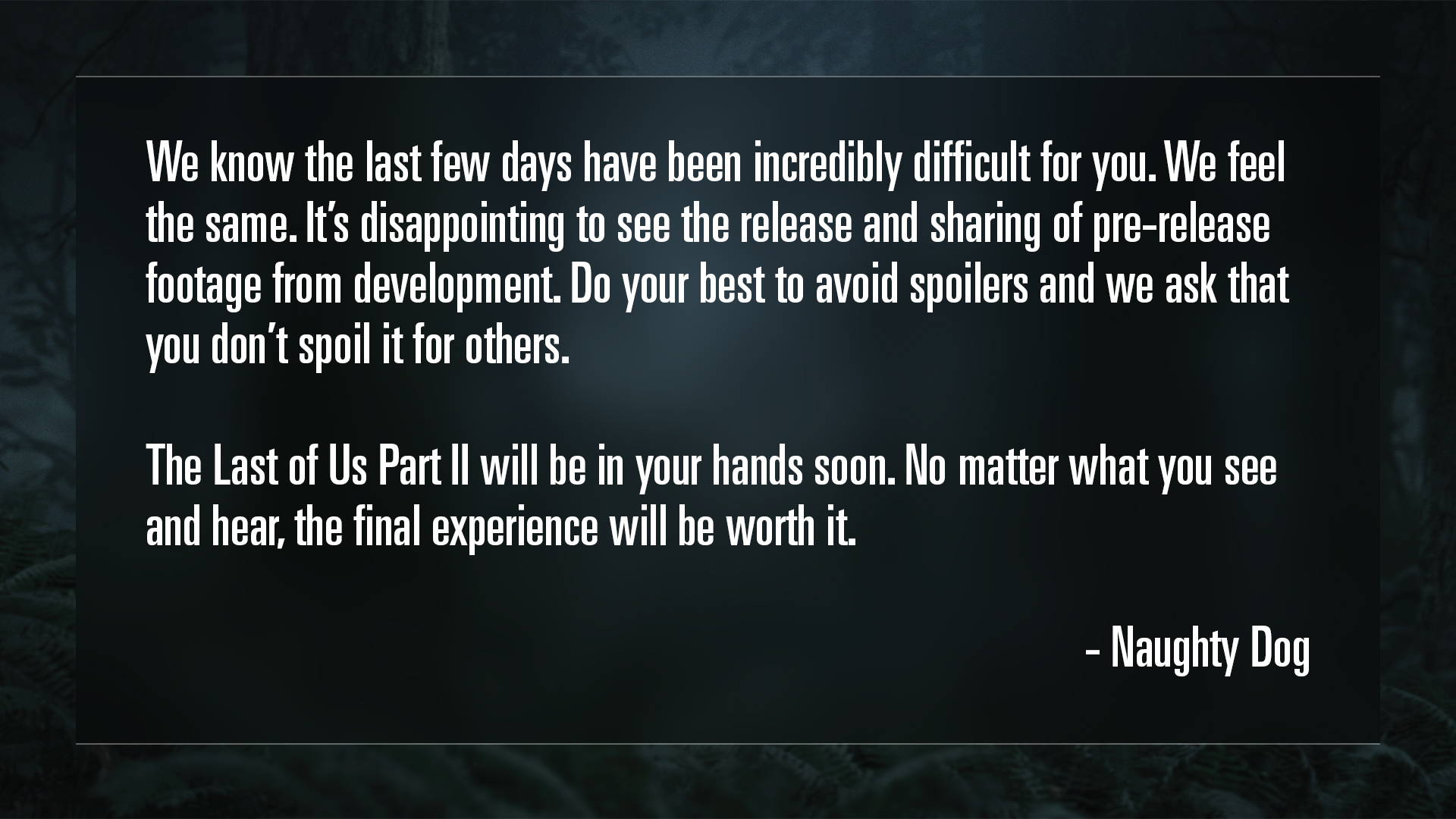 Regardless, early spoilers like these are really uncool. And if you're reading this out of your own curiosity, don't be a dick and spoil a story-based game to others who are looking for it.
The Last of Us Part 2 was initially planned for a 29th May release, but now has a 19th June release date. It was previously withheld from its original date due to logistic issues caused by COVID-19.