Platform: PC (On Steam)
Genre: Malaysian-made visual novel sexytime
The 90s was a weird time for many of us, especially near the end as we entered the new millennium, heralding the arrival of new technological marvels like the Internet as well as fears of the world ending. The latter is much very real in the alternate reality of Fires At Midnight, the new interactive narrative game from Malaysia-based indie developer Persona Theory Games.
First and foremost, let me clarify that Fires At Midnight is certainly not for those under 18 or sensitive folks in general. It features not only nudity and adult language but also mature themes like suicide and sexual assault that may act as unpleasant triggers. Players shouldn't expect a feel-good or conventional romantic visual novel.
This is a brave and bold title that is not afraid to explore controversial subject matter.
Burn, Baby. Burn
In Fires At Midnight, players experience the final few days leading to the arrival of the year 2000 from the viewpoints of a couple; a struggling photographer named Yun and a tortured artist named Chitra. You start the game with Yun, spending the first half of the game as him, before spending the same events through the perspective of Chitra in the second half.
In this alternate reality, the world has been ravaged by a pandemic that makes people spontaneously combust if they have sexual intercourse without "love". That's right; if a couple isn't in love, they will mysteriously burn to death. That's the bizarro world that Yun and Chitra have been thrust into.
Most of the game actually takes place on 30 December 1999 and 31 December 1999, but you'll be peeling a lot of the shared history between Yun and Chitra during flashbacks ranging from the moment when they started becoming a couple and other moments in between, including even from their childhood.
The climax of the game takes place when the clock strikes midnight to mark the new millennium; where every action and dialogue choice that players have made as both Yun and Chitra throughout the duration of the game will ultimately determine which of the three endings that they receive.

My first playthrough took me a little under two hours to complete, which means that players will require at least around six hours or so to experience all three endings.
While that does encourage replayability, the dark subject matter explored in this game probably means that you'll need a breather between every playthrough. Sure, you could binge three playthroughs at once, but the game takes a mental toll on you. This isn't some harmless Japanese ecchi visual novel you can simply jack off to, but one that's meant to be taken seriously.
The core gameplay in Fires At Midnight works like a usual visual novel, as players decide the actions and dialogue choices of their characters to move the story along. However, what distinguishes this game from all the rest in the same genre is its "Second Layer" mechanic, which allows players to see the objects in the game's world from each specific character's point of view.
What makes "Second Layer" a special and memorable mechanic is that it often depicts and/or indicates either Yun or Chitra's mental state at any given moment, as well as how they truly feel about a given object or subject on-screen in the world.

An example of this from an earlier part of the game (without spoiling anything) is during a scene set in a diner/bar between Yun and Chitra.
In this example, I was controlling Yun and viewing everything from his perspective when a waitress came to take their orders. How the "Second Layer" mechanic works is that your mouse cursor is sort of like a magnifying glass. When I moved the cursor over to the waitress' torso/body, I could see inside her shirt and therefore the bra inside.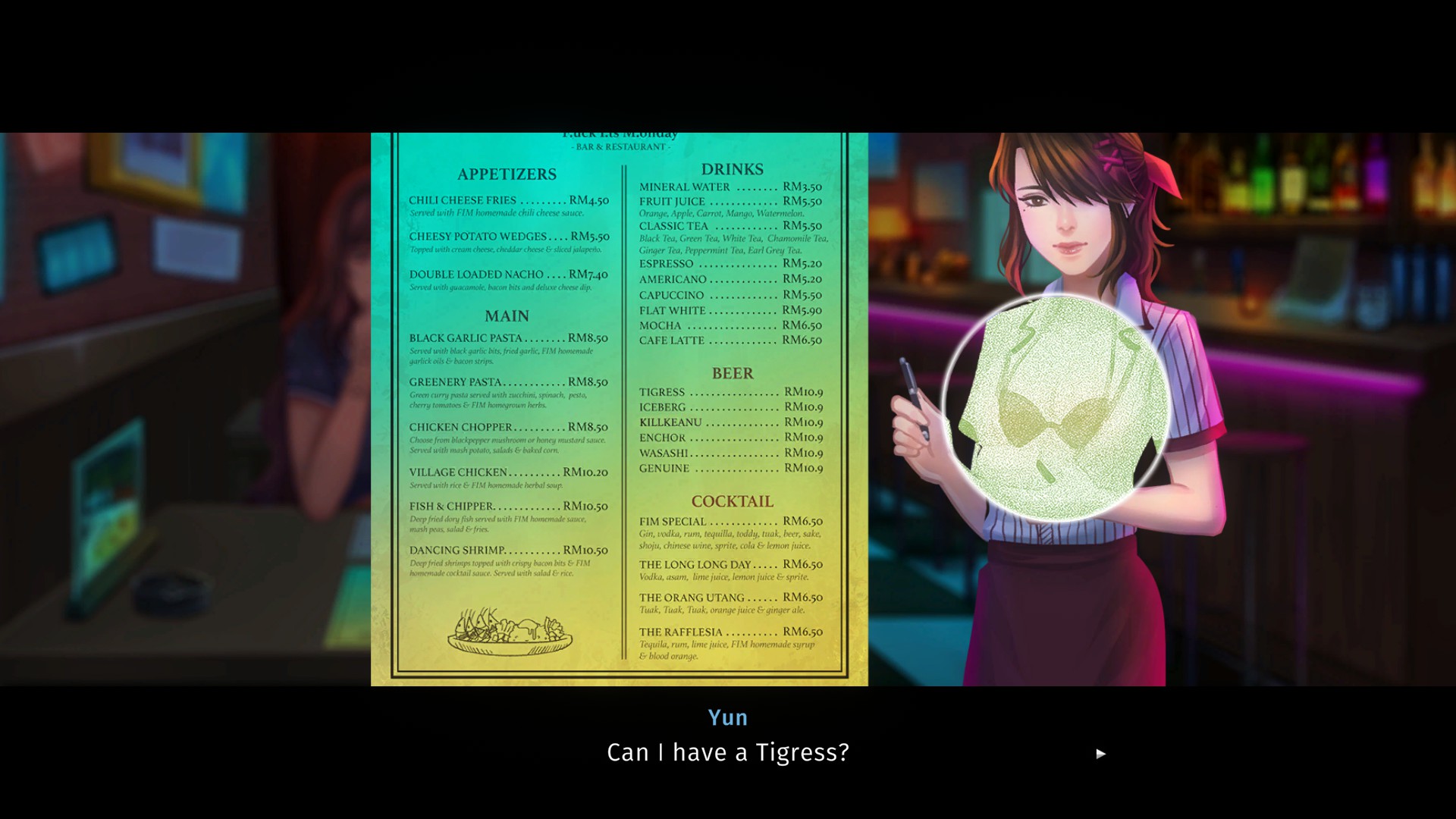 Does this mean Yun has x-ray vision or something? Is this that kind of power fantasy visual novel where the game serves to satisfy the player's every perverted desire? Of course not. Without spoiling any plot details, the fact that Yun's "Second Layer" is seeing the bra inside the waitress' shirt seems to be an early sign of the character's ongoing struggle with suppressing his sexual urges in a world where acting on them means not only destroying his relationship with Chitra but also death by fire.
Still, I'd like to stress that that is just my interpretation of the meaning behind that specific instance of the "Second Layer" mechanic. It's integral to the game's narrative, as you strive to understand the secret backstories and complex psychological states driving both Yun and Chitra, which is where the fun of the game lies. Not much is just explicitly stated, so it's up to the player to interpret these subtle and oft-hidden "Second Layer" clues.
Back To The 90s With A Malaysian Twist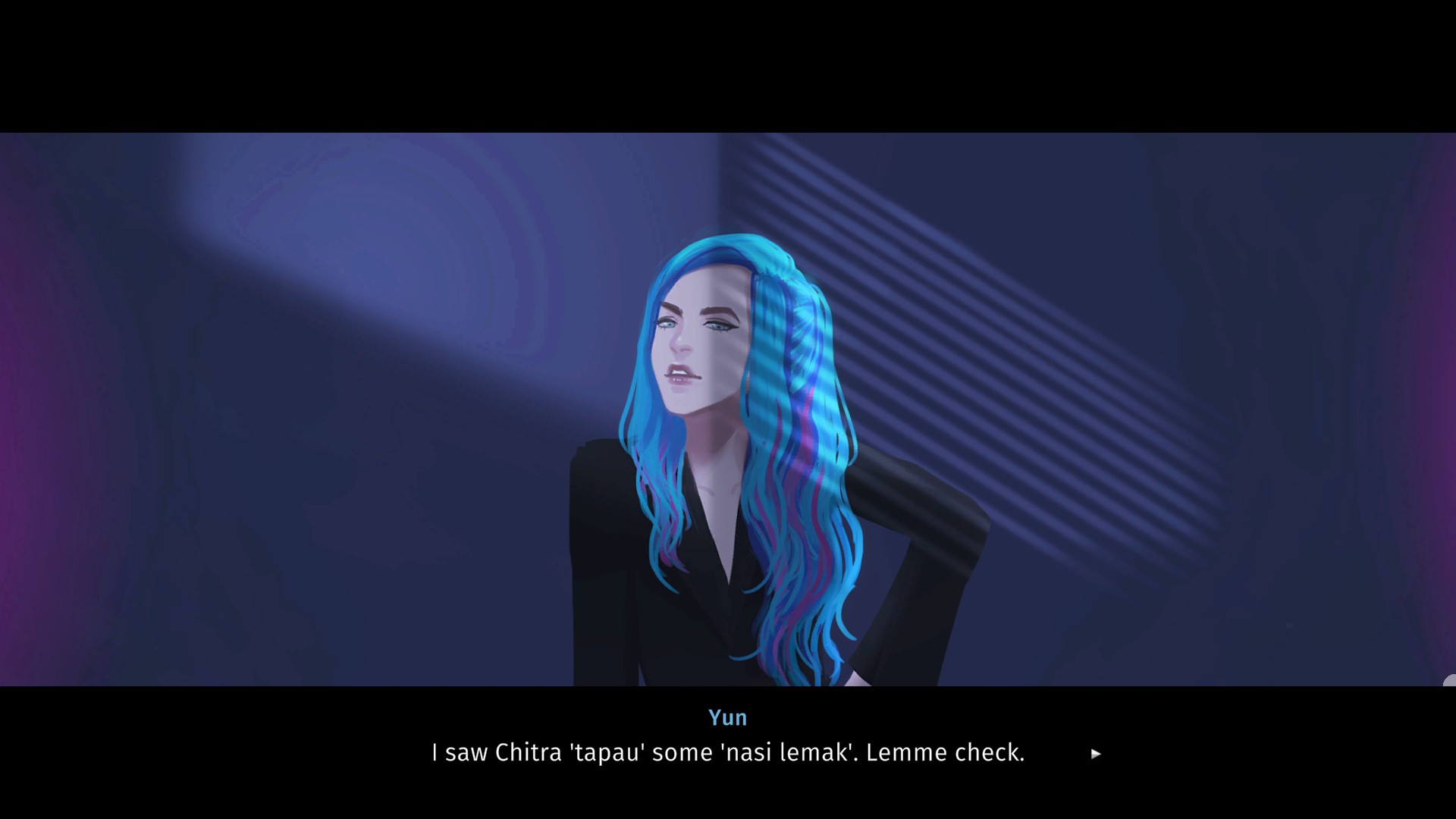 Besides the "Second Layer" mechanic, the other core mechanic in Fires At Midnight is clicking on certain glowing objects, which will then trigger flashbacks to certain moments or days. That doesn't sound particularly engaging or unique, especially in an interactive visual novel game like this. However, it's actually much, much better in execution, as this is where many of the 90s references come in.
Despite being born in 1994, I still consider myself a 90s kid; lucky enough to have experienced some of what it had to offer. As such, I could appreciate the labours of love and tributes to the 90s featured in Fires At Midnight.
An early example of this in the game is when (as Yun), the player boots up a computer with what is a faithful recreation of the Windows 98 OS.

I triggered flashbacks by interacting with the applications available on this clone of Windows 98. To my pleasant surprise, I recognise some of these apps, though their names were changed to avoid copyright, trademark and licensing issues.
One is clearly based on the music player Winamp, another on Internet Explorer (which is still available now but no one even uses it anymore, so the point still stands; back then it was the only browser, no Chrome or Firefox) and another on the game Minesweeper. They have hilariously been altered to Winarm, Internet Sexplorer, and Bombsweeper, respectively.
However, the biggest highlight has to be the Earth Raider game, which is actually a playable minigame in Fires At Midnight. Older gamers will know that it's based on the iconic arcade games; Taito's Space Invaders and Namco's Galaga.

Earth Raider plays almost exactly like those games, but instead of alien ships, my enemies were moving genitals (penises, vulvas, and breasts), which weirdly reminded me of the Leisure Suit Larry games (think of that what you will).
The developers even inserted a funny 90s gag where pornographic pictures refused to load properly, resulting in only half of the picture showing up on your computer. I love all these 90s references and easter eggs, but they'll probably leave anyone born after the year 2000 scratching their heads in confusion (which is apt considering the game is set right at the turn of the new millennium). Moot point anyway, since they won't even be old enough to play this game.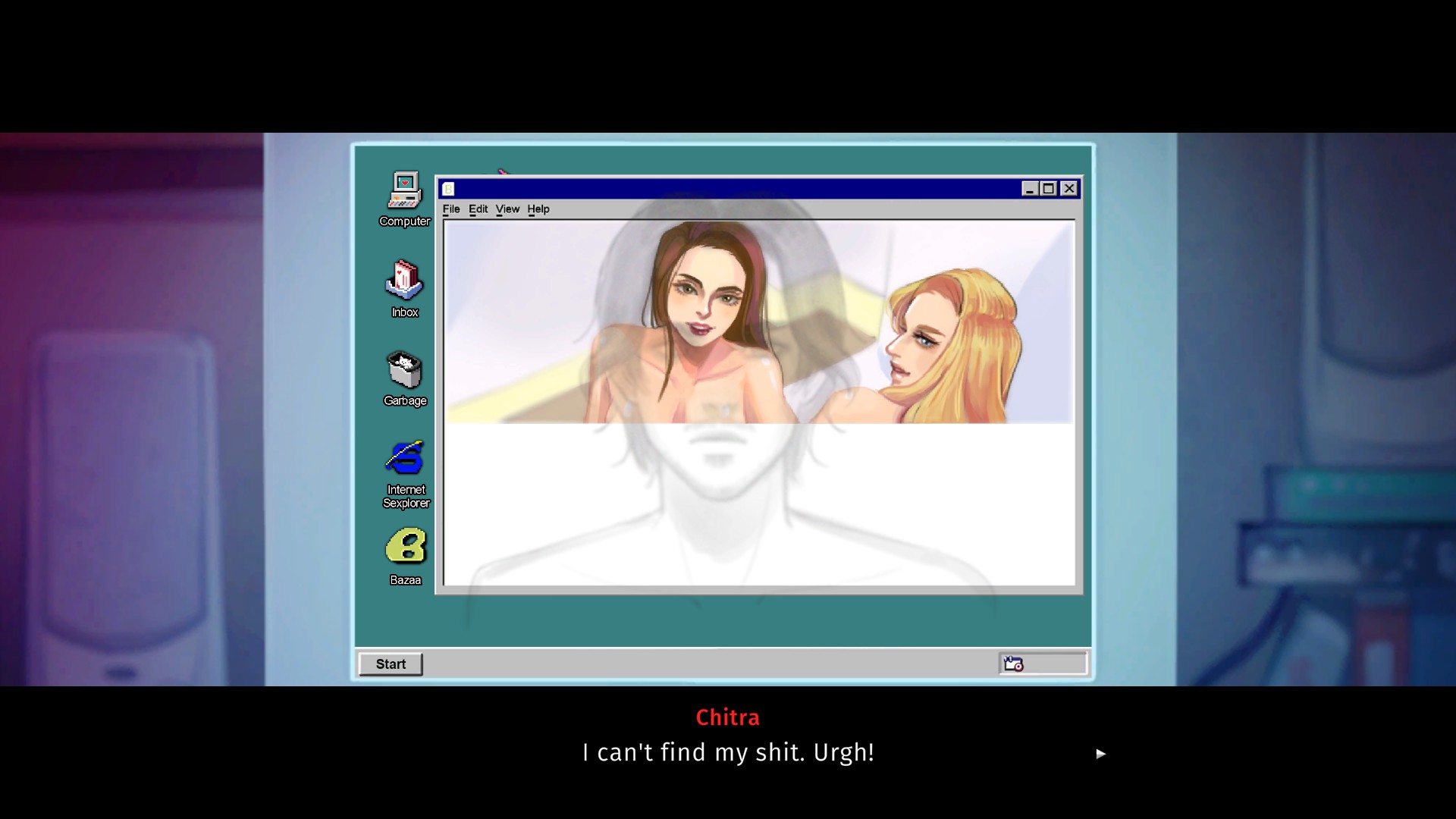 As for the Malaysian twist I keep mentioning, yes, Persona Theory Games consist of many proud Malaysians and what proud Malaysian wouldn't want to include references to our great country. Since the game is set in Kuala Lumpur, that shouldn't be much of a surprise. I love how these are integrated into the game naturally. For instance, we get a character saying "tapau nasi lemak" (takeaway nasi lemak) as well as that same character wearing a sarong while sleeping.
Other examples of Malaysian flavour in the game include movie tickets written in Malay and hearing the familiar jingle of the recycling lorry in the background, with the familiar local sound of the driver yelling "paper lama sao kao po chi" to invite anyone willing to sell their old newspapers and books/magazines. You don't get any more Malaysian than that and nasi lemak.
Not For The Faint Of Heart
There's a reason why I've avoided discussing the specifics of the story or what Yun and Chitra are really like. All of that should be best discovered and experienced by players when playing Fires At Midnight, instead of me spoiling it here. However, I will still touch a bit on why this game is particularly hard-hitting in that department.
Along the way of getting to know Yun and Chitra, you'll encounter stories and subject matter exploring racism, corruption, and sexual assaults, as well as mental health issues like depression and suicidal tendencies from trauma. The way these are depicted in the game may hit too close to home for certain players, especially those in Malaysia (and for anyone else afflicted by the same problems in the rest of the world).
It's also worth pointing out that while Fires At Midnight isn't really a horror game per se, I have to warn you that the game does feature horror elements that are disturbing. Horror fans will definitely appreciate these, but normal gamers might not if the general indication to 2017's Doki Doki Literature Club! was any indication.
A Stellar First Effort
Seeing as this is Persona Theory Games' first full title, it's incredible to see a Malaysian-based indie developer releasing such a bold game, not afraid of inviting controversies by tackling adult subject matter that most other games would shy from. I'm not really much of a visual novel genre fan myself, but Fires At Midnight is a title that should be played and experienced.
Malaysians and those who grew up in the 90s would likely enjoy this Fires At Midnight the most. Despite being only two hours long for a single playthrough, the multiple endings and hidden "Second Layer" clues will have players coming back for more. As far as visual novels go, this 2020 title hits most of the right spicy notes.
Pros
Explores controversial subject matters via two interesting perspectives.
A lot of 90s references, Malaysian flavour, and easter eggs.
Multiple endings for replayability.
"Second Layer" mechanic for hidden and subtle clues.
Cons
Only two hours long.
Not everyone can appreciate its many references.
Contains adult subject matter that may upset, offend, or trigger certain people.
FINAL SCORE: 70/100
Fires At Midnight was reviewed on an Acer Predator Triton 500 via a review copy courtesy of Persona Theory Games.
---