I have always equated gaming laptops to supercars. You know, the Ferraris, Lamborghinis, Porsches and to a certain extent, (stupidly) souped-up Perodua Myvis. And just like supercars, gaming laptops tend to be expensive, loud, flashy in almost every aspect, not the most practical for use as a daily driver but man do they smoke other pleb rides when put through their paces.
"But Kenn, which supercar would you equate the Alienware m15 R3 with?", you may (or may not) ask. Well, read on to find out.
Out of the box, this year's variant does not veer off from last year's iteration. In fact, if you put them side by side, casual users would probably have a hard time telling them apart. Then again, can you blame Alienware for sticking to it? I dig the slimmer, sleeker look of this chassis and while they are still far off from the silhouette of a Macbook for example, is easily among the thinner options when it comes to gaming laptops out there.
I also appreciate Dell's decision to go with the soft-touch, matte finish instead of the garish gloss route which their gaming laptop rivals tend to opt for. I'm happy to report that this m15 R3 is not far off from the inconspicuousness of a ThinkPad, and once you switch off the glowy Alienware logo on the outer panel, you easily blend in with the business crowd when working from a cafe, for example.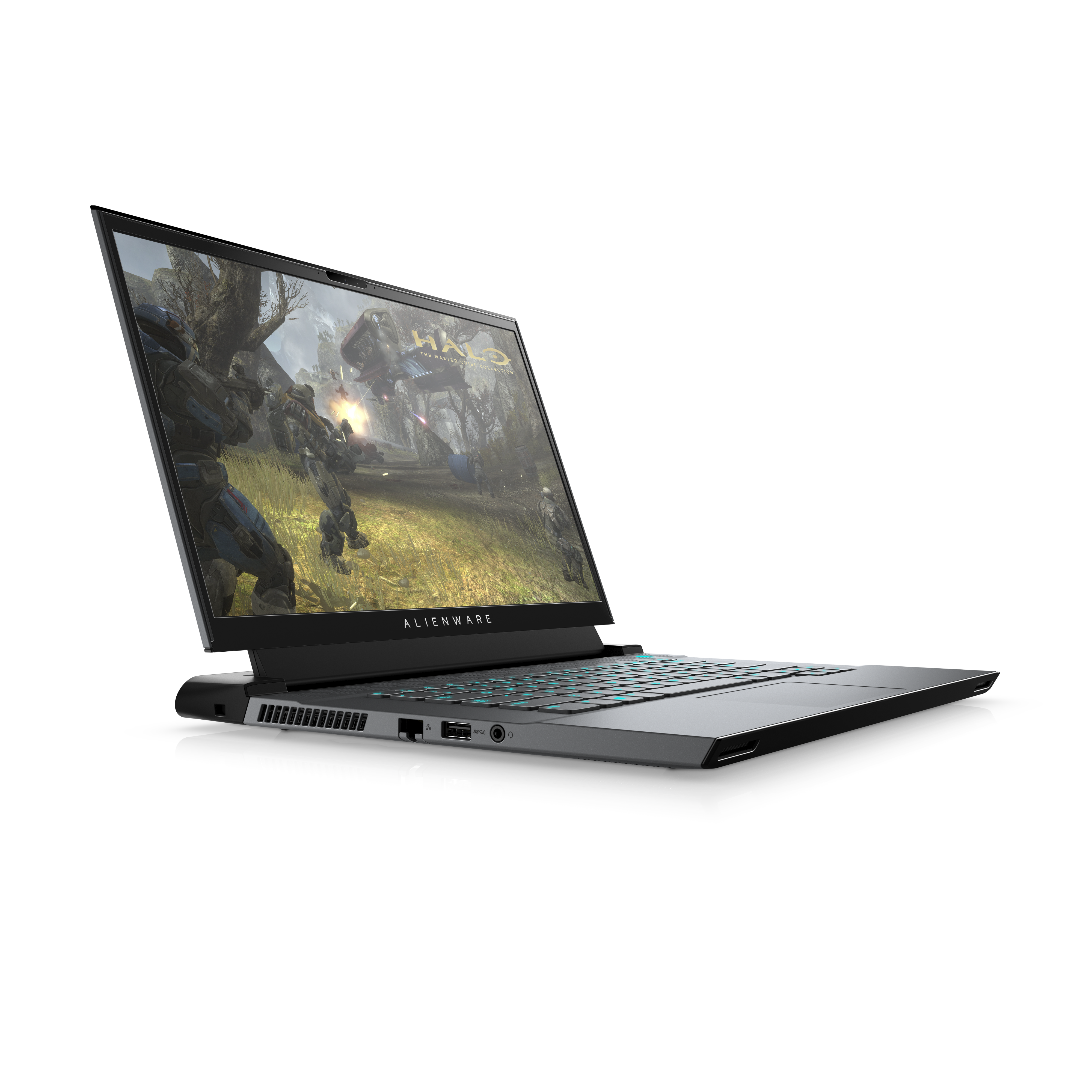 Beneath The Chassis
Under the hood, this baby packs a punch. Legit punch. The machine loaned to us for review came with these specs:
Weighing slightly above 2kg on its own, the laptop also comes bundled with a chunky power brick which should tip the scales just over the 3kg. You would have a relatively easier time lugging this laptop about compared to other makes, but as it goes with typical gaming laptops, we recommend to pack the power brick and charging cable along if you plan to work for longer than 4-hours or so.
Despite its size, the m15 comes with all the ports you'll need including three Type-A USB 3.2 Gen 1, one of which with Powershare technology, a ThunderboltTM 3 Port, Alienware Graphics Amplifier, HDMI 2.0b with HDCP 2.2 Output, a Mini-Display Port 1.4 output, Audio Out 1/8″ port, a microSD 5.1 and a UHS-II HD312 Card Reader1.
Needless to say, games released in 2020 would run buttery smooth on this. Load times are almost instantaneous and cranking up the performance to the maximum hardly rattle this beast, save for the cooling fan noise which is a small trade-off considering everything else packed into it. It improved from last year's iteration but just a smidge.
Booting up Total War: Three Kingdoms and setting it up to the max turned the machine into a mini heater, putting the fan to work but with minimal to no change in overall performance. Do note that I'm being nitpicky here as I found very little issues with this version of the m15.
Speaking of sound, we do not recommend relying solely on the in-built speakers, as they are modest at best. A headset is a must. Perhaps Dell should consider bundling up future gaming laptops with a gaming headset. Just a suggestion.
As someone who typically adds an external mechanical keyboard to gaming laptops I review, I have to single out the brilliant in-built keyboard of the m15 R3. By far, it's one of the best laptop keyboards I've used to date, only bested by the one on my Thinkpad. It has a solid, clicky feel with distinct travel which leaves other gaming laptops' keyboard performance far behind.
As usual, you get the typical Alienware custom control software to customize the lighting of your machine. While you have the choice of going incognito in public thanks to the muted outer shell of the m15 R3, RGB nuts would be glad to know that they can go all out thanks to a limitless combination of lighting colours presented.
You would come to realize by now, us at Kakuchopurei focuses more on the day-to-day experience when reviewing gaming items. So if you're looking for those statistical performance numbers, we recommend checking out outlets like PCMag or Dave Lee's Youtube for example.  You ain't going to find it here.
Third Verse, Different From The First
So going back to that question I assumed you'd ask me earlier: "Which supercar I'd equate the Alienware m15 R3 with?"
Coincidentally sharing a similar model number, it is easily a Porsche 911 GT3. Both are sexy beasts in their own right, sporting distinct looks yet distinguishable from their illustrious predecessors. They tick all the right boxes when it comes to serving their purpose, while also offering something extra for other 'normal' tasks such as standard office work, watching movies and being an all-in-one, balanced, portable work/ gaming rig.
Those who prefer a wider screen may opt for the M17 variant, which sports a 17.3-inch screen, with the most expensive option being an UHD with Tobi eye-tracking feature. Both size variants comes in two colors; Lunar Light or Dark Side, with the latter being my preferred choice. While we were furnished with the model sporting the RYX2070 Super card, you have the option of going all out with the RTXTM 2080 SUPER 8GB GDDR6 with Max-Q Design, which is the top of the line option for either model.
Starting at just a few ringgits shy of RM10,000, the Alienware m15/17 R3 models sit comfortably at the tippy top of the gaming laptop hierarchy. Definitely one of the classiest and sharpest-looking gaming laptops available in the market, my only gripe is that like the Porsche, this is a machine that very few would be able to afford, let alone, enjoy.
Pros
A noteworthy upgrade from last year's already brilliant machine.
Great keyboard.
Improved fan.
Design that oozes "sexy".
Cons
Still disgustingly expensive.
Final Score: 80/100